Best Damn Instant Pot Beef and Broccoli is loaded with all the real flavors you love and expect from this classic dish. It's a delicious recipe for a take-out favorite, which you can make right at home in your Instant Pot.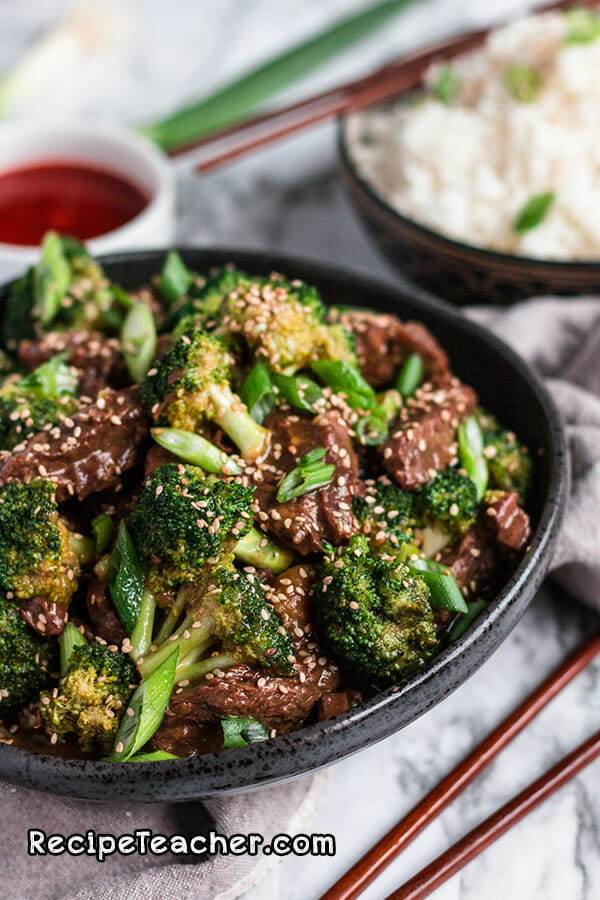 Living in the Chicago area, there are no shortages of Asian and Asian-inspired restaurants. In fact, we've got some of the very best. But there are times when nothing beats making a homemade meal, and our Instant Pot is great way to make so many incredible dishes. But, can we make one of our favorite meals – beef and broccoli in an Instant Pot? You bet we can!
What Kind of meat for Instant Pot Beef and Broccoli?
Flank steak is the beef of choice for many Asian beef dishes. Sirloin would be my 2nd choice if flank steak is not available. Pressure cooking a meal such as beef and broccoli is so good because the flavors really get infused into the meat. And the fact that it can be done in such a short period of time is all the better. I like to find a nice flank steak that has a little marbling which adds to the excellent texture once done.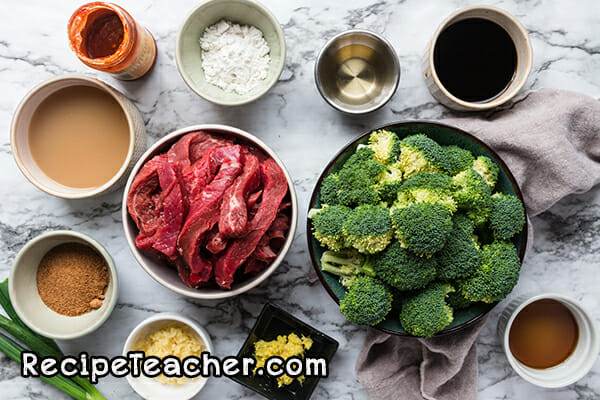 Start the Broccoli First in Saute Mode
The broccoli won't actually be part of the pressure cooking, but it will indeed be done in our Instant Pot. We start by adding avocado oil to the Instant pot and set it to saute mode. Once the oil is hot, we add the broccoli and let it cook for just just a couple of minutes. We do not want it cooked through at this point, but rather just until it starts to turn to that bright green color that looks so good! Then we remove it and set it aside to finish later in the recipe.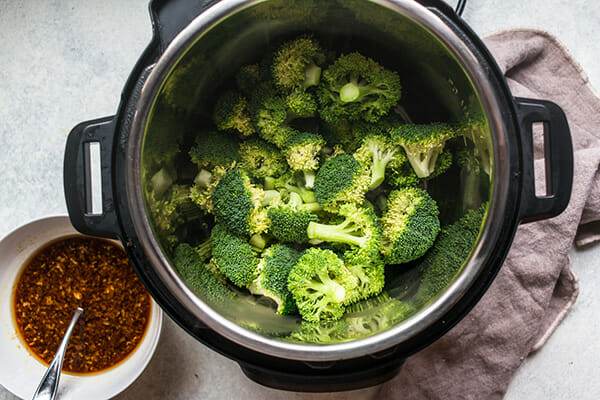 Combine the Simple Ingredients for the Classic Flavors we Know and Love
The pressure cooking part will take place next and we'll cook our flank steak, which we've cut into strips of ¾″ thick, in a delicious sauce. One of the main ingredients of the sauce mix is soy sauce. You can use gluten-free tamari soy sauce, or, if you're avoiding soy sauce altogether, use coconut aminos. Coconut Aminos is a sauce that is often substituted for soy sauce. It's sweeter than soy sauce, so if using it you may want to cut back to 2 tablespoon of sugar, and add a little salt also per your personal preference. We then cook the meat directly in the liquid for 10 minutes at high pressure. After the cycle is complete, let the pressure naturally release for 10 minutes. You can quick release after that if necessary.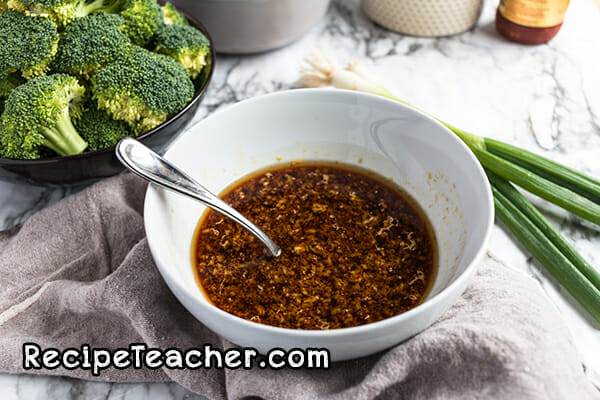 Next we press cancel, remove the lid (when pin has dropped), remove the meat and set aside. Time to make a slurry… In a cup or small bowl, mix together 2 tablespoon of cornstarch ad 4 tablespoons cold water. Mix it well and then pour it into the liquid in the Instant Pot. Whisk it in well. Add the broccoli, and set to saute mode. Let it saute for about 5 minutes or so, cooking the broccoli and thickening the sauce in the process. Press cancel and add the meat back to the Instant Pot. You can let it continue to thicken for a couple of minutes before serving.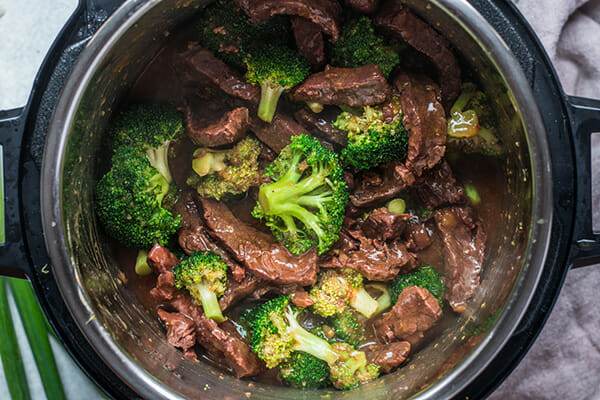 Serve over cooked white or brown rice. Top with sesame seeds and chopped scallions or green onions for garnish.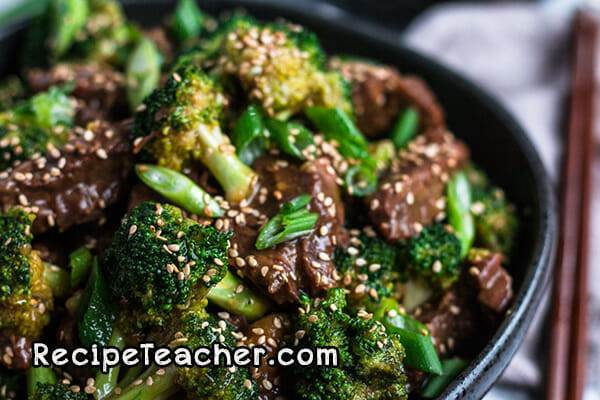 Print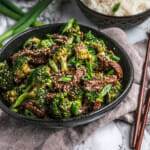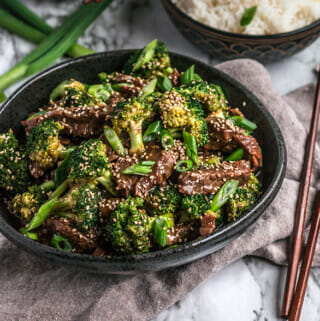 Best Damn Instant Pot Beef and Broccoli
---
Author:

Total Time:

59 minute

Yield:

4-6 servings
Description
A delicious, homemade Instant Pot Beef and Broccoli that beats takeout any day. With all fresh ingredients, this recipe is an instant classic.
---
1.5

lbs. Flank Steak, sliced

1.5 Tbsp

. Avocado Oil

6 cups

Broccoli Florets

2 Tbsp

. Sesame Oil

½ cup

Soy Sauce

3 Tbsp

. Brown Sugar

1.5 Tbsp

. Rice Vinegar

1.5 Tbsp

. Garlic, minced

1.5 Tbsp

. Grated Ginger
Chili Paste (Sambal Oelek), to taste

⅔ cup

Low Sodium Beef Broth

1 Tbsp

. Cornstarch +

2 Tbsp

. Cool Water OR

1 Tbsp

. Arrowroot +

2 Tbsp

. Cool Water

4

Scallions, sliced
Sesame Seeds, to garnish
Cooked Rice, to serve
---
Instructions
Slice the flank steak against the grain into slices about ¾" thick. Add the avocado oil to the Instant Pot and select the "Saute" function. Once the oil is hot, add the broccoli florets and a pinch of salt and coat them in the oil. Saute for a minute or so – you just want them to move to slightly more cooked than raw for now, they will finish cooking later. Press the "Cancel" button and remove the broccoli from the Instant Pot and set it aside.

In a bowl, combine the sesame oil, soy sauce, sugar, rice vinegar, garlic, ginger and chili paste to taste (usually about 1-3 tsp). Add the steak slices to the Instant Pot and mix in the soy mixture. Pour in the broth and make sure the steak is mostly covered with liquid. Place the lid on the Instant Pot with the vent set to the "sealing" position. Select the "Pressure Cook" option on your Instant Pot and set the timer to 10 minutes at high pressure.

Once the time is up, allow the pressure to naturally release for 10 minutes, then flip the vent to quick release to finish releasing any steam. Remove the steak slices from the pot and set them aside.

Combine a tablespoon of cornstarch/arrowroot powder with 2 tablespoons of cool water in a small bowl to make a slurry. Pour the slurry into the Instant Pot and whisk for about 30 seconds, or until it's well mixed into the sauce.

Add the broccoli back to the pot and stir into the sauce. Press "saute" and let the broccoli cook for 3-5 more minutes, or until the florets are cooked to your preferred doneness. Stir the steak into the sauce until the broccoli and steak slices are coated in sauce. Season to taste with salt, chili paste and sriracha as needed.

Plate the beef and broccoli and garnish with sliced scallions and sesame seeds. Serve alongside your favorite cooked rice.
Prep Time:

15 min

Cook Time:

25min total

Category:

Dinner

Method:

Instant Pot

Cuisine:

Asian
Keywords: instant pot, beef and broccoli