So juicy and so succulent, seasoned chuck roast is cooked to tender, fall-apart perfection in your Instant Pot, served on French rolls and slathered with au jus. This simple recipe features minimal ingredients, most of which are pantry friendly, and is perfect to serve for dinner, game-time or special occasions and parties.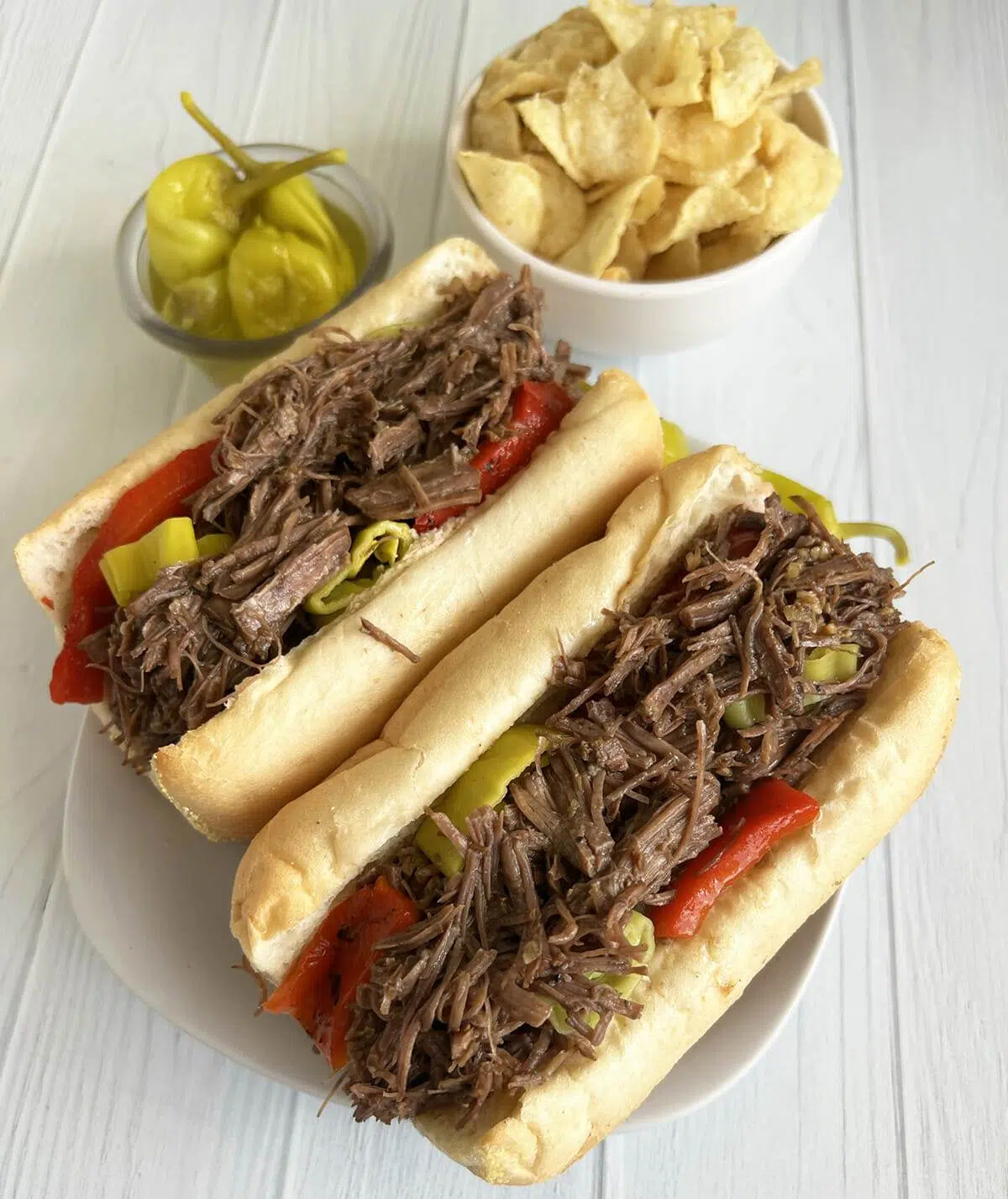 The Instant pot is an excellent appliance for cooking pulled or shredded meats while getting juicy, tender results. Many of these types of recipes can take all day to slow roast in an oven or slow cooker, but your Instant Pot can do the job in a fraction of the time. This recipe for shredded beef sandwiches is so perfect for feeding a hungry crew and having them absolutely asking for more.
What is a Shredded Beef Sandwich?
You could call this recipe a pot roast sandwich, a French dip sandwich, even a roast beef sandwich. In fact, is the Midwest – Chicago area in particular, this recipe is similar to an Italian beef sandwich. Basically, we season a chuck roast and pressure cook it in a mixture of beef broth and other ingredients, then serve it on a French bread roll. The juice can then be used as a dip for the sandwich, or poured directly on the meat and bread. Oh my goodness! And… top it off with some pepperoncini peppers and fire roasted red peppers and you're in sandwich heaven!
Chuck Roast Makes Perfect Tender Shredded Beef
One of the many things that I love about this recipe is that the main ingredient – the beef, is so easy to find at most supermarkets or superstores. Chuck roast is very popular for recipes such as pot roast, French dip and more, and is ideal for this recipe. We generally look for a cut that's between 2lbs. and 4 lbs., and has nice marbling. The marbling, of course, helps with juiciness, flavor and tenderness. But really, you don't have to be too picky when it comes to most chuck roasts. They all have what we're looking for.
Ingredients
We like to keep our recipes simple and ingredient friendly. I've found that the best way to season beef such as this is with Montreal seasoning mix. This very popular steak seasoning is available at most supermarkets. It really is the perfect combination of herbs and spices to bring out the very best flavors in the beef. We'll bump up the flavors further with some onion powder and garlic powder. The meat will cook in a liquid of beef broth with a little Worcestershire sauce and red wine vinegar. Finally, our beef will be served on French bread rolls. But really, you can use just about any rolls or a loaf of French bread cut and sliced to serve. I like to use a hearty roll/bread that will hold up well to the beef and the juices. French bread rolls, ciabatta rolls, brioche and pretzel rolls all work well for this recipe.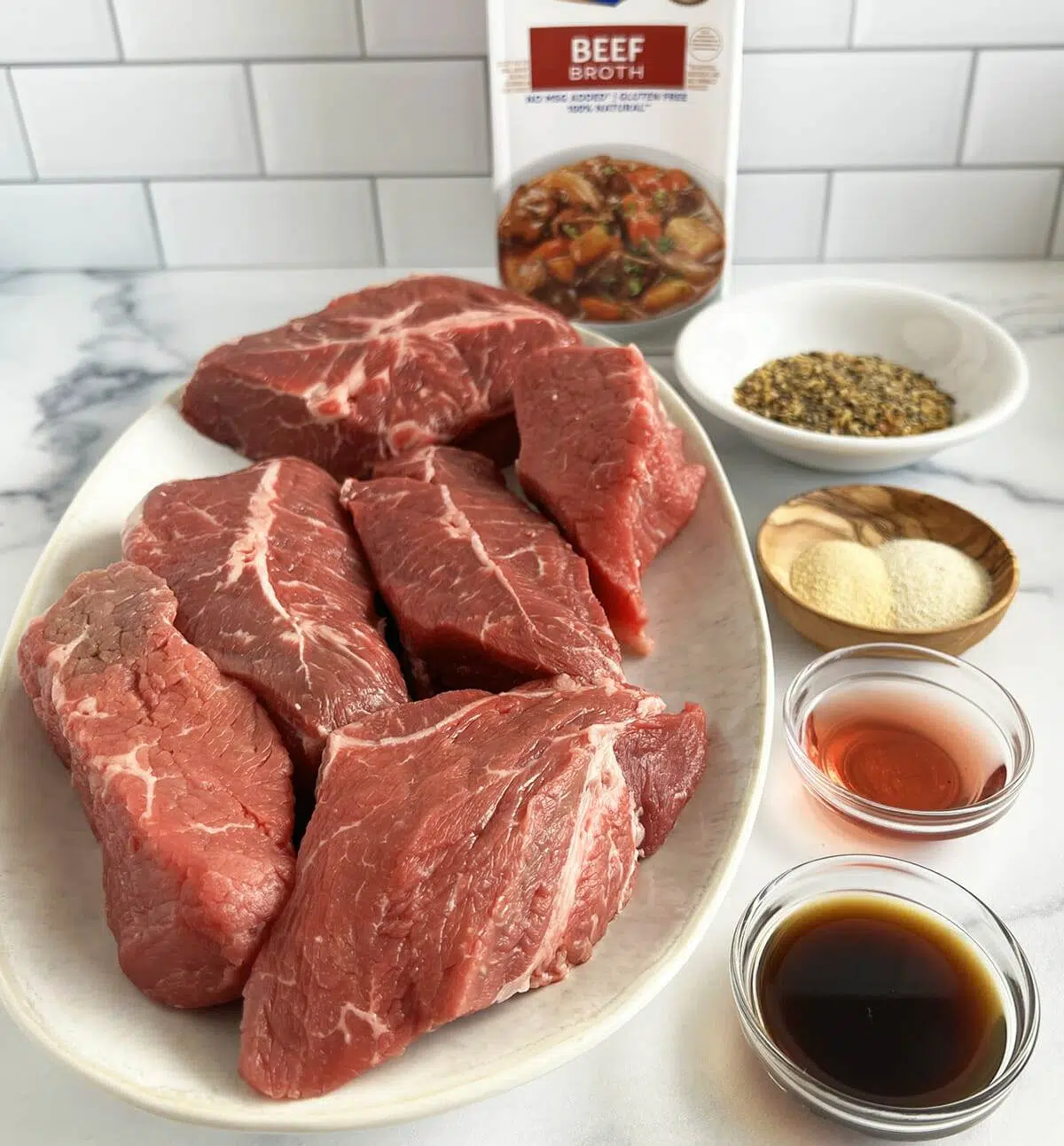 Preparation
We start by trimming the chuck roast of any large portions of fat, then cut the meat in to chunks. For a 2-4lb. chuck roast, cut it into 4-6 pieces. Then we add a little vegetable oil and season the meat liberally with Montreal seasoning. The seasoned beef will then be sauteed in the Instant Pot until all sides have a good sear. This step is important. Once the meat is seared, remove it from the Instant Pot to a plate. Then we'll see the bottom of the pot has a lot of stuck on bits. This is exactly what we want. Those bits are called "fond" and are essential to the flavor profile of the recipe. Next we pour in a little beef broth and use a wooden spoon to scrape up all that fond. This is important too, as we don't want any of it stuck to the bottom of the pot or we risk getting a "burn" notice while cooking.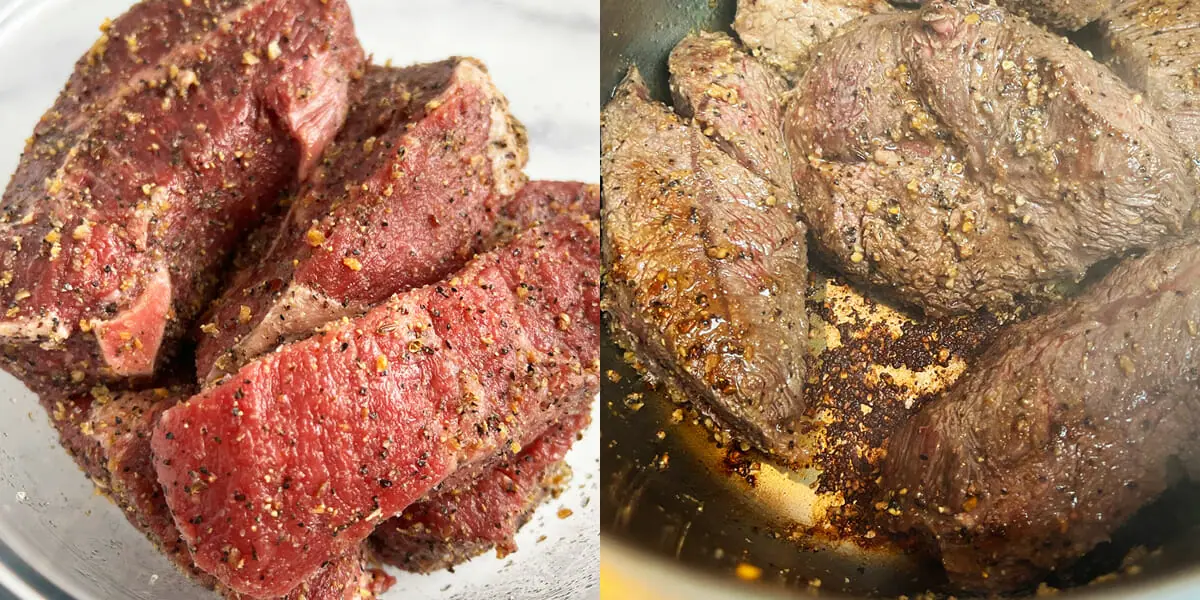 Pressure cook for 50 Minutes
After we've scraped up all the fond (called deglazing the pot), add the remaining broth, Worcestershire sauce and red wine vinegar. Secure the lid, set the vent to the "sealing" position (closed), and pressure cook on high pressure for 50 minutes. The Instant Pot will take about 10-15 minutes to come to pressure before the 50 minute times begins. Once the 50 minutes are completed, let the pressure naturally release (basically, don't do anything) for 15 minutes. After 15 minutes you can open the vent to release any remaining pressure.
Tender, Fall-Apart Meat
Use tongs and carefully remove the chunks of meat to a large bowl and add about ½ cup of the liquid from the pot. Use a couple of forks and gently shred the meat. It won't take much work at all as the meat will be fall-apart tender to the touch.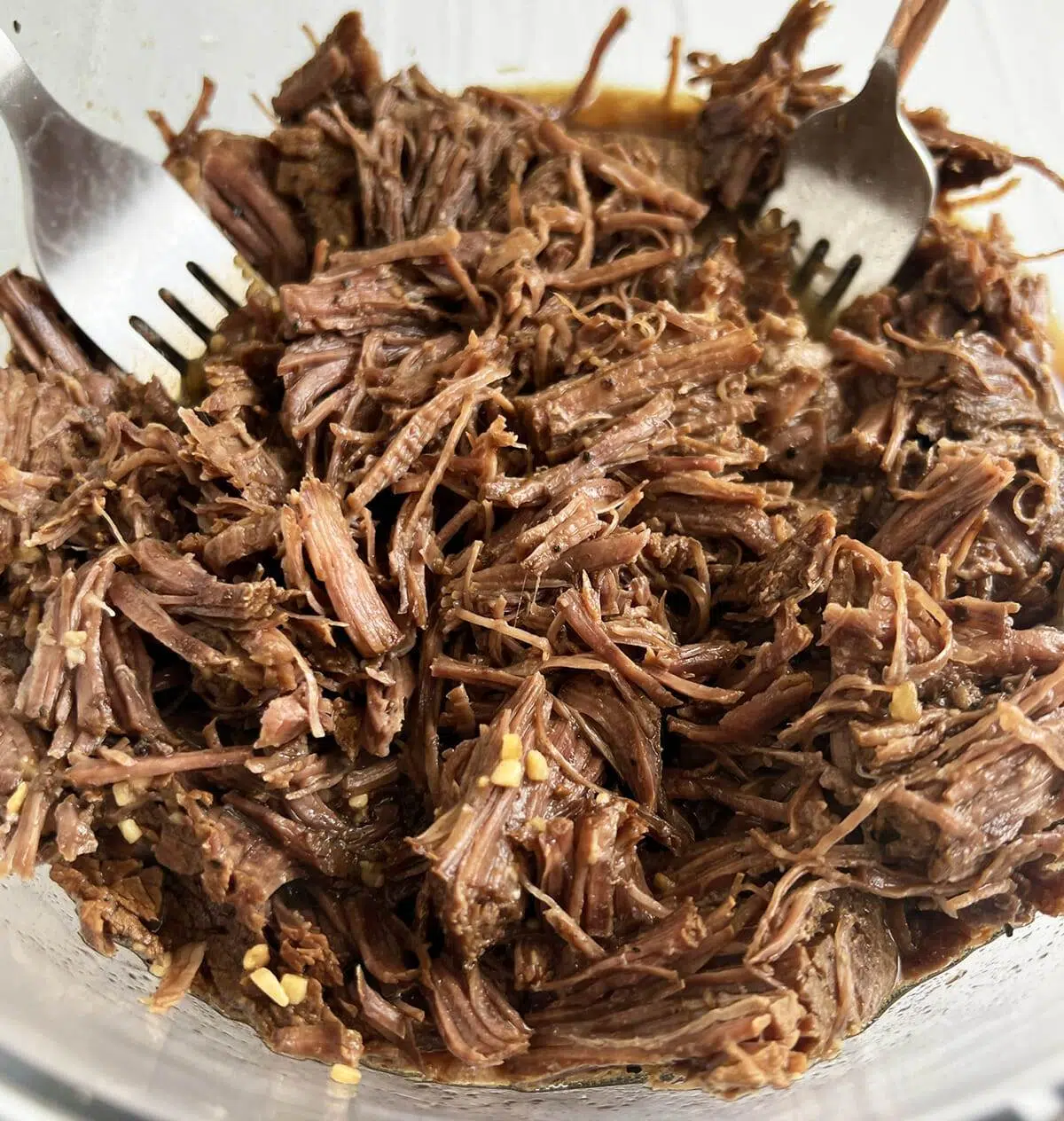 Ready to serve
You're now ready to serve your delicious, mouthwatering Instant Pot shredded beef. You'll want a good, hearty and crusty bun to hold up to the meat and juices. Use tongs and pile the beef right into the bun. Then I like to spoon some of the juices directly over the meat. Don't worry, it's ok to get the bun wet too. That's part of the allure of these sandwiches. In fact, much like a traditional French Dip sandwich, you can pour some of the juices directly into a small bowl or cup and dip the end of the sandwich in, prior to each bite. OH it's just so good that way!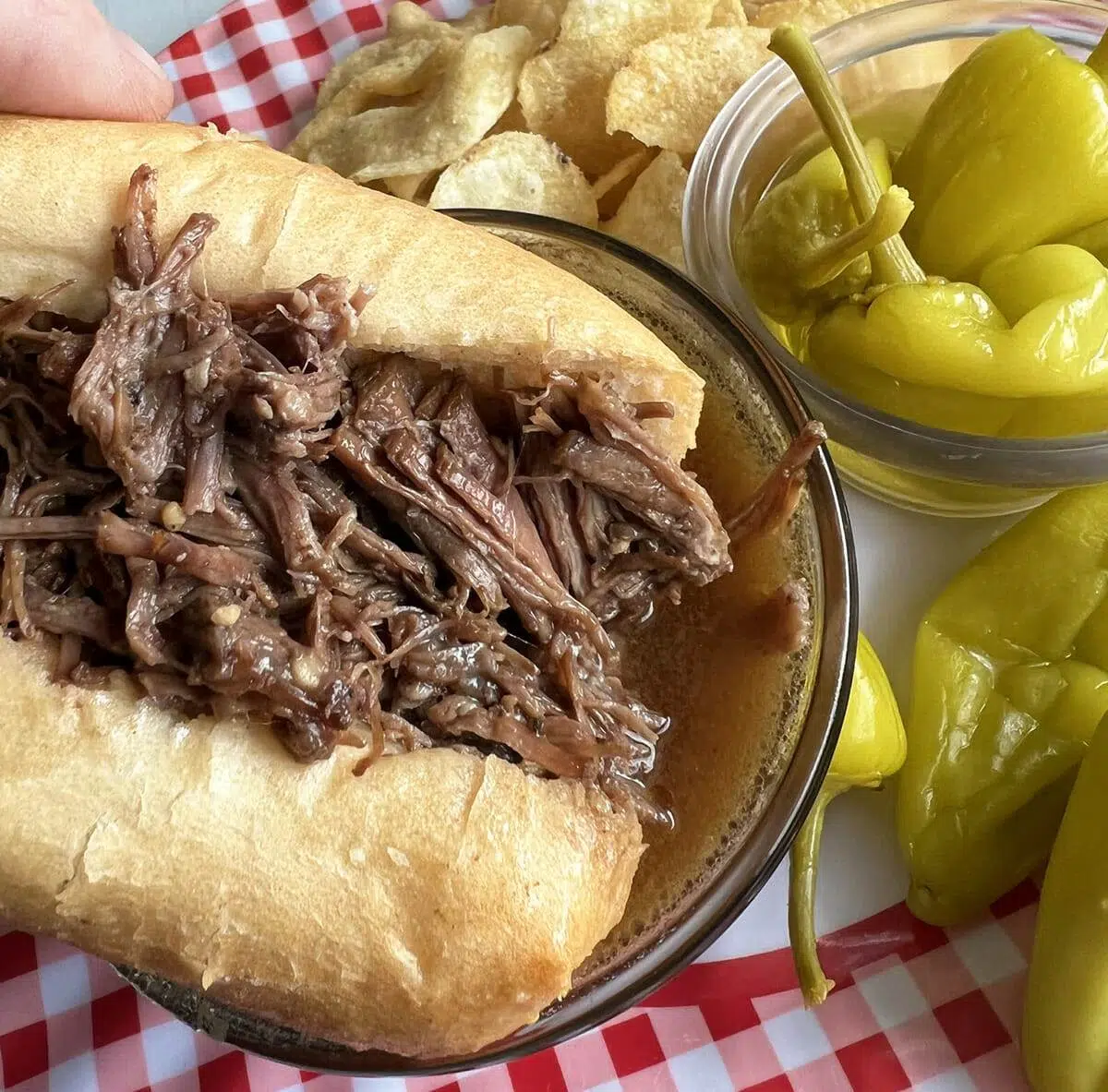 Other Serving Options
You can also leave the meat in the juices in the Instant Pot after cooking and shred it directly. Once it's shredded just scoop up the meat and serve it, dripping with liquid, right on the bun. Be careful though, it can be really hot to the touch this way.
Add the perfect toppings by using sliced pepperoncini peppers and fire-roasted red peppers. It adds a cool zing, a little crunch, and even more flavor to these delicious sandwiches.
Another option is to add BBQ sauce. When the meat is done cooking, remove it from the juices to a bowl and shred. Then add about ½ – 1 cup of your favorite BBQ sauce. Mix it all in and it's ready to serve. You can pretty much discard the juices at this point, as the BBQ sauce will be all the liquid you'll need for the beef.
Can this recipe be doubled?
Yes, you can certainly double this recipe or adjust for more. Increase the dry ingredients accordingly. You also don't have to stick to exact amounts of each ingredient. Basically you can season to taste. If doubling the recipe, you don't need to double the broth. Keep the amount of broth to 2-2.5 cups. You also don't need to double the cooking time. Keep it at 50 minutes.
Freeze for Later
Place the shredded beef with the juices into a freezer safe, airtight container and store in the freezer for up to 4 months.
Print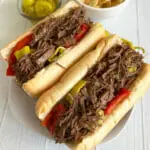 Best Damn Instant Pot Shredded Beef Sandwiches
---
Author:

Total Time:

1 hour

Yield:

4-6 servings
Description
Savory roast beef cooked to juicy, tender perfection in your Instant Pot and served on rolls with a delicious aus ju.
---
2.5

lbs chuck roast, trimmed and cut into

4

–

6

chunks

2

tbs Montreal seasoning

1 tsp

onion powder

1 tsp

garlic powder

1.5 cups

beef broth

1

tbs Worcestershire sauce

1

tbs red wine vinegar

½

tbs vegetable oil
Fresh, crusty rolls such as French rolls.
---
Instructions
Set Instant Pot to sauté mode.
In a large bowl, add chunks of beef and coat with vegetable oil. Add Montreal seasoning, onion powder, garlic powder, and mix to get all the beef well coated with the seasonings.
When Instant Pot indicates "hot", slowly add chunks of beef with tongs and sear the meat on all sides. This should take about 5 minutes. Turn the meat every minute or so.
When all the meat is seared, use tongs and carefully remove meat to a plate and set aside. Press "cancel" to stop the sauté mode and ¼ cup of the broth to the pot. Use a wooden spoon and scrape all the bits off the bottom of the pot (this is important – we can't have any bits stuck or we risk getting a burn notice while cooking).
With the bottom of the pot scraped, add the remaining broth, Worcestershire and red wine vinegar. Then place the meat back into the pot in a single layer (don't stack on top or each other).
Secure lid, make sure vent is closed (in sealing position) and pressure cook on high pressure for 50 minutes. (On some Instant Pots this is "manual" mode)
After the 50 minutes are up, leave the pot alone for 15 minutes to allow for natural release of the pressure. After the 15 minutes, turn the valve to open to release any remaining pressure. Carefully remove lid when pin has dropped.
Use tongs and carefully remove meat to a large bowl and add about ½ cup of the liquid. Use two forks and shred the meat.
Heap the shredded meat onto buns and spoon over with some of the juices.
Prep Time:

10 min

Cook Time:

50 min

Category:

Dinner

Method:

Instant Pot

Cuisine:

American