How many times have you wondered "How do I make (whatever recipe)", only to find there are tons of posts online with every variation of the recipe you're looking for, but nothing with just the basics.
Maybe you're just looking for a basic French Toast recipe. What's the best milk to eggs ratio? How long do I dunk the bread? That's where RecipeTeacher.com comes in.
I've always been fascinated with cooking and what exactly makes good food. Knowing the basics, understanding some of the most basic elements of recipes has allowed me to add personal touches here and there and get the very best results from various dishes. I'm not culinary trained, just someone who's enjoyed cooking and making things that people say "wow" to!
When I'm not noodling around in the kitchen, I'm in my kayak paddling around local Chicago area lakes and rivers enjoying nature, fishing, photography and loving the outdoors!
I hope you enjoy these recipes and the simplistic approach. You don't need to be an expert of any kind to make these recipes. I'll help teach the basics, and you'll make a great recipe!
How I Develop Recipes
I'm kind of "always" thinking about recipe ideas – a walk through a grocery store, a visit to a restaurant, watching a cooking show – and if a particular dish or ingredient grabs my attention, it's time to study!
Let's take pork chops for example…
I start by asking questions:
What exactly are pork chops?
What are their various characteristics?
What are the varieties?
What is the most basic way to cook pork chops?
I'll study as many pork chop recipes as I can to establish the most common factors such as cook time, temperature, and what are the bare-minimum ingredients.
Then i'll purchase several pork chops – from different grocers and different brands and test as many as I can and to learn the variations.
This is followed by two very key parts of the process: method and taste. Each is extremely important (but taste is definitely more fun!).
The method: Whether it's in an air fryer, Instant Pot or oven, i'll take dozens of notes until I come up with the method that's simple and WORKS.
The taste: I'll experiment with the most basic ingredients to achieve the ideal taste before branching out to focus on a few ingredients that will achieve a particular flavor profile.
Lastly, I write up the recipe in the clearest terms so that you have no question about a particular step of the process.
Want to reach out? I love hearing from you! Jut send me an email at: mango@recipeteacher.com
---
Contributors
During my journey with recipeTeacher.com, I've strived to continually evolve the content in order to provide the most accurate recipes and cooking instructions possible. To do this, I surround myself with the best people – including true culinary experts who consult on my recipe developments. This has allowed me to expand the variety of recipes offered, and provide you with all the information you need to make delicious food at home (with my easy, no-fluff approach that you've come to know and love).
Gabriel Alvarez
RECIPE DEVELOPMENT
FOOD PHOTOGRAPHY
RECIPE CONSULTANT
Gabriel brings a wealth of talent and skill to RecipeTeacher.com. He has over 2 decades of professional cooking experience including 11 years of teaching college level culinary and baking classes. Gabe's journey includes being a full-time Chef Instructor at Le Cordon Blue College of Culinary Arts in Chicago for 6 years, and is currently Chef Instructor at Washburne Culinary and Hospitality Institute, also in Chicago.
Gabriel's education includes a Bachelor's Degree in Culinary Management from Le Cordon Bleu College of Culinary Arts in Scottsdale, AZ; an Associate of Applied Science, Culinary Arts from Le Cordon Bleu College of Culinary Arts in Chicago, IL; and an Associate of Applied Science Degree in Le Cordon Bleu Patisserie and Baking from The Cooking and Hospitality Institute of Chicago.
Gabe's favorite dish to prepare is lasagna. His favorite dessert to make is lavender creme brulee.
"I love to take a practical approach to cooking, even with advanced techniques – showing anyone and everyone that once you understand how to work with food (because food isn't going to learn to work with you), cooking isn't as hard as you think!"
Brian Pentacost
RECIPE DEVELOPMENT
RECIPE CONSULTANT
Brian brings polished talent and an encyclopedia-like knowledge of both food and wine pairings to the table everyday in his current full time job at the best fine dining seafood restaurant in Southwest Florida. Being a chef at a very young age, Brian learned on the job through mentorship and on the job training. Brian was a professional saute chef then head chef at several boutique style Italian and Seafood Bistros where he developed menus and set up kitchens from concrete up in Bonita Spring and Ft. Myers. At the same time also operated a successful private chef business catering to Elderly people that have nutrition restrictions and concerns. Brian was a server while living in Chicagoland for the last previous 17years at Gibsons Oakbrook and Gene Georghetti's now works at Truluck's where he lives in Naples Florida.
He is also a daddy of two beautiful cats and an avid fisherman.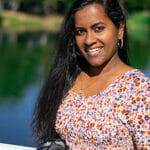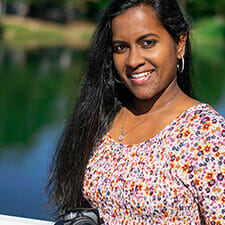 ABI GUNASEKARN
RECIPE DEVELOPMENT
FOOD PHOTOGRAPHY
VIDEOGRAPHY
Based in Columbus, Ohio, Abirami is a self taught photographer who loves to tell the story behind each recipe through her lens.
"I love to develop unique and interesting recipes around the world with my own take on it. No matter the size of the project, I bring the same passion and dedication to each individual project and it's my priority to make sure everyone is happy at the end of the day."
Abi has been extraordinary to work with. Several of her recipes are at the top of our recipe rotation at home!
Visit Abi's Website for more info: Limelight Pixels
Visit her on Instagram: @limelightpix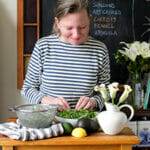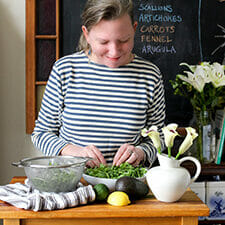 LAUNIE KETTLER
RECIPE DEVELOPMENT
FOOD PHOTOGRAPHY
CONTENT WRITING/EDITING
Launie Kettler is a food writer and photographer who lives in a suburb of Burlington, VT. She cooks big food in a small kitchen, and her husband and cats are tolerant of the fact that she plays the same Wilco and Son Volt albums over and over while pontificating about the beauty of cumin. Launie is the co-author of The Everything Mediterranean Slow Cooker Cookbook and her recipes have been featured in Where Women Cook, Fresh Magazine, and on Salon.
You can follow her adventures on Instagram @teenytinykitchenvt and on her blog at TeenyTinyKitchen.com.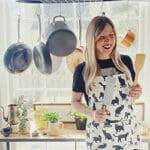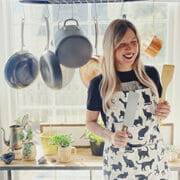 HEATHER WRIGHT
RECIPE DEVELOPMENT
FOOD PHOTOGRAPHY
Hello! I'm Heather! I have been cooking since I was 2 years old. I grew up helping my mom cook in the kitchen and when I was old enough I put myself into culinary school. I learned so much and my passion for flavors soared. I grew up in a suburb of Detroit but I now live in Raleigh, NC. I found my soulmate and we got married. And now I just cook for my family, work in my garden, and try and create fun simple recipes for everyone to enjoy!
Visit Heather on Instagram: @easyhomecookingwithheather