Boneless, skinless chicken breast is expertly seasoned and cooked to tender, juicy perfection in your air fryer. With a delicious mix of common ingredients you probably already have in your pantry, we'll make protein-rich delicious, lean chicken meal that's perfect for any night of the week.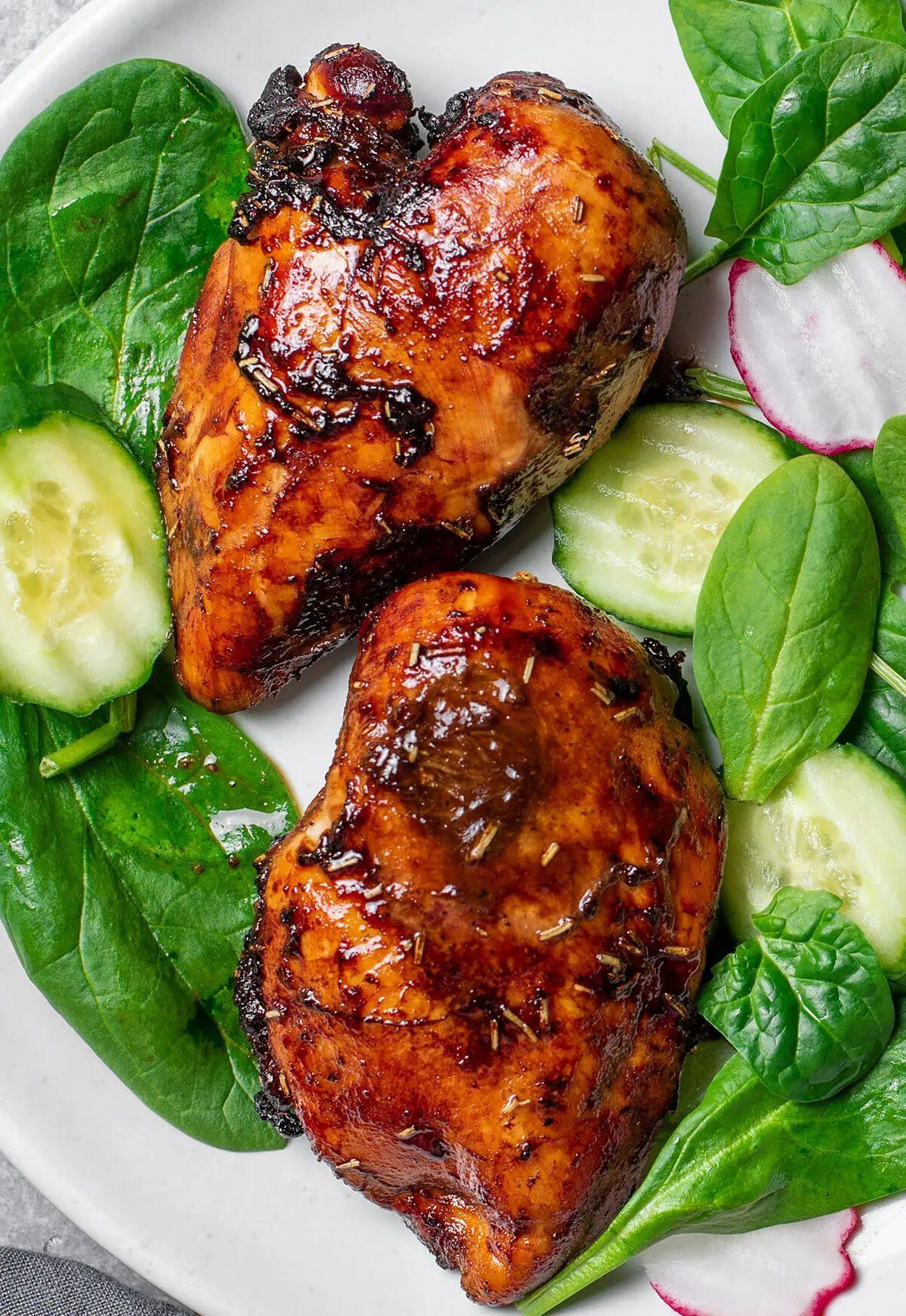 We use fresh boneless, skinless chicken breast, seasoned and marinated, then give it about 15 minutes in the air fryer. The result is a chicken breast that is so juicy and just bursting with flavor. This recipe is a hit with the kids too!
Jump to:
Simple Ingredients
We start with boneless skinless chicken breasts. We'll want to select a size that is about 6-8oz. If using large chicken breasts, slice them in half horizontally. This will produce the very best results.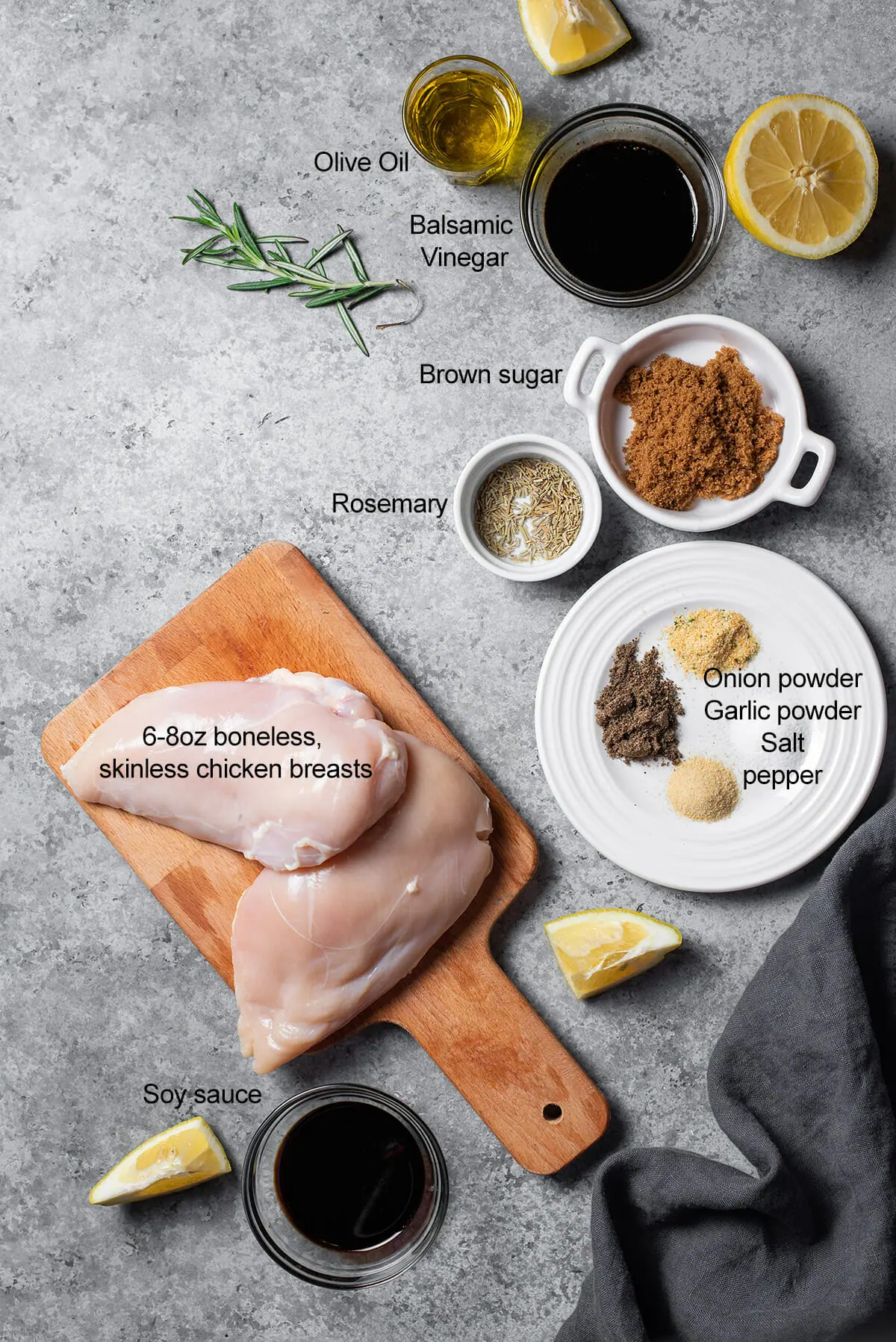 We'll be seasoning the chicken breasts with a marinade of very common ingredients, many of which you probably already have on hand – brown sugar, soy sauce, balsamic vinegar, olive oil, onion powder, garlic powder, crushed rosemary, lemon juice, salt and pepper. This recipe does not use any bread crumbs or breading. Instead, this blend of herbs and spices creates a marinade that results in tender and juicy boneless, skinless chicken breasts.
To brine or not to brine?
You've probably heard about brining meats such as chicken to make it more tender and juicy. Brining means soaking the chicken in a solution of salt, water, and other spices for a period of time. While this certainly is advantageous for many chicken recipes, we can skip the brining for this one. The fact that we're marinating the chicken before cooking will replace the act of brining.
Season and Marinate
Mix all the ingredients together in a shallow dish, then place the chicken breasts in the mixture and let them marinate. You'll want to let the chicken marinate for at least 30 minutes. But if you have more time, a couple of hours is better and overnight is best!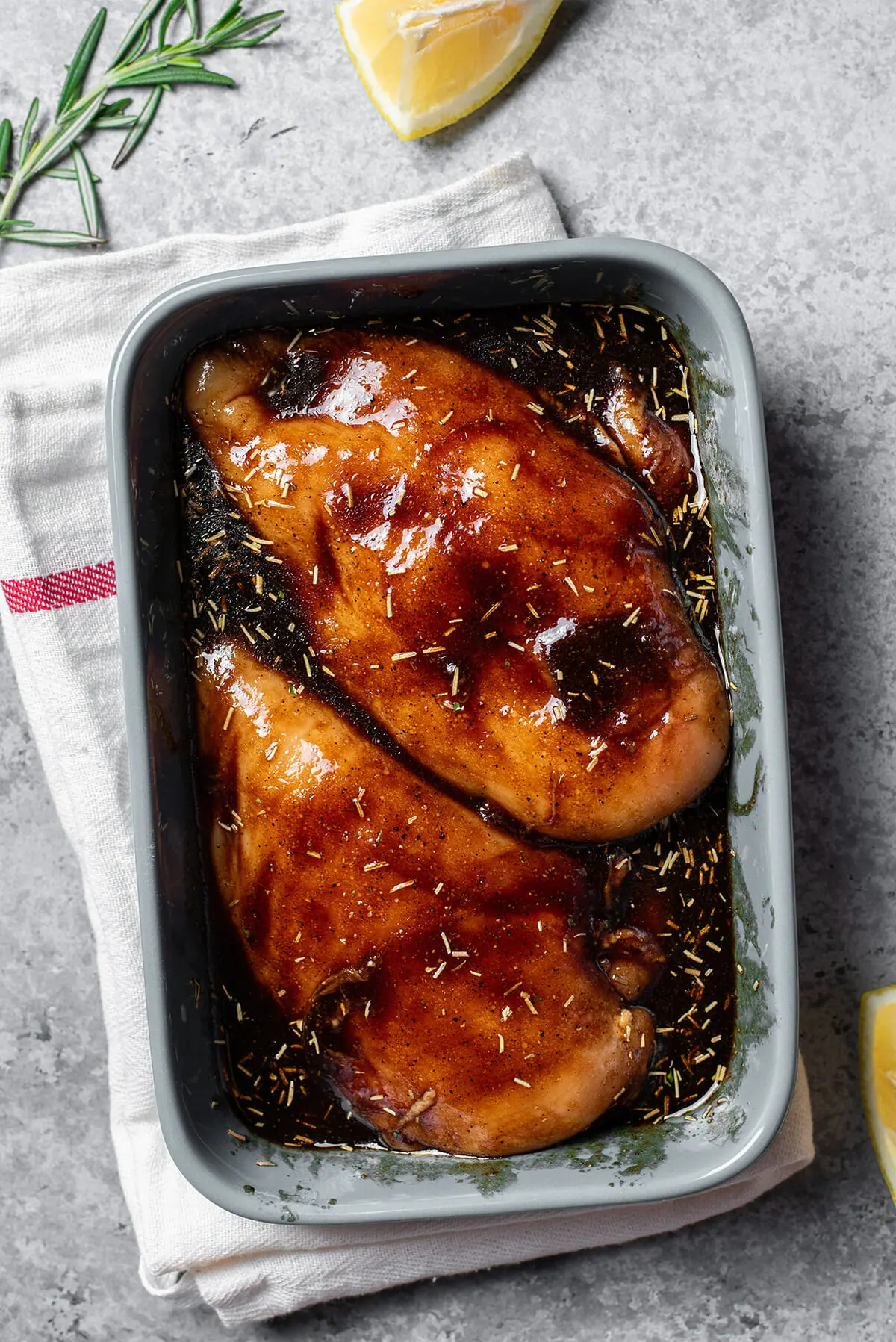 Cooking time
When we're ready to make our meal, we start by preheating the the air fryer for 5 minutes at 360°(F). I always like to spray a little non-stick cooking spray on the bottom of the air fryer basket. I use cooking spray that has no propellants and says that its safe for use in air fryers. Cooking spray that's in traditional aerosol cans can damage the finish in the air fryer basket or tray.
After the air fryer has preheated, place the marinated chicken breasts in the basket or on tray. You can brush on some additional marinade if you want. I like to add just a bit of fresh ground black pepper with just a twist or two of the pepper mill. I also like to add some additional sea salt or kosher salt. This is just personal taste but I find it adds that little extra boost of flavor. Use the air fry setting and at 360°(F) for 16-20 minutes, depending on size. Flip the chicken after 10 minutes. We want the internal temperature of the chicken to be 165°(F) when measured with an instant read thermometer.
Let rest and serve
Once the chicken done, carefully remove from the air fryer and place it on a plate to rest for 5 minutes. This allows the natural juices to redistribute throughout the meat, giving us a nice juicy and tender chicken breast.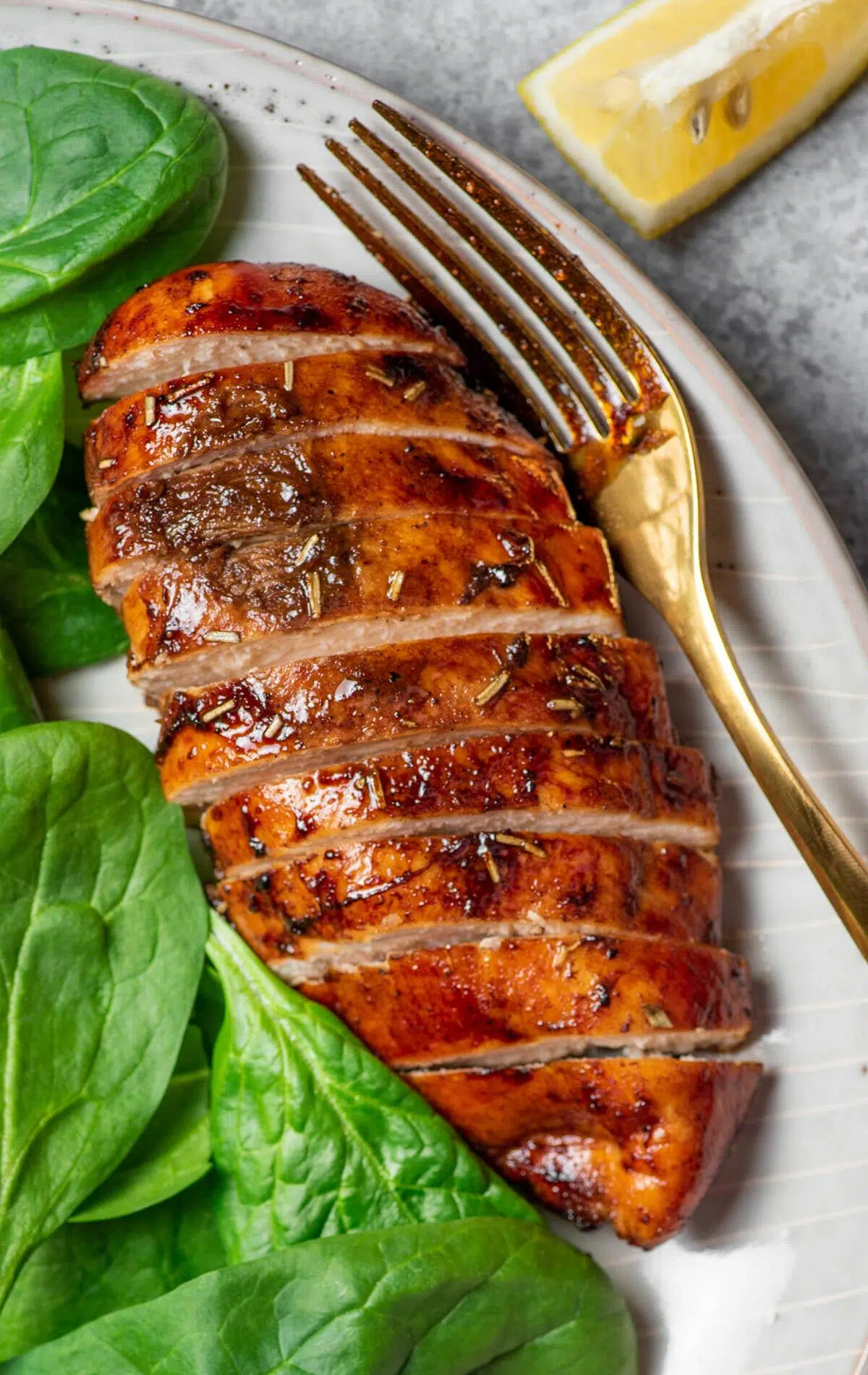 Serving Suggestions
This chicken recipe is so versatile and can be served any number of ways. I like to serve it as-is, with maybe a side of white rice and some fresh vegetables. This chicken can also be sliced up and be the main protein in a big salad. I love a salad containing fresh romaine lettuce, spinach, sliced radishes, cucumbers, chick peas, sliced carrots and this chicken. It's the perfect lunch to bring to work.
Frequently asked questions
How to store leftovers?
Answer: Simply place the leftover chicken in an airtight container and store in the refrigerator for 3-4 days.
If you are meal prepping for the week, it is a good idea to portion out the cooked chicken into separate meal prep containers and refrigerate them immediately. This will help to prevent the growth of bacteria and keep the chicken fresh for longer. If you need to store the cooked chicken for longer than four days, you can freeze it for up to three months. When you're ready to eat, simply thaw the chicken in the refrigerator overnight before reheating it.
How to reheat?
Answer: Boneless, skinless chicken breast can be reheated several ways, but for the very best results, use the oven or stovetop. You'll need to add some moisture as well to keep it from drying out.
For the oven: place chicken in a shallow baking dish and cover with some water or chicken broth, then cover the dish with foil and place in a 350°(f) oven for about about 10 minutes.
For the stovetop: slice or shred the chicken and place into a pan with about ¼ cup water or broth. Heat through for about 5-8 minutes.
Microwave: The microwave oven would seem to be the quickest way to reheat chicken, but we have to be careful to not dry it out and get tough meat. Much like the stovetop, we recommend slicing or shredding the chicken and placing in a container with a little water or broth. The microwave in 1 minute increments until heated through.
Pairs well with…
Where do we start? This chicken breast recipe of one of our most popular recipes and goes well with SO many different side-dishes. We really love Air Fryer Asparagus or Air Fryer Brussels Sprouts. Both are really easy to make and use minimal ingredients. We also love to get out Instant Pot in action and make Garlic Parmesan Potatoes with Green Beans. Or perhaps you want to start the meal with a fresh bowl of warm soup. There's really none better than our Instant Pot Creamy Tomato Basil Soup.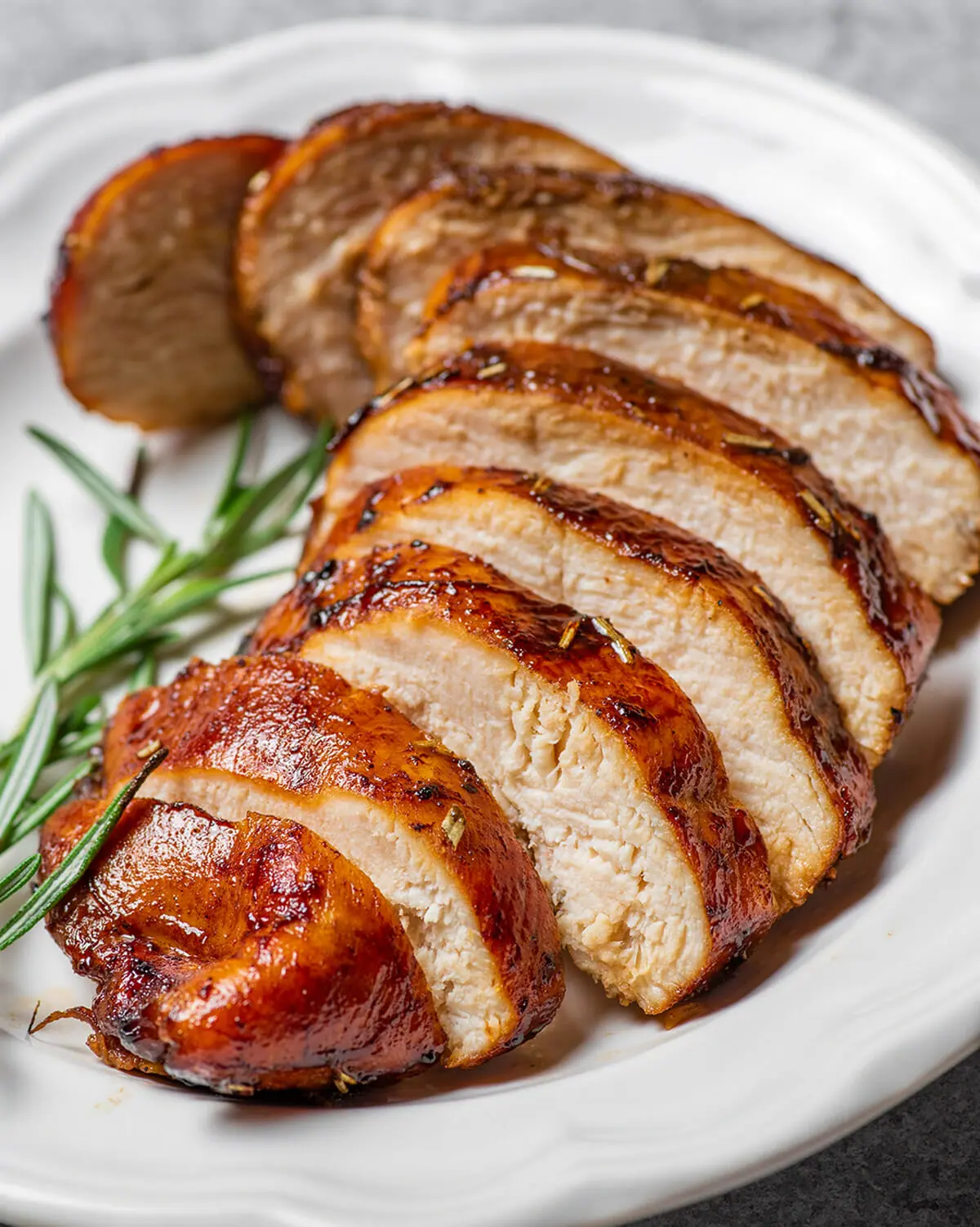 Print
Recipe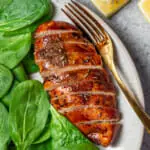 Best Damn Air Fryer Chicken Breast
---
Author:

Total Time:

23 minutes

Yield:

2 chicken breasts
Description
Tender and juicy boneless skinless chicken breasts cooked to perfection in an air fryer.
---
2

boneless, skinless chicken breasts 6-8oz each

3

tbs olive oil

3

tbs balsamic vinegar

2

tbs soy sauce

1 tsp

lemon juice

2

tbs brown sugar

½ tsp

ground black pepper

1 tsp

salt

1 tsp

dry crushed rosemary

½ tsp

garlic powder

½ tsp

onion powder
---
Instructions
Combine all ingredients, except chicken, in a shallow baking dish and whisk together.
Add chicken and coat well so it's all submerged in the mixture. Marinate for at least 30 minutes. 2 hours is better; overnight is best!
Preheat air fryer to 360°(F) for 5 minutes.
Add chicken breasts to air fryer and air fry at 360°(F) for 16-20 minutes, turning after 10 minutes.
After time is complete, remove chicken and place on a plate or cutting board to rest for 5 minutes before slicing.
Notes
You can marinate chicken in a zip-top bag.
Make double the marinate mixture to create a delicious glaze. Set aside half (not use to actually marinate the chicken) and reduce in a pot on the stovetop for about 5 minutes on low heat until sauce thickens. (Do NOT use marinade that raw chicken has been in for this part. Set aside half the mixture for this.)
Air frying time can vary by a minute or two depending on the size of the chicken breast and the particular air fryer. Always make sure the chicken has an internal temperature of 165° F.
Prep Time:

5 min

Cook Time:

18 min

Category:

Dinner

Method:

Air Fryer

Cuisine:

American
Keywords: chicken breast, air fryer, balsamic vinegar