Not all scrambled eggs are created equal. You probably have your favorite little breakfast diner that makes the "best" scrambled eggs, or a family member who makes excellent eggs. Well allow me to share with you one of the simplest scrambled egg recipes and why they're the best damn scrambled eggs i've ever had.
While visiting a friend one weekend when I was about 13 years old, his older brother came to visit and made everyone breakfast. We had all ready been out bike riding all morning and playing baseball and all that, so by 10am, we were ready to feast. I was always a picky eater when I was young and there were scrambled eggs that I liked, and others that I hated. And when I hated them, it always caused embarrassment wherever I was. So when my friend'd brother was busy in the kitchen, I was making sure to load up on biscuits and bacon before the eggs were served – that way I could say I was full if I didn't like the looks of them. Well when the eggs were ready, we told us to come and serve ourselves. These eggs looked great! They were fluffy, had that great color without the white streaks I hated, and had little herbs in them. I couldn't wait to dig in and when I did, I remember saying "these are the best damn scrambled eggs!" We all had a good laugh and continued to enjoy this delicious breakfast. He told us that there really wasn't any big "secret", just a few essential steps and a couple ingredients to throw in that made the eggs so good.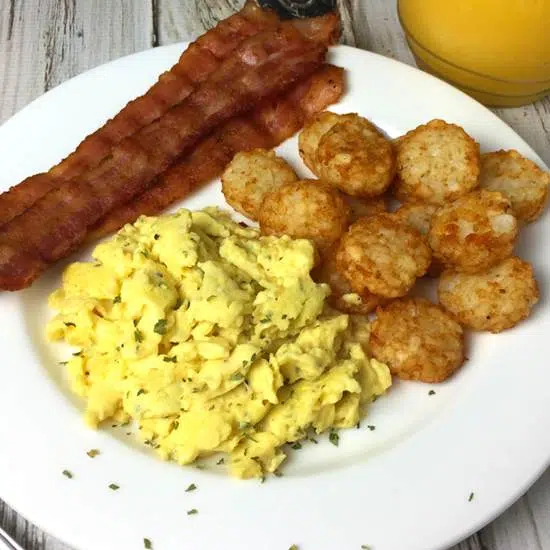 First thing was to make sure you used 1 tablespoon of milk per egg. Then, add a pinch of onion powder, garlic powder, parsley flakes and fresh black pepper. Make sure to whisk the eggs real well. You want a frothy, bubbly mix. Then use real butter to grease up the pan and put the flame on LOW. Use a spatula and turn the eggs until they begin to set, then flip the sides over on each other until they are no longer liquidy. Add any desired salt at the very end and sprinkle on a little more parsley flakes.
To this very day, this recipe makes the best damn scrambled eggs i've ever had.
Print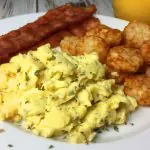 Best Damn Scrambled Eggs
---
Total Time:

10 mins

Yield:

2 servings
4

eggs

4 tablespoons

milk

¼ teaspoon

onion powder

¼ teaspoon

garlic powder

¼ teaspoon

pepper

¼ teaspoon

parsley flakes
Salt to taste

½ tablespoon

butter
---
Instructions
In a medium bowl, beat eggs with milk, onion powder, garlic powder, pepper and parsley flakes. Whisk it up real well to it's bubbly.
Melt butter in a skillet over low heat.
Pour egg mixture into skillet and slowly turn with spatula until eggs begin to set. Continue to stir and fold eggs inward. When no more liquid is present, they're ready to serve. Salt as desired.
Prep Time:

5 mins

Cook Time:

5 mins