Make the most amazing Instant Pot pork tenderloin, seasoned to perfection with garlic and herbs, topped with a heavenly creamy gravy. It's the ultimate comfort food made super easy in your favorite pressure cooker.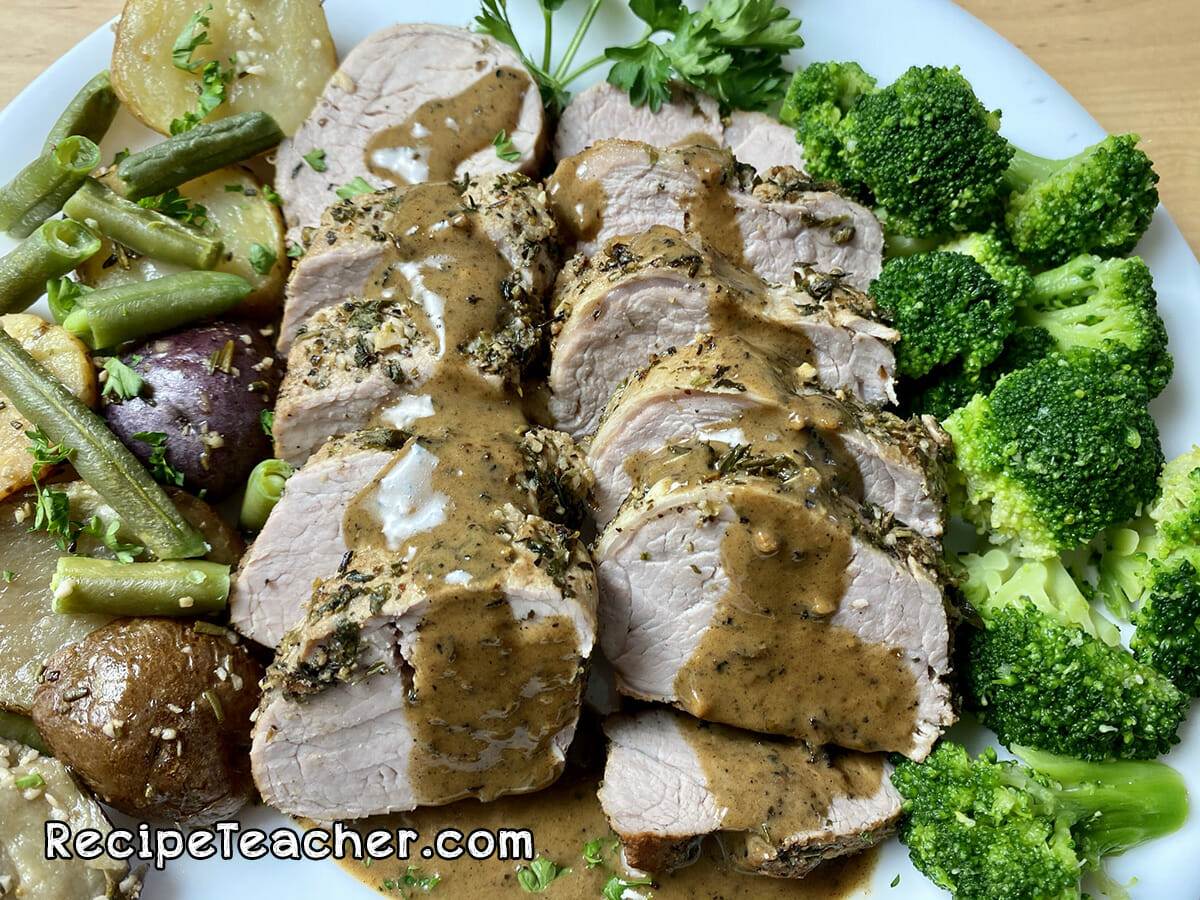 This is one of those recipe that's perfect for showing off what that fancy new Instant Pot can do. All the steps are done in one pot, it uses simple ingredients, and the results are absolutely divine.
Make Sure it Says Pork Tenderloin
Make sure the package specifically says pork tenderloin. There are similar cuts labeled pork loin, pork loin filet, etc. Those are NOT pork tenderloin and will require different cooking times. Pork tenderloin is long, slender, and generally weighs ¾ lb. to 1 ¼ lb. Sometimes they come in packages of two. Pork tenderloin is the premium of all the pork cuts. It's very lean and very tender.
Easy Preparation
I love recipes that are easy and can be thrown together quickly. This is definitely one of those recipes. Our pork tenderloin will be cut in half (crosswise – making 2 shorter cuts) and seasoned with garlic powder, minced garlic, Italian blend seasoning, salt and pepper. That's it! I like to take the pork tenderloin out of the fridge about 30 minutes prior to making it so it's not super cold when it hits the heat.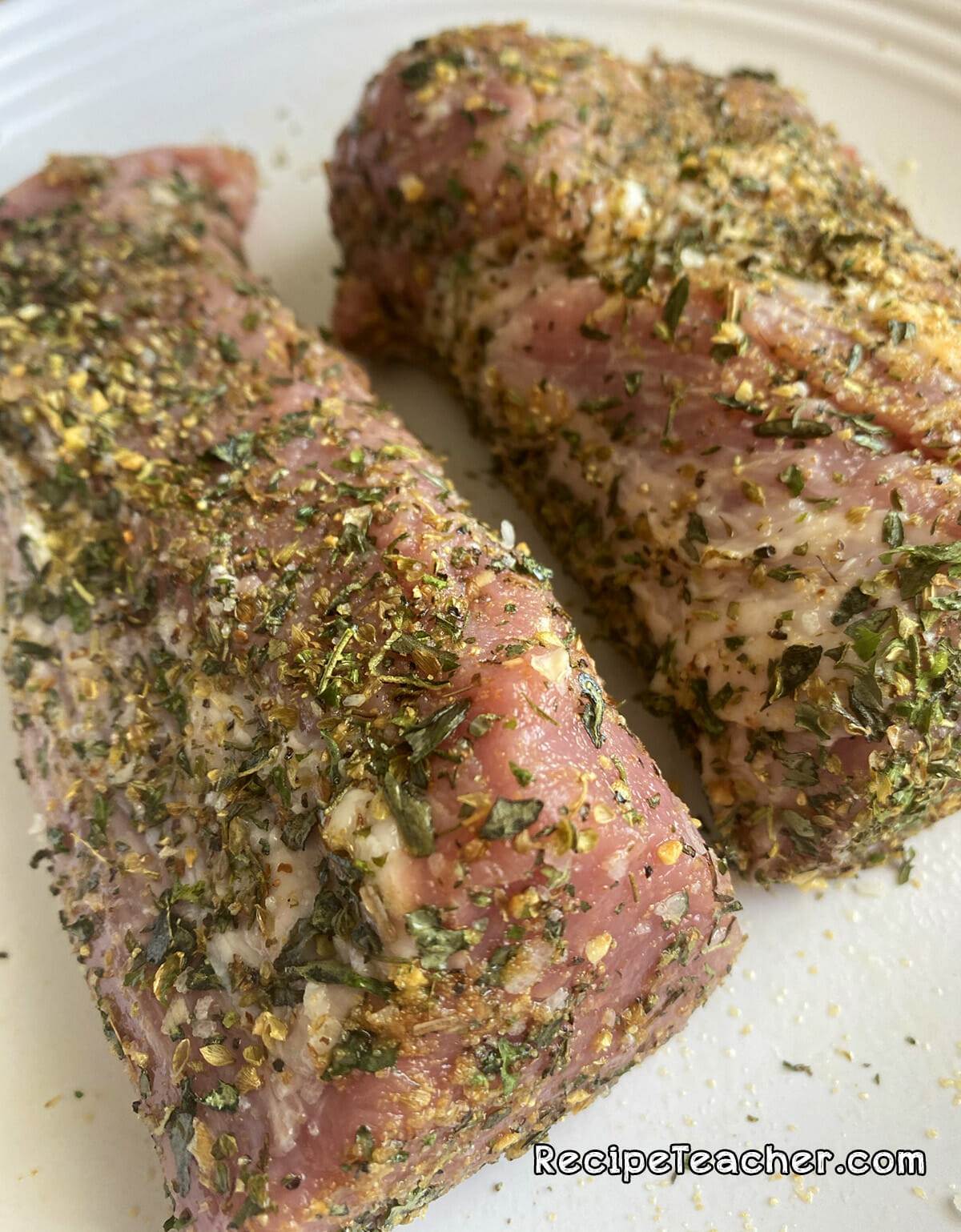 With our meat seasoned, it's time to sear it. With the Instant Pot on saute mode, place the seasoned pork tenderloin pieces in and sear each side for a couple of minutes. When all sides are nice and browned, remove the meat to a plate and pour in the chicken broth. Then use a wooden spoon to deglaze the bottom of the pot. This is the process of simply scraping all the cooked on bits off the bottom. There's a ton of flavor here and it becomes an important part of our recipe.
Pressure Cook for 3 Minutes
Secure the lid, make sure the vent is set to "sealing" and pressure cook on high pressure for 3 minutes. You read that right, only 3 minutes. The cooking process actually starts while the Instant Pot is building pressure. After the 3 minutes of pressure cooking is done, we need to let the pressure naturally release for at least 10 minutes. So while the actual pressure cook time is 3 minutes, the meat will spend about 20-25 minutes in the Instant Pot for the whole process.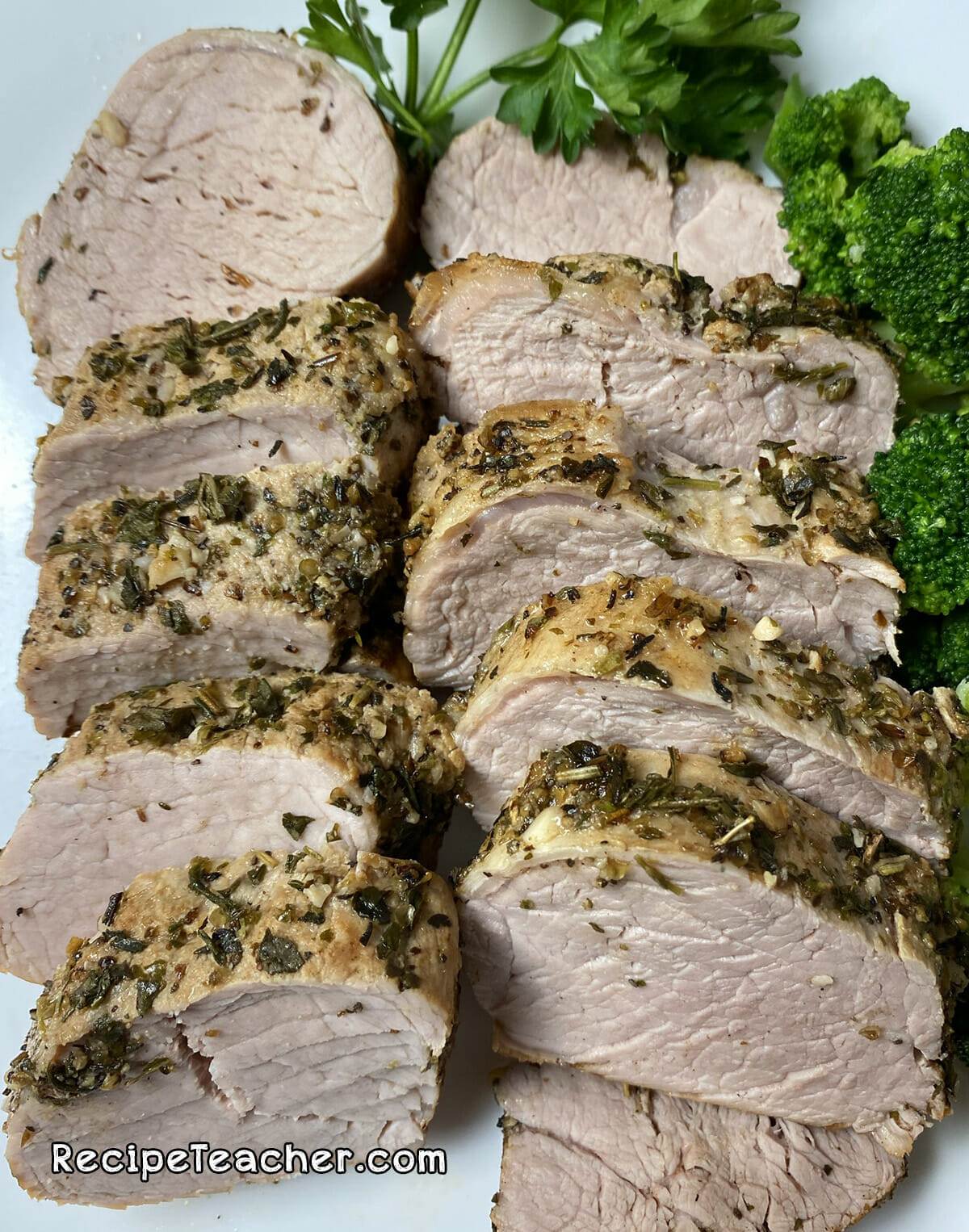 Let it Rest and Make Gravy
When the pressure is released and the pin drops, carefully remove the lid and remove the pork to a plate and let it rest. Meanwhile, press cancel on your Instant Pot, then press "saute". Slowly pour in the heavy cream and let it simmer. After 5 minutes, press cancel, and let the gravy thicken. In a cup, mix 1 tablespoon of cold water with 1 tablespoon of cornstarch and slowly pour that slurry mix into the gravy to further thicken it.
Print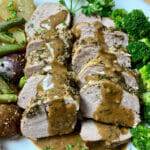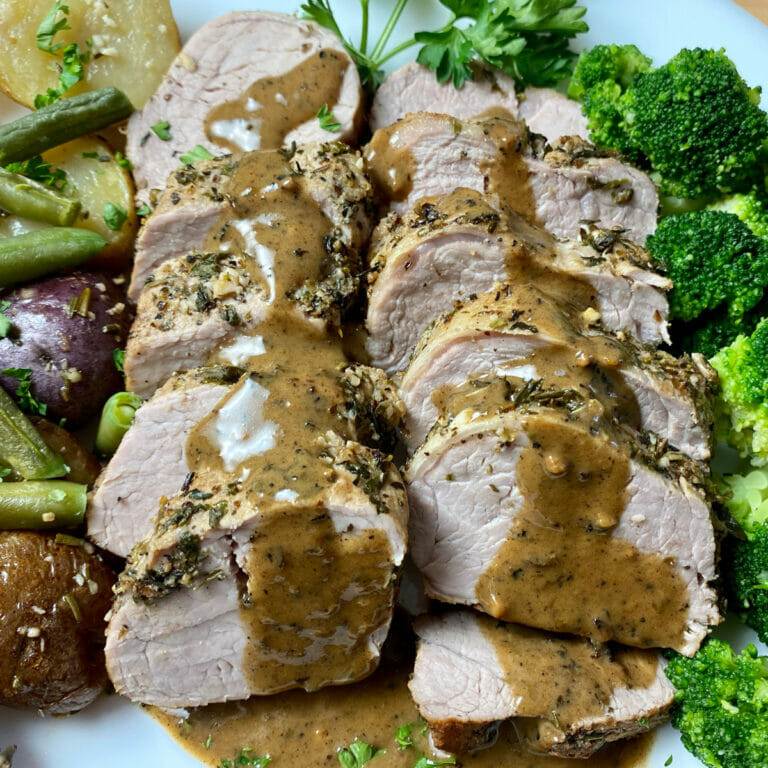 Instant Pot Garlic Herb Pork Tenderloin (with Gravy!)
---
Description
Mouthwatering, tender pork tenderloin seasoned with garlic and herbs, cooked to perfection in your Instant Pot. Served with an awesome creamy gravy.
---
1

pork tenderloin (¾lb –

1 ¼

lb)

1.5

tbs Italian seasoning blend

1 tsp

garlic powder

1 tsp

minced garlic

½ tsp

course salt

½ tsp

ground black pepper

1 cup

chicken broth

¼ cup

heavy cream

1

tbs corn starch

1

tbs cold water

2 tsp

olive oil
---
Instructions
Let pork tenderloin stay in package out of fridge for 15-20 minutes. Remove tenderloin from package and trim any visible fat. Cut tenderloin in half crosswise, creating two shorter pieces.
Coat each piece with about 1 teaspoon each of olive oil. In a small dish, combine all dry ingredients and minced garlic and rub liberally onto meat.
Set Instant Pot to Saute mode. When hot, add meat and brown each side for a couple of minutes each. When all sides are browned, press Cancel and remove meat to a plate. Add the chicken broth to the pot and use a wooden spoon to scrape all the bits from the bottom of the pot (important!).
Place meat directly into the liquid, secure lid, set the vent to "sealing". Pressure cook (manual) on high pressure for 3 minutes. When cycle is complete, allow pressure to naturally release for 10 minutes. Remove meat to a plate and let sit for 5 minutes before slicing into pieces about ¼ inch thick.
To make gravy: After removing meat, press Cancel, then press Saute. Slowly pour in ¼ cup heavy cream and stir. In a seperate cup, mix 1 tbs water with 1 tbs cornstarch, creating a slurry. Slowly pour cornstarch slurry into the gravy. Mix well and let simmer for about 3-5 minutes to thicken. Press cancel. Gravy will continue to thicken.