A true classic recipe, these scalloped potatoes are just like the ones you enjoyed at Grandma's house or at family gatherings. Made with a rich cream sauce and cooked to tender perfection, this recipe is one you can enjoy any night of the week. And this recipe has a very special lady behind the story. Continue reading below…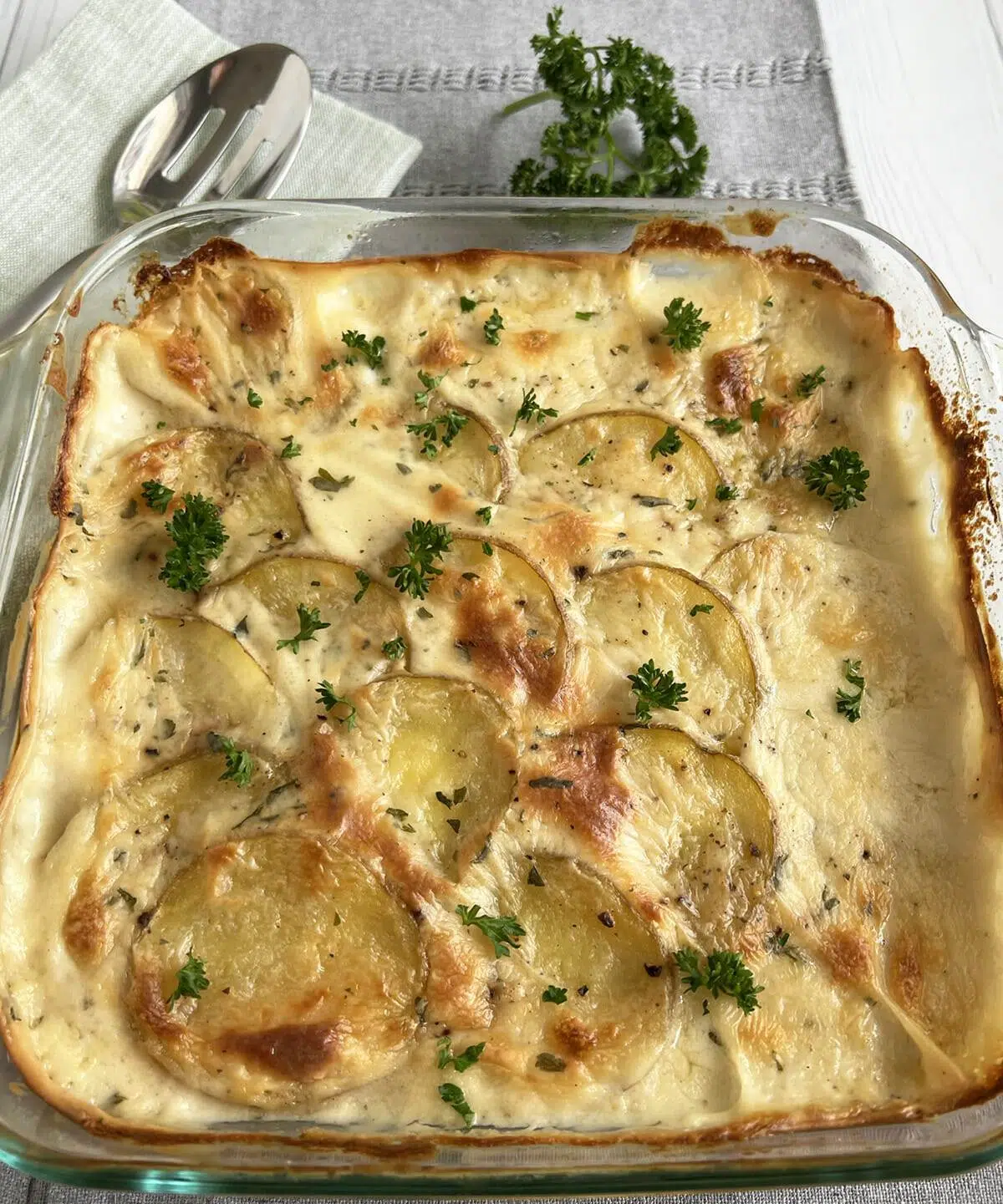 Why Are They Called Jean's Scalloped Potatoes?
During my journey creating and sharing recipes on RecipeTeacher, I've had the pleasure of corresponding with many readers via email and social media. Lots of folks reach out to ask questions or share comments, offer suggestions, seek cooking advice, etc. I absolutely love hearing from everyone and it's been one of the best parts of this whole adventure. One such email was from Jean E. Jean had reached out a couple of times and was always so very sweet. In one email Jean asked if I had a favorite recipe for scalloped potatoes. Though scalloped potatoes were a dish I always loved, I didn't have a specific recipe to share. But, I was determined to make one to share with Jean.
I immediately reached out to one of my trusted team members, Brian, who I knew would be up to the task. Brian jumped at the chance and we got to work sharing notes and reaching out to Jean to make sure we were coming up with a recipe that she and her family would love. With all the notes in place, Brian worked up an amazing recipe and was excited to share the results. With Brian's excellent recipe, I then got to work learning all the nuances of making scalloped potatoes, all the intricacies, and made Brian's recipe several times – making sure I knew it well and was ready to share with Jean.
This is probably one of the most special recipes I've ever worked on for this site. The correspondence with Jean herself, is something that I'll always treasure. Being able to share this passion I have for cooking and making recipes is hard to describe. I get such a warm feeling inside knowing that others are making and enjoying my recipes. And Jean has made this whole experience extra special, and forever rewarding for me. So without further adieu, and with Jean's approval, I present to you all… Jean's Scalloped Potatoes.
What are Scalloped Potatoes?
Scalloped potatoes and potatoes au gratin have kind of become intermingled in recent years. Most of us think of scalloped potatoes as thinly sliced potatoes, served in a creamy sauce, sometimes with cheese and baked in a casserole or baking dish. True scalloped potatoes are indeed thinly sliced potatoes, baked in a cream sauce. No cheese, no breadcrumbs. Yukon gold or russet potatoes are most commonly used.
Potatoes au gratin are also thinly sliced potatoes layered in a casserole dish, but with a cheese sauce and commonly topped with breadcrumbs.
Both dishes are delicious and very popular. But for this recipe, we'll make the classic scalloped potatoes dish with a rich and delicious cream sauce, then baked to bubbly, decedent perfection in the oven.
Ingredients
Our scalloped potatoes start with making a cream sauce, then pouring it over layers of potatoes seasoned with salt, pepper, and a layer of onions. For our sauce we use butter, flour, milk, salt and pepper, along with some parsley flakes. The main dish is then thinly sliced Yukon gold potatoes, thinly sliced onions (Vidalia are best), and some salt and pepper.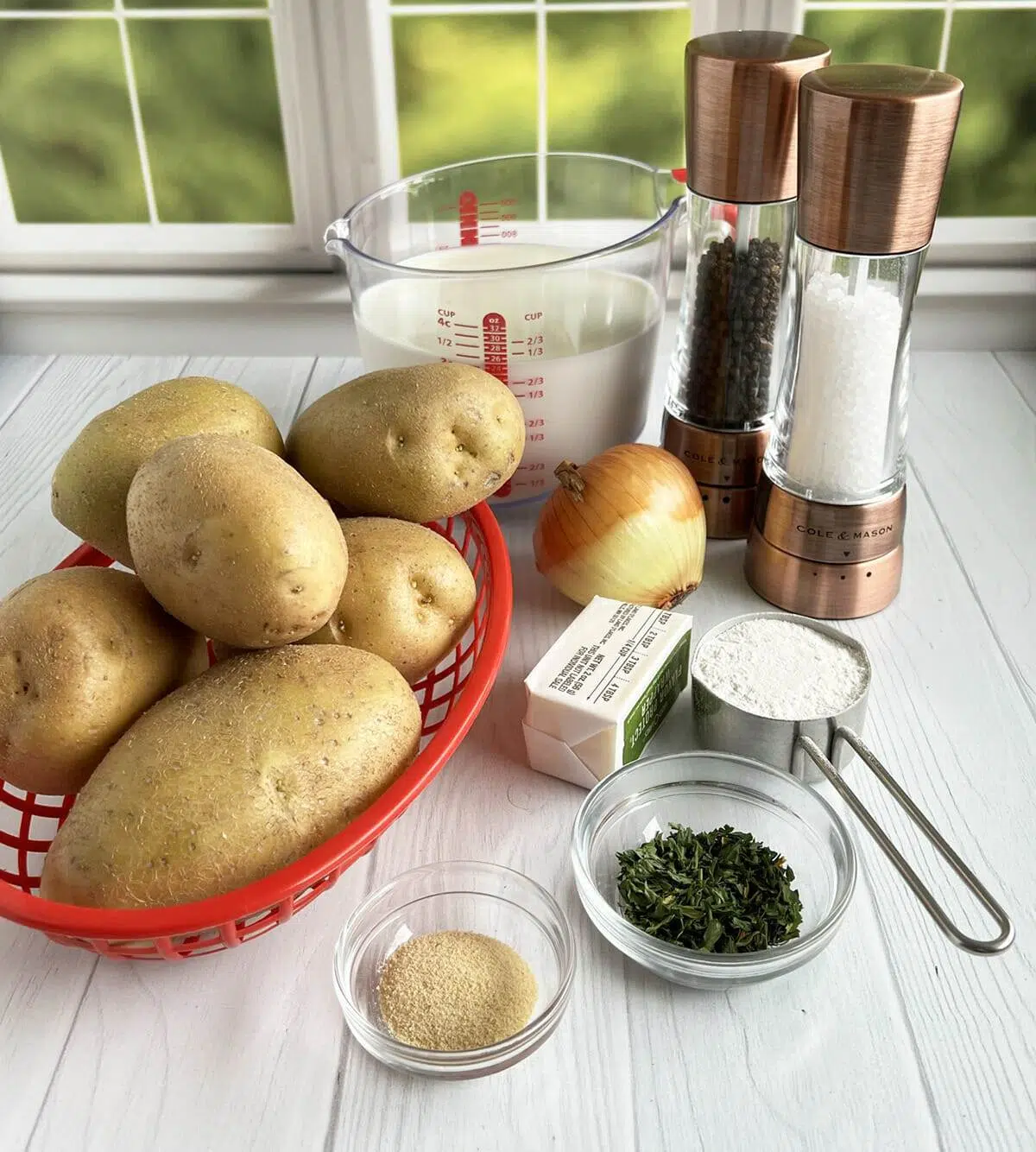 Equipment Needed
Scalloped potatoes are best when the potatoes are nice and uniformly sliced very thin, about ⅛″. A good sharp knife and some concentration and you should be able to achieve the needed results. But my favorite way to slice potatoes for this dish is to use a mandoline slicer. These are slicers that stand on a slight incline, then you use a special handle to grip the potato or onion, and slide it across the blade, getting perfectly uniform slices of any desired thickness. Mandoline slicers are great for slicing many different vegetables. One has to be careful though! Always be sure to use the special grip to hold the item being sliced. Some even come with a glove you can wear to further protect against accidental slippage and cuts.
You'll also need an 8″x8″ baking or casserole dish.
Preparation
Start by thinly slicing 2lbs of potatoes to about ⅛″ thick. Do the same with the onion. Set aside.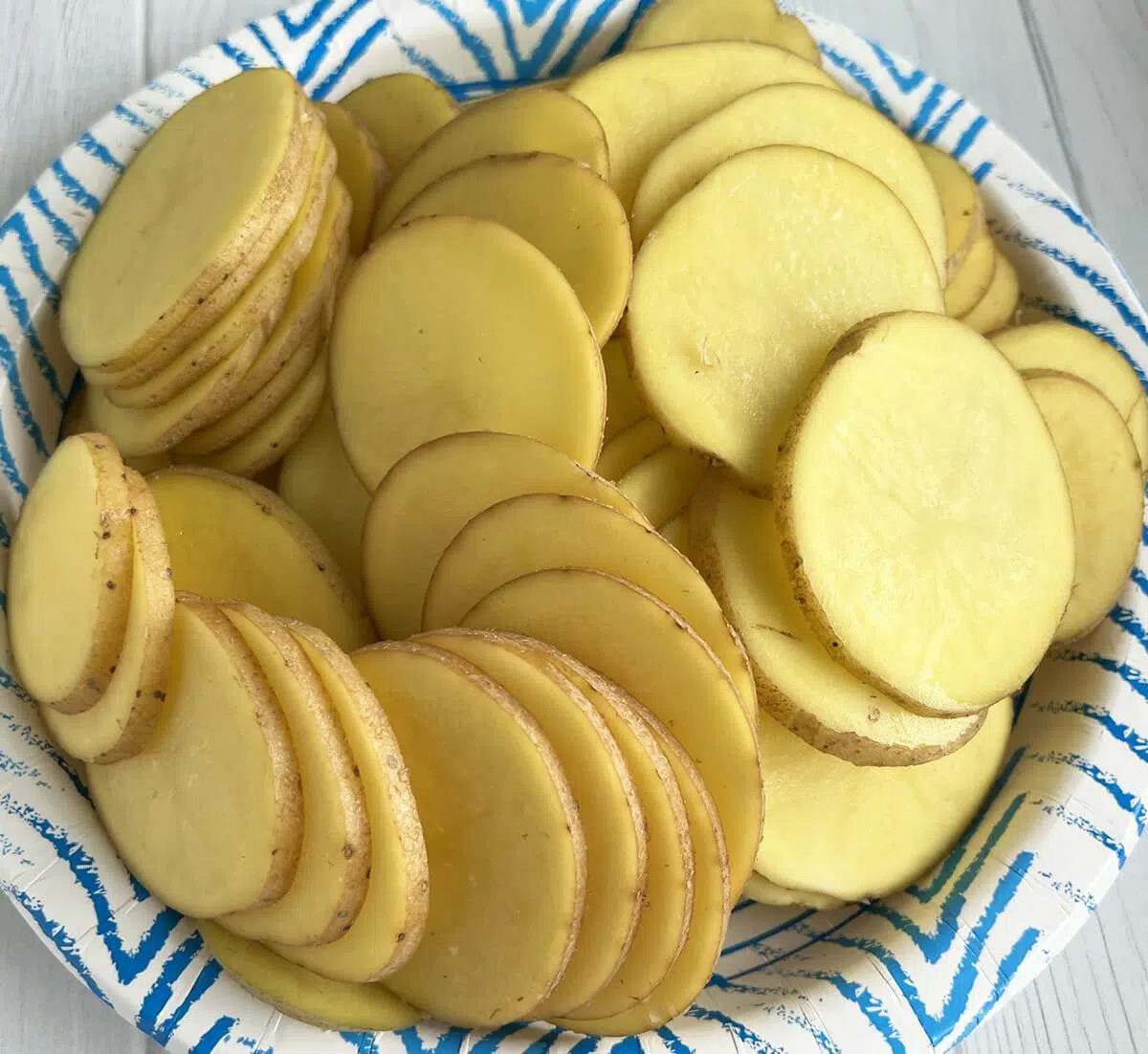 Our cream sauce, called a béchamel sauce, starts by making a roux. To make the roux we use a medium sauce pan over a low flame to melt the butter. As soon as the butter is melted add the flour and whisk constantly.
Once the flour is well incorporated and cooked into the butter, slowly add the 3 cups of milk, 1 cup at a time, whisking for about 30 seconds between each cup. Continue until all the milk is added and bring to a slow boil. Once the sauce reaches a boil, add the parsley flakes and a little salt and pepper to taste. Reduce flame to low and simmer for about 5 minutes. Whisk often. After 5 minutes, remove from flame.
Grease the baking dish well with butter, then begin layering the potatoes on the bottom of the dish. Hit the layer of potatoes with some salt and pepper to taste, then add some of the thinly sliced onions. Next, pour sauce over the layer to cover it well. Add another layer of potatoes, onions, sauce. Finally, add a third layer of potatoes and cover with remaining sauce (no onions on top layer).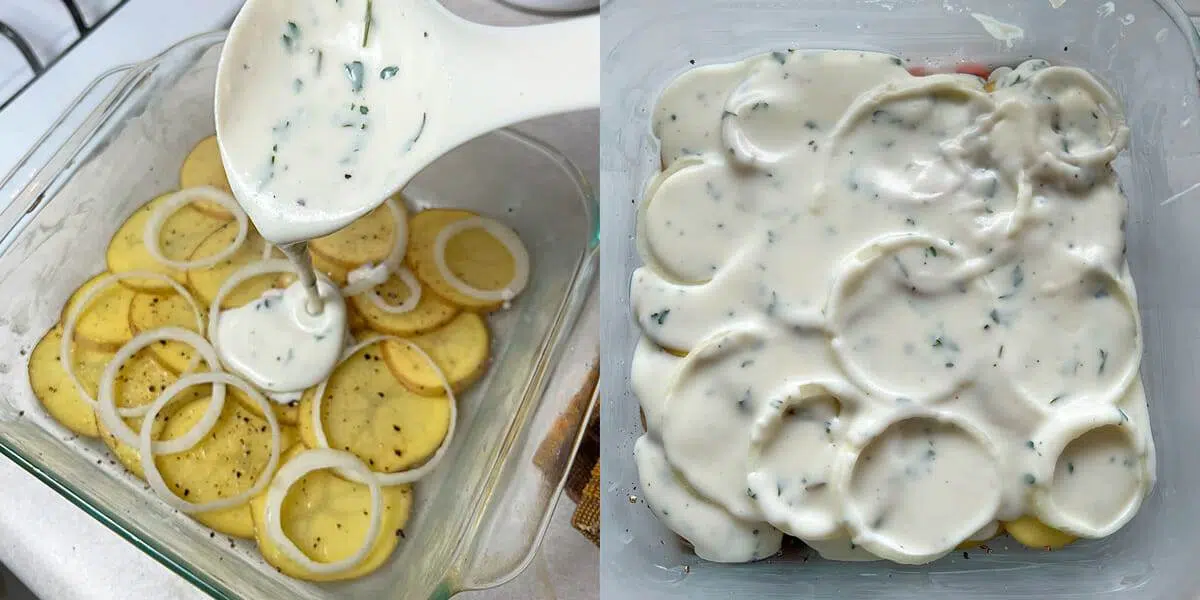 Bake Covered, Then Uncovered
Cover the dish with foil and place into a preheated 350°(F) oven for 45 minutes. After 45 minutes, remove the foil and continue to cook for another 45 minutes. Top layer should become golden brown. Carefully remove from oven and let cool for at least 15 minutes before serving.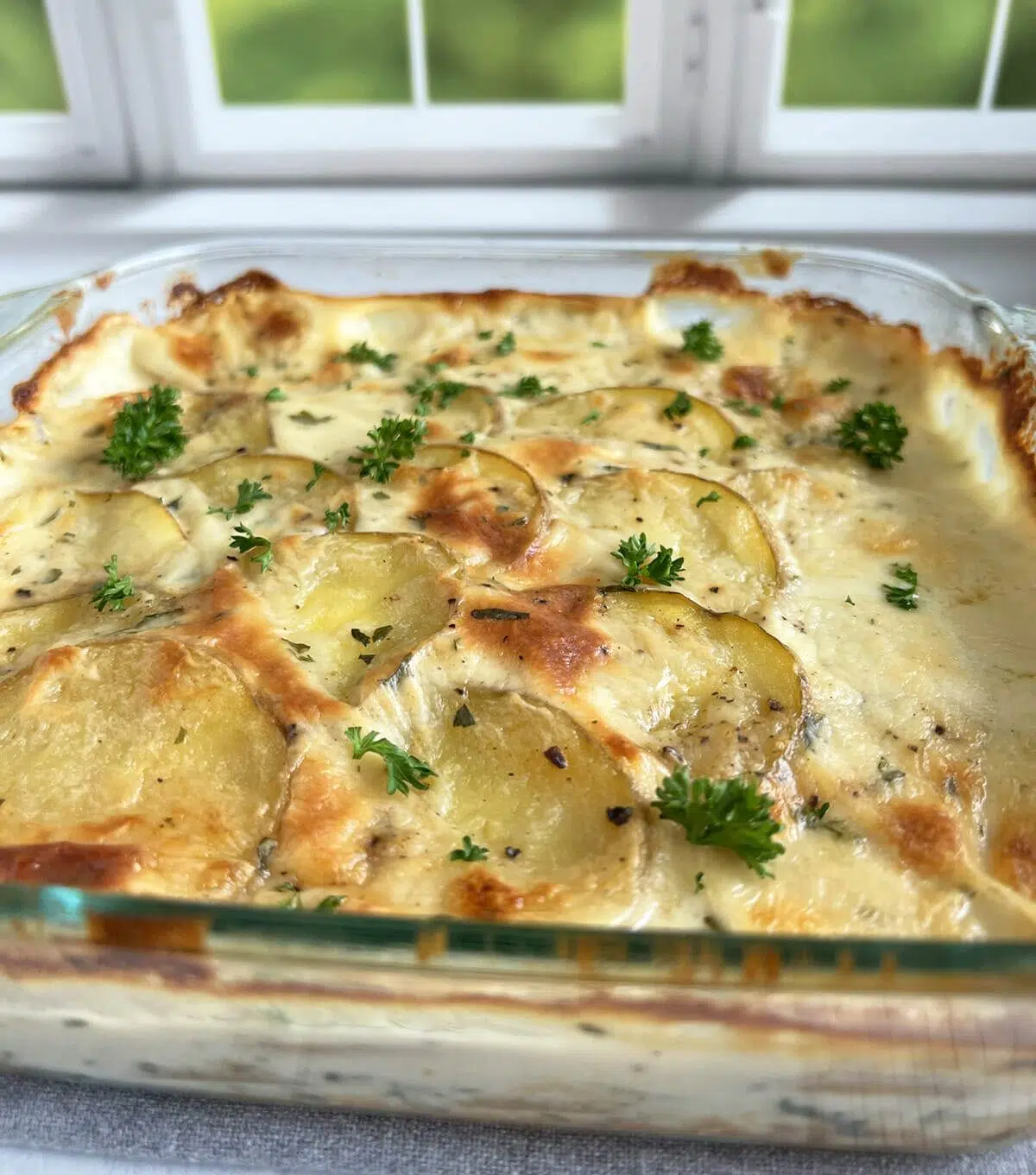 Serving
Once the dish has had an opportunity to cool down for 15 minutes or so, it's ready to serve. I like to top the dish with some fresh parsley to add some nice color and vibrance of a mild green herb. Use a large serving spoon to scoop and serve.
This recipe is so well suited to accompany all kinds of main dishes. Scalloped potatoes go especially well with pork recipes such as our Oven Roasted Pork Tenderloin. It's also excellent with poultry such as our Air Fryer Turkey Tenderloin or Air Fryer Whole Chicken. Naturally, scalloped potatoes go with meatloaf. Try our Instant Pot Meatloaf recipe with these awesome scalloped potatoes!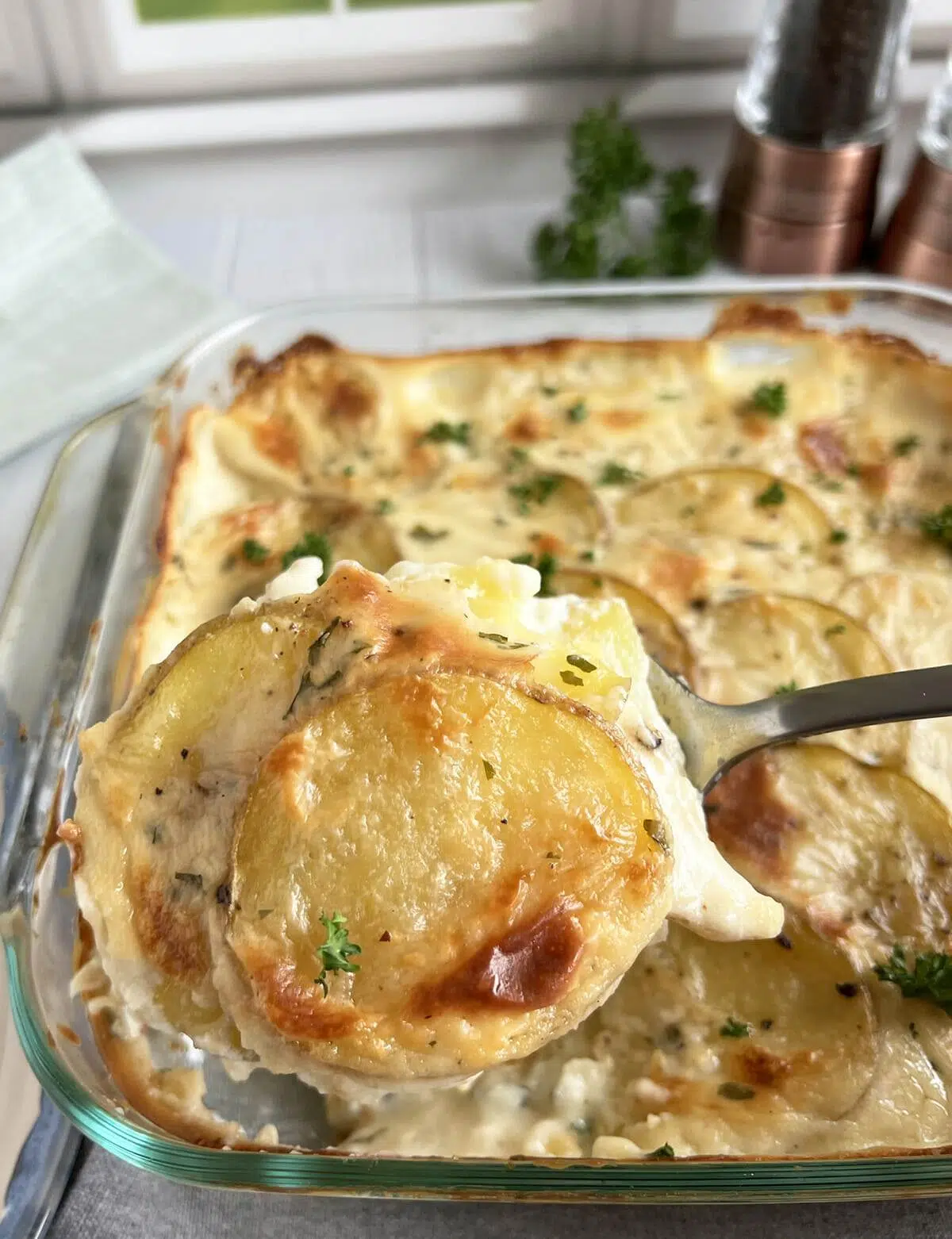 Frequently Asked Questions
Question: Can this recipe be doubled?
Answer: It most certainly can. You'll need a bigger baking dish or casserole dish of course, but simply double all the ingredients. Add 15 minutes time to the first 45 minutes for a total of 1 hour covered, then 45 minutes uncovered.
Question: Can this recipe be prepped or made ahead of time?
Answer: For best results, make the whole dish ahead of time, then store in the refrigerator, covered for up to 3 days. When it's time to serve, heat in oven, covered with foil at 350°(F) for 20-30 minutes or until heated through.
I do not recommend slicing the potatoes ahead of time, and they will oxidize and brown quickly.
Question: Can this dish be frozen?
Answer: This is a tough one, because while this dish can indeed be frozen, it's hit or miss with the reheat results. Often time the sauce can break during the reheat and become lumpy or curdled. For this reason, I suggest enjoying this dish within 3 days of making it and not freezing.
Question: Can potatoes other than Yukon gold be used.
Answer: The best alternate to Yukon gold potatoes for scalloped potatoes are russet or Idaho potatoes.
Print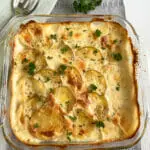 Jean's Scalloped Potatoes
---
Author:

Total Time:

1 hour 50 minutes

Yield:

6-8 servings
Description
Classic scalloped potatoes cooked to tender perfection with a rich, creamy, decadent cream sauce.
---
2

lb Yukon Gold potatoes, sliced thin (about ⅛")

1

small/medium onion, sliced thin (about ⅛")

3 cups

whole milk

¼ cup

flour

¼ cup

butter

2 tsp

parsley flakes

1 tsp

garlic powder
Salt and pepper to taste (about 1-2 teaspoons each)
---
Instructions
Preheat oven to 350°(F) and grease a 8×8 baking dish well with butter. Set aside.
Slice potatoes and onion thin – about ⅛". Use a mandolin slicer for easy slicing. Set potatoes and onions aside.
Place a sauce pan over low heat on stove top and melt butter. Don't let the butter burn. Use a whisk to stir as it melts. When melted, add flour and constantly whisk. Again, don't let it scorch. Keep heat low and whisk for 1-2 minutes. This creates a roux.
With flame up to medium slowly add milk, 1 cup at a time to roux and continually whisk. Once it starts to bubble on the edges, turn heat back to low and whisk for 2-3 minutes. Sauce will thicken.
Add garlic powder and parsley flakes to sauce. Whisk to incorporate and remove sauce from heat.
Layer sliced potatoes on bottom of baking dish. Overlap to create a nice shingled look. Add some of the onions (individual rings) to the layer of potatoes and add salt and pepper to taste. Now, use a ladle to pour some sauce over this layer. Use just enough to cover it.
Add another layer of potatoes, onions, salt and pepper. Again, add a layer of sauce.
Finally, add a 3rd layer of potatoes (no onions this time for the top layer), add salt and pepper to taste, and pour the remaining sauce over it all.
Cover dish with foil and place in oven at 350°(F) for 45 minutes.
Notes
Potatoes naturally LOVE salt. You can add salt to each layer of potatoes to taste, but don't be afraid to add an extra pinch or two along the way. You can also add some salt to the sauce.
Prep Time:

20 min

Cook Time:

90 min

Category:

Side dish

Method:

Oven

Cuisine:

American