That George Foreman Grill you have is probably something you wish you used more. Maybe you had the small one in college and used it for burgers a few times, and now you've just spent a few more bucks on one of the larger ones. Does this describe you to a tee? It certainly describes me! And let me tell you, I really enjoy my Foreman Grill! I've found that one of the times I use it most is on the weekends when I make bacon. Yep, bacon.
When i'm making breakfast for the family, naturally I don't want to have a bunch of pans to clean afterwards. I've tried making bacon in a fry pan, then letting it cool and clean it out before making eggs, but it's always more hassle than it's worth. And I really don't like making bacon in a fry pan anyways because there's always the splatter and mess. And of course, the bacon is always curling up. It's just too high maintenance. But on the George Foreman Grill, my bacon comes out perfectly every time and it's ready when everything else is too.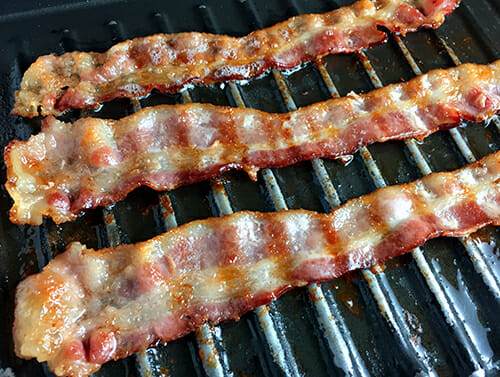 Depending on the size grill you have, you'll probably be able to get anywhere from 4-8 slices of bacon done at once. That's plenty for us. The only maintenance required is to actually flip the bacon over one time. "Why", you ask? Well even though the Foreman Grill is a 2-sided contact-grill, it doesn't really close enough to make direct contact with the top. So after 7-10 minutes, give the bacon a flip and you'll only need about 5 minutes for the 2nd side. Not only will the bacon come out perfect, but it won't be curled up, and… all the grease has safely dripped away into the drip tray.
I absolutely love making bacon in my George Foreman Grill. Give it a try, I think you'll agree.
Print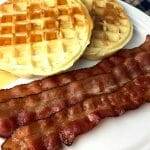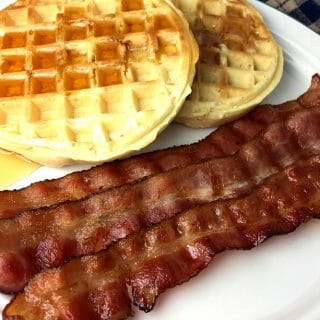 How to Make Bacon on Foreman Grill
---
---
Instructions
Preheat George Foreman Grill for at least 5 minutes with lid closed.
Add bacon slices, close lid, and grill for 7-10 minutes. Flip bacon over and grill an additional 5 minutes with lid closed.
Drain bacon on paper towel before serving.