Here's an easy recipe for chicken quarters that are seasoned with an amazing balsamic sauce and fresh rosemary. The flavors are perfectly compliment the tender, flavorful and juicy dark meat of the chicken legs and thighs. And to make the meal all the better, we'll add to the same pan, some delectable potato wedges that melt in your mouth. It all cooks up in about 40 minutes and it's ready to serve. What's more, we can add some fresh asparagus to the pan about half way through cooking and we've now got a complete meal.
I love sheet pan recipes because everything goes in one place and cooks and that's it. Well sort of. In order for a sheet pan recipe to be successful, the cooking times and temperature of the ingredients has to be the same. In this case, we're doing 425 F for about 40 minutes. And halfway through the cooking time, when we add the balsamic sauce to the chicken, we can also add in fresh asparagus. We'll just want to toss the asparagus in a little olive oil and season with a pinch of salt first, then it can go right into the middle of the pan. And… here's the best part… we can get everything into the oven after just a few minutes of prep. Then, we make our magical balsamic sauce. Oh my goodness let's talk about that for a bit.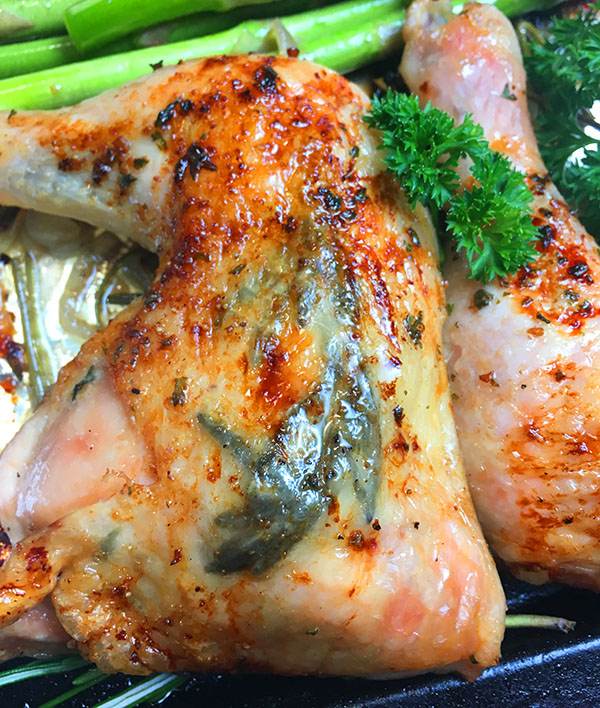 Balsamic Sauce with a secret ingredient
Balsamic vinegar is a dark Italian vinegar that been aged in barrels. It has a bold, almost fruity flavor with a very distinctive taste that lends itself so well to a variety of excellent dishes. For our balsamic sauce we're going to add together balsamic vinegar with chicken broth, brown sugar, some fresh rosemary and flat leaf parsley and the secret ingredient – malt vinegar. Why two vinegars? Simple, the other ingredients in the sauce marry the flavors together perfectly to create a savory sauce for the chicken that is an absolute delight. Nothing will be too overpowering. Everything will accentuate the flavor of the chicken to make it more savory than you can imagine.
Heavenly potato wedges
Russet potatoes are so good when they're made into roasted potato wedges. They have a naturally light, fluffy and earthy flavor, that, when roasted, have a slight, chewy crunch on the outside and a buttery texture on the inside. For this recipe we continue with the balsamic and rosemary theme, this time adding garlic. We use both minced garlic and garlic powder. The powder permeates the potatoes bringing the flavor to the inside, the minced garlic works on the outside of the potato and will roast to bring out additional goodness.
Print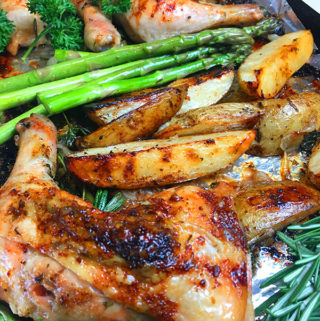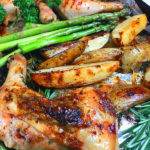 Sheet Pan Chicken Quarters and Potatoes
---
Author:

Total Time:

55 mins

Yield:

4 servings
Chicken
4

chicken quarters

4

sprigs of fresh rosemary

½ cup

balsamic vinegar

¼ cup

chicken stock

1

tbs malt vinegar

1

tbs brown sugar

1

tbs fresh rosemary, chopped

1

tbs flat leaf parsley, chopped

1

tbs olive oil
salt to taste
Potato Wedges
6

small/medium russet potatoes

3

tbs fresh chopped rosemary

2

tbs balsamic vinegar

2

tbs olive oil

2

tbs minced garlic

2

tbs chopped parsley, flat leaf

1 tsp

onion powder

1 tsp

garlic powder
salt and pepper to taste
---
Instructions
Preheat oven to 425 degrees F
Line a large baking sheet with foil or parchment paper.
Layout chicken quarters on sheet pan, place a sprig of rosemary under the skin of each chicken quarter. Brush each chicken quarter with olive oil and salt to taste.
Peel potatoes and cut into wedges.
In a bowl mix all the potato ingredients and toss the wedges until all are well coated. Layout potato wedges on sheet pan with the chicken and out into oven. Set timer for 40 minutes.
In a small pot, add the remaining chicken ingredients (⅓ cup balsamic vinegar, ¼ cup chicken broth, 1tbs malt vinegar, 1tbs brown sugar, 1tbs chopped flat leaf parsley, 1tbs chopped rosemary), heat over low heat to simmer.
At the 20 minute mark, carefully remove pan and use a brush to coat the chicken quarters with the balsamic mix. Also, you can add fresh asparagus to the middle of the pan at this point. Return pan to oven.
After 40 minutes are complete, remove pan and let cool 5 minutes before serving. Use remaining balsamic sauce to pour over chicken.
Prep Time:

15 mins

Cook Time:

40 mins

Category:

Dinner

Method:

Sheet pan

Cuisine:

American
Keywords: sheet pan, chicken, dinner, rosemary, balsamic