Super juicy and bursting with flavor, this pork tenderloin cooks to absolute perfection in your air fryer in about 20 minutes. Made with an easy marinade and simple seasonings, you will not believe how awesome it is!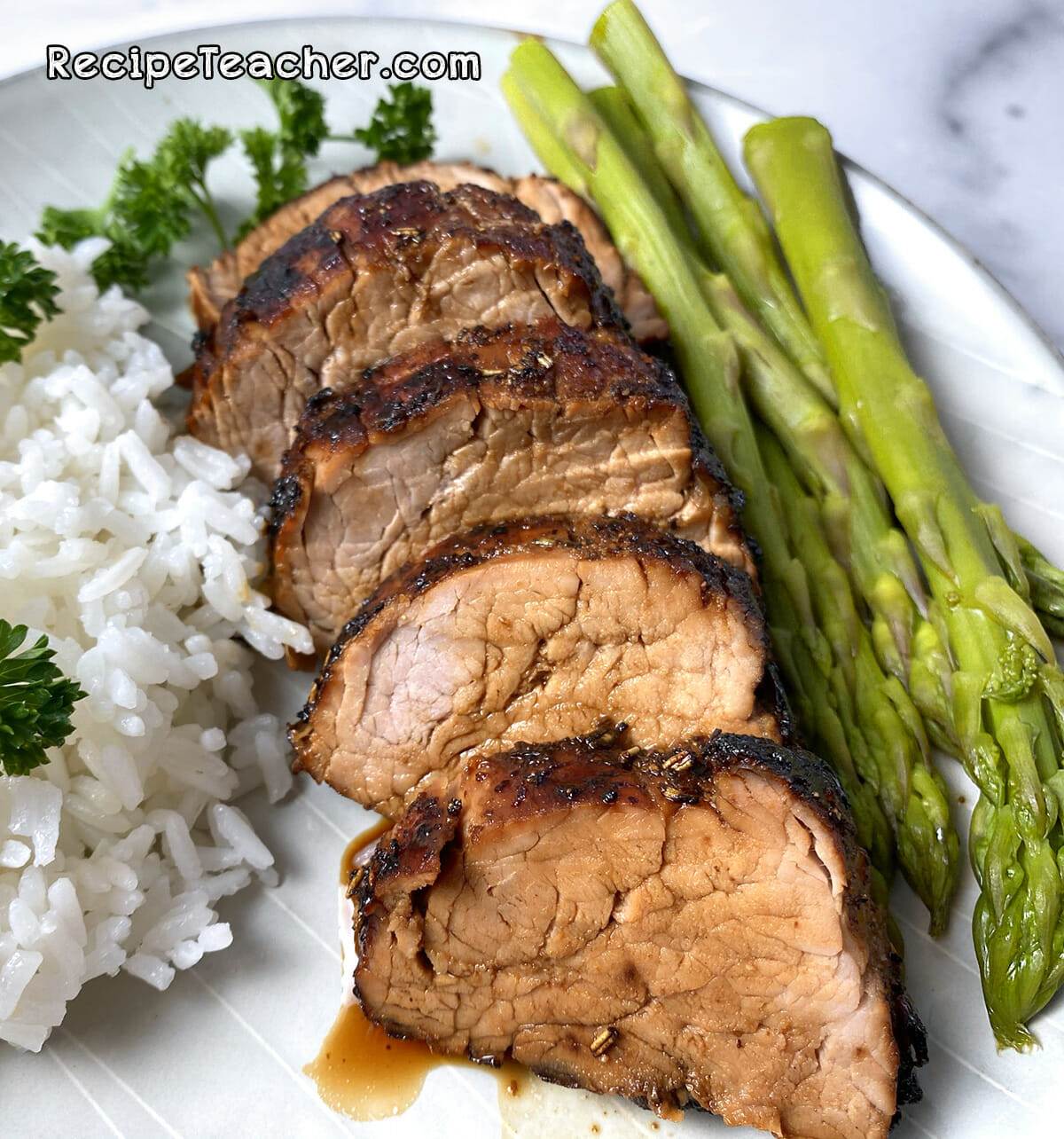 The air fryer is one of my very favorite kitchen appliances. It does SO much more than just make frozen french fries and chicken nuggets. In fact, we find ourselves making so many more great recipes because of how perfect they turn out. You see, the air fryer is actually small convection oven that allows us to cook food, especially many meats, quickly and get a good sear on the outside. This seals in the natural juices and any added seasonings and marinades. That's why pork tenderloin comes out so great in an air fryer. We won't be breading it for this recipe. Rather, we'll be making an awesome marinade and then we'll watch the air fryer do it's magic in about 20 minutes time.
Make Sure It Says Pork Tenderloin
Pork tenderloin can frequently be confused with other similar cuts of pork. It's important to know that actual pork tenderloin will always be labeled as such. You may see pork loin or pork loin filet, but these are NOT pork tenderloin and do not cook the same way. Pork tenderloin is a long, narrow and very lean cut of pork. It's generally 1lb-1.5lbs in size (though that can vary slightly). It's commonly sold in vacuum sealed packages, often with 2 tenderloins.
Easy Marinade
For our pork tenderloin marinade, we'll use a combination of wet ingredients with a few dry seasonings. Chances are you probably have most of these ingredients on hand: Balsamic vinegar, soy sauce and lemon juice are the wet ingredients. For the seasonings we use dry crushed rosemary, onion powder, garlic powder, brown sugar, salt and pepper. That's it!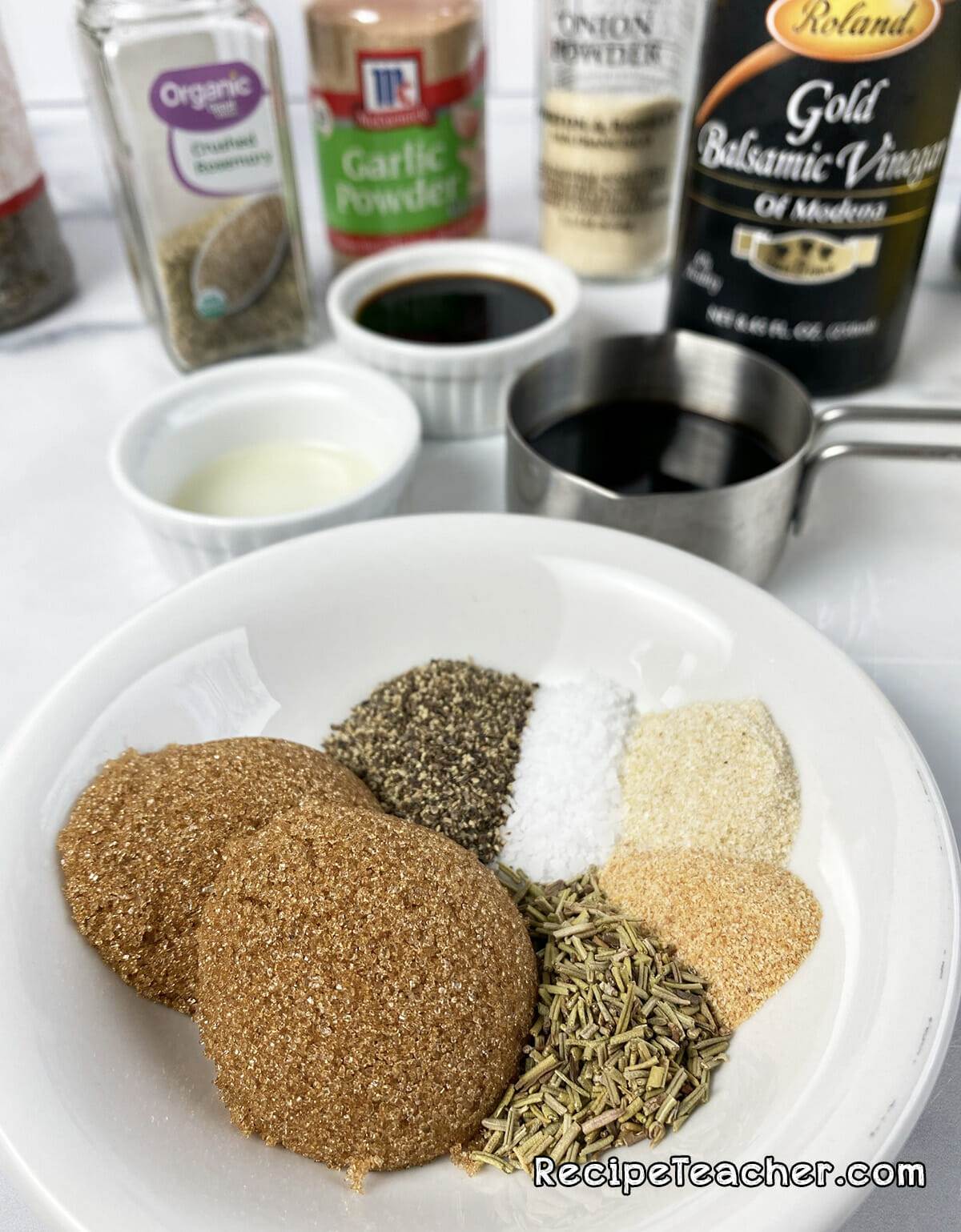 To make things extra easy, we can mix all this up in a large zip top bag. Once the tenderloin in placed in the bag with the marinade, seal it up and put it in the refrigerator. I love to let it marinate overnight for the most full flavor possible. But, if you're short on time, even a ½ hour will work. A couple of hours is even better.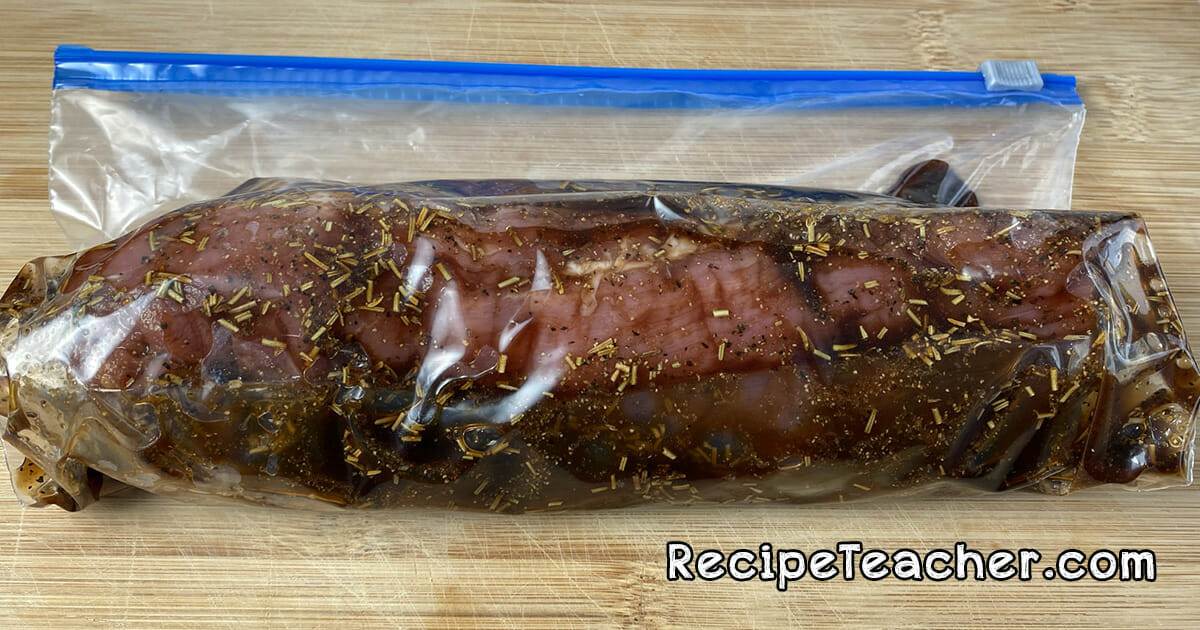 Air Fry at 400° for 20 minutes
Pork tenderloin is done when it reaches an internal temperature of 145°(F). To achieve this, we'll preheat the air fryer for 5 minutes at 400°. Then we'll spray a little cooking spray in the basket (or tray if you're using a tray style air fryer), place the marinated pork tenderloin inside, and use the air fry setting at 400° for 20 minutes. Pork tenderloins vary in size and air fryers vary as well. Smaller tenderloins may take as little as 16 minutes. Larger ones make take 22 minutes. Be sure to check internal temperature with an instant read thermometer.
Let it Rest
Once the pork tenderloin is done, remove it from the air fryer and place on a plate or cutting board and let it rest for 5 minutes before serving. Use a sharp knife and slice it into cuts of about ½″ thick. I love to serve with white rice and asparagus.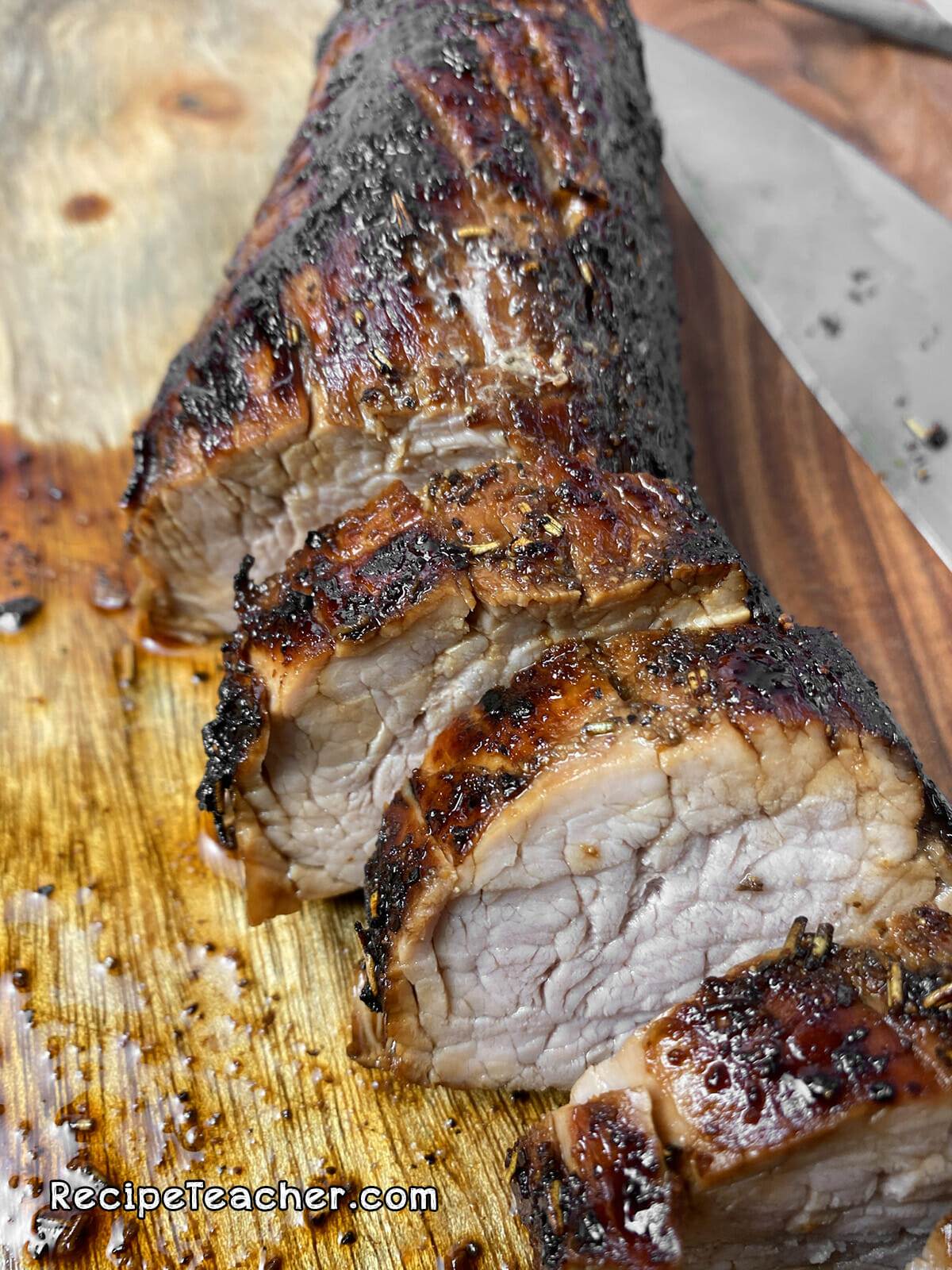 Print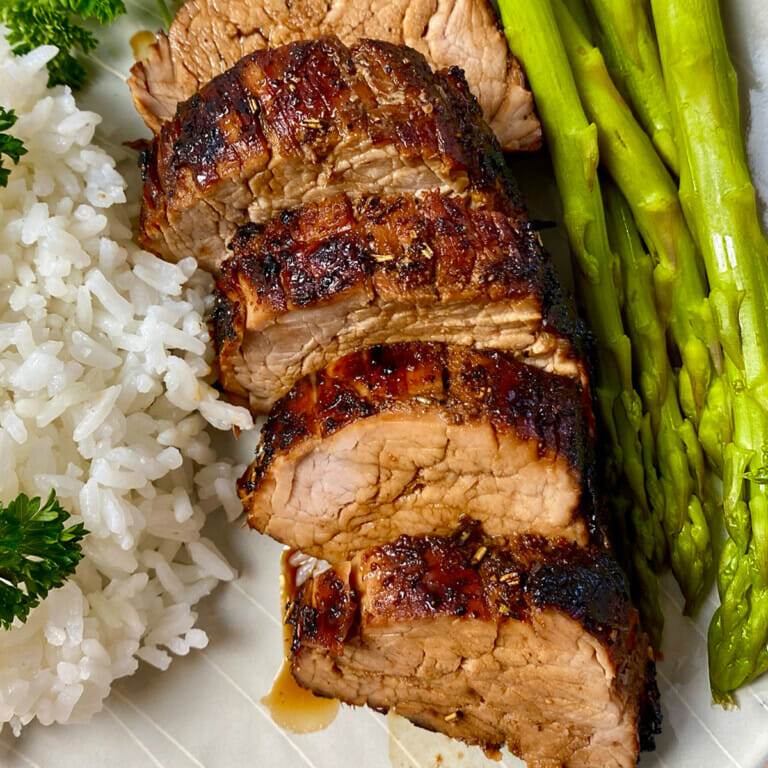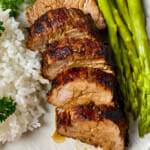 Air Fryer Marinated Pork Tenderloin
---
Author:

Total Time:

30 minutes

Yield:

3-4 servings
Description
An absolutely savory pork tenderloin, marinated in a seasoned balsamic marinade and cooked to perfection in your air fryer.
---
1

pork tenderloin (1.25lb-1.75lb)

3 tablespoons

balsamic vinegar

2 tablespoons

soy sauce

1 teaspoon

lemon juice

2 tablespoons

brown sugar

1 ½ teaspoons

ground black pepper

1 teaspoon

kosher salt

1 teaspoon

dry crushed rosemary

½ teaspoon

onion powder

½ teaspoon

garlic powder
---
Instructions
Remove any excess fat/silverskin from pork tenderloin.
Mix all wet and dry ingredients in a large zip top bag. Mix well.
Add pork tenderloin to bag, seal, and let marinate for at least 30 minutes. 2 hours is better; overnight is best!
Preheat air fryer to 400° (F) for 5 minutes.
Add pork tenderloin to air fryer and air fry at 400° (F) for 20 minutes, turning after 10 minutes. (see note below)
When done, remove pork tenderloin to a plate or cutting board and let rest for 5 minutes before slicing.
Notes
Start checking for doneness after about 16 minutes with an instant read thermometer. Internal temp should be 145° (F).
Prep Time:

10 min

Cook Time:

20 min

Category:

Dinner

Method:

Air Fryer

Cuisine:

American
Keywords: air fryer, pork tenderloin, balsamic, marinated