This mouthwatering sweet and spicy pork tenderloin cooks to absolute juicy perfection in your air fryer. With just the right combination of simple ingredients, the flavors are savory, rich and vibrant and the meat is oh so tender. You won't believe a dish like can be made in your air fryer.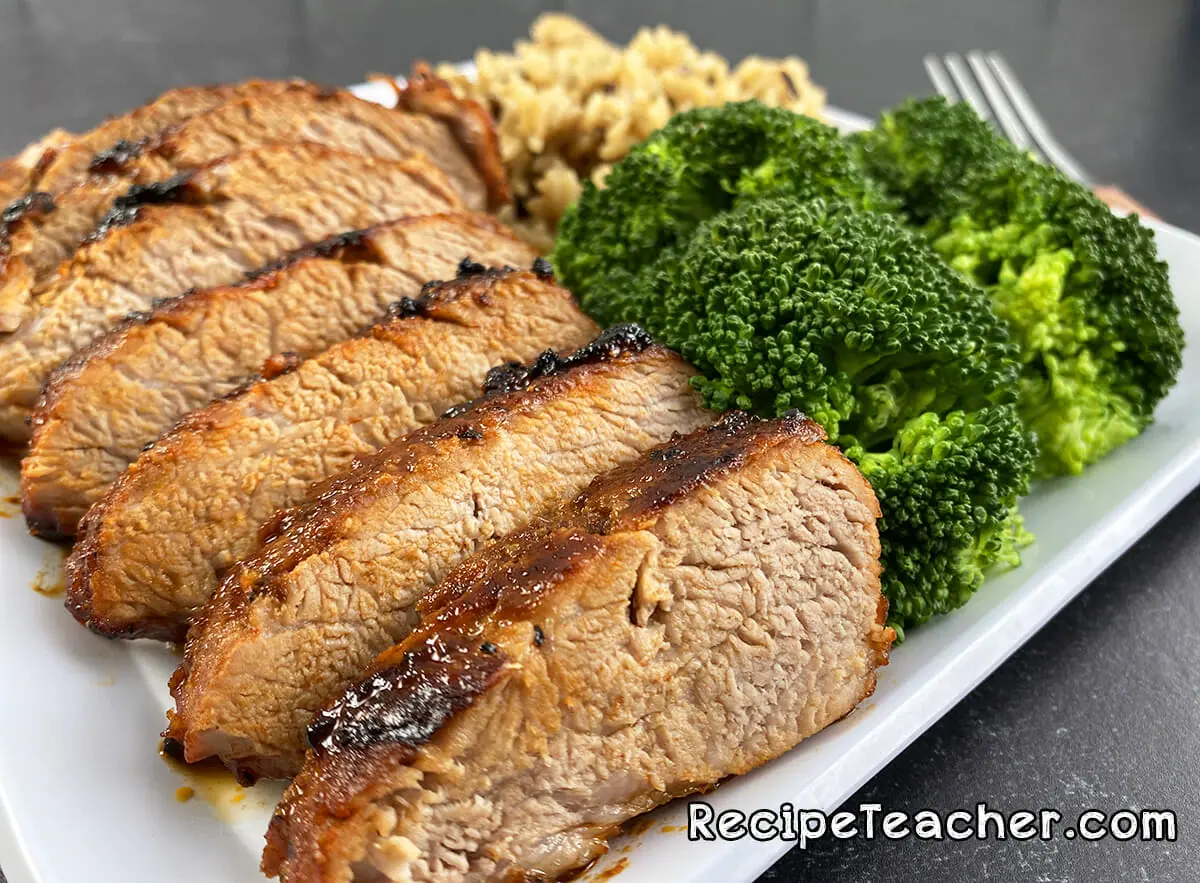 Pork tenderloin is one of my favorite meats to work with. It's very lean, tender and versatile. It never ceases to impress with all the ways it can be prepared. For this recipe, we're going to bring out some of the very best characteristics of this pork with a little bit of sweet, just a touch of spicy, and a whole lot of savory. This is one of those recipe that simply melts in your mouth.
Make Sure to use Pork Tenderloin
I say this in all my pork tenderloin recipes because it can be very easy to mistake other cuts of pork for pork tenderloin. Pork tenderloin is long and narrow and the label will always clearly say "Pork Tenderloin". There's other cuts labeled as "pork loin", "pork loin filet", but pork tenderloin will always specifically have the word "tenderloin". They are usually about .75lb – 1.5lb is size. They can often be found two to a package.
Dry Rub, No Breading
For this recipe we'll be using a dry rub of ingredients, no breading. The rub includes lemon pepper seasoning, brown sugar, salt and smoked hot paprika. The smoked hot paprika is a key ingredient that adds a wonderful depth with just a touch of spiciness. It's by no means very hot at all. If you're unable to find smoked hot paprika, use smoked paprika and add ⅛ teaspoon of cayenne.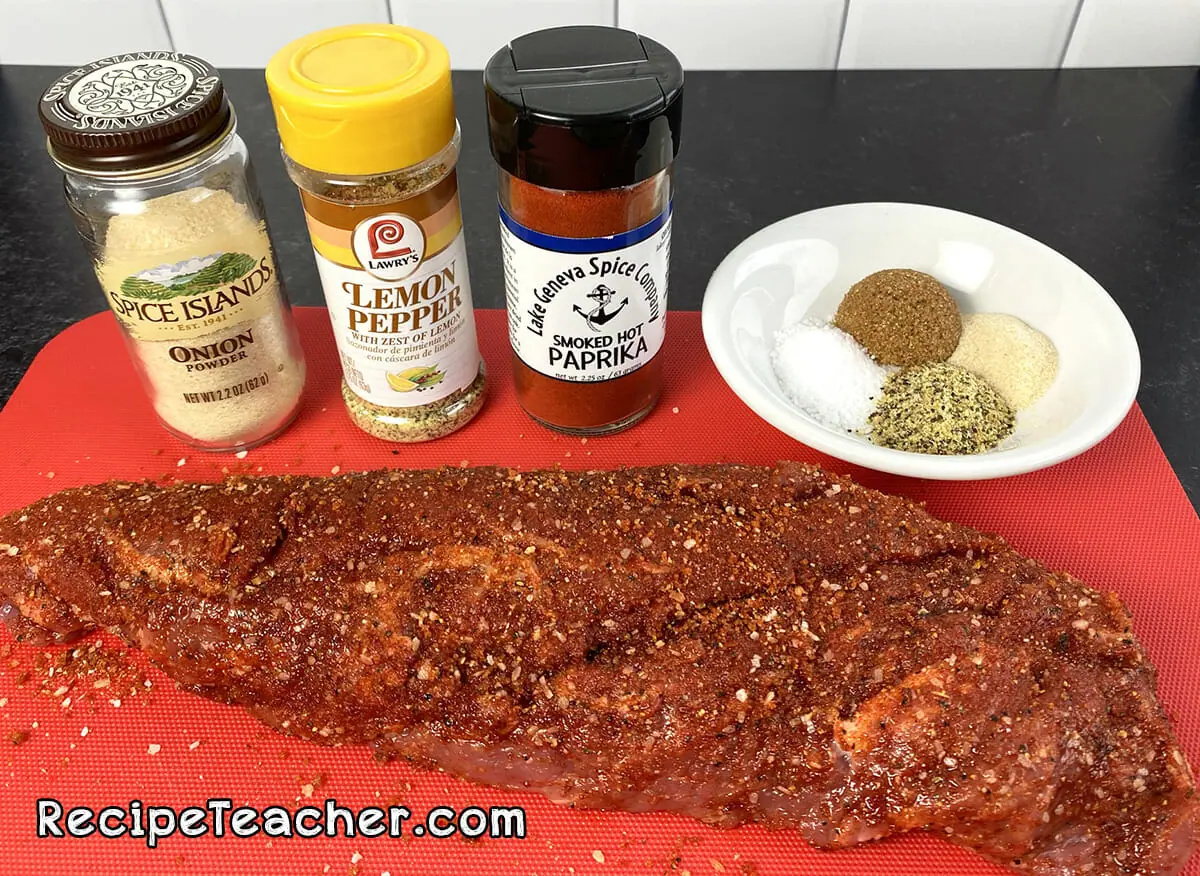 Air Fry 20-25 minutes at 400°(F)
After we mix all of our dry ingredients, coat the pork tenderloin with some olive and rub all the spice mix into the meat. Preheat your air fryer for 5 minutes and then air fry at 400° (F) for 20-23 minutes. The internal temperature should be at least 145° (F). The brown sugar and the spices will caramelize very nicely while the inside gets nice and juicy.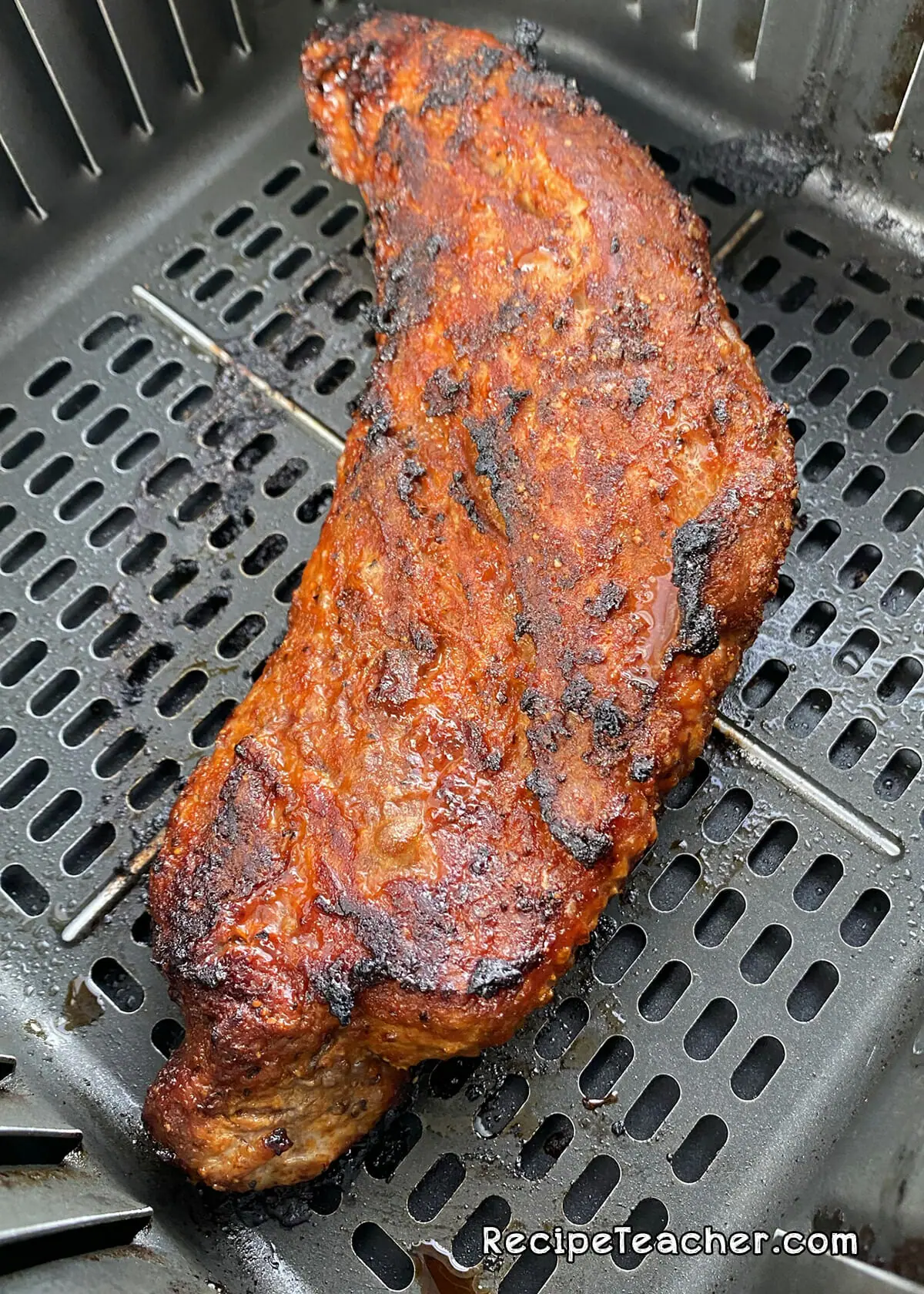 Let it Rest
When the cooking time is done, remove the pork tenderloin to a plate or cutting board and let it rest for at least 5 minutes. This allows the juices to redistribute in the meat. Then use a sharp knife to slice the meat and serve.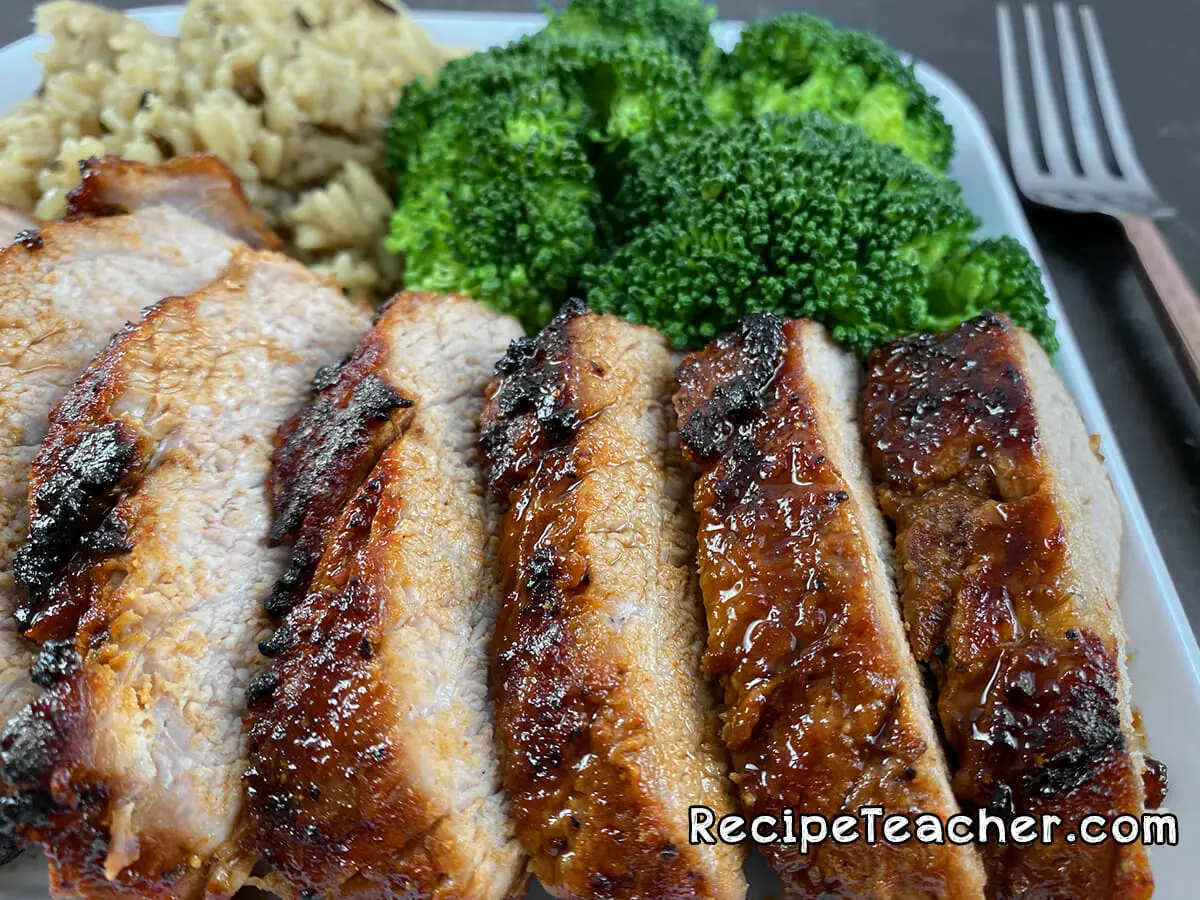 Print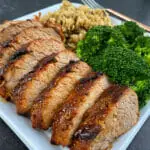 Best Easy Air Fryer Sweet and Spicy Pork Tenderloin
---
Author:

Total Time:

25 minutes

Yield:

2-4 servings
Description
A mouthwatering, tender and juicy air fryer pork tenderloin with the most amazing sweet, spicy and savory seasonings. Easy to make and ready in under 25 minutes.
---
1

pork tenderloin (1-1.5lb)

1.5 tsp

extra virgin olive oil

1

tbs brown sugar (light or dark)

1 tsp

lemon pepper seasoning

1 tsp

kosher salt

1 tsp

smoked hot paprika

1 tsp

onion powder
---
Instructions
Preheat air fryer to 400°(F) for 5 minutes.
Rub olive oil onto the tenderloin.
In a small bowl, combine the brown sugar, lemon pepper, salt, paprika, and onion powder together.
Rub mixture all over the tenderloin.
Place the seasoned pork in the air fryer basket.
Air fry the pork for 20-23 minutes at 400°(F), or until lightly charred and internal temperature registers at least 145°(F).
Let pork rest for 5 minutes before carving.
Notes
If you don't have hot smoked paprika, use smoked paprika and add ⅛ teaspoon cayenne pepper.
Prep Time:

5 min

Cook Time:

20 min

Category:

Dinner

Method:

Air Fryer

Cuisine:

American
Keywords: air fryer, pork tenderloin, sweet and spicy