Have a fiesta for the whole family with this incredibly easy air fryer chicken fajita recipe! With just a few simple ingredients, you can make homemade fajitas for a fraction of the cost of restaurant fajitas. And your air fryer is the perfect companion for this recipe.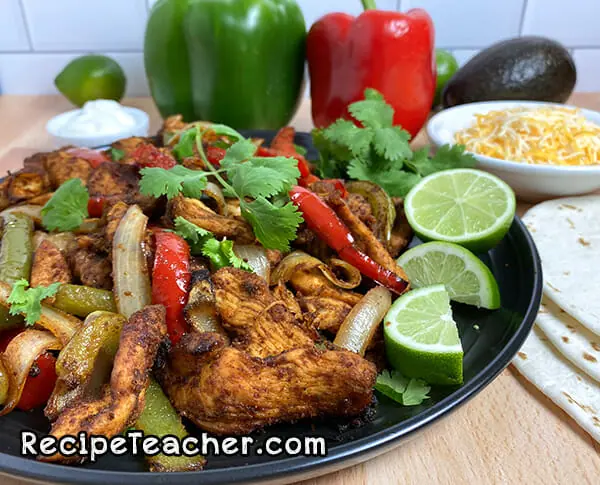 I'm SO excited to share this recipe with everyone! My air fryer has been one of the best kitchen appliances i've ever owned. There's so much you can do with it and it's certainly not limited to making "fried" foods. The rapid convection heating makes it perfect for a recipe such as chicken fajitas. And really, it couldn't be any easier. We'll cut up some boneless skinless chicken breast, a couple of bell peppers and an onion. Then we'll season it with a quick and simple homemade fajita seasoning mix, and then it all goes into the air fryer for about 15 minutes. Then… the fiesta begins!
Boneless, Skinless Chicken Breast is Perfect for Fajitas
We start with 1 lb of good quality boneless, skinless chicken breast. I like to use the smaller sized ones that are about ¼ lb each. They cook up so much more tender and are easier to work with. For larger sized chicken breasts, you can halve them by laying them flat on a cutting board, and cutting horizontally. You'll want to cut the chicken into strips that are about ¼ inch thick.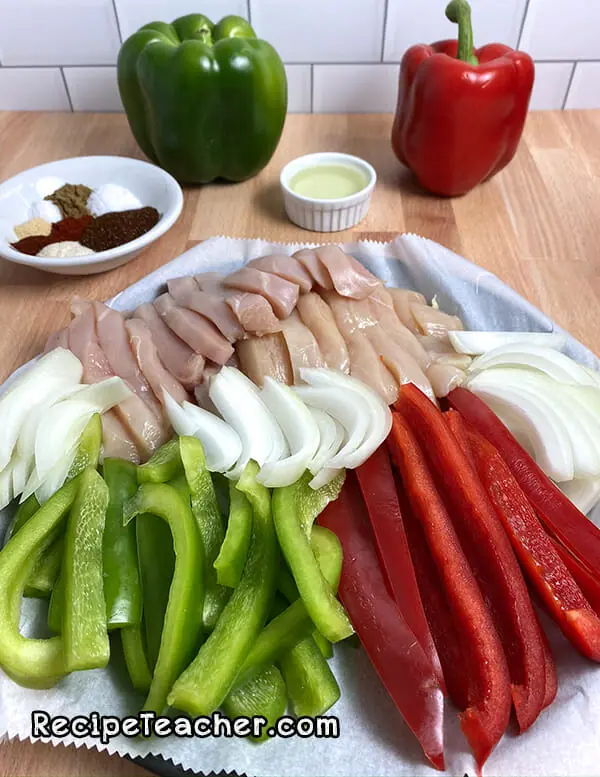 Two Peppers and Half an Onion
Our vegetables will consist of one green bell pepper, one red bell pepper, and half an onion. Of course, these are no hard and fast rules. Yellow peppers, orange peppers… they're all welcome to join in on the fun. Slice the peppers into strips and set aside. Then cut an onion in half right down the middle. Place the flat side down on a cutting board, then slice vertically, from top to bottom. Set aside.
Make a Homemade Fajita Seasoning Mix
Time to make a very simple homemade fajita seasoning mix. It uses very common ingredients that you probably already have on hand – chili powder, cumin, onion powder, garlic powder, paprika, cayenne pepper, salt and a pinch of sugar. The sugar will caramelize during the air frying, adding to the beautiful color of the dish. This recipe calls for ¼ teaspoon of cayenne pepper which will give it just a slight kick, without being overpowering at all. You can always adjust to your own taste preferences.
Now place the meat, peppers and onion slices into a large bowl and toss it with 3 tablespoon of vegetable oil. Sprinkle in our fajita seasoning mix and toss it well to get everything good and coated.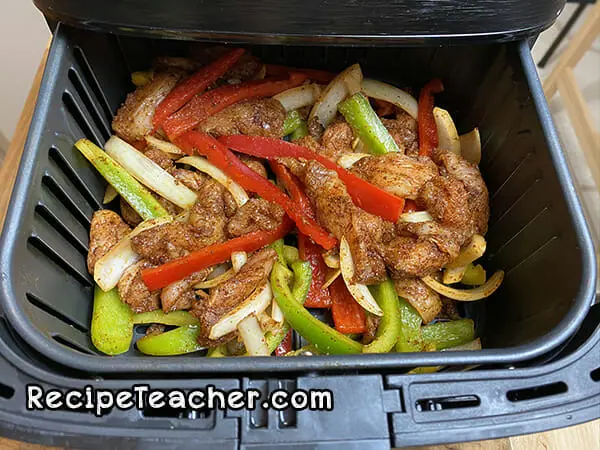 Air Fry at 380° for 15-18 Minutes
Air fryer temperatures and times can vary a little. This recipe was made in a 5.8qt basket style air fryer. It will also work in tray style air fryers. You will want to preheat the air fryer for 5 minutes. Add everything to the basket or tray, and set to air fry at 380° for 15 to 18 minutes. Give everything a good toss every few minutes so it cooks evenly.
When everything is done, transfer everything to a bowl and pour the juices from the bottom of the air fryer basket over the fajitas and mix it in. Serve with fresh cilantro, lime slices and your favorite fajita toppings!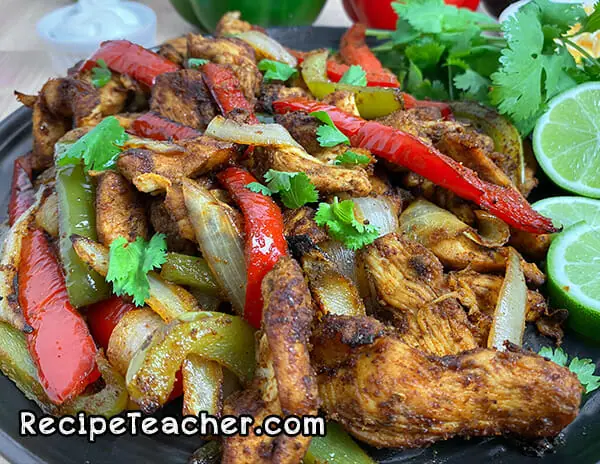 Print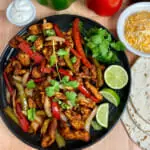 Best Damn Air Fryer Chicken Fajitas
---
Author:

Total Time:

30 minutes

Yield:

4-6 fajitas
Description
Absolutely awesome air fryer chicken fajitas. A delicious combination of fresh chicken breast, peppers, onion and a homemade fajita seasoning mix, cooked to perfection in your air fryer.
---
1

lb boneless, skinless chicken breast

1

green bell pepper

1

red bell pepper

½

onion, sliced

1

tbs chili powder

1 tsp

salt

1 tsp

cumin

½ teaspoon

garlic powder

½ teaspoon

onion powder

½ teaspoon

paprika

¼ teaspoon

cayenne pepper

¼ teaspoon

sugar

3

tbs vegetable oil
---
Instructions
Slice chicken breast into ¼″ thick slices. Slice peppers and onions. Place it all in a large bowl.
In a small dish, combine chili powder, cumin, onion powder, garlic powder, salt, cayenne and sugar. Whisk it all together.
Pour 3 tablespoons of vegetable oil into bowl with meat and vegetables and toss to coat. Sprinkle in the seasoning mix and continue to toss to coat everything well.
Preheat air fryer for 5 minutes at 380°. Add everything to air fryer basket or tray and air fry at 380° for 15-18 minutes. Mix everything every few minutes to evenly cook.
When done, juices at bottom of air fryer basket or tray can be mixed in with fajitas before serving.
Prep Time:

15 min

Cook Time:

15 min

Category:

Dinner

Method:

Air fryer

Cuisine:

Mexican