Thick, bone-in pork chops, seasoned with an outstanding dry rub and grilled to absolute juicy perfection. This is what grilling is all about. The fire from the grill brings the sweet and savory flavors to life for some of the best pork chops you'll ever have.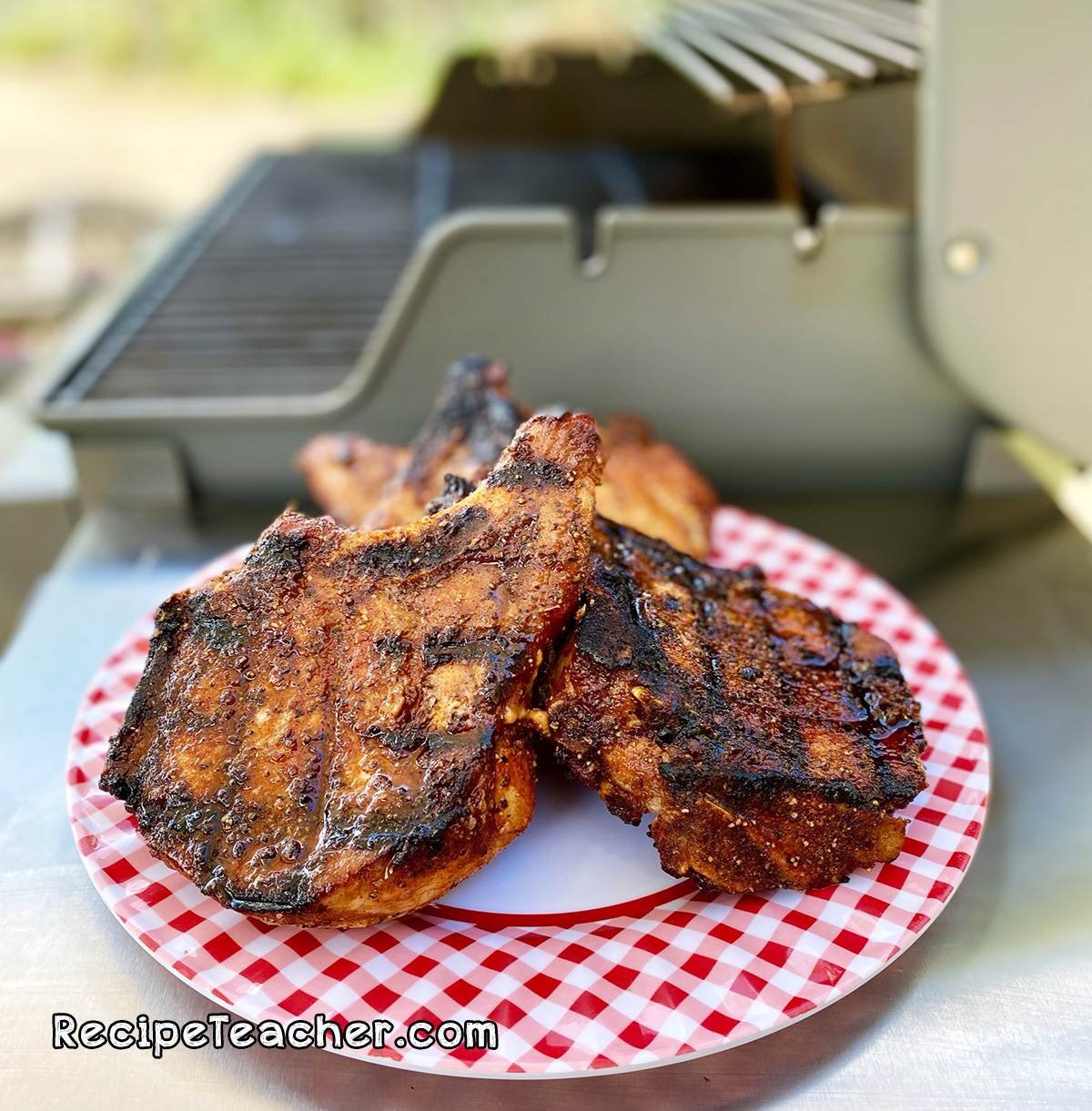 There's nothing quite like grilling in the summertime (or even wintertime), and pork chops are a grilling favorite. I simply love the flavors of grilled pork and with just the right amount of char from the caramelized brown sugar and other classic seasonings. This easy recipe will make you into a grilling expert on the first try.
Thick, Bone-in Pork Chops
When it comes to grilling pork chops, I love a good thick cut. I always look for chops that are at least 1 to 2 inches thick. Rib chops and loin chops are my favorite. The bone helps provide a big boost to the flavor, while also keeping the meat nice and tender and juicy.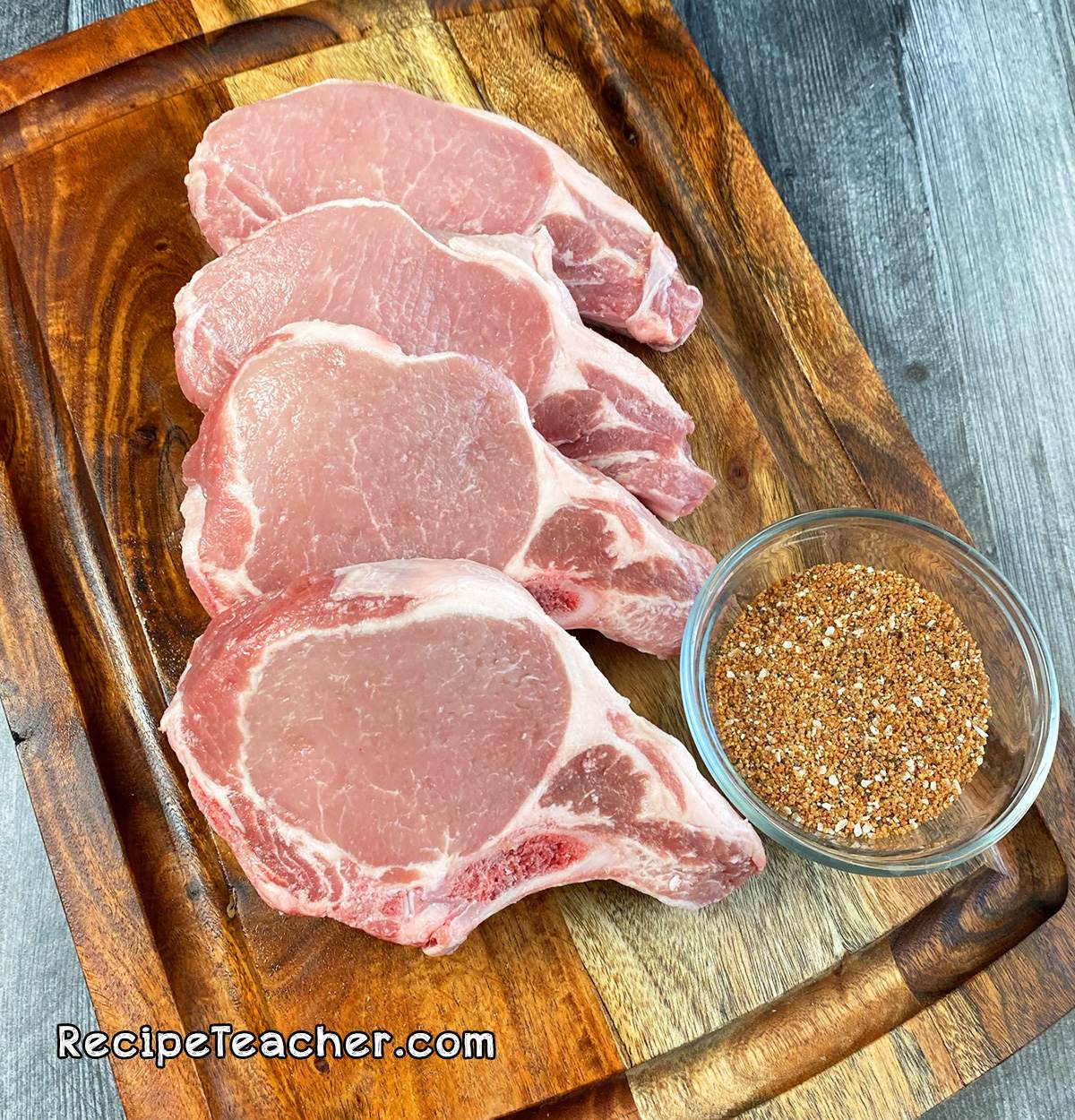 Simple Seasoning Rub for Grilled Pork Chops
We'll make a simple BBQ dry rub for our pork chops, which is made from ingredients you likely already have in the pantry:
Brown sugar
Onion powder
Garlic powder
Paprika
Ground mustard
Salt & pepper
These ingredients all work together to create a sweet and savory flavor. The brown sugar will caramelize to form the most amazing char/crust on the pork chops. One bite and you'll be smiling from ear to ear.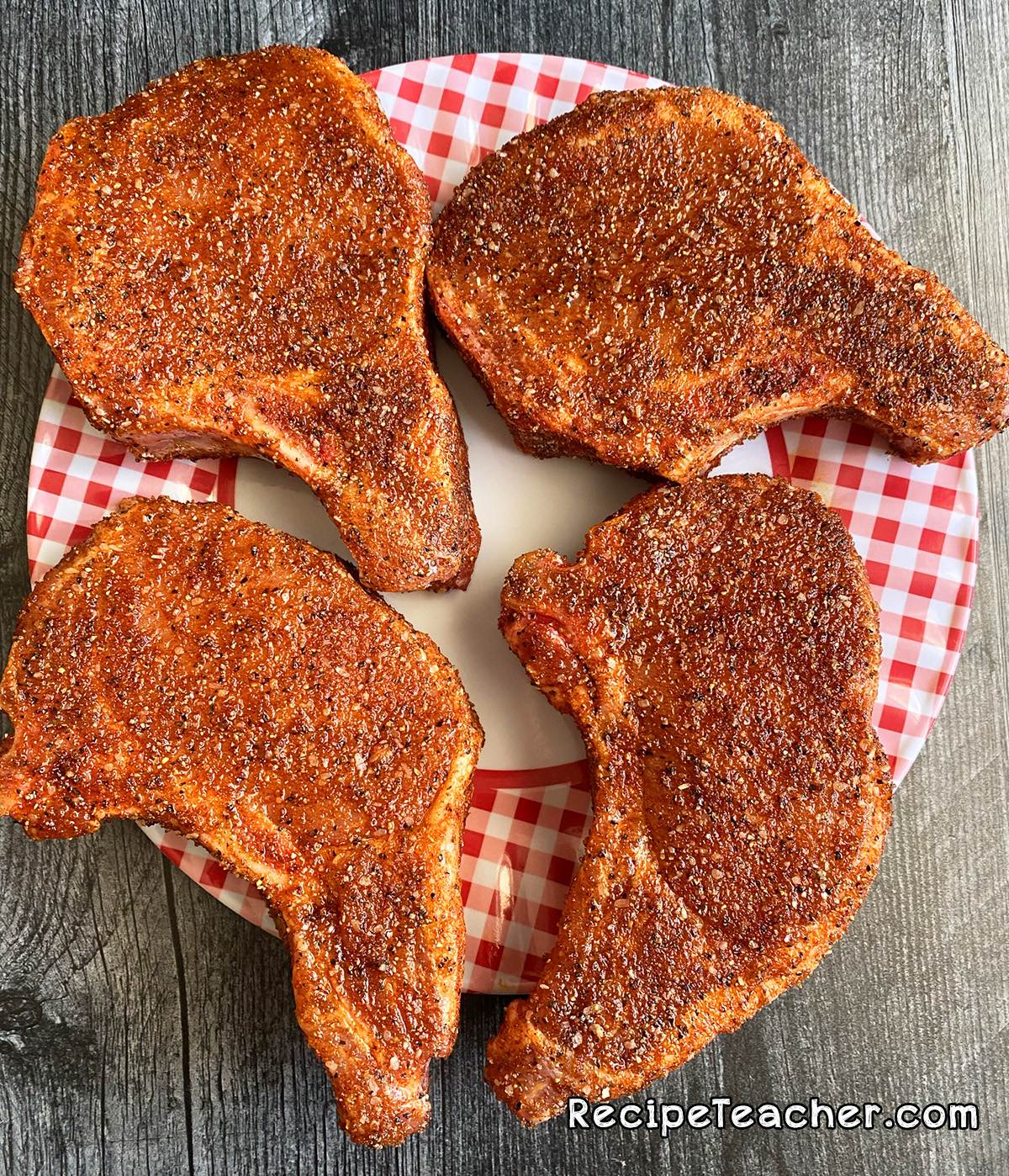 Heat and Oil the Grill
Start with a clean, well oiled (seasoned) grill. Whether using gas or charcoal, make sure the grate is cleaned of any debris and give it a good spray with cooking spray or wipe it down with paper towels dipped in some vegetable oil. Then, fire it up and close the lid. Let that grilling surface get good and hot. You're looking for a medium-high/high heat.
Getting those classic diamond, crosshatch grill marks
Now let's grill some really pretty looking pork chops. Place the pork chops on the hot grill and leave them alone for 5-7 minutes, or until they naturally release from the grill with little effort. Then give them a quarter turn with tongs. This will give us those nice crosshatch grill marks. Let them grill for another 2-3 minutes. Then, flip the pork chops and grill an additional 2-3 minutes. All we're looking for is a quick sear on the flip side. You want the internal temperature of the chops to be 145°(F).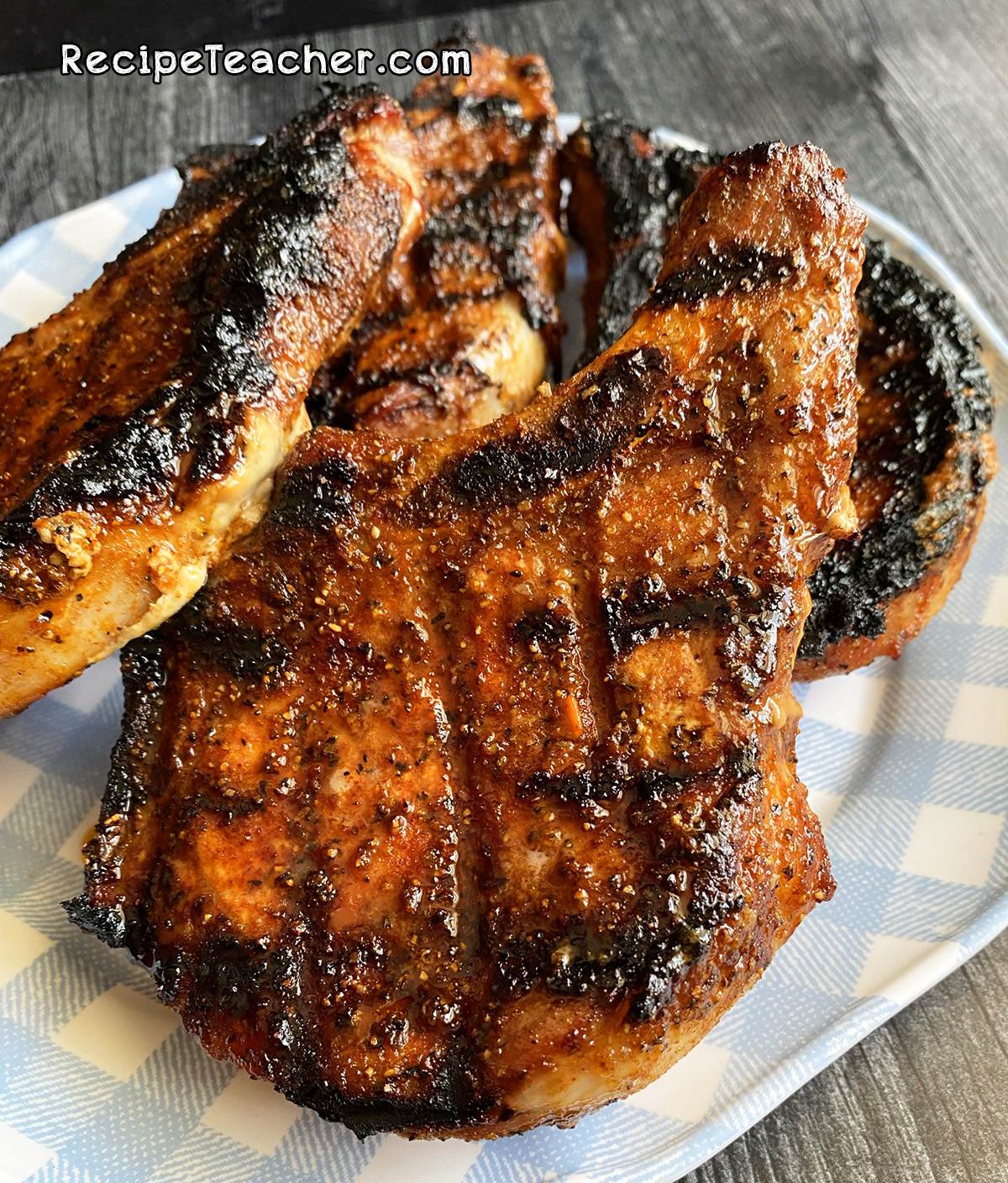 Let them rest before serving
After the pork chops are removed from the grill, let them rest on a plate for 2-3 minutes. This allows the natural juices to redistribute within the fibers of the meat. This is really important to maintain a nice and juicy grilled pork chop.
How to Serve Grilled Pork Chops?
Your delicious grilled pork chops are excellent with just about any side-dish you have on hand. But, there's one thing that stands out above the rest… potatoes. Our recipe for Irresistible Air Fryer Garlic Herb Potatoes (seen pictured below) is the perfect compliment for our pork chops. They're super easy to make and really live up to their name of being irresistible.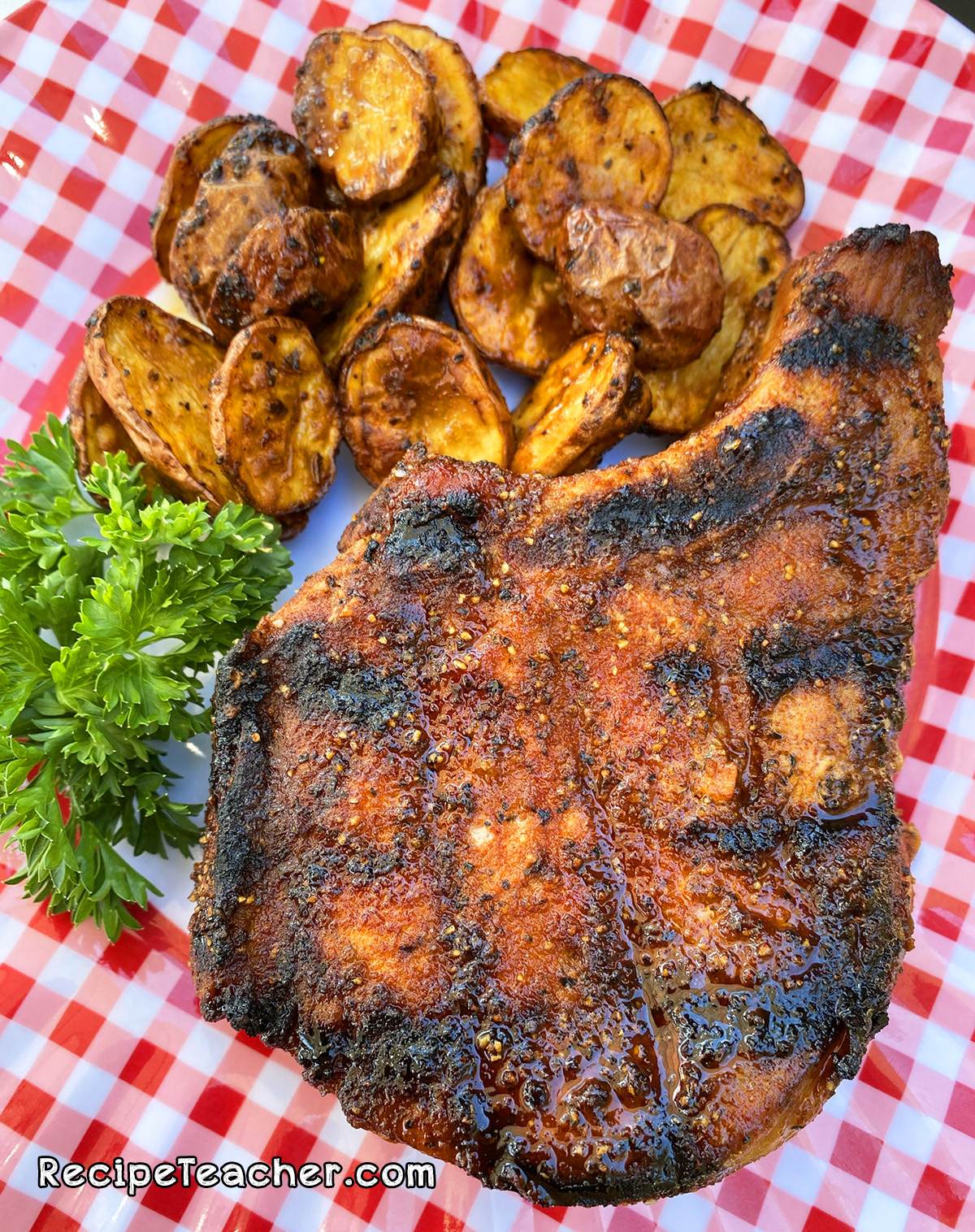 Print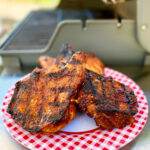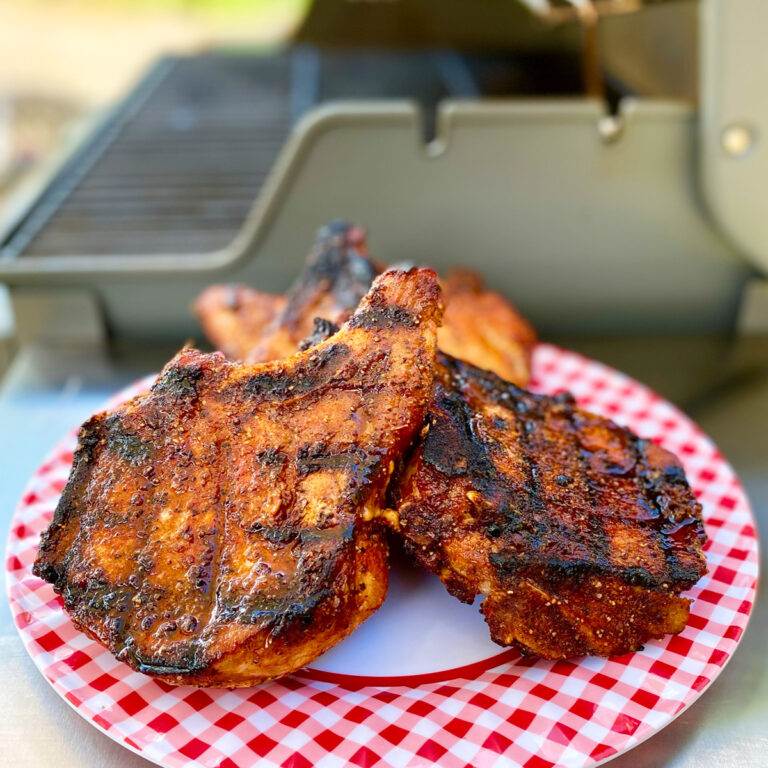 Best Damn Grilled Pork Chops
---
Author:

Total Time:

15 minutes

Yield:

4 pork chops
Description
Thick, juicy, bone-in pork chops, expertly seasoned and grilled to absolute perfection. With a dry rub that provides the most delicious BBQ sweet and savory flavors.
---
2

bone-in pork chops, thick cut (1-2″ thick)

¼ cup

brown sugar

2 tablespoons

paprika

2.5 teaspoons

kosher salt

2 teaspoons

ground black pepper

2 teaspoons

ground mustard

1 teaspoon

onion powder

½ teaspoon

garlic powder

2 tablespoons

vegetable oil
---
Instructions
Preheat grill with cover closed to medium/high heat for at least 10 minutes. Make sure grates are seasoned (coated generously with oil – see notes below)
Pat pork chops dry and coat with vegetable oil.
Mix all dry ingredients and apply to both sides and edges of pork chops
Place pork chops on grill and leave alone for 5-7 minutes, or until they release from the grill grate with little effort. Use tongs and turn pork chops ¼ turn to create cross grill marks. Continue grilling for 2-3 more minutes.
Flip pork chops and grill 2nd side for 2-3 minutes, just to sear, and internal temperature of 145°(F)
Remove pork chops from grill and let rest on a plate for 2-3 minutes before carving.
Notes
Seasoned grill grate(s): Your grill will have optimal performance if the grates are seasoned. With the grates scraped and cleaned of any excess debris, use a couple of rolled up paper towels dunked in vegetable oil and coat the grates. Wipe away any excess oil. Grates should have a nice, shiny appearance.
Recipe developed with: Gabriel Alvarez
Prep Time:

5 min

Cook Time:

10 min

Category:

Dinner

Method:

Grill

Cuisine:

American
Keywords: grilled pork chops