One of the best recipes i've ever made or enjoyed, this grilled pork tenderloin is remarkably tender, juicy and mouthwateringly divine. With the perfect combination of simple ingredients to make a dry rub, it cooks to perfection in only about 10-12 minutes. It will have everyone in awe at your grilling skills.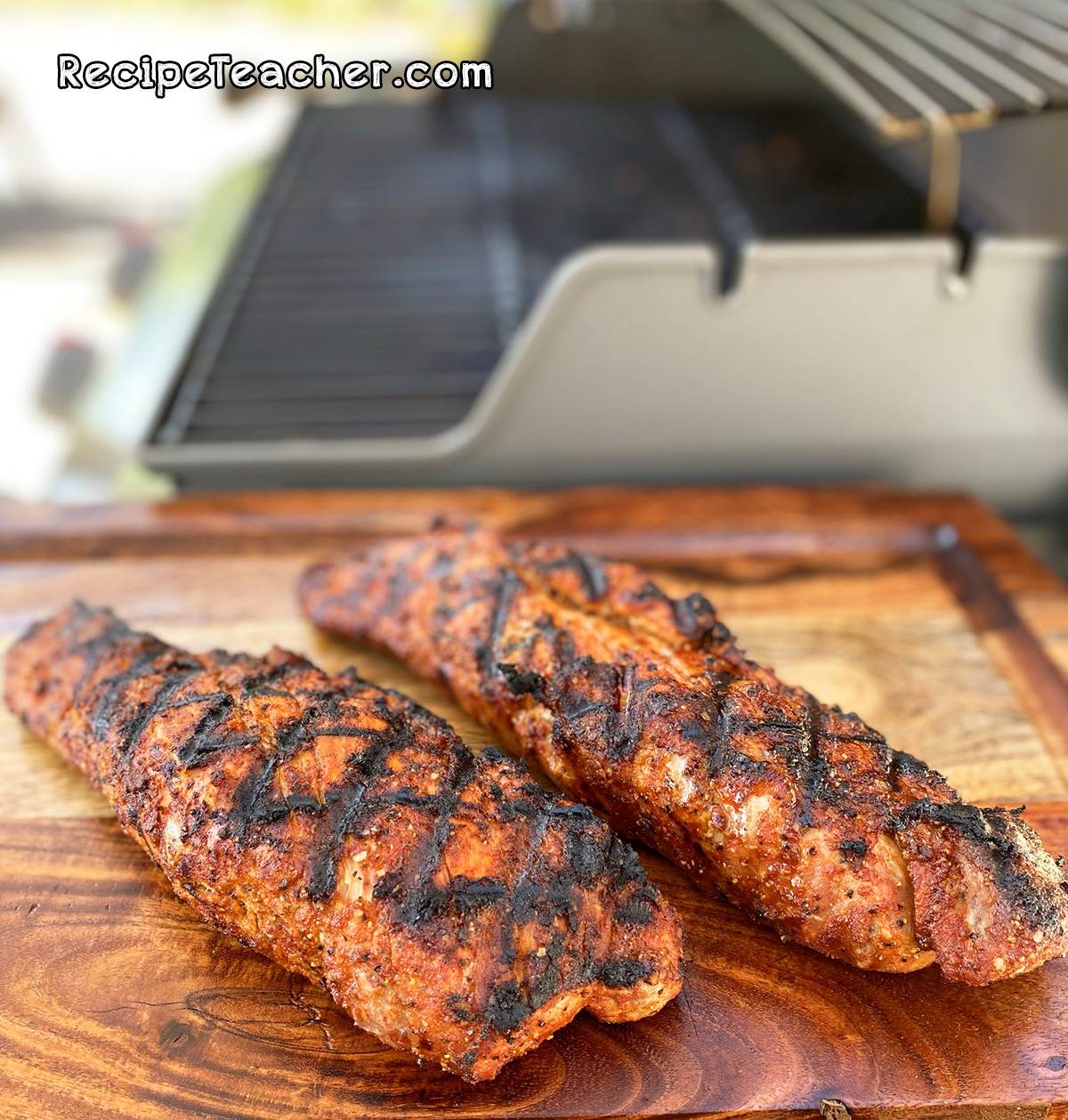 Pork tenderloin is one of the most delicious cuts of meat available. It's lean, tender, and can be prepared with any number of delicious flavor combinations. For this recipe, we'll use a simple BBQ rub that's both sweet and savory, which accentuates the natural flavors of the pork. You won't be disappointed!
Make Sure it's Pork Tenderloin, not Pork Loin
Pork tenderloin and pork loin are two different cuts of meat. Pork tenderloin is very lean, long and narrow – usually about 1.25 – 1.75lbs each. Pork loin is shorter, has a larger diameter and is from a different part of the pig, it also requires different cooking times. So for this recipe, make sure the package clearls says pork tenderloin.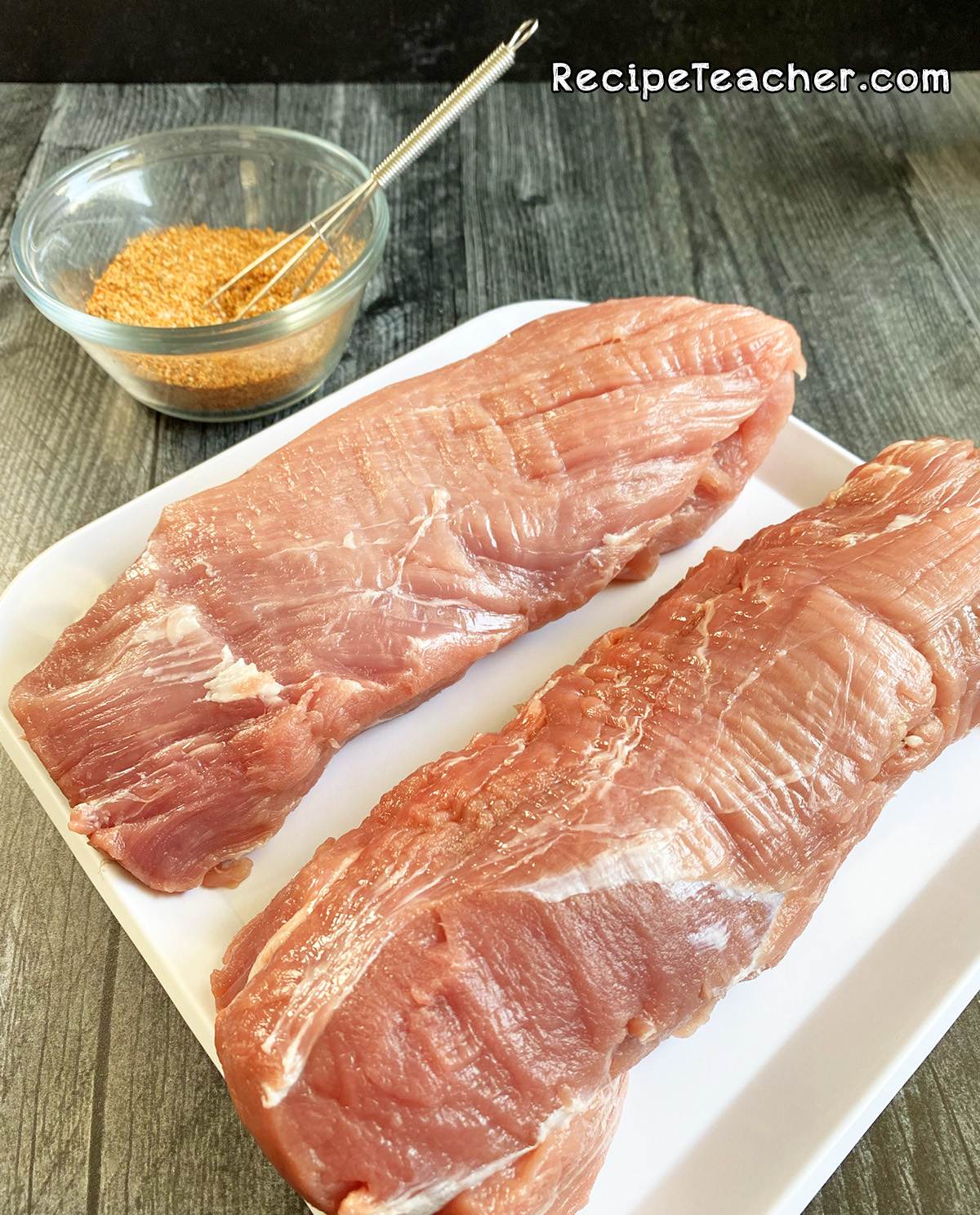 Simple BBQ Seasoning Rub
Don't you just love recipes where you have the ingredients already on hand? For this recipe, you likely already have the ingredients in your pantry and spice rack. They are:
Brown Sugar
Smoked Paprika
Ground Mustard
Onion Powder
Garlic Powder
Salt and Pepper
Cayenne (optional, but highly suggested!)
Vegetable Oil
The preparation is as simple as mixing all the dry ingredients, coating the pork with vegetable oil, the rubbing in all the seasoning mix.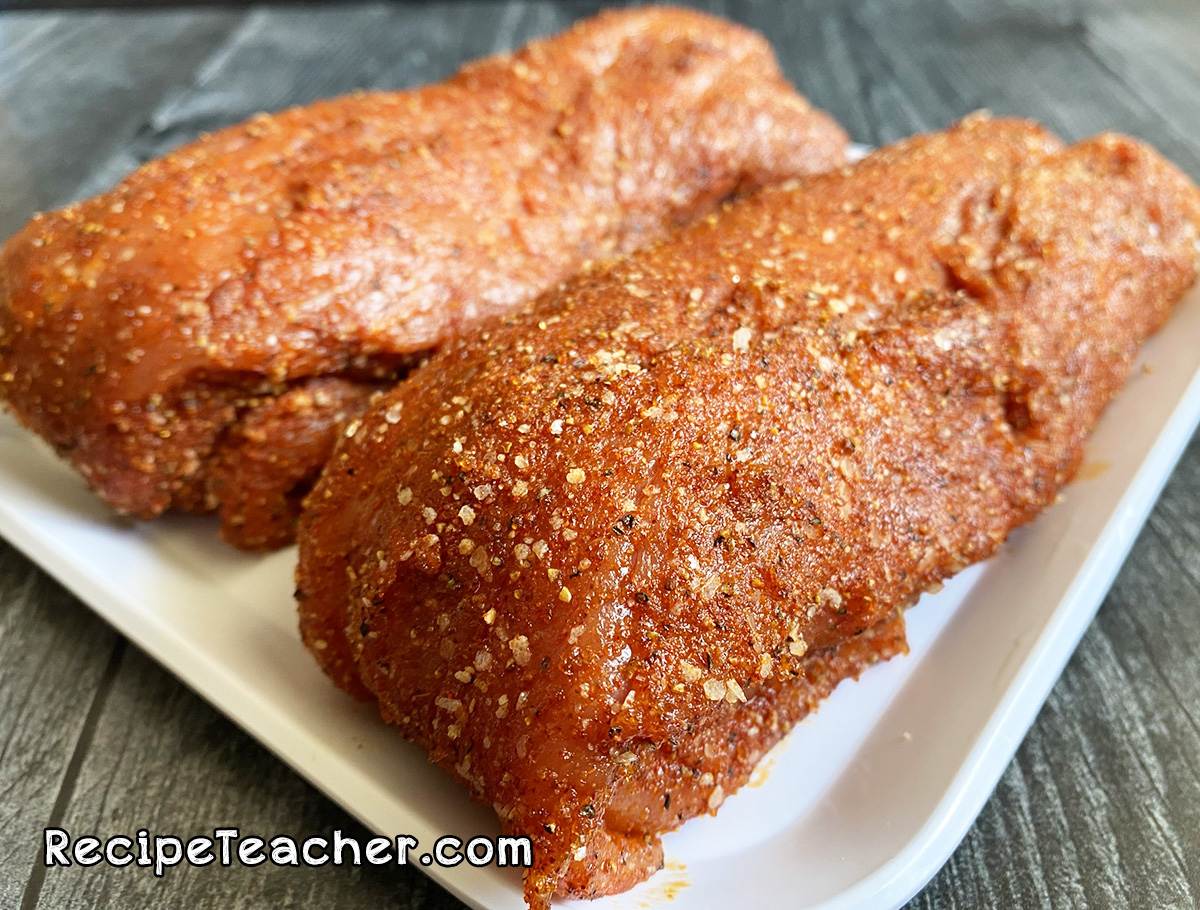 Prep Your Grill
A seasoned grill is a happy grill. Before you light the coals or burners, scrape the grates clean and apply a generous coating of vegetable oil. Wipe away any excess with a paper towel. This is called seasoning the grill. It will make for a much better grill experience and prevent a recipe such as this from sticking to the grill. With the grill cleaned and seasoned, fire it up to high heat with the lid closed for 5 minutes. You want those grate to be good and hot so we get a nice sear on the meat.
Grill Times and Grill Marks
When grilling, nothing is quite as satisfying as getting those classic crosshatch grill marks on the meat. To achieve this, place the pork tenderloins on the hot grill and leave them alone for about minutes. After 5 minutes, the meat will begin to release from the grill. This is exactly what we want. Then use tongs and give the meat a ¼ turn and continue grilling another 3-4 minutes. Then it's time to flip the meat and grill an additional 3 minutes. We're real close to being done, but since the meat is round, give the sides a quick sear by holding it with the tongs on the remaining sides for about 1 minute each. Check the internal temperature with an instant read thermometer. We want to an internal temp of 145°(F).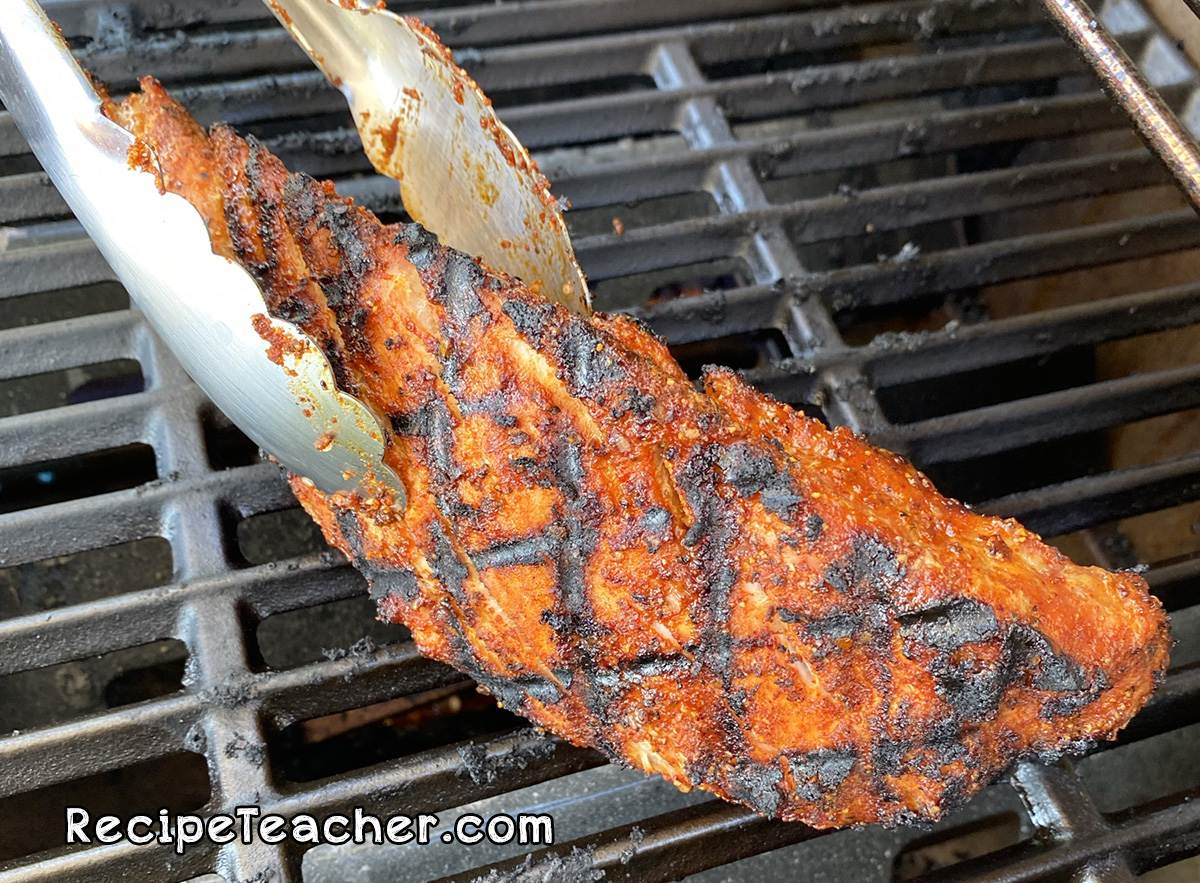 Let Rest Before Serving
After removing the meat from the grill, let it rest for 3-5 minutes before cutting in. This allows the natural juices to redistribute and keep the meat tender and juicy. When it's ready to be served, use a sharp knife and slice away. You can do thin slices or thick medallions – both are awesome.
How to Serve Grilled Pork Tenderloin
Quite honestly, this grilled pork tenderloin is so amazingly good, you'll want to just pick up the slices and eat them like candy. They will be loaded with juices, and the outside with the brown sugar and seasonings will be nicely caramelized, creating a BBQ crust that is to die for. This is the caveman approach and is perfectly acceptable. You can, however, plate the slices and serve with your favorite side-dish. You can also add some of your favorite BBQ sauce if desired.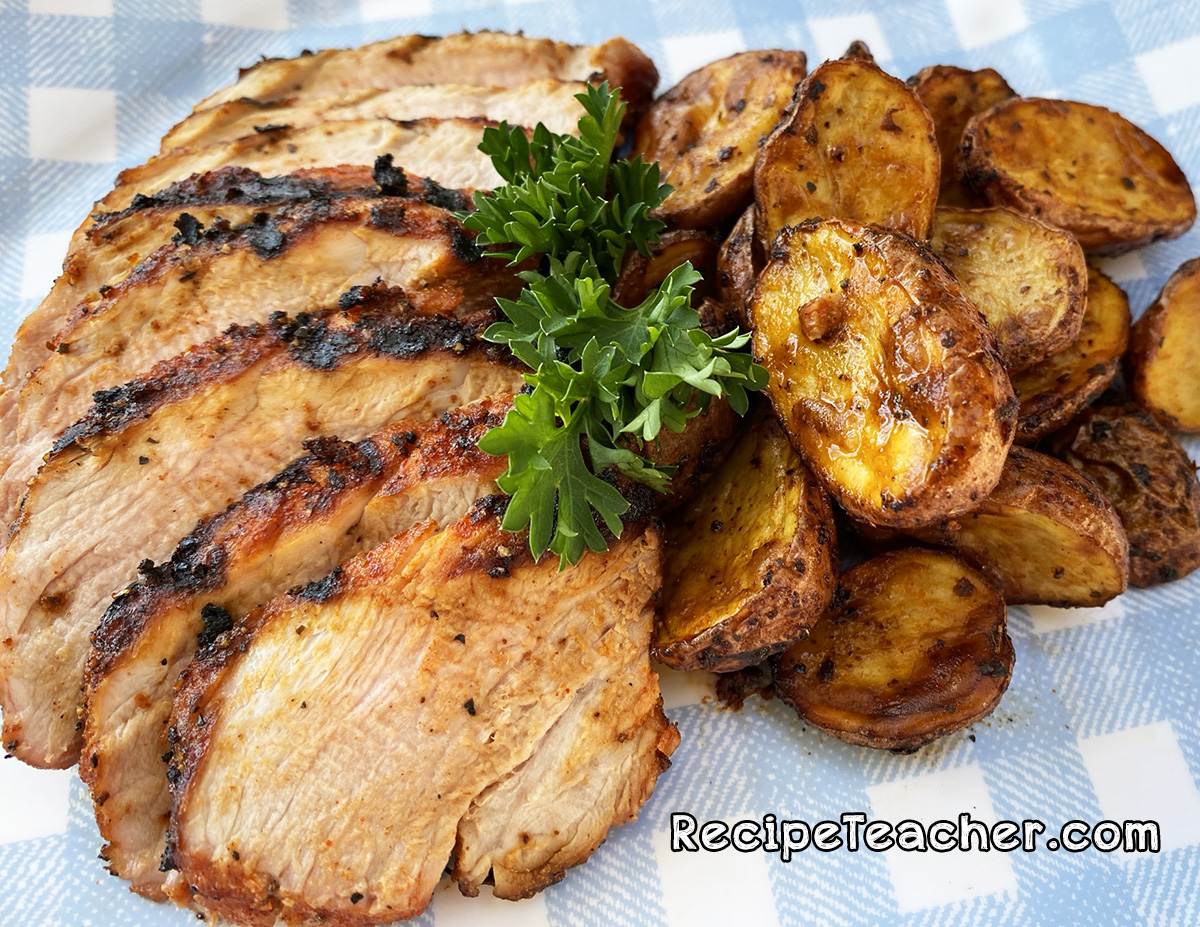 Print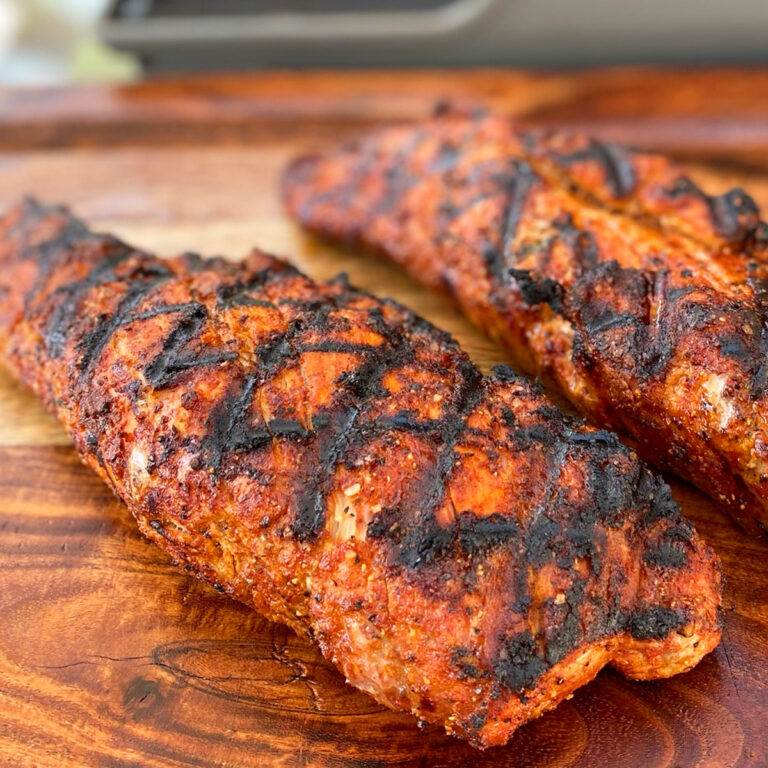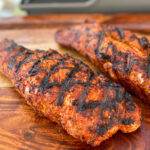 Best Damn Grilled Pork Tenderloin
---
Description
Mouthwatering, tender, juicy and loaded with amazing flavor, this grilled pork tenderloin is an all-time favorite.
---
2

pork tenderloins, 1.25-1-75lbs. each

¼ cup

brown sugar, light or dark

2

tbs smoked paprika

2.5 tsp

kosher or course salt

2 tsp

ground mustard

1 tsp

onion powder

1 tsp

ground black pepper

½ tsp

garlic powder

1

tbs vegetable oil

½ tsp

cayenne (optional)
---
Instructions
Combine all dry ingredients in a bowl and mix well.
Trim pork tenderloins of any excess fat or silver skin, coat with vegetable oil and rub in entire seasoning mixture.
Fire up grill to medium/high heat. Make sure grates are well cleaned and oiled. Let grill get good and hot for 5 minutes with the lid closed.
Add pork tenderloins and grill for 5 minutes with lid closed, or until pork starts to easily release from the grill. Use tongs and give the pork a ¼ turn and continue grilling for another 2-3 minutes.
Flip pork tenderloins and continue to grill for 2-3 minutes. Then, use tongs and place the remaining sides on the grill for about 1 minute each, just to get them a quick sear. Pork is done when internal temperature reaches 145°(F)
Remove pork from grill and let rest for about 5 minutes before serving.
Notes
Cayenne is optional but adds an awesome depth to the flavor.
Recipe developed with Chef Gabriel Alvarez.