Use your Instant Pot pressure cooker to make the absolute most mouthwatering, tender and juicy bbq pulled chicken. This recipe is done and on your plate from start to finish in under an hour with plenty enough to feed an entire family. No need to wait all day for a slow cooker, or deal with expensive smokers. This really is the perfect recipe for all the Instant Pot craze!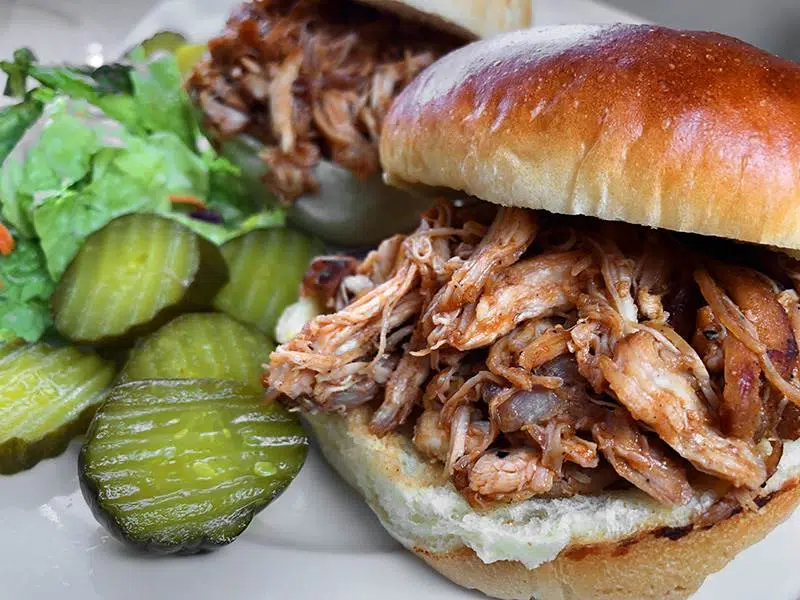 Use both thighs and breasts for perfect pulled chicken
This recipe uses both boneless skinless chicken thighs and breasts to make the prefect pulled chicken. Chicken thighs are dark meat and provide that extra flavor boost and super tenderness, while the breast meat provides the perfect texture while, especially once we sear the meat with our amazing rub. Speaking of rub…
Start with the best damn rub!
To make the most delicious bbq pulled chicken in our Instant Pot, we're going to start with an awesome rub that will provide such an amazing flavor. The rub is actually pretty simple – brown sugar, salt, black pepper, white pepper (more on that in a minute), onion powder, paprika, ground mustard and a little cayenne. These flavors are the base for a great bbq chicken taste and will be infused in to the chicken during the pressure cooking process. If you've seen some of RecipeTeacher's other popular recipes such as Best Damn Instant Pot Pork Chops, Best Damn Instant Pot Pulled Pork and Best Damn Instant Pot Pork Tenderloin, you'll see that we use a similar rub. For chicken, we're gonna bump up the salt a little, and also help bring out a robustness and a bit of a punch with some white pepper. White pepper is one of my favorite seasonings to use in chicken dishes. It doesn't have the heat of cayenne, but allows us to still kick up the zing and provides the chicken with that little extra something that's oh so good. White pepper is available at most supermarkets and will be a welcome addition to your spice/seasoning repertoire.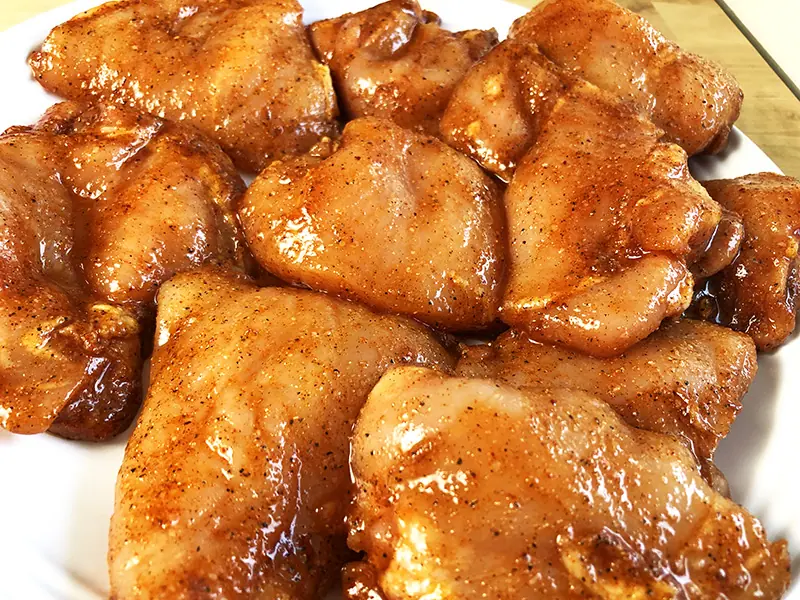 Sear the meat first
After we're coated our chicken pieces with the delicious rub, it's time to give it a good sear. With the Instant Pot on saute mode, give the chicken a good sear on each side for about 2-3 minutes each. Do it in two batches to make sure you can get all the pieces nice and seared. The caramelization of the sugars and other seasonings will create a rich, deep flavor that's essential to the overall dish. And once all the chicken is seared, you'll want to pour a half cup of broth into the pot and scrape it good with a wooden spoon. This is known as deglazing. It's also necessary, as the pot will not come to pressure unless all those bits are scraped up. And do not toss that stuff away! It's another essential part of our bbq flavor profile.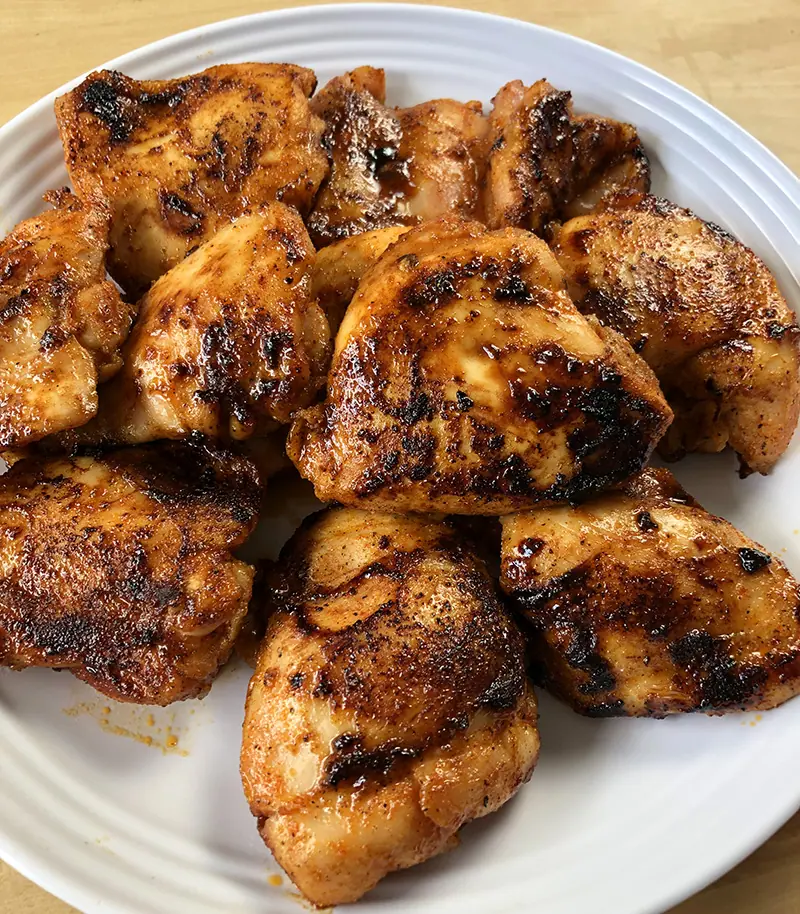 Pressure cook for 15 minutes with 10 minute natural release
After we deglaze the bottom of the pot, pour in another cup of low-sodium chicken broth, the Worcestershire sauce and liquid smoke and lay the pieces of chicken directly into the liquid. Squeeze it all in there as best possible. Most all of it should be in the liquid. It doesn't need to be completely submerged. Then secure the lid, set vent to "sealing", and pressure cook (manual) on high for 15 minutes. When the cooking time is complete, let the pressure naturally release for 10 minutes. If the pin hasn't dropped after 10 minutes, go ahead and quick release the rest and remove the lid.
Add BBQ sauce if you like, but it's not necessary
Once the coking is complete and you've removed the lid, use tongs and remove the chicken into a separate large bowl. Scoop about a ½ cup of the liquid out of the instant Pot and put it into the bowl with the chicken. Use 2 forks and shred away. The chicken will already be falling apart.
Print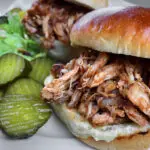 Best Damn Instant Pot Pulled Chicken
---
Author:

Total Time:

50 minutes

Yield:

About 6-8 servings
Description
A tender and delicious BBQ pulled chicken made easy in your Instant Pot pressure cooker.
---
1.5

lbs boneless skinless chicken thighs

1.5

lbs boneless skinless chicken breast

3

tbs brown sugar

1

tbs kosher salt

1 tsp

ground mustard

1 tsp

ground black pepper

1 tsp

onion powder

1 tsp

paprika

¼ tsp

cayenne

¼ tsp

white pepper

1.5 cups

low-sodium chicken broth

1

tbs Worcestershire sauce

1 tsp

liquid smoke
---
Instructions
Trim any excess fat from chicken. Cut breasts in half so each piece is about the same size as the thighs.
Add 1 tbs olive oil to Instant pot and press saute. Add all dry ingredients in a large 1 gallon ziplock bag and shake to mix well. Add chicken pieces to bag with 1 tbs olive oil, seal bag and shake for a minute, massaging the seasoning to cover all the pieces of chicken. When Instant Pot reads "hot", use tongs and carefully add the pieces of chicken. Don't force all the pieces to fit, do 2 batches. Let the chicken sear for 2-3 minutes and then carefully flip the pieces and do the other side for another 2-3 minutes. Remove to plate when done and proceed with 2nd batch.
After all the chicken is browned, pour ½ cup of broth into the pot and use a wooden spoon to scrape all the bits from the bottom. Don't skip this step, it's important. Once the bottom is scraped up, add the other cup of broth, the Worcestershire sauce and liquid smoke. Then add chicken. Squeeze all the chicken in as best you can – most should be covered with the liquid, but not all. Secure lid, set vent to "sealing" and pressure cook on high for 15 minutes. When cooking time is done, allow pressure to naturally release for at least 10 minutes.
Once pressure is released and pin drops, carefully remove lid. Use tongs and remove chicken to a separate bowl. Add about ¼ cup of the juices from the Instant Pot and use 2 forks to shred chicken.
You're ready to add your favorite BBQ sauce (probably about ½ cup), but you can just add more of the juices from the pot – the taste of that alone is unbelievable!
Serve on warm brioche or other rolls and enjoy!
Prep Time:

5 min

Cook Time:

45min (including building pressure and release time)

Category:

Dinner

Method:

Instant Pot

Cuisine:

BBQ
Keywords: instant pot, pulled chicken, bbq