Use your Instant Pot to make awesome ribs right at home in under an hour! You don't need a special smoker, you don't need several hours, you don't even need special ingredients. If you have an Instant Pot pressure cooker, a slab of baby back ribs, and just a few simple ingredients, you can make the most delicious, tender, fall-off-the-bone ribs in less than one hour!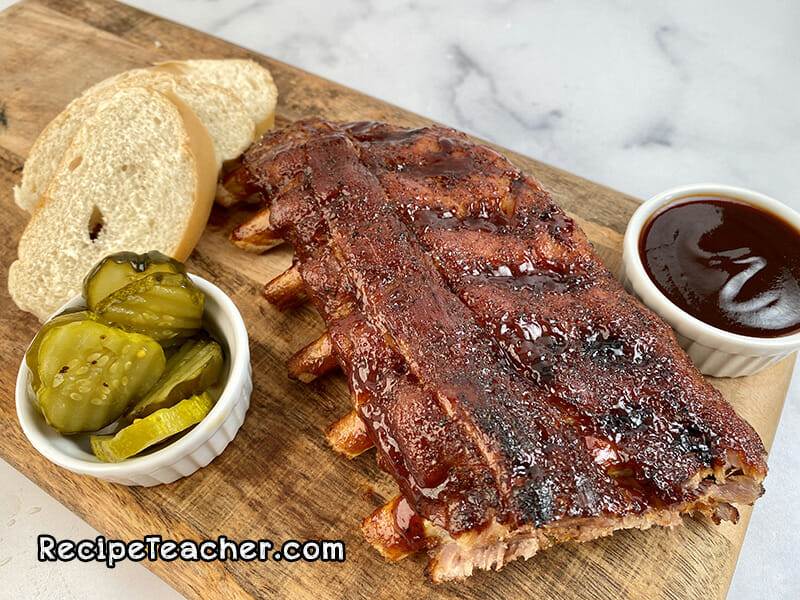 The Instant Pot really lives up to it's name and reputation with a recipe such as ribs. It's amazing how easy it is to make, and the results are nothing short of remarkable. Apply a good seasoning rub, pressure cook for 28 minutes (takes about 5-10 minutes to come to pressure), then let the pressure release for about 10 minutes. Then a few minutes under the broiler and voila! You've got BBQ baby back ribs!
Start with A Good Slab of Baby Back Ribs
While there are a few different varieties of ribs available, the most popular kind, by far, are baby back ribs. Baby back ribs are pork ribs from the the top of the rib cage of the pig, and naturally taper towards one end. The longer bones are generally 6 inches in length, and taper to about 3 inches towards the end of the rib slab. A typical slab will have 10-13 rib bones. Baby back ribs are known for being meaty and easy to cook. The size and weight is determined by the size of the pig, but most cuts at the supermarket are generally 1.5 lbs – 3 lbs. The smaller slabs of ribs are the most ideal for pressure cooking. They are usually more tender and juicy than larger slabs. I find that slabs of ribs under 2 lbs are ideal.
Removing The Membrane
One thing you've probably heard about cooking ribs is that there's a membrane that needs to be removed. And indeed it does. The membrane in on the underside of the ribs and is actually easy to remove. Use a butter knife and slide it right under. It will begin to life away from the rack. You can then use a paper towel for better grip and slowly peel it away. This is important. Don't skip this part.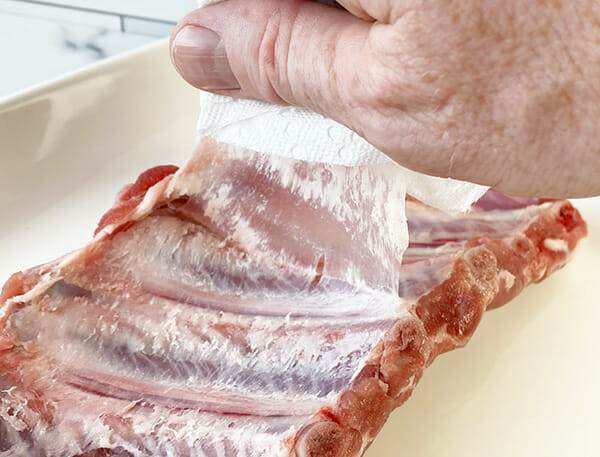 Season The Ribs With A Dry Rub
Now it's time to make our best damn dry rub! It's a simple combination of some very common spices – onion powder, garlic powder, paprika, ground mustard, cayenne, salt, pepper, and brown sugar. While all of the ingredients of the recipe combine to create an awesome taste, the brown sugar and salt are two of the most important. The brown sugar not only provides excellent flavor characteristics with pork, but it will also be part of the caramelization process, along with the BBQ sauce, in the last step of the recipe. And salt, of course, brings out all the flavors.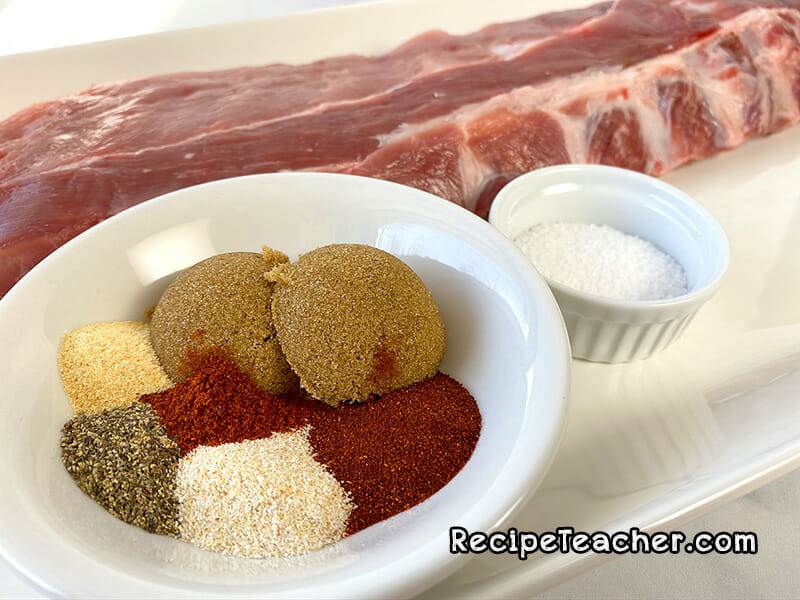 Mix all the dry ingredients well in a bowl with a whisk. Then rub them right into the meat. Liberally apply it to all the of the rack of ribs, even the sides. Remember, the ribs will be on their side in an environment of steam, so we need that rub liberally applied and massaged into the meat.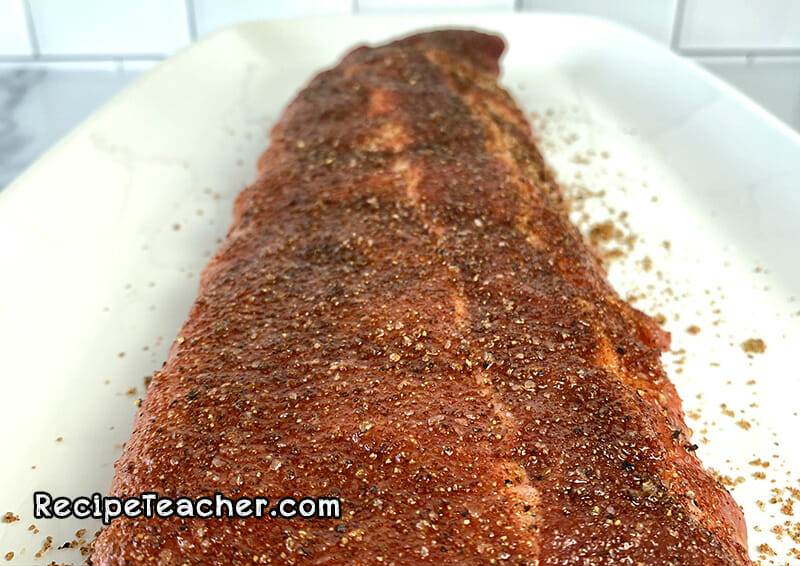 An Awesome Combination of Liquids Brings Out The Best Flavor in the Ribs
Pressure cooking requires liquid. And for our ribs recipe, we will use a mixture of chicken broth, apple cider vinegar, Worcestershire sauce and liquid smoke. If you've not used liquid smoke in the past, i highly recommend it, not only for this recipe, for for many others you'll make in your Instant Pot. We all know that ribs are traditionally made in a smoker. So… we need some smoke! Liquid smoke is a flavoring made by a process that actually captures the flavors of smoke (without all the bad stuff of course), and processes it for use as a flavoring. Just a little goes a long way so for this recipe we'll be using just a teaspoon of it. The other liquids are chicken broth and the ever popular Worcestershire sauce. And we use a 1/2 cup of apple cider vinegar. The vinegar adds a vibrancy and acidity to the flavor profile.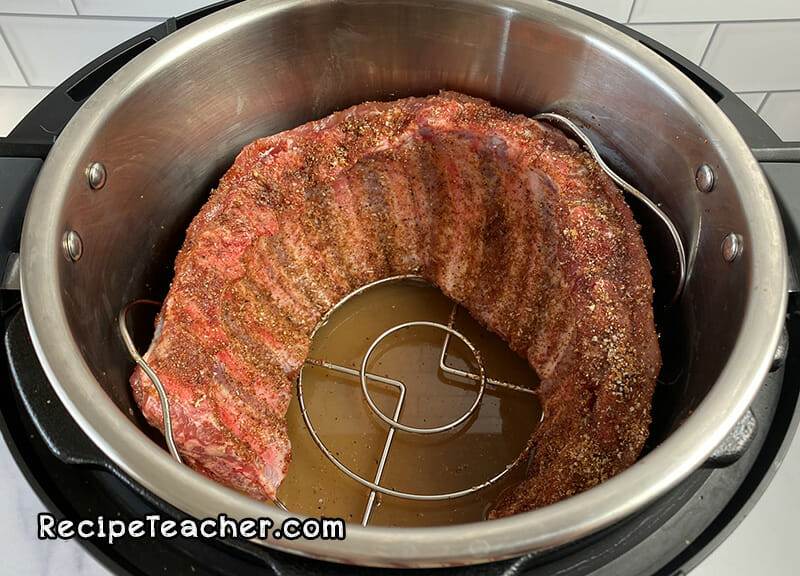 Fall-Off-The-Bone or Not?
What's the perfect texture for finished ribs? Fall-off-the-bone? Or a little more firm to the bite? Fall-off-the-bone definitely seems to be the preferred style that most people seek out. But, some true rib connoisseurs will tell you that the best ribs will not fall off the bone, but rather the meat will pull off the bone and have a little chew to them. I think the term "fall-off-the-bone" has become a sort of catch all phrase for marketing of ribs. People assume that if the ribs are "falling off the bone tender", they're gonna be "the best in town!" So how will our Best Damn Instant Pot Ribs be? Let's just say they will be super tender and super awesome! Ok, and probably leaning more towards fall-off-the-bone. A rack of ribs of around 2 lbs, pressure cooked at 25 minutes will have a slight pull, and 30 minutes will definitely be fall-off-the-bone. That's why I set the cook time at 28 minutes, the perfect happy medium! And of course, let that pressure naturally release after the pressure cook time is complete. 10 minutes of natural release is plenty. Go ahead and release the remaining pressure after 10 minutes.
Finish Under The Broiler
The last step is optional, but highly recommended. Once the pressure cooker part of the ribs is complete, sure, you could slather on some BBQ sauce and dig right in. But, if you slather on that sauce and put the ribs under the broiler of the oven for about 5 minutes, it's a whole new ballgame. That BBQ sauce will begin to caramelize and get a little char to it. And that's exactly what we want for a good finished slab of ribs.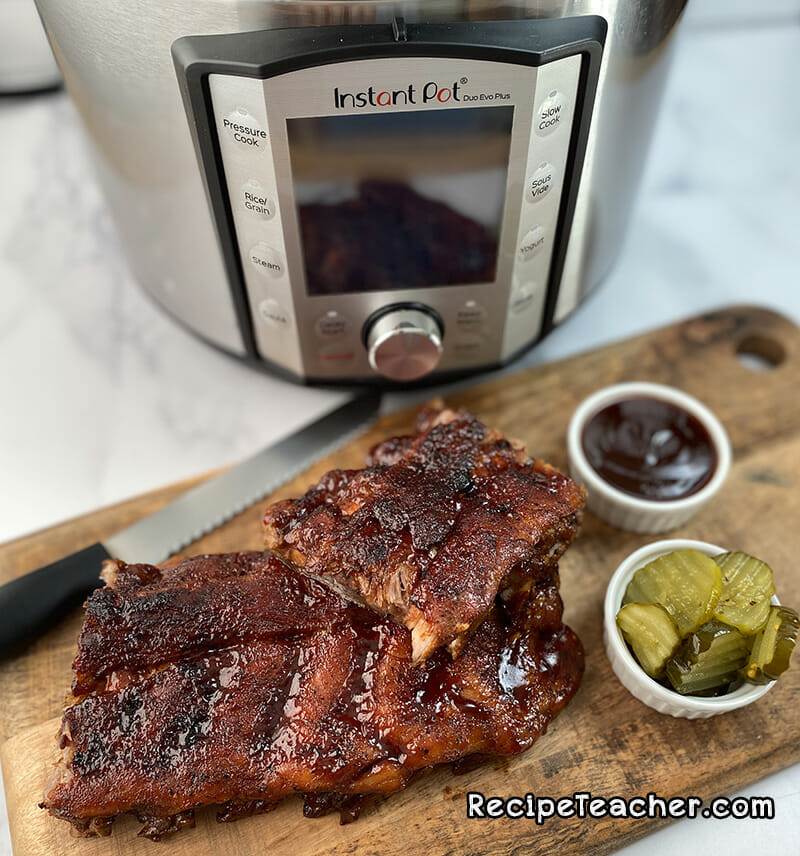 Can I do 2 slabs of ribs at once?
Absolutely you can? Just double the dry ingredients, and arrange the ribs as best you can in the Instant Pot. For a standard 6qt cooker, 2 slabs of average size will fit just fine. You do not need to increase liquid ingredients or the cooking time.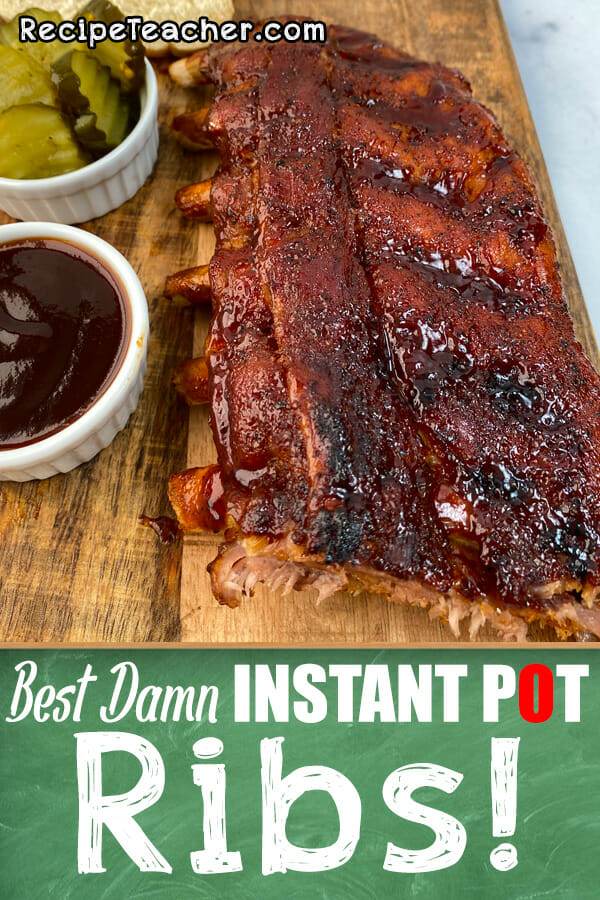 Print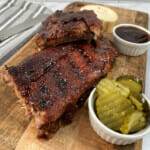 Best Damn Instant Pot Ribs
---
Author:

Prep Time:

10 min

Cook Time:

28 min

Total Time:

38 min

Yield:

1 slab
Description
Tender, fall-off-the-bone easy recipe for Instant Pot Ribs. Make the most delicious homemade baby back ribs in under an hour.
---
Ingredients
1

slab of pork baby back ribs (

1.5

– 2.5lbs)

2

tbs brown sugar (light or dark)

1

tbs kosher salt

1 tsp

ground black pepper

1 tsp

onion powder

1 tsp

paprika

1/2 teaspoon

garlic powder

1/2 teaspoon

ground mustard

1/4 tsp

cayenne pepper

1/2 cup

chicken broth

1/2 cup

apple cider vinegar

1

tbs Worcestershire sauce

1 tsp

liquid smoke
BBQ sauce (about 1/3 cup of your favorite brand)
---
Instructions
Remove membrane from the underside of the ribs by sliding a butter knife under the membrane and gently lifting it off. Use a paper towel for the best grip.
Mix all dry ingredients well and rub liberally on top and bottom of ribs. Get the sides too.
Place trivet in Instant Pot and pour in the chicken broth, apple cider vinegar, Worcestershire sauce and liquid smoke.
Place ribs on their side on the trivet, curled around the inside of the Instant Pot with the top of the top facing outward. Secure lid, close vent, and pressure cook (manual on some models) for 28 minutes.
When cook time is complete, let pressure naturally release for 10 minutes, the go ahead and release the remaining pressure.
Remove lid and carefully remove the ribs with tongs. Place ribs on a baking sheet lined with aluminum foil.
Liberally rub your favorite BBQ sauce all over the ribs and place under the broiler of the oven for about 5 minutes, or until the sauce had nicely caramelized.
---
Category:

BBQ

Method:

Instant Pot

Cuisine:

American
Keywords: ribs, Instant Pot, pressure cooker, BBQ, pork, baby back ribs