This easy rice pilaf recipe is ready to serve as your next superstar Instant Pot recipe. Made with sautéed onions, garlic, basmati rice and just a few simple ingredients, all the magic takes place right in your favorite pressure cooker. It's the perfect dish to accompany just about any meal.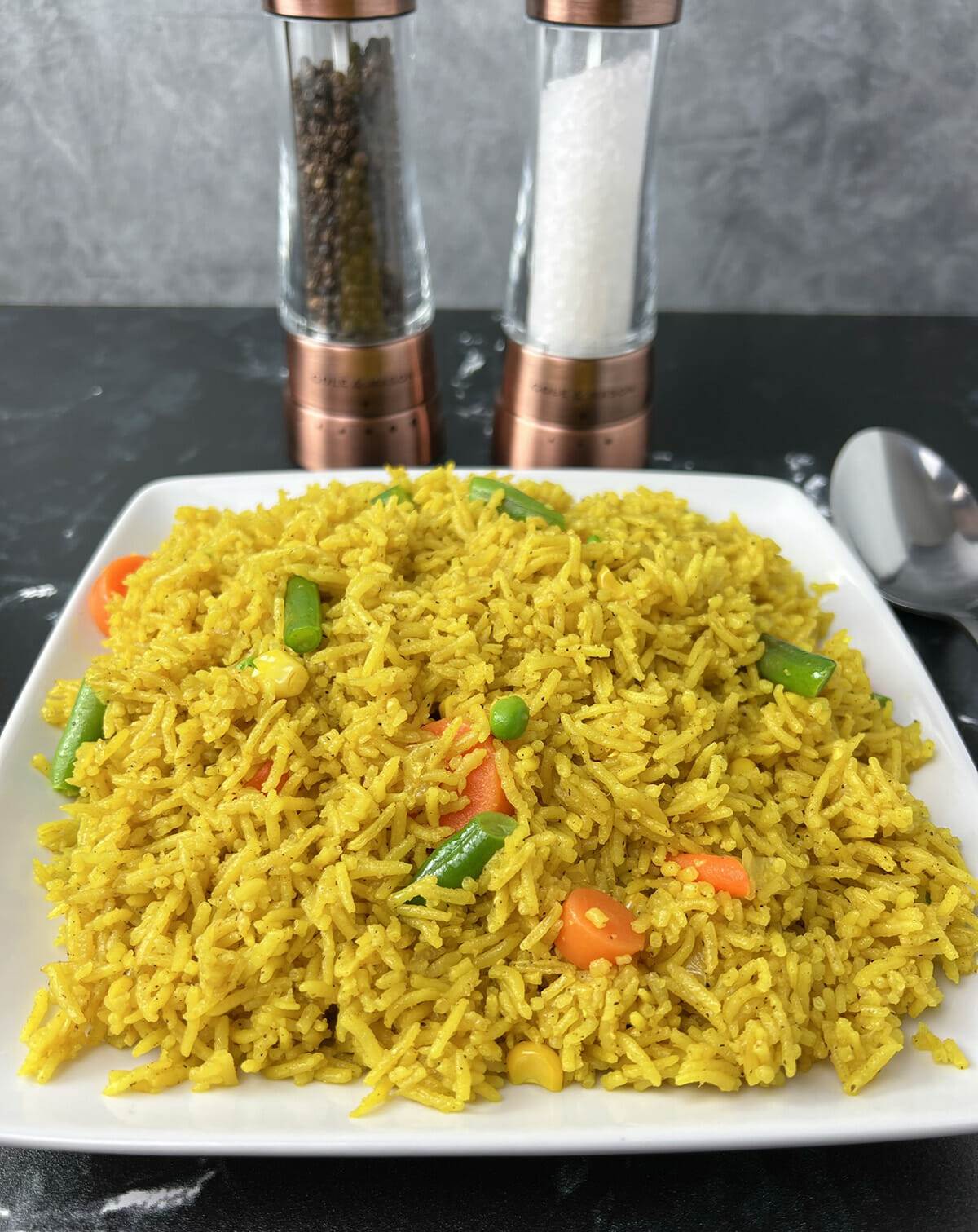 We love rice pilaf! It's so savory and fragrant, it really shouldn't be considered a "side dish," it should be classified as "the dish that makes all the dishes it appears with on a plate exclaim, 'boo, ya!'"
What is Rice Pilaf?
In the simplest terms, rice pilaf is rice which is cooked with broth and included spices, vegetables, meat, or any combination there of. It's rice that's been "jazzed" up to be more than just plain rice.
Ingredients:
Our ingredient list is simple and adds great flavor to ordinary rice. I like to use basmati or jasmine rice, as they both are traditionally more aromatic than regular long grain white rice. And since we'll be toasting the rice in the Instant Pot for a couple of moments first, we really get that nice extra flavor boost!
To make rice pilaf we use: Jasmine or basmati rice, butter, olive oil, salt, pepper, chicken broth (or other broth, see below), onion, garlic and turmeric.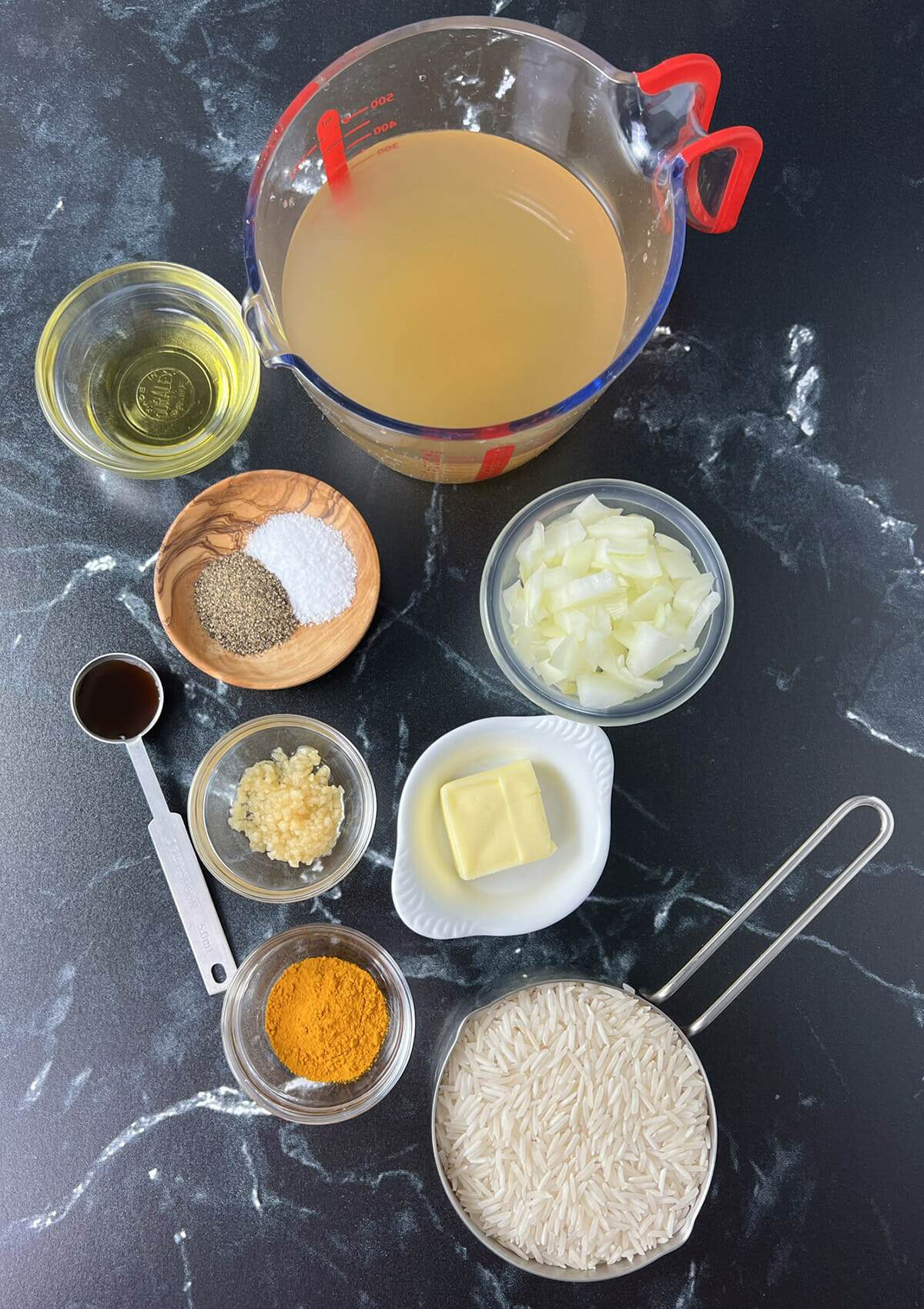 Let's Talk Fats: You may be asking yourself, "Self, should I use butter or oil in this rice pilaf recipe?" And our response would be, why choose just one type of fat? Embrace them both! You can combine butter with olive oil, butter with grapeseed oil, or butter with canola oil. The butter brings the lusciousness that we associate with rice pilaf, and the oil brings the utility and the high smoke point to make sure everything runs smoothly without the butter getting too browned. Two fats for the win!
Let's Get Brothy: You can use vegetable broth, chicken broth, or vegetable broth. If you use veggie broth, bonus! Your pilaf will be friendly to both carnivores and vegetarians alike. Chicken broth gives it a little bounce of extra savory flavor, that's incredibly delicious (I like this one the best). Beef broth will add even more savory and rich flavor. However, if you use beef broth you'll probably want to reach for the box of low-sodium broth. Regular beef broth can rachet up the salt quotient quite a bit, so go low-sodium so you're in control of your seasoning and flavors.
Alliums: Both garlic and onions are a wonderful base for your rice pilaf. They add a bit of bite, and in the case of the onions, a bit of sweetness.
Fond is Flavor: The joy of sauteing onions and garlic in butter and oil is that it creates a brown fond on the bottom of the Instant Pot. And that creates a layer of flavor that can't be beat! Deglazing the pan with stock really sets the tone for the savory pilaf.
Turmeric: This spice adds a sunny color to the pilaf! It also adds an earthy and sweet taste that's totally mouthwatering with rice. (And soups, and stews, and vinaigrettes, and breads, well. You get the idea.) Here's one caveat though when working with turmeric. It's also used as a fabric dye, and it stains like it's nobody's business. So, use a teaspoon to measure, not your fingers!
Preparation
As mentioned above, rinsing your rice is important. Just use a fine mesh strainer and rinse under cool running water. Then set the strainer over a bowl to collect any runoff. We want the rice to be as dry as possible so doing this step ahead of time will yield best results.
Set your Instant Pot to sauté mode and add butter and oil. Once it's hot, add onions and sauté for a couple of minutes until he onions become translucent. Then add the garlic, salt, pepper and rice. Stir it well with a wooden spoon for about 1 minute. All the flavors are blooming right now, the rice is getting slightly toasted (which brings out more flavor), and our flavor base is really being set.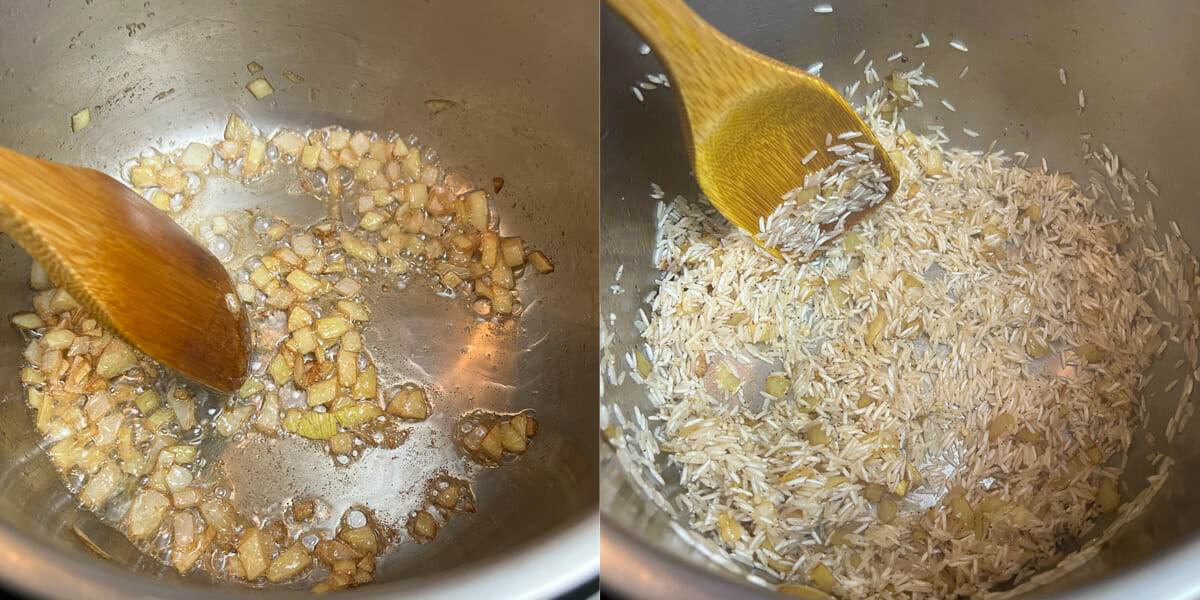 Add in the broth, scrape the bottom of the pot with the wooden spoon and add the turmeric and Worcestershire sauce.
Pressure cook for 3 minutes, 15 minute natural release
Now that we have everything added to the pot, secure the lid and pressure cook (on high) for 3 minutes. When the 3 minutes are up, let the pressure naturally release (just leave everything alone) for 15 minutes. After the 15 minutes are up go ahead and release any remaining pressure by opening the valve. Carefully remove the lid and stir the rice with a fork or wooden spoon. Now is the time to add frozen vegetables if you're going to use them. Simply add them in, stir to incorporate, and leave the lid loosely in place for 5 minutes. The residual heat will be more than enough to make the frozen vegetables fit right in. Finally, press cancel to stop the keep warm stage. We don't want things to dry out.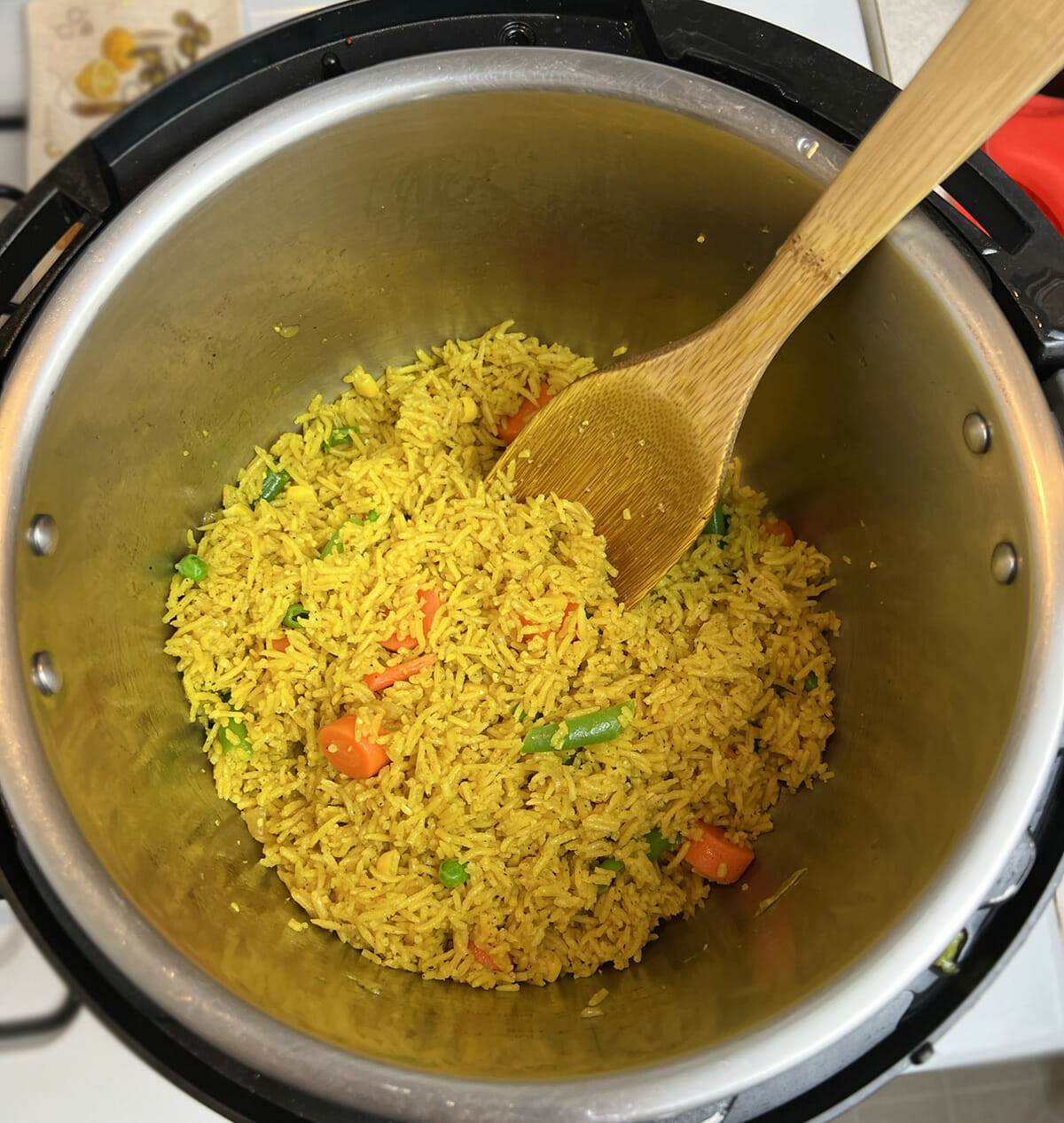 Serves great with…
And we're not kidding when we say that pretty much any protein we pair with pilaf with feels empowered and elevated. Here are some of our favorite things to pair rice pilaf with.
For instance, can you imagine how perfectly rice pilaf will pair with our Best Damn Air Fryer Pork Chops? All of those big and bold seasonings like brown sugar, paprika, ground mustard, onion powder, and garlic powder coating succulent crispy pork chops will make everyone sing and dance with joy. Seriously. Sing and dance with joy.
And while we're still hanging out with pork, let's talk about how amazingly well rice pilaf will play nicely with our Best Damn Air Fryer Pork Tenderloin that's studded with smoky paprika along with onion and garlic powder and a kiss of puckery ground mustard. All cheer for the air fryer pork tenderloin! All hail rice pilaf alongside it!
When it comes to meat consumption, Americans are way down the line when it comes to lamb. So, let's lead the parade and dive into this delicious meat with our Best Easy Air Fryer Lamb Chop recipe! They're delectable, mouthwatering, full of flavor, and are the perfect bite along with our rice pilaf.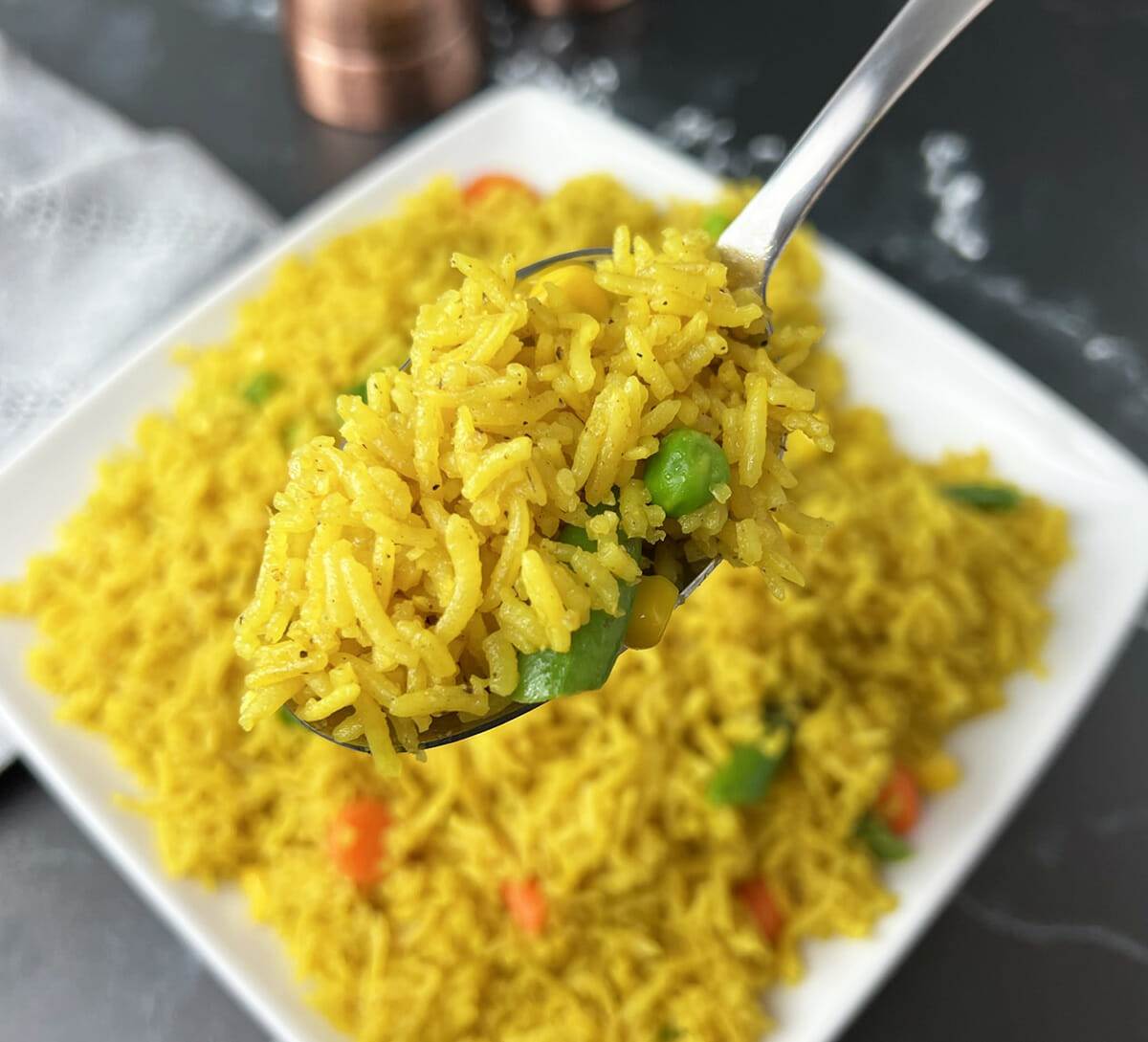 Other Delicious Rice Pilaf Add-Ins
Look to the Sweet Part of the Pantry: Dried fruit is a traditional addition to rice pilaf. Cranberries, raisins, apricots, dates, or cherries are a wonderful way to play off the savory flavor of the broth.
Let's Keep the Doctor Away: A diced apple with or without the skin on would be a home run in this pilaf!
Let's Get Nuts: These add a fantastic textural contrast to the soft rice. Slivered almonds, or pistachios are the perfect add-ins to the savory rice.
Amp the Flavor with Herbs: Soft or woody herbs both work well here. Think bright dill, or anise flavored tarragon, fresh mint, parsley, rosemary, or even cilantro bring their unique flavor profiles to the pilaf. And of course you could add in chives too!
It's Pasta Time: If you'd like to add a few strands of broken vermicelli, angel hair pasta, or even orzo to the Instant Pot while sauteing your onions, they get golden brown and add a bit of toasty flavor to the pilaf.
Embrace the Veggies: You could also sauté red, yellow, or orange bell pepper with the onions. The same goes with celery! Also, if you'd like to impart the sweetness of carrots from the beginning, you could sauté it with the other vegetables, instead of adding frozen carrots at the end.
Can This Recipe Be Doubled?
You can certainly double this recipe with ease. Just double all the ingredients. The cooking time will remain the same.
Print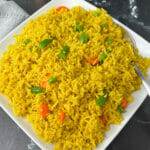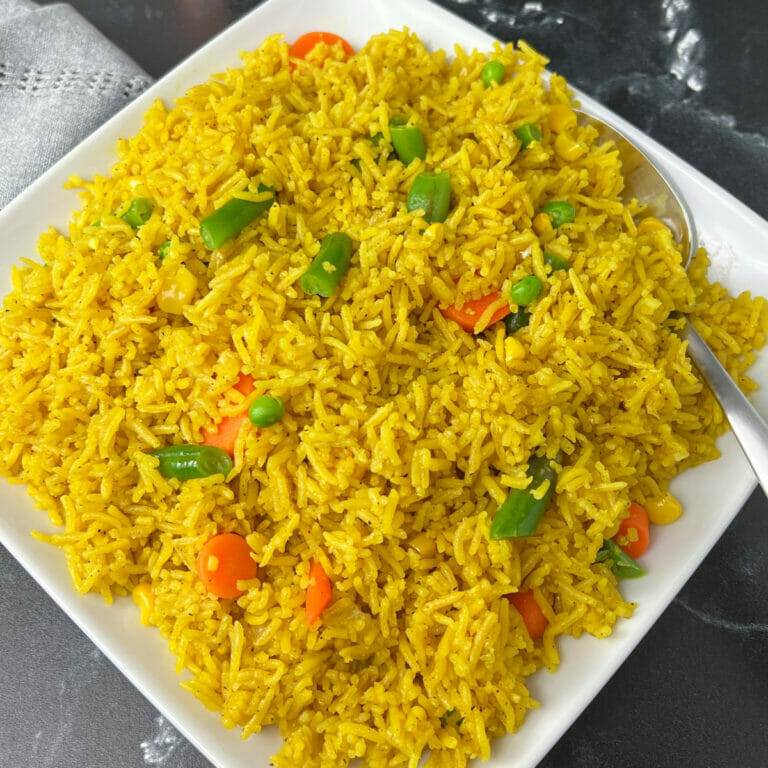 Best Damn Instant Pot Rice Pilaf
---
Author:

Total Time:

About 25 min for complete time

Yield:

4-6 servings
Description
Easy recipe for Instant Pot Rice Pilaf. The perfect side-dish for any meal.
---
1 cup

basmati or jasmine rice, rinsed

1.25 cup

chicken broth

⅓ cup

diced onion

⅓ cup

mixed frozen vegetables

1

tbs butter

1

tbs olive oil

1 tsp

turmeric

1

clove garlic, diced

1 tsp

Worcestershire sauce

½ tsp

salt

½ tsp

pepper
---
Instructions
Add butter and oil to Instant Pot and press sauté.
When butter has melted and oil is hot, add onion and sauté for 3-5 minutes until softened.
Stir in the rice, garlic, salt and pepper and stir for about 1 minute.
Add broth and scrape bottom of pot to remove any browned bits from the bottom.
Add turmeric and Worcestershire sauce and stir to incorporate.
Secure lid and make sure valve is set to "sealing" position.
Pressure cook on high pressure for 3 minutes. Once the pressure has built up, the timer will begin counting down.
When the 3 minutes are up, let the Instant Pot naturally release the pressure for 15 minutes (do nothing during this time). After 15 minutes, release any remaining pressure. Pin will drop if it hasn't already.
Carefully remove lid and add frozen vegetables. Stir into the rice. Let the vegetables cook in the warm rice for about 5 minutes.
Serve and enjoy!
Prep Time:

10 min

Cook Time:

3 min

Category:

Side dish

Method:

Instant Pot

Cuisine:

American