Treat yourself to a delectable dinner of tender, mouthwatering lamb chops, made to perfection in your air fryer. This simple recipe uses only 6 total ingredients and is on your plate in about 15 minutes.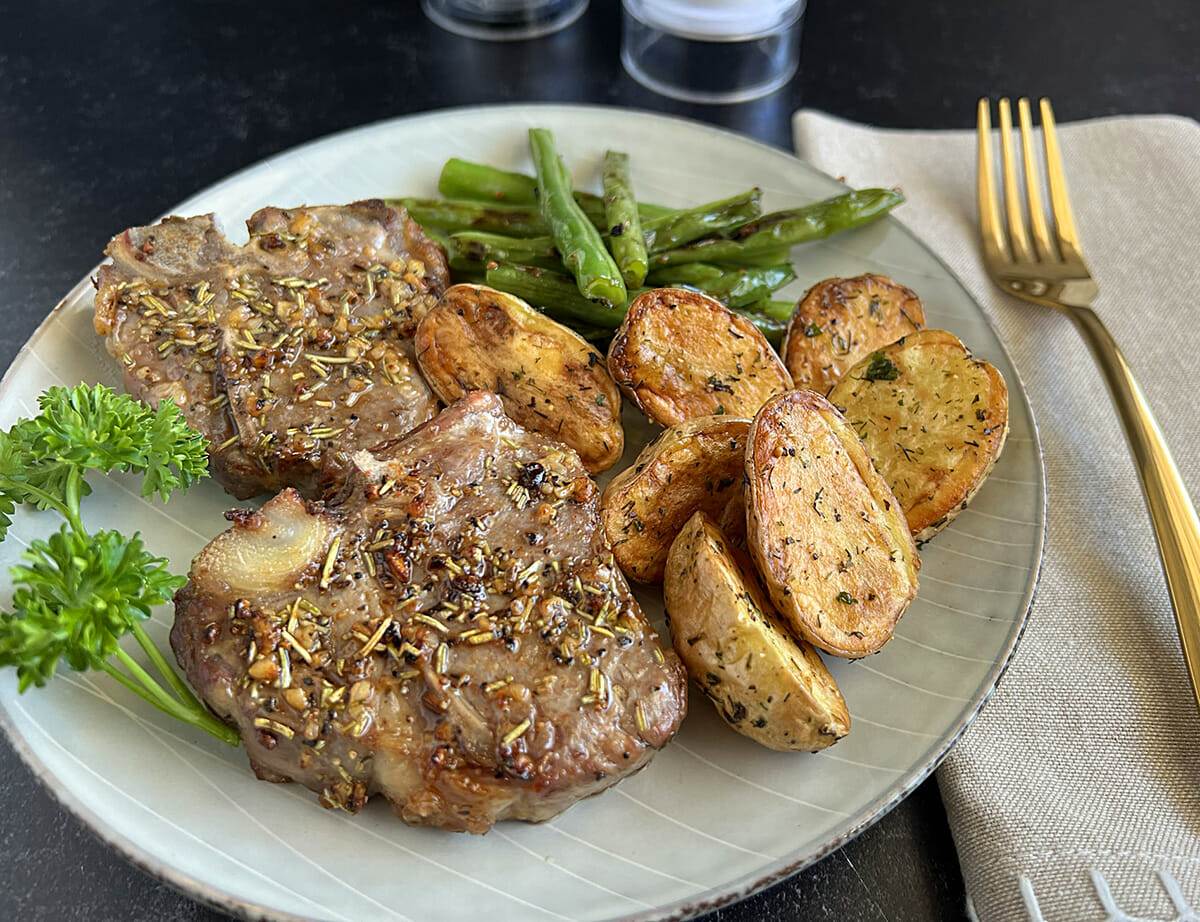 Lamb chops are an incredibly delicious meat that is very easy to prepare and cook. With a wonderful flavor which we build upon with garlic and rosemary as the foundation, these succulent lamb chops are awesome for dinner any night of the week.
Types of lamb chops
While there are several different cuts of lamb meat, the most common for chops are the rib chops and loin chops. For this recipe we use the loin chops which resemble mini t-bone steaks. They have both a tenderloin section and a loin section, as well as a small t-bone, just like it's beef counterpart. They are fairly lean and considered a healthier alternative to beef. With a flavor and texture similar to beef, lamb still has character all it's own. For this recipe, we go heavy on the garlic and rosemary which make every bite absolutely divine.
Equipment needed
The main piece of equipment needed for this recipe is, of course, an air fryer. I use a 5.8qt basket style air fryer, which I find is the most ideal for the vast majority of air fryer recipes. And I also highly recommend an Instant Read Food Thermometer. One of these will be your best friend for getting meats cooked to perfection.
Ingredients
The ingredient list is quite basic: 4 lamb loin chops (4-6oz each), minced garlic, dried rosemary, dried parsley, salt, pepper and olive oil. That's it! I like to use the jars of minced garlic and for this recipe we use a tablespoon full. But of course you can use fresh garlic, 3-4 cloves is perfect. Also feel free to add fresh herbs in addition to the dried herbs. A few pinches of fresh chopped rosemary and flat leaf parsley are a delightful addition. And of course, a sprig of rosemary is a beautiful garnish for this wonderful meal.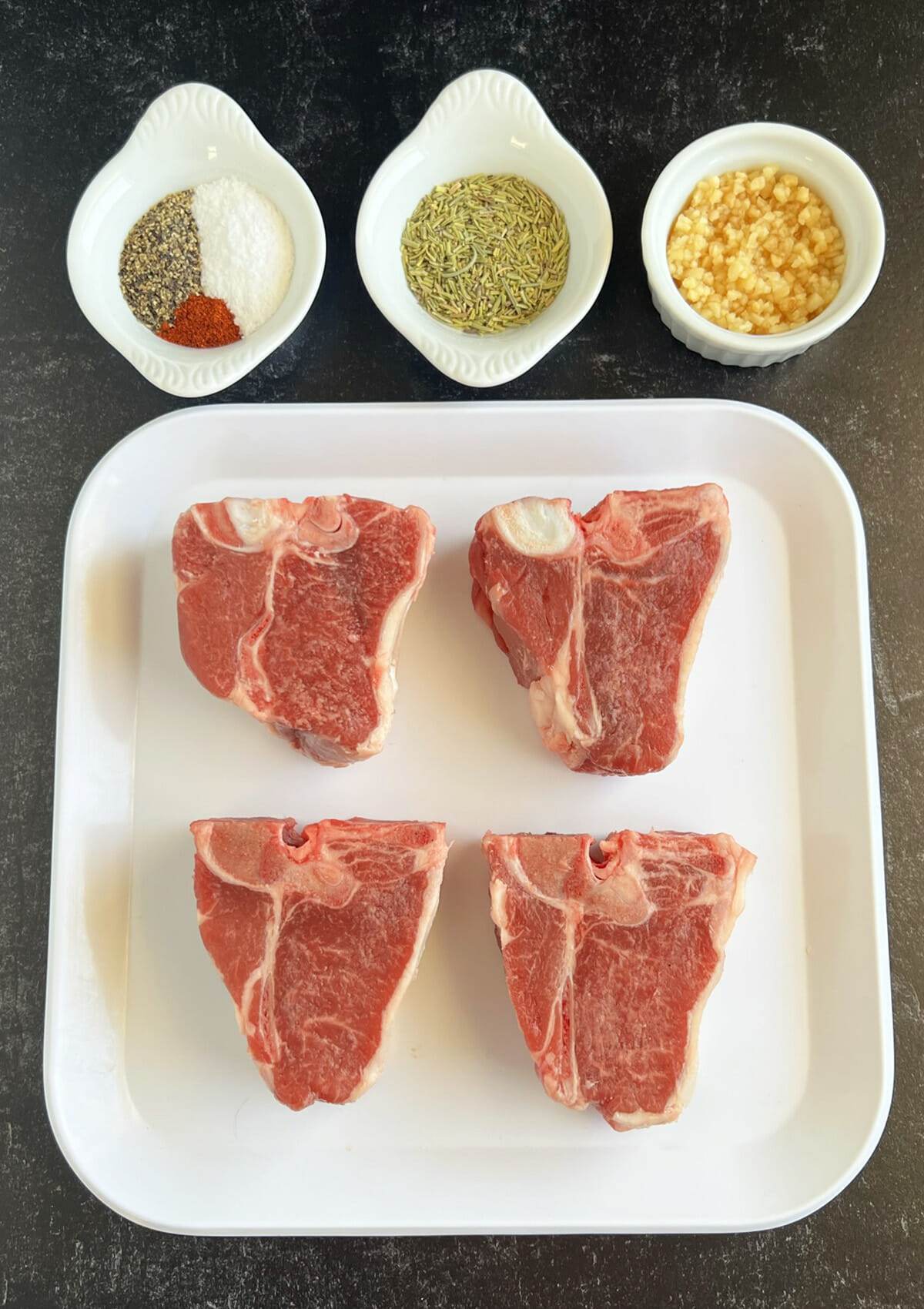 Preparation
As with many meats, we like to take the meat out of the refrigerator to lose some of it's coldness. Set it on the kitchen counter for 15-30 minutes and you'll have chops that are much happier to be cooked. Use a small dish to combine all the ingredients with the olive oil and spoon it onto the lamp chops. Get them good and coated on all sides. And before they go into the air fryer make sure to preheat the appliance. This is important! We want to hear that sizzle when the lamb chops are placed in the basket or tray.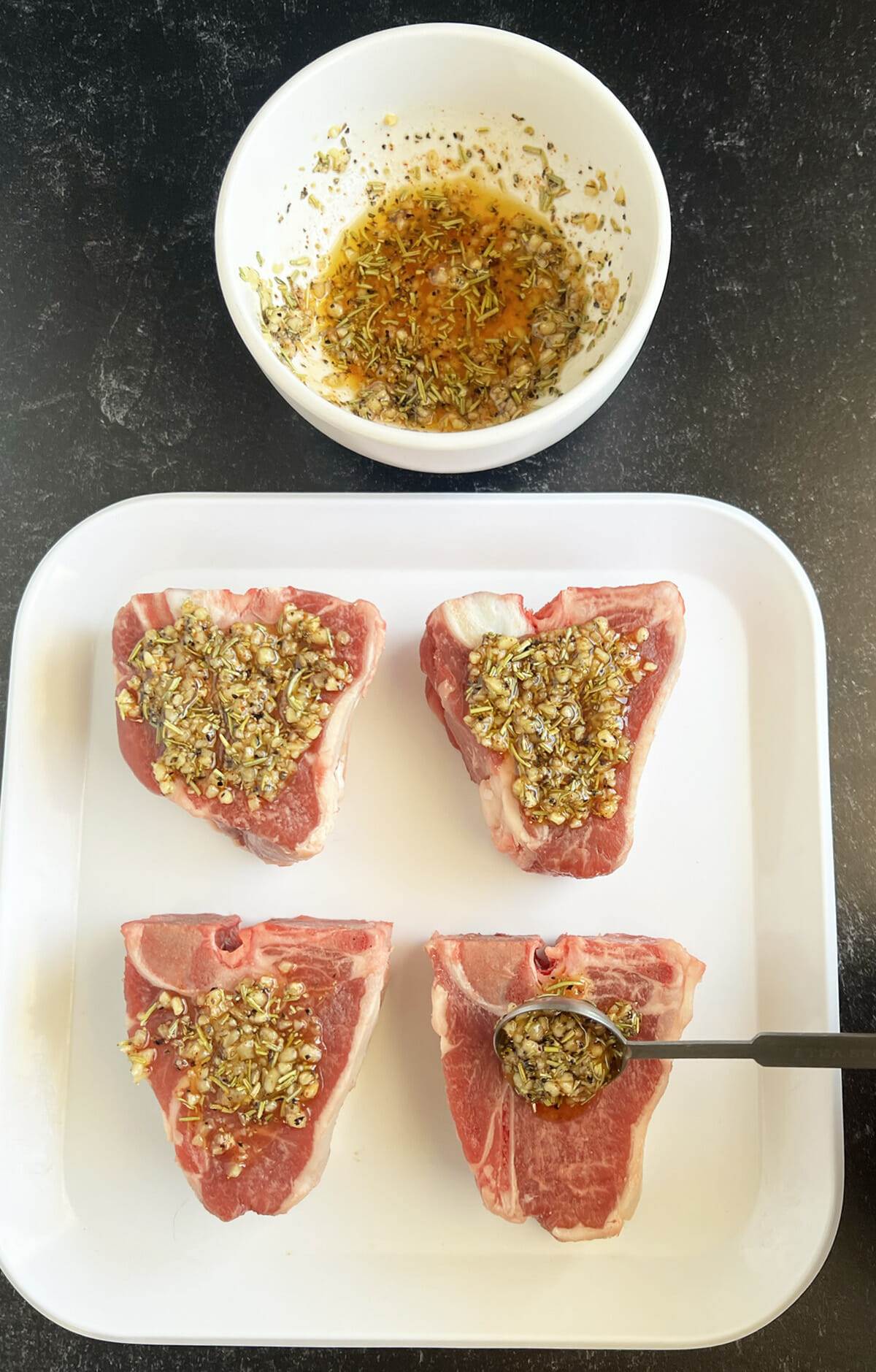 Air Fry at 400°(F) for about 7-10 minutes
Once the air fryer is preheated, place the seasoned lamb chops in the air fryer basket (or on the middle tray position for tray-style air fryers) and set to air fry at 400°(F) for 7-10 minutes, depending on thickness.
Much like beef, lamb can be cooked to varying degrees of doneness. Medium is ideal for the most tender and flavorful results. Our total cooking time will be about 7-10 minutes. Remember that each appliance can be a little different but what we want is a final internal temperature for the meat to be 145°(F). Remove the lamb chops when the internal temperature hits 135°(F), because they will actually continue to cook (this is called carryover cooking) when removed from the heat.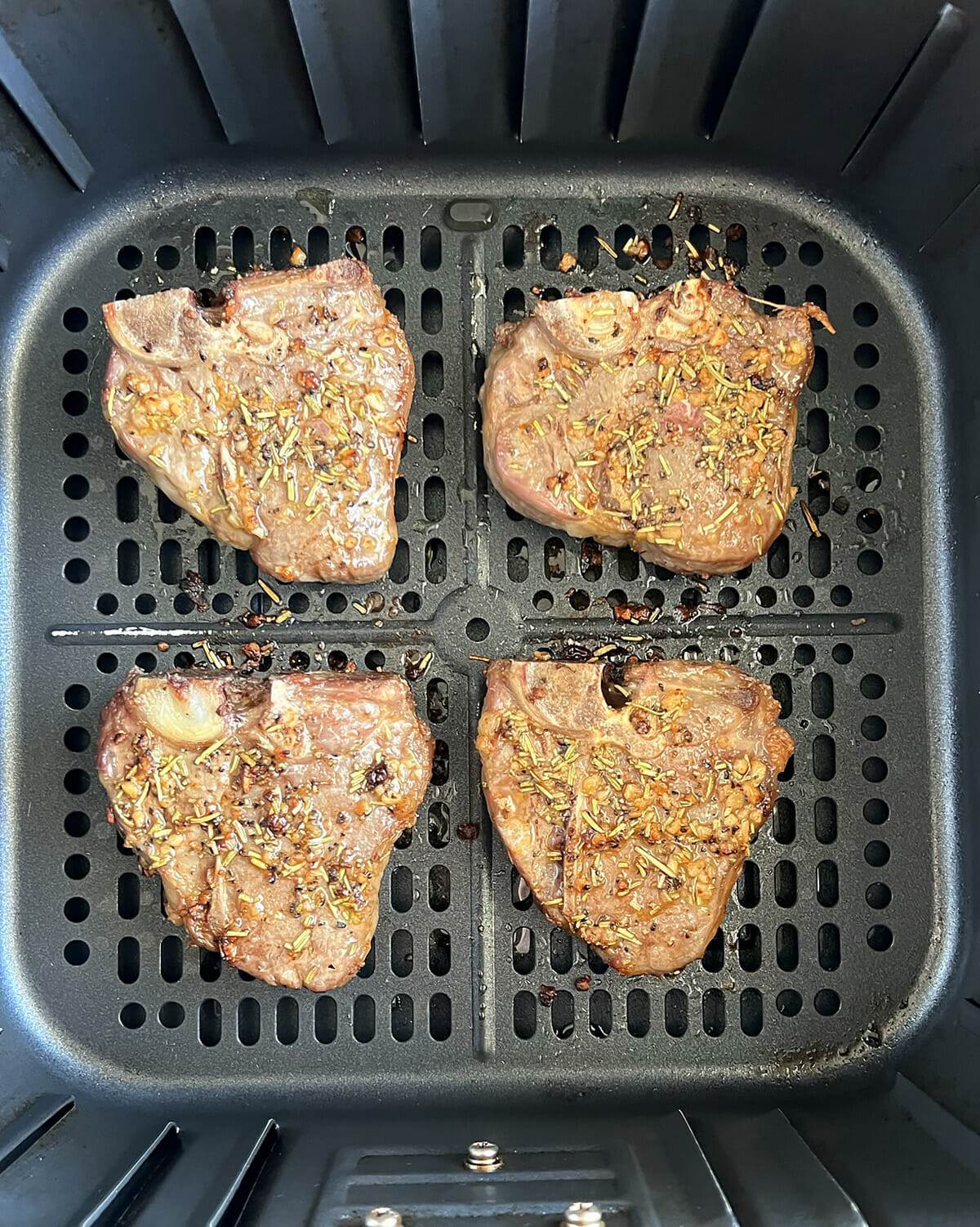 Let them rest!
When we remove the lamb chops from the air fryer, it's very important to let them rest on a plate or platter for 5-7 minutes. The carryover cooking will bring them up several degrees and the juices will redistribute, making the lamb chops juicy and tender. You'll be very impressed with the final result.

Serving suggestions
Your lamb chops go so well with a variety of side-dishes. Personally, I love fresh veggies or roasted potatoes as sides. Check out our Air Fryer Asparagus, Air Fryer Zucchini and Peppers and Instant Pot Potatoes and Green Beans.
You can also serve some fresh lemon wedges along side your lamb chops. A little fresh lemon can really boost those flavors and the acidity pairs very well with lamb.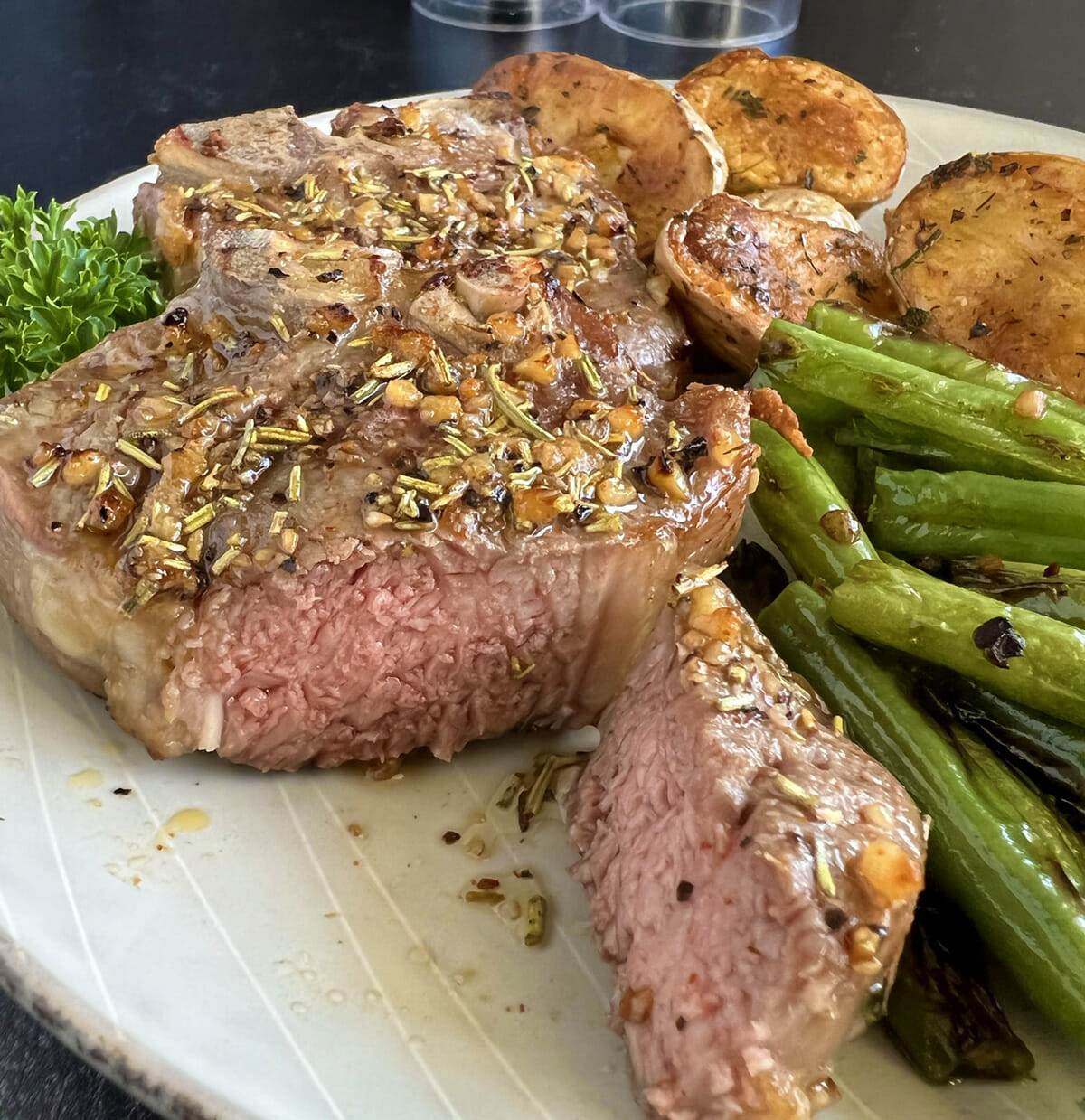 Print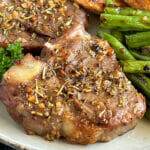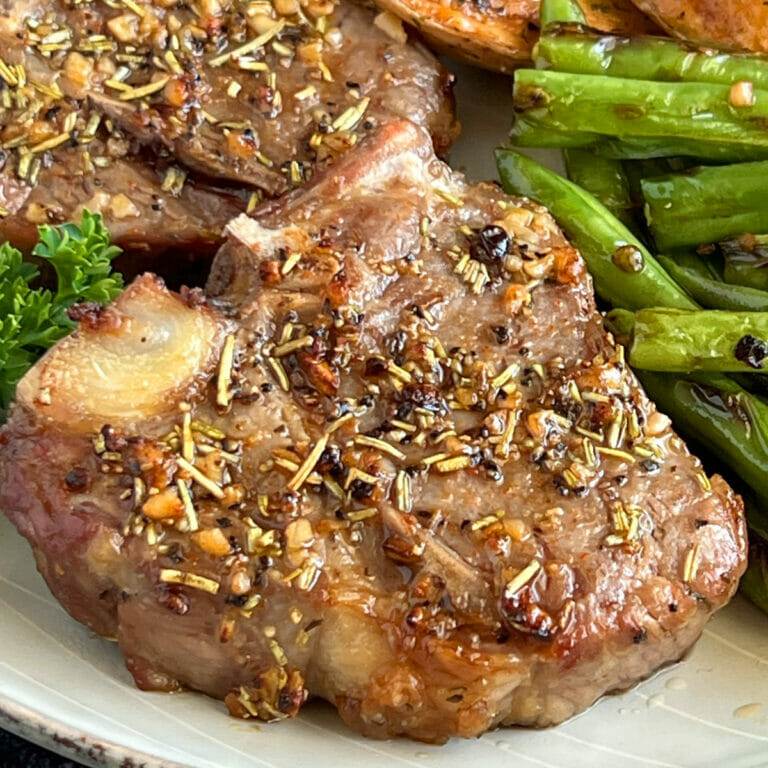 Best Easy Air Fryer Lamb Chops
---
Author:

Total Time:

15 minutes

Yield:

4 lamb chops
Description
Mouthwatering, tender and succulent lamb chops made with a delicious seasoning mix and cooked to perfection in your air fryer.
---
4

lamb chops, 4-6oz each

1

tbs minced garlic (

3

–

4

cloves)

1

tbs extra-virgin olive oil

1 tsp

rosemary, dried

1 tsp

kosher salt

½ tsp

black pepper

⅛ tsp

cayenne
---
Instructions
Preheat air fryer to 400°(F).
Mix dry ingredients with olive oil in a small bowl.
Spoon the seasoning onto both sides of each lamb chop.
Place in preheated air fryer basket or tray. Use air fry setting at 400°(F) for 7-10 minutes.
Remove when internal temperature is 135°(F) and let rest on a plate for 5 minutes before serving. (cooking will continue and reach the desired 145°(F) for medium. Adjust cooking time by 1-2 minutes additional for well done, or 1-2 minutes less for medium-rare)
Notes
Air fryers can vary from appliance to appliance. Sometimes they may need a minute or two less or more time. You will always get the very best results by using an instant read food thermometer.
Prep Time:

5 min

Cook Time:

10 min

Category:

Dinner

Method:

Air Fryer

Cuisine:

American