This quick and easy recipe for air fryer roasted zucchini and peppers is the perfect addition to any meal. Made with fresh ingredients, a little extra virgin olive oil and a pinch of salt, the zucchini and peppers roast to perfection in about 10 minutes. No breading for these veggies, just delicious all fresh goodness.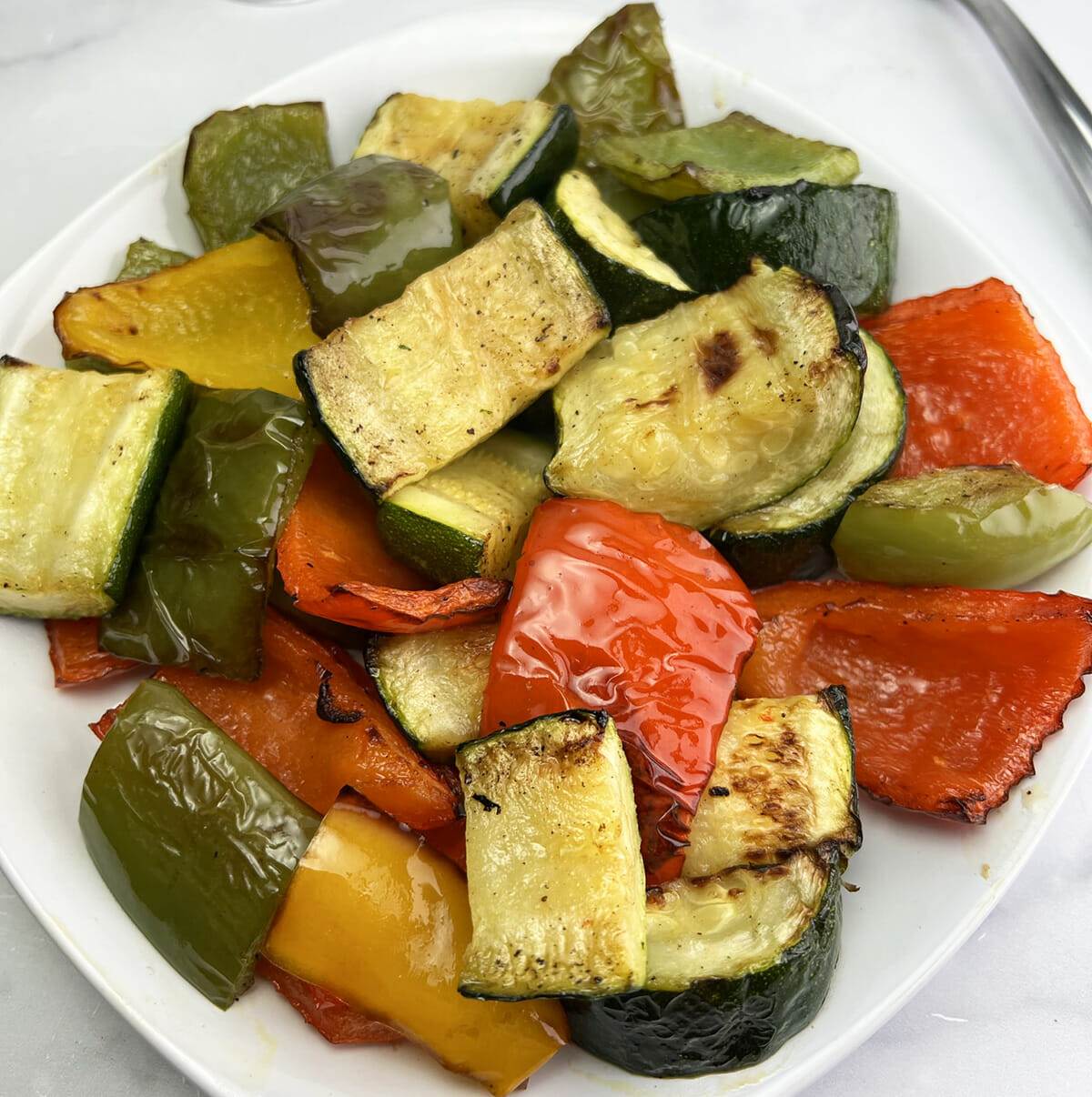 What did we ever do before air fryers? Ok, the answer to that is we made a lot of things that take forever in the oven and made a big mess. Then along comes these little miracle appliances that are really quite simple, and they make our cooking experiences so much better. Making roasted peppers and zucchini in the air fryer is a match made in heaven.
Simple, Fresh Ingredients
There's not a lot of rocket science with this recipe. We'll use 2 fresh zucchinis, 2 or 3 fresh bell peppers, a little extra virgin olive oil and a pinch of salt to taste. Yep, that's it! I like to use different color bell peppers. Red, green and yellow are delicious and look awesome when roasted.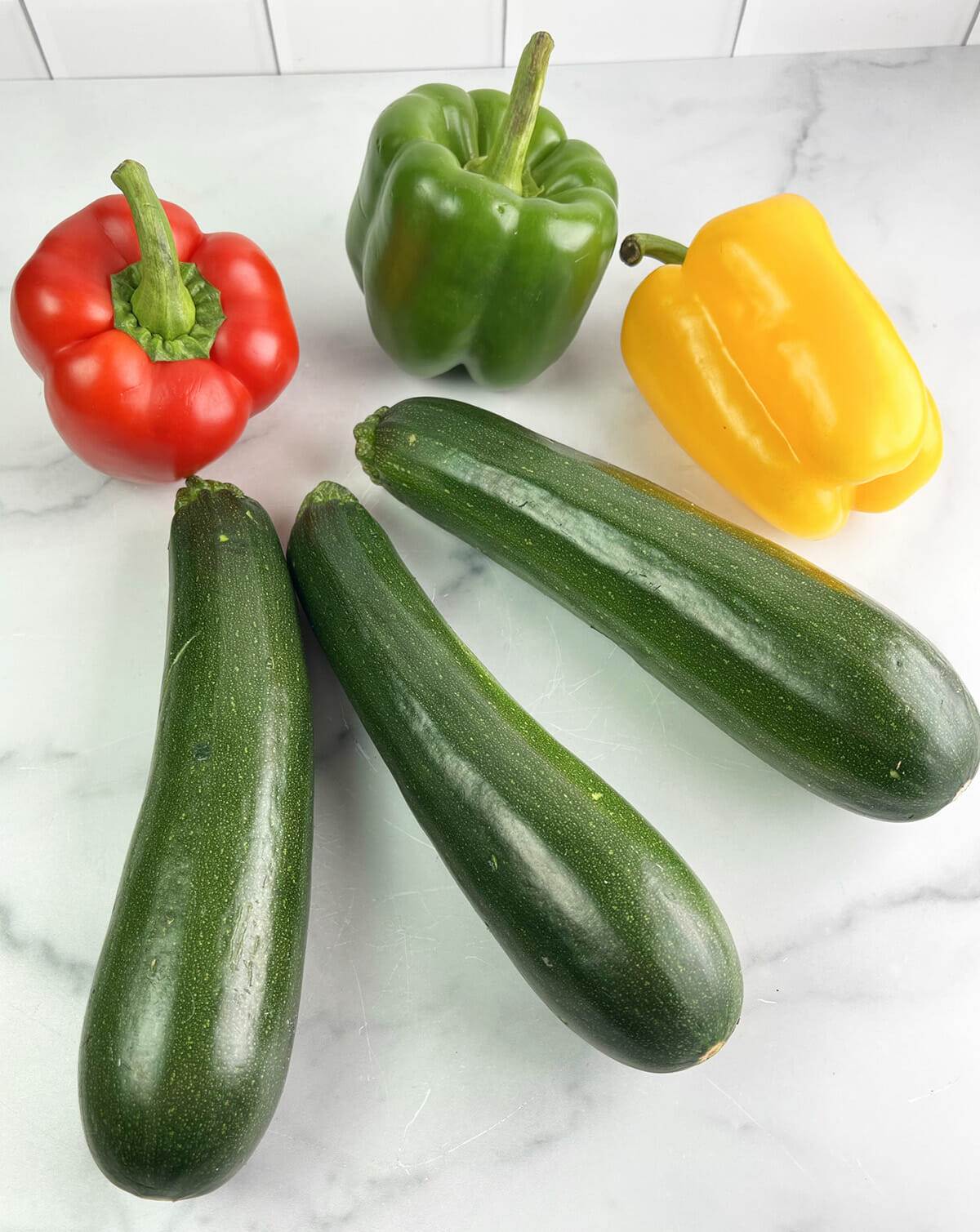 Easy Preparation
Again, the steps for making this recipe are ridiculously simple. Cut the zucchini in half lengthwise, then cut into chunks that are on the thicker side, at least ¾″ to 1 inch wide. The thick sliced zucchini, helps to prevent them from getting too soft. Cut the peppers into thick pieces as well. Place all the vegetable chunks in a large zip-top bag and add a tablespoon of extra-virgin olive oil and a pinch or two of kosher salt or sea salt. Close the bag and shake it all up to get the veggies well coated.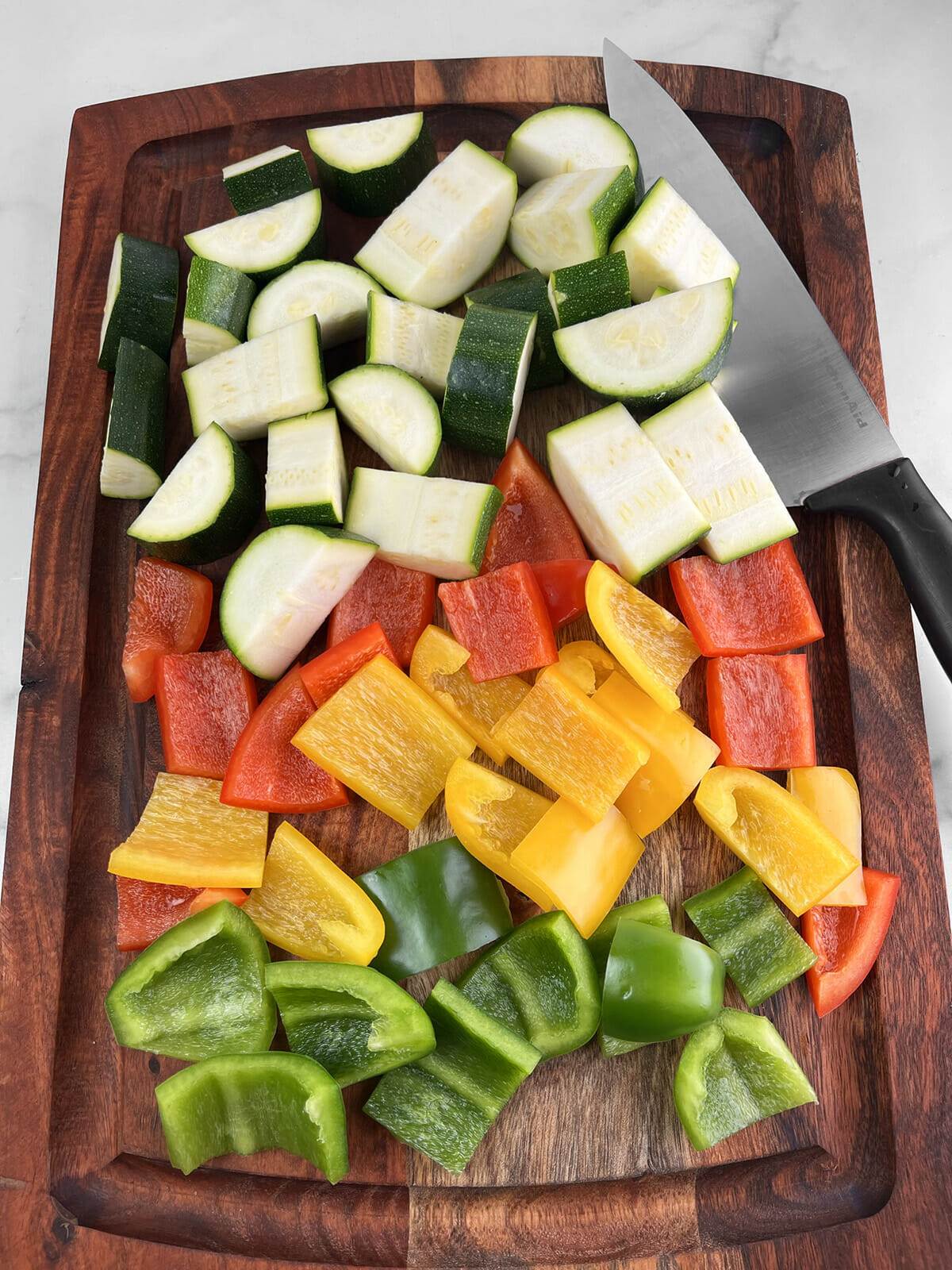 Air Fry at 400° for about 10 Minutes
Now that we have our zucchini and peppers ready, preheat the air fryer at 400° for 5 minutes, then when ready, add the veggies and use the air fry setting at 400°(F) for 10 minutes. You'll want to stir them every few minutes to get them nice and evenly roasted. Air fryer temps can vary so you can always take them out a little early or roast them for another minute or two to you liking. You want the zucchini and peppers to have just a little snap when pierced with a fork.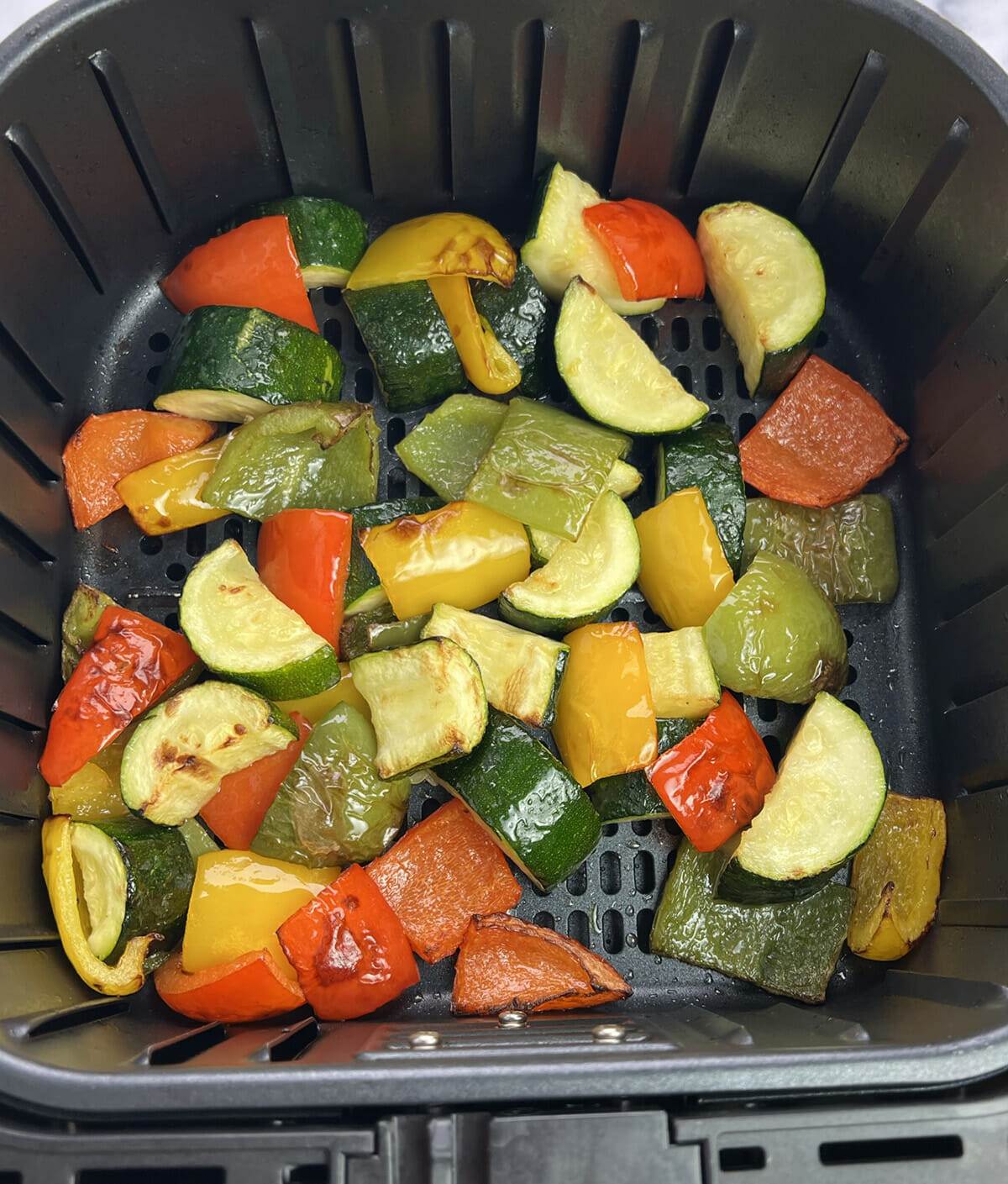 Ready to Serve
You zucchini and peppers are ready to serve immediately when they come out of the air fryer. I like to but them in a large shallow dish and let everyone just help themselves.
Frequently asked Questions
Question: Will the zucchini get mushy?
Answer: By slicing the zucchini in larger pieces, it helps to prevent them from overcooking and getting mushy. Of course, if they're cooked too long, they can indeed get quite soft. Zucchini has a high water content so you can help prevent mushiness by patting them dry with a paper towel after slicing.
Question: How to Store Air Fryer Roasted Zucchini and Peppers?
Answer: Like most leftovers, the roasted veggies will store well in air tight containers in the fridge for a couple of days.
Question: How to reheat zucchini and peppers?
Answer: About 1 minute in the microwave should sufficiently reheat the veggies.
Question: Can the recipe be doubled?
Answer: If adjusting the recipe to be doubled or to make more, it is suggested to do 2 batched. The key is, we don't want the veggies to be over crowded in the air fryer.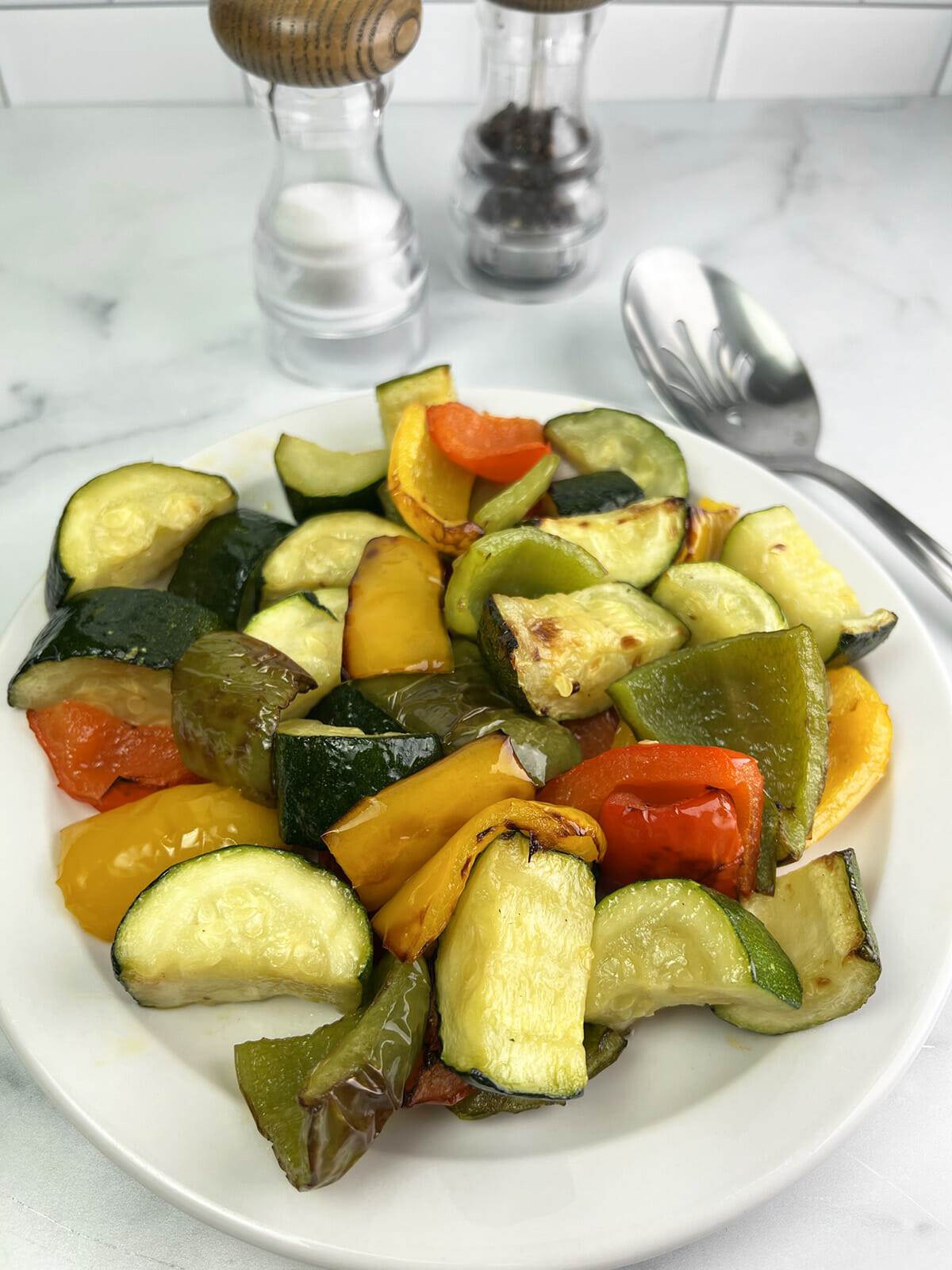 Print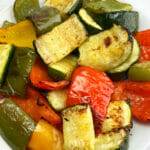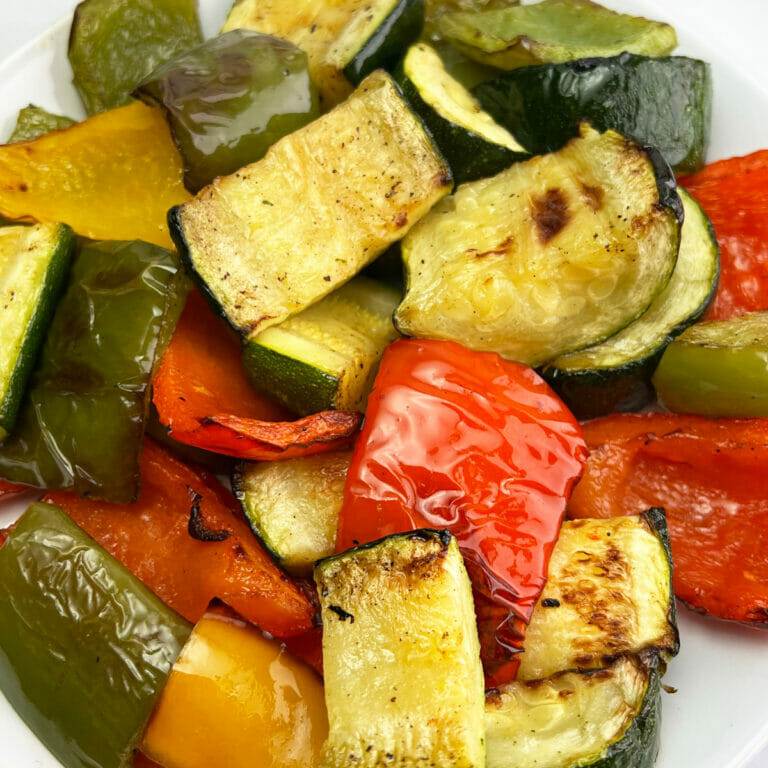 Air Fryer Zucchini and Peppers Medley
---
Author:

Total Time:

15 minutes

Yield:

4 servings
Description
Perfectly roasted fresh zucchini and peppers in your air fryer. No breading needed, just delicious fresh vegetables. An awesome side-dish which is ready in about 10 minutes.
---
2

Zucchini squashes, medium sized

2

–

3

Bell peppers, medium sized (yellow, green, red)

1

tbs Extra-virgin olive oil
Salt to taste (usually about 1 tsp)
---
Instructions
Slice zucchini in half lengthwise, then into ¾″ – 1″ thick pieces. Pat the pieces dry as much as possible with a paper towel.
Cut tops off of peppers, remove core, and cut into 1″-2″ chunks.
Add veggies to a large zip-top bag or bowl, add olive oil and salt, coat all veggies well.
Preheat air fryer to 400°(F) for 5 minutes. When ready, add veggies to basket or tray and air fry at 400°(F) for 10 minutes or until veggies can be easily pierced with a fork but with just a little resistance and crunch.
Prep Time:

5 min

Cook Time:

10 min

Category:

Side Dish

Method:

Air Fryer

Cuisine:

American