Perfectly cooked orzo, no strain, no fuzz, made in minutes in your Instant Pot. Loaded with garlic and Parmesan cheese, this creamy pasta dish is absolutely delicious and is sure to please!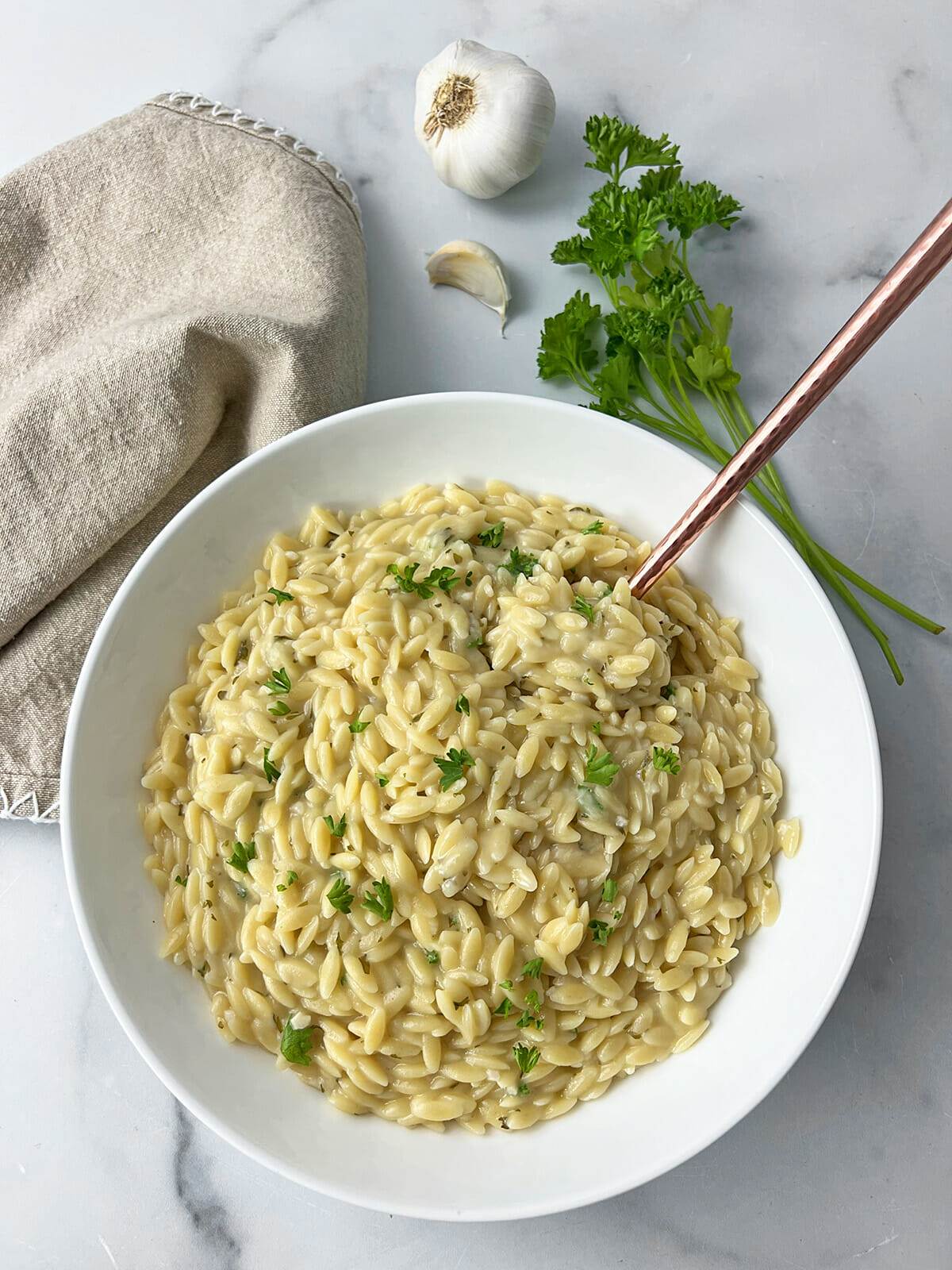 Orzo might be the perfect pasta to make in the Instant Pot. I love that we don't have to drag out a colander to strain the pasta. All the magic happens right inside your favorite electric pressure cooker. And with a short cook time and super easy steps, this dish is ready to serve in under 20 minutes. It's such an amazing side-dish for any meal!
What is Orzo?
Not all that familiar with orzo? It's simple little pieces of pasta that are slightly large than grains of rice. It cooks up quickly, requires little attention, and like most pasta, is the prefect canvas for any number of flavors. It typically comes in 1lb. boxes and is found in your supermarket dry pasta section.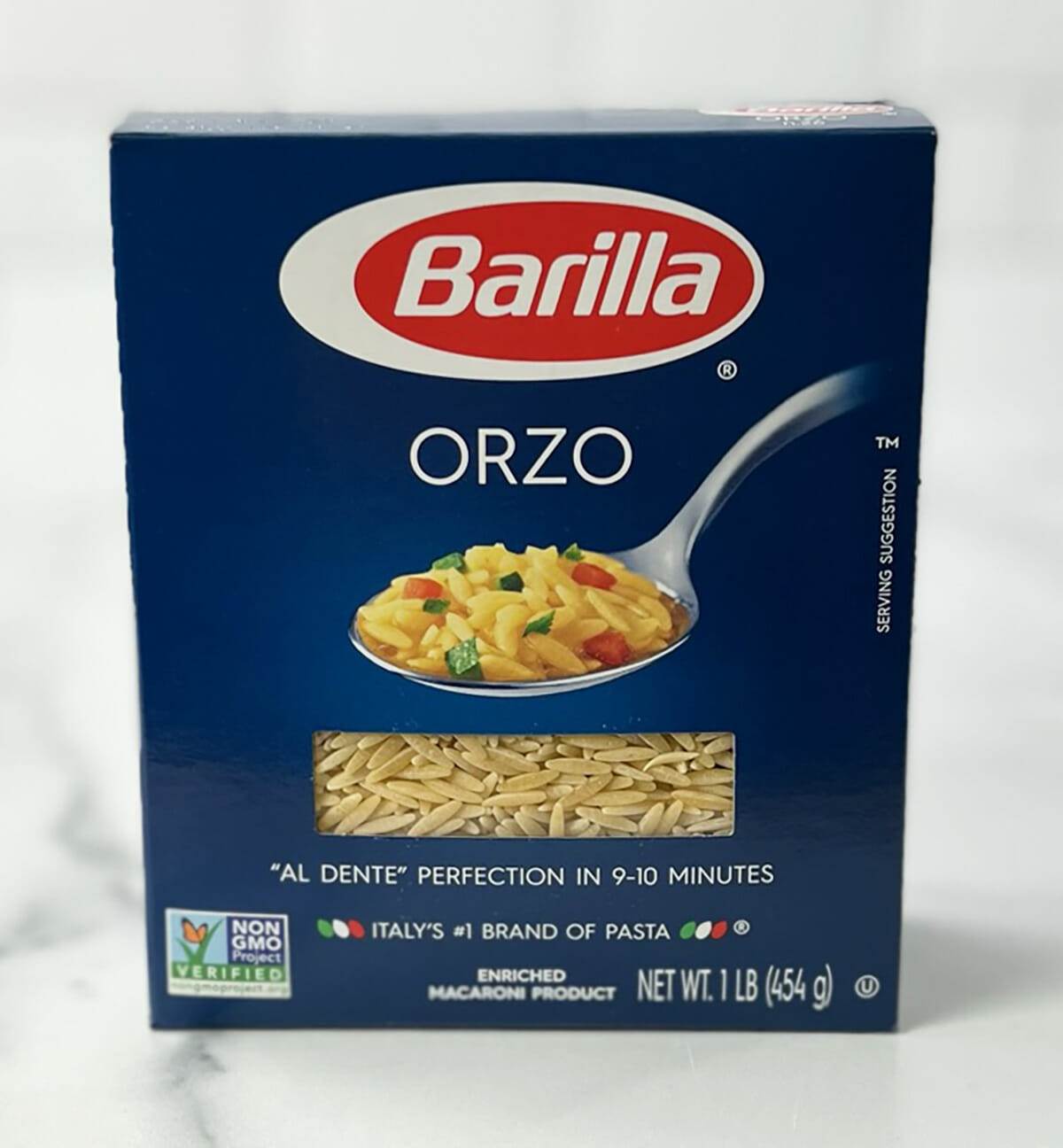 Ingredients
Naturally we start with orzo. We'll use 1 cup for this recipe. Remember, these little "grains" of pasta will puff up in size when finished. The orzo will be cooked in 2 cups of chicken broth. This gives the pasta a much needed flavor boost that we wouldn't normally get by just using water. We'll add 2 tablespoons of butter to the mix during cooking. This helps create the creamy texture and also helps to prevent the orzo from sticking together during cooking. Of course, we need garlic. A whole tablespoon of minced garlic will do the trick. I love to use the jars of minced garlic. They're a great step saver. Finally, a ½ cup of grated parmesan cheese, some dried parsley flakes and a couple of tablespoons of milk will round out our delicious dish. You can add a pinch of salt to taste as well. All easy ingredients.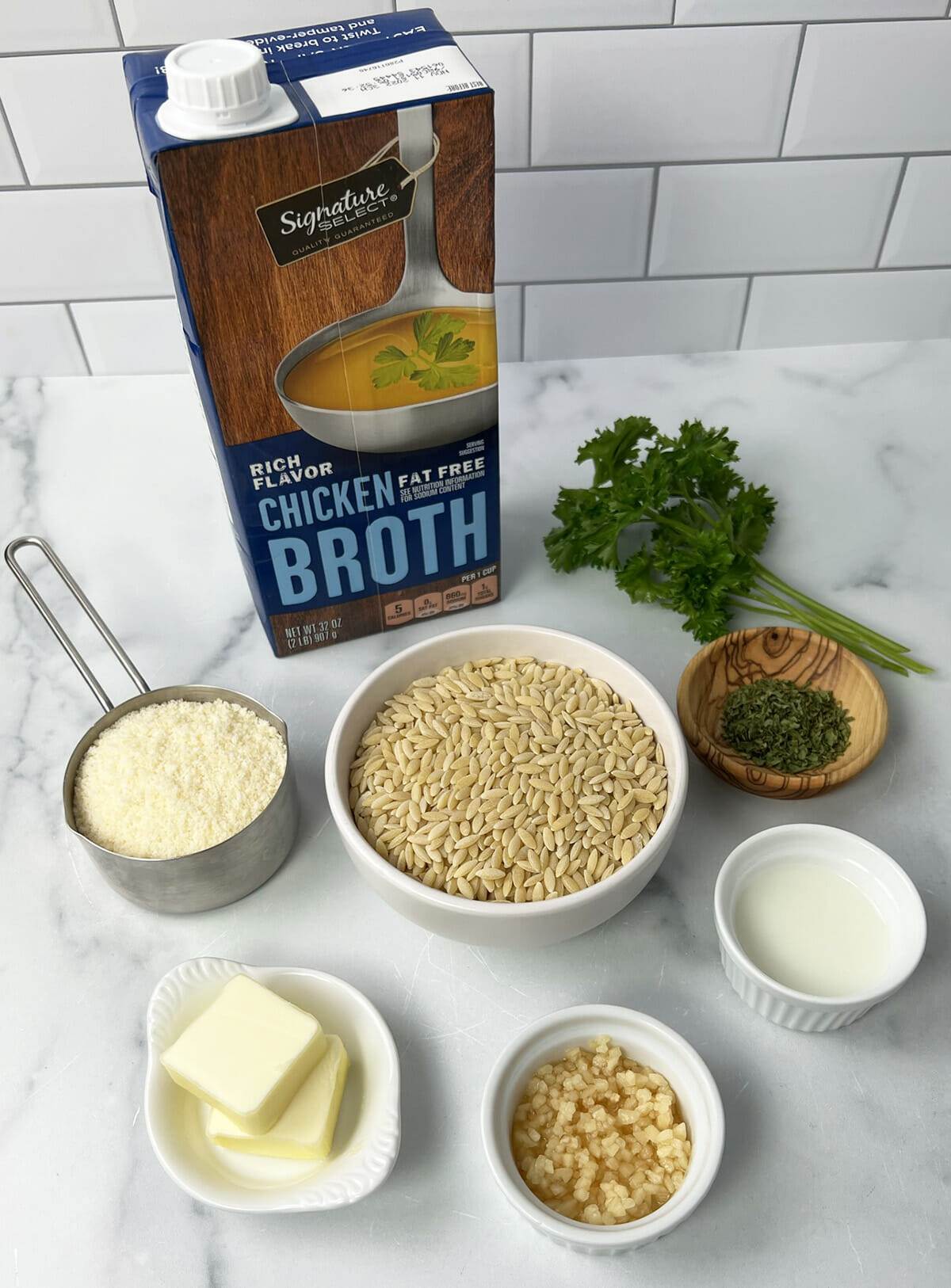 Preparation
Start by adding the orzo to the Instant Pot. Pour the chicken broth in and add the minced garlic and parsley. If you want to add a pinch of salt, now is the time. Keep in mind that our broth will have a lot of salt, depending on the brand. But we know pasta loves salt, so a pinch to ½ teaspoon of salt can be added to taste. Now that we have these ingredients added, give them a little stir to get things mixed up just a bit. Finally, add 2 tablespoons of butter right on top.
Ready to cook!
Secure the lid of the Instant Pot, make sure the vent is closed (set to sealing position), and pressure cook on high pressure for 4 minutes. It will take probably 5-8 minutes to come to pressure before the cooking time begins, as indicated by the countdown timer. When the 4 minute cooking time is complete, quick release the pressure. Turn the vent to the open position and the steam will begin to release like a freight train. Sometimes, especially with pasta, the releasing steam and start to sputter a bit. If this happened, just throw a kitchen towel over the vent while the pressure releases. It will take about a minute for the pressure to fully release.
When all the pressure is released, the pin will drop and we can remove the lid. Once removed, the orzo will still seem quite liquidy. No worries! Give everything a stir for about 30 seconds and it will continue to absorb the liquid and thicken.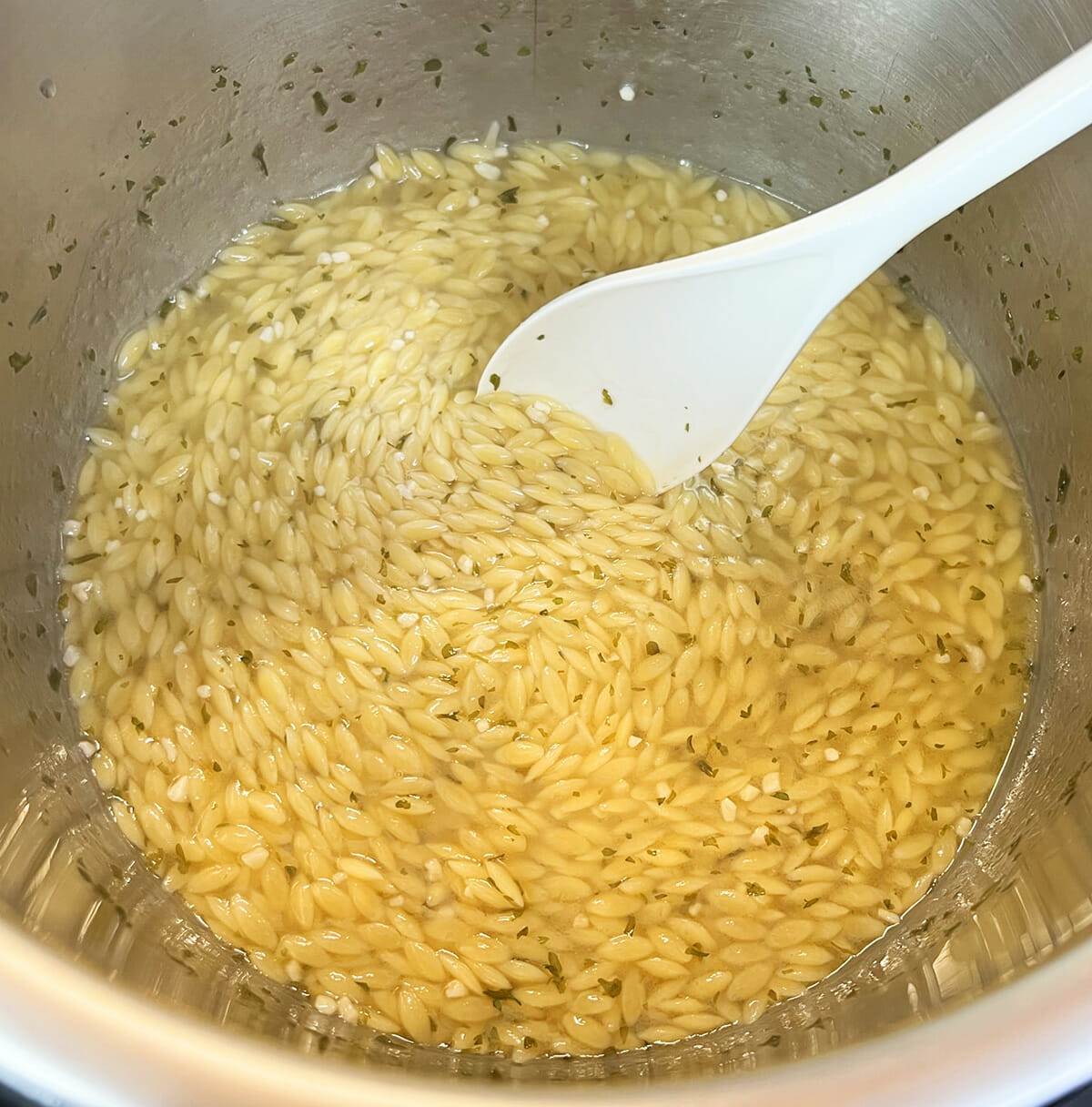 Next we can add our parmesan cheese and milk. Add both and continue to stir until everything is well incorporated. The Instant Pot will automatically go into keep warm mode after the cooking cycle is complete. At this point, we can press cancel to stop the keep warm cycle. Let the orzo sit for another couple of minutes and it will thicken into our amazing completed recipe.
How to Serve
Your orzo dish is now ready to accompany just about any meal you choose. I particularly love it as a side-dish to chicken recipes. Our Best Damn Air Fryer Chicken Quarters recipe is a perfect example. With a delicious roasted chicken quarter and some of this amazing orzo, you've got a very satisfying meal!
Pork chops are another favorite meal of mine and this orzo recipe pairs with it so nicely. Our Oven Baked Pork Chops are a super easy recipe to make and is perfect for a quick weeknight meal.
Our Cream Instant Pot Garlic Parmesan Orzo is excellent to side for our Oven Baked Salmon.
The possibilities are endless!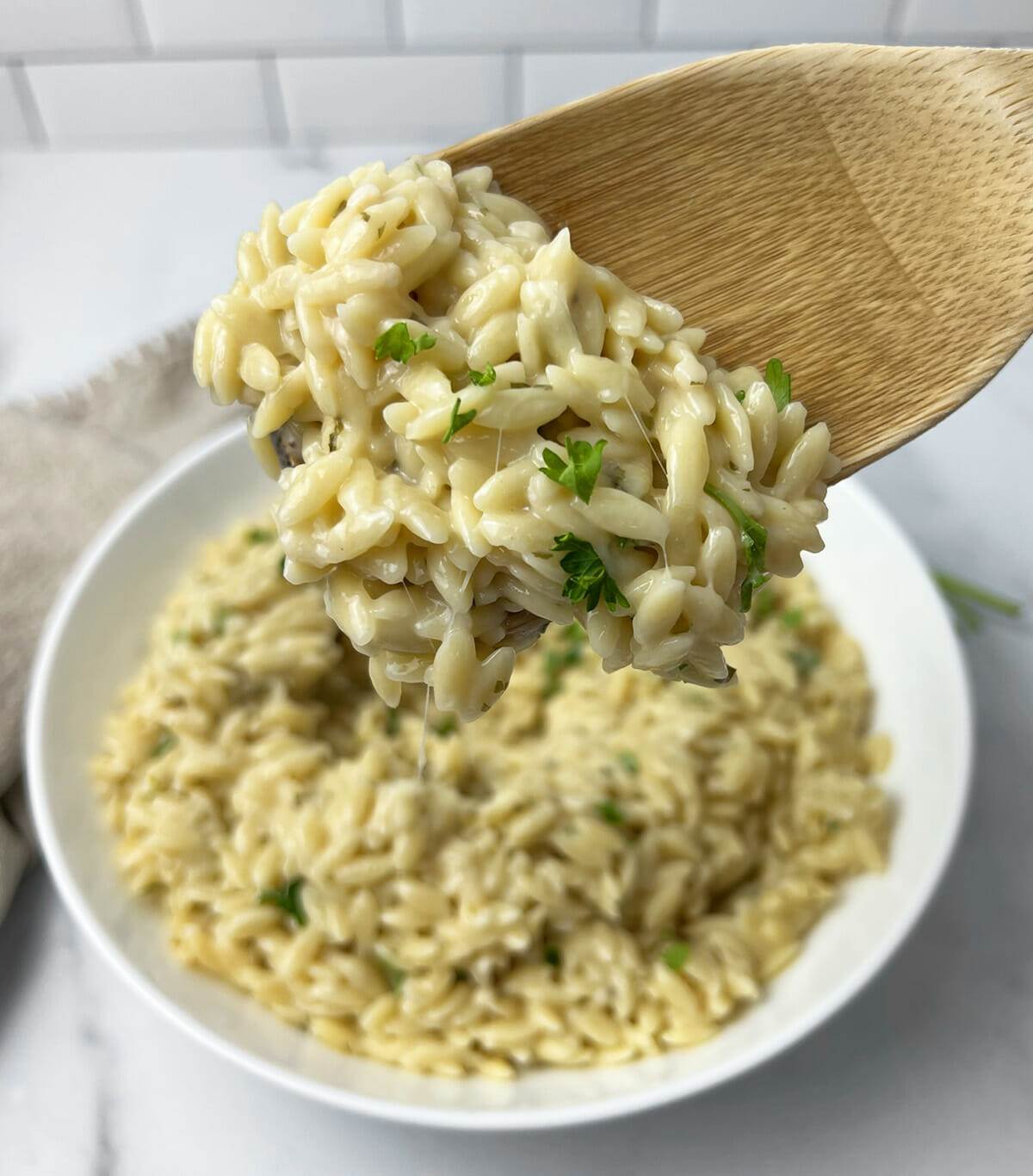 Frequently Asked Questions
Can this recipe be doubled?
Answer: Absolutely yes! Simply double all of the ingredients. But, reduce the cooking time from 4 minutes to 3 minutes. Because we're using more, the Instant Pot will take a little extra time to come to pressure. Since the pasta is actually cooking during this time also, we can reduce the cook time by 1 minute.
Can cooked orzo be frozen?
Answer: The short answer is yes. We recommend portioning it in airtight containers or freezer bags with all of the air squeezed out. Freeze for up to 4 months. While you certainly can freeze it, we've found the best results are when the orzo is served fresh or reheated from the fridge the next day. The texture can be affected when it's frozen.
Can water be used instead of broth?
Answer: Yes it can. Pasta likes lots of flavors added so if using water, make sure to add some salt.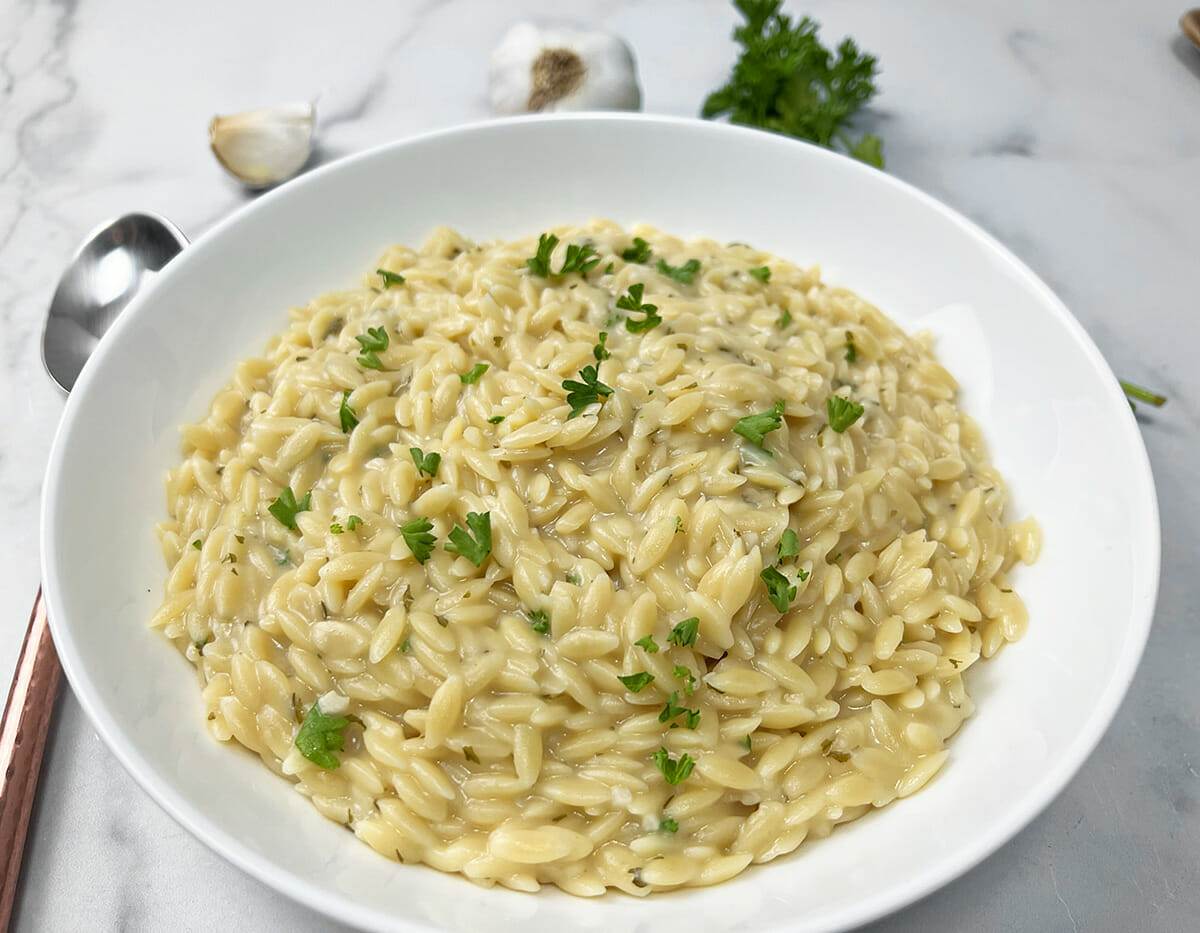 Print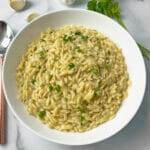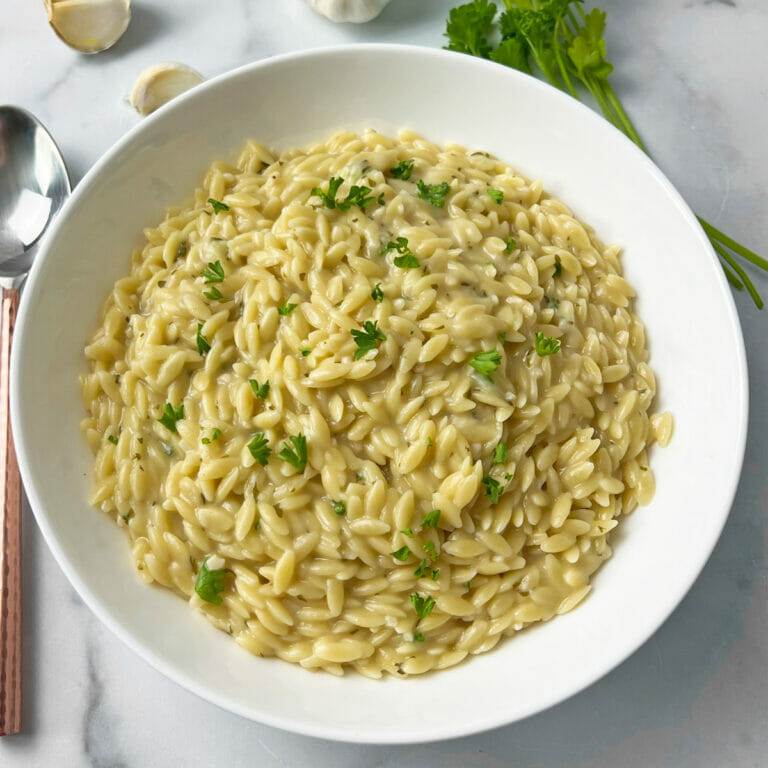 Creamy Instant Pot Garlic Parmesan Orzo
---
Author:

Total Time:

9 minutes

Yield:

5 servings (½ cup each)
Description
This creamy orzo recipe is loaded with garlic and Parmesan cheese and makes the perfect side dish for any meal. Cooks to perfection in your Instant Pot and is ready in under 15 minutes.
---
1 cup

Orzo

2 cups

Chicken broth

½ cup

Parmesan cheese, grated

2

tbs Butter

1

tbs Minced garlic

1

–

2

tbs Milk

1 tsp

Parsley flakes
Salt to taste (usually about ½ tsp)
---
Instructions
Add orzo, chicken broth, garlic and parsley flakes to Instant Pot. Stir to get everything well incorporated. Add butter right on top.
Secure lid and pressure cook on high pressure for 4 minutes.
When the cooking time is complete, do a quick release of the pressure. When pin drops, remove lid.
The orzo will still be liquidy. Leave Instant Pot in Keep Warm mode and stir the orzo for a minute or two and it will thicken considerably.
After a couple of minutes, press Cancel to stop the Keep Warm mode. Add parmesan cheese and milk. Continuously stir for another minutes or two while sauce thickens.
Prep Time:

5 min

Cook Time:

4 min

Category:

Side dish

Method:

Instant Pot

Cuisine:

American
Keywords: Instant Pot Orzo