There are many electric "contact" grills on the market today. None or more well known than the George Foreman Grill. And people always ask the question "Can you really make good food on these grills?" The answer is a resounding "YES!" However… (there's always a but, right?), there's a few important, but easy, steps to assure that you good, tender and juicy chicken, and not a piece of shoe leather.
Indoor grills such as the Foreman Grill, or the Griddler, are known as contact grills and work by using heated grill plates on both sides of the meat simultaneously. For grilling a quick hot dog or vegetable, it's a no-brainer. But for boneless, skinless chicken breast, we need to take care of a couple of things first. The most essential thing is to make sure you pound the chicken breast to an even thickness of about ½″. Here's the thing, chicken doesn't not grill well if it's not even – on any format. It's way too easy to overcook the outside and undercook the inside. That's a recipe for bad eats. By pounding the meat to even thickness, it assures that the meat cooks evenly and the ½″ thickness is perfect for an indoor grill. Also, the pounding of the meat helps loosen up the muscle fibers and makes it more tender.
The other important step to assure juicy and tender chicken breast is to brine the meat. Don't worry, this is actually really easy. Ready? Place 8 cips of cold water in a large bowl. Whisk in ⅓ cup of salt until dissolved. Add chicken breasts and refrigerate for 30 minutes. Trust me on this. Brining is how restaurants make chicken tender and juicy. And no, it's won't make the chicken too salty.
Finally, make sure your indoor grill is preheated well before adding the meat. Once you do, 5 minutes is all you need. Then, remove chicken from grill, place on a plate and tent a pice of aluminum foil over it for 5 minutes. Again, trust me on this. The chicken keeps cooking to perfection when removed from the grill.
So in quick review for making excellent boneless skinless chicken breasts on a Foreman Grill or similar contact grill, do the following:
Pound meat to ½ inch thick
Brine in salt water solution for 30 minutes
Make sure grill is HOT.
Remove from grill after 5 minutes and let rest with aluminum foil covering for 5 minutes.
And now, enjoy the best indoor grilled chicken you'll ever make!
Print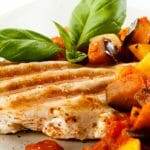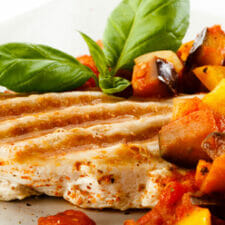 Indoor Grill Chicken Breast
---
Total Time:

40 mins

Yield:

2
1

lb bonelss, skinless chicken breast

⅓ cup

salt for brine

8 cups

water for brine
salt and pepper to taste
---
Instructions
Pound chicken breasts to ½″ thick. Make sure even throughout.
In a large bowl, add cold water and ⅓ cup salt and whick well until salt is dissolved. Add chicken breasts to solution and refrigerate for 30 minutes.
Preheat indoor grill until hot. Use highest temperature setting.
Pat chicken dry with a paper towel. Sprinkle with salt and pepper and place on grill, lid closed for 5 minutes or until internal temp of 165 degrees F.
Remove from grill and place on a plate with a piece of aluminum foil over chicken and let rest for 5 minutes before serving.
Prep Time:

35 mins

Cook Time:

5 mins