Making fresh applesauce in your Instant Pot is easy and absolutely delicious. And it's only 3 ingredients… 2 variety of apples and water! Set on high pressure for only 8 minutes and you've got the best applesauce you'll ever make.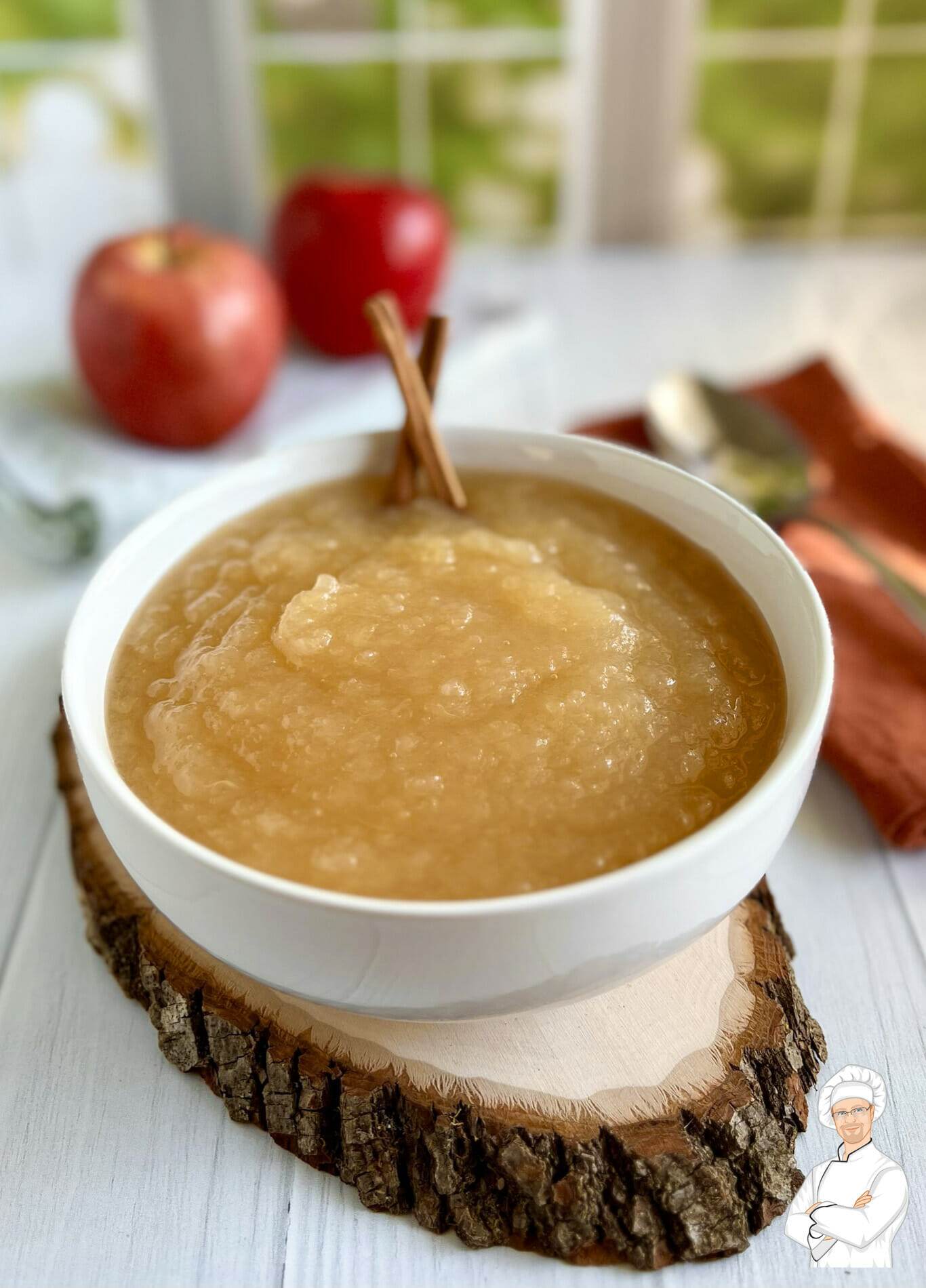 The Instant Pot is the perfect appliance for making applesauce. It's really just a matter of peeling the apples, cutting them into chunks, and then let the Instant Pot do it's magic. It's unbelievably quick and very rewarding too.
Why Make Homemade Applesauce?
Well quite simply, nothing you buy in a jar will ever compare to making it fresh with no added ingredients, chemicals, preservatives, and whatever else you might find in commercial applesauce.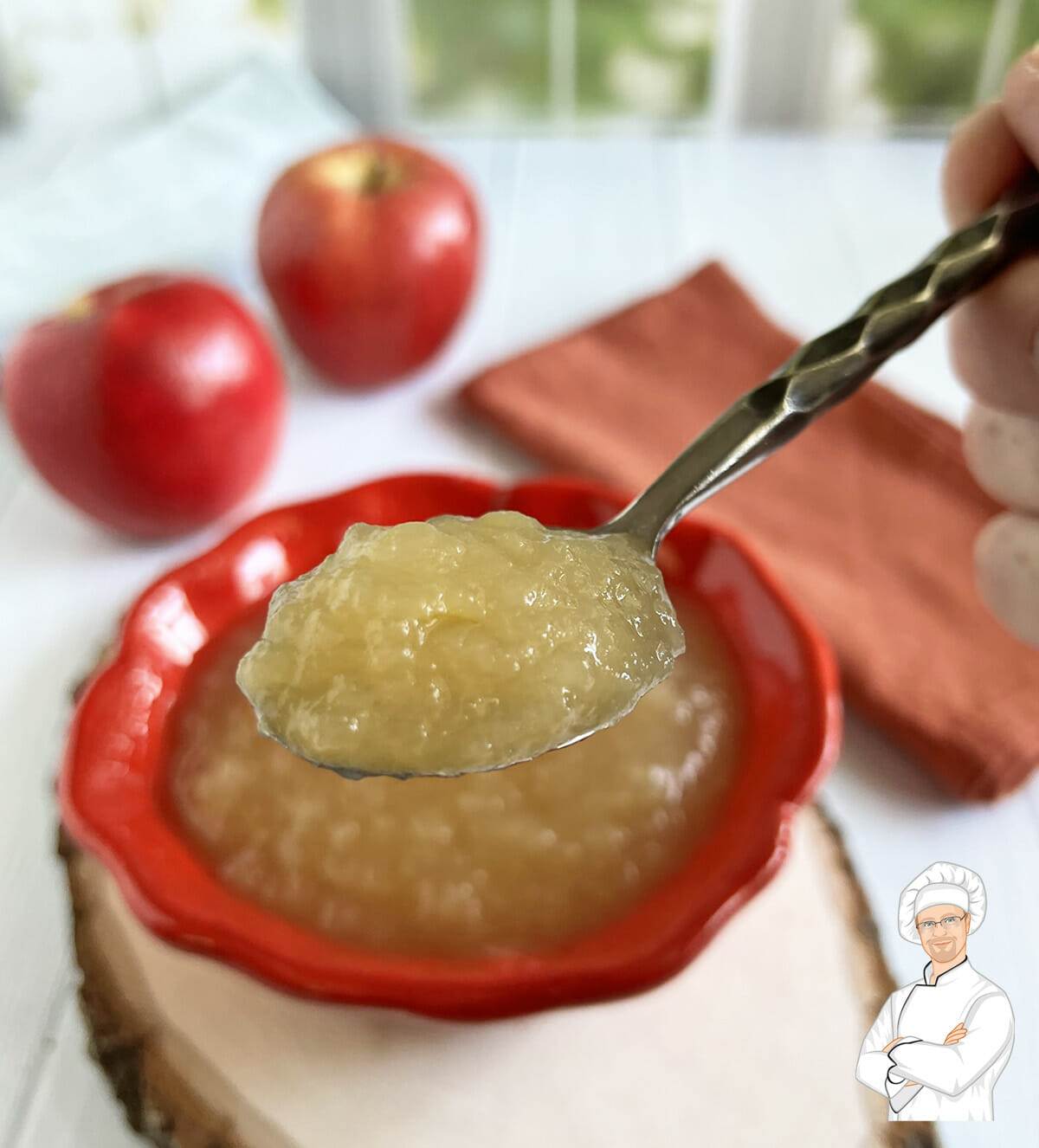 With this recipe, we'll like to make applesauce in small batches. Many recipes call for several pounds of apples and we usually have too much left over. I use only 6 apples – 3 Honeycrisp and 3 Granny Smith. I find this to be the absolute best combination for sweet and tart. Plus, there's no need to add any sugar. I love the fact that this applesauce recipe uses no added sweetener. Now of course, if you prefer some added sweetness you can always feel free to add some sugar. But I think you'll find that this combination of apples will provide plenty of sweet, delicious flavor.
Ingredients
The only ingredients we need are apples and water. That's right. We're making homemade, delicious applesauce with just fresh apples and water.
About Honeycrisp Apples
Honeycrisp apples are known for their intense sweetness. The clean, crisp texture and, juiciness and sweetness are a whole new adventure in delicious fruit.
About Granny Smith Apples
Granny Smith apples are green apples which are know for being tart. Yep, these are the ones which you bite into make you pucker a bit. They're popular in combination with sweet apples for this reason and very popular in apple pies.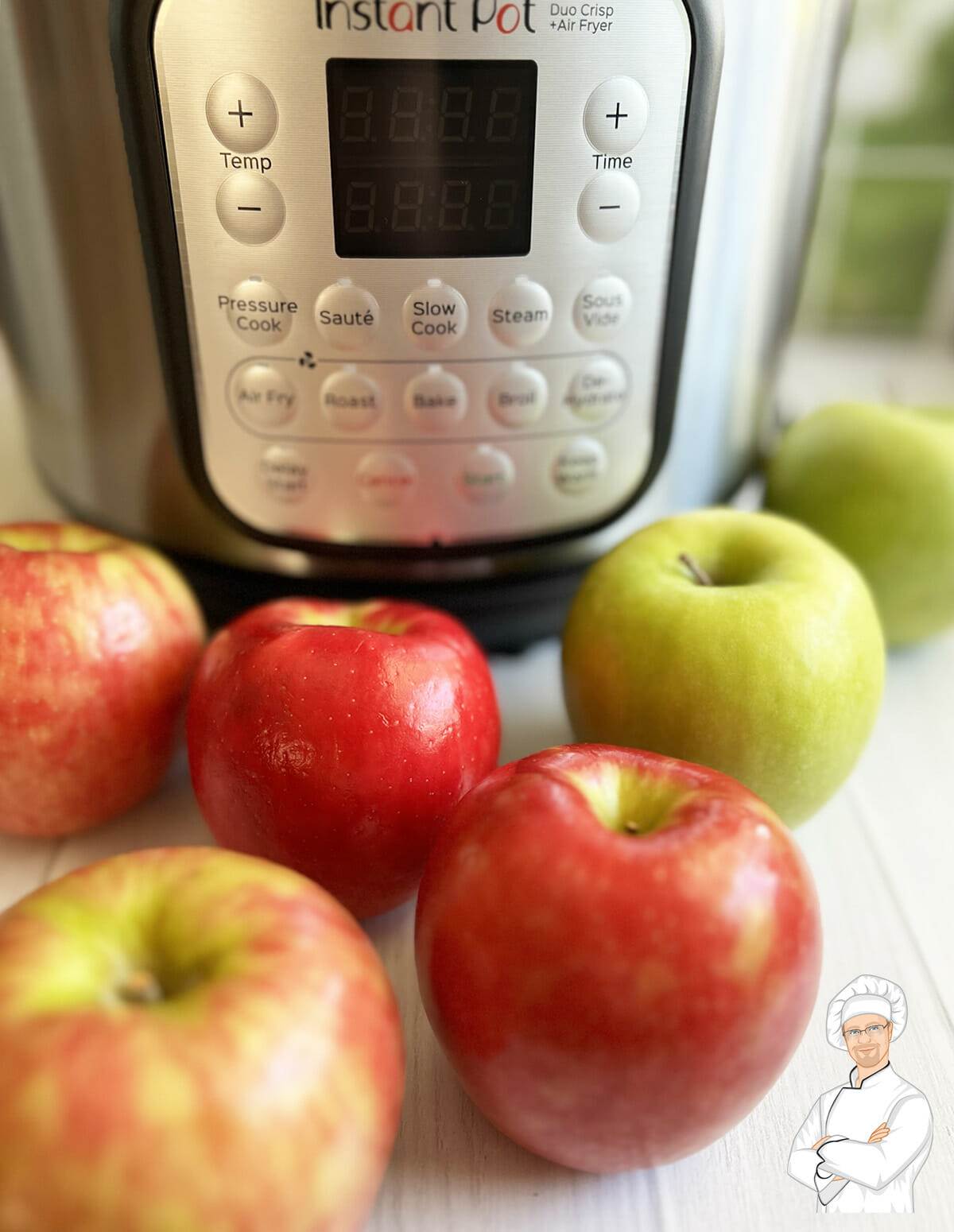 Preparation
We'll start by peeling all our apples. You don't need any fancy gadgets to do this. A good old fashioned vegetable/fruit peeler will do the job just fine. The various gadgets tend to be more fuss than they're worth.
After you've peeled the apples, cut them into chunks of 1-2 inches in size. You don't need to be exact at all with this, it just makes the process a bit more manageable. We don't need any of the cores though, so be sure to cut around those.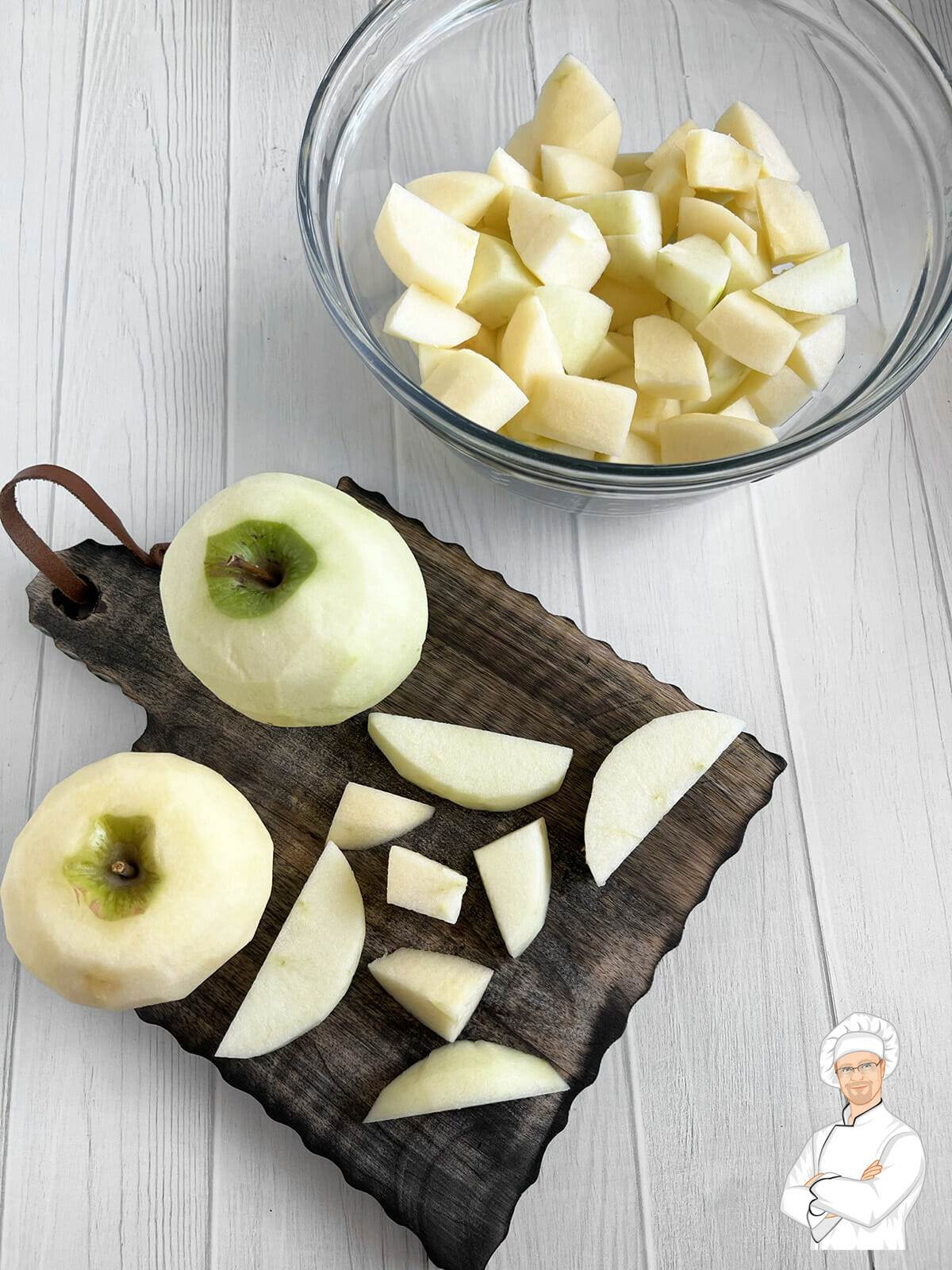 Pressure Cook for 8 Minutes
Now we're ready for the Instant Pot to do it's handy work. Place the chopped apples directly into the Instant Pot liner and add 1 cup of water. Secure the lid and make sure the vent is set to the sealed position. Pressure cook on high pressure for 8 minutes.
When the pressure cooking cycle is complete, let the pressure naturally release for 10 minutes, then quick release the remaining pressure. When the pressure is released and the pin has dropped, carefully remove the lid. Press cancel to stop the keep warm cycle.
Mash or Blend
Use a potato masher and mash up the applesauce to desired consistency. This usually does the trick just fine for me. It leaves some small chunks to really give the applesauce that homemade texture. However, if you like it very smooth, you can use an immersion blender right in the pot and blend it smooth. Or, let it cool a bit first, then transfer to a standard blender or food processor and blend to desired consistency.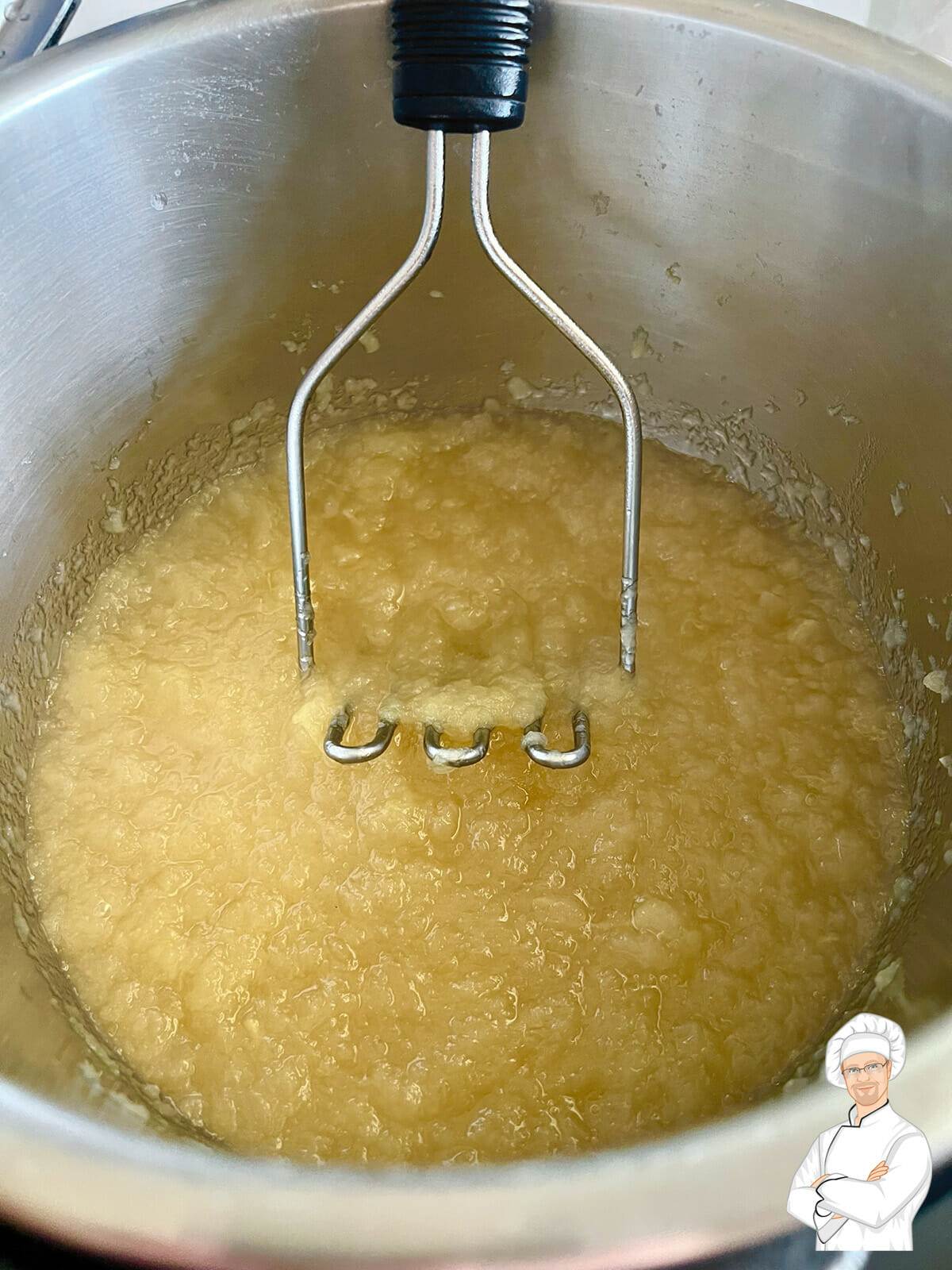 Chill and Enjoy
Now we need the applesauce to chill for a couple of hours. Simply place it in a suitable bowl and refrigerate for at least 2 hours. All those natural flavors will have a chance to meld together and you'll have the most delicious tasting applesauce.
Additions
As much as I love this applesauce just the way it is, you can absolutely customize the flavors to your liking. Cinnamon flavored applesauce is very popular and all you'll need to do is add 1 teaspoon of ground cinnamon to the apples before cooking.
Want to turn the sweetness up even more? You can add some sugar to the apples prior to cooking as well. You won't need much. Try ¼ cup first and see how you like it.
Adding lemon juice is popular too as it adds acidity to the flavor profile. By using Granny Smith apples, we're getting a good acidity flavor anyways, but feel free to adjust to your own taste.
Storage and Freezing
Store the applesauce in air tight containers in the refrigerator for up to 1 week. You can also freeze applesauce to enjoy later! It's best to store in portions, so I like to use zip-top freezer bags. You can store applesauce in the freezer for 2-4 months.
Defrost frozen applesauce in the refrigerator for 24-28 hours.
Can I Use Different Kinds of Apples?
Absolutely you can. Really, you can use just about any apples you have. Some are sweet, some are tart. Depending on the apples you use, you may indeed need to add some sugar or lemon juice to get the taste just right.
Other popular apples for applesauce include: Gala, Golden Delicious, Fuji, McIntosh, and Pink Lady.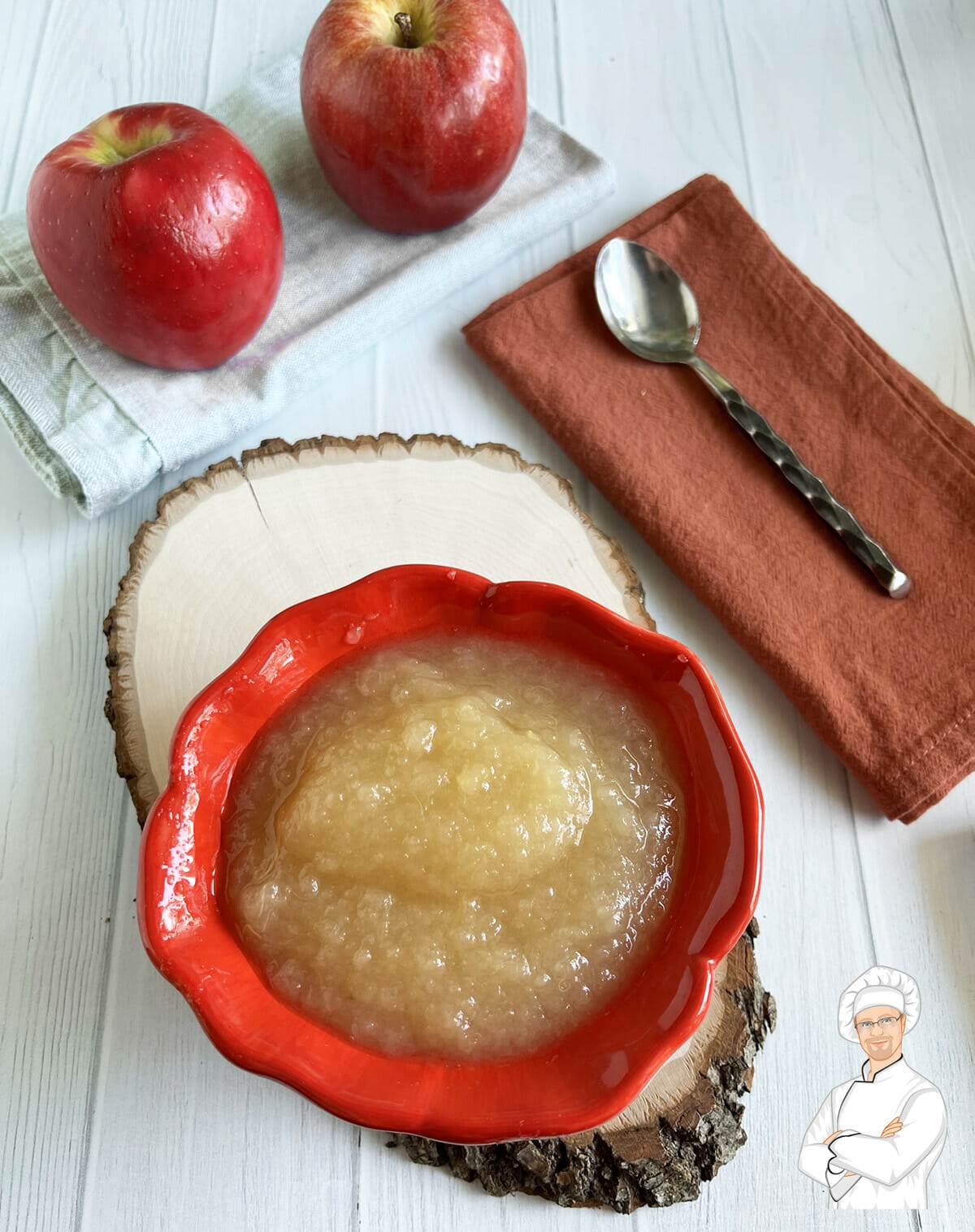 Print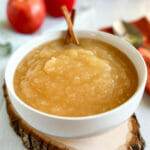 Instant Pot Applesauce
---
Author:

Total Time:

18 mins

Yield:

8 Servings
Description
Use fresh apples to make the most delicious, homemade applesauce in your Instant Pot pressure cooker. This easy recipe is perfect for using fresh picked apples!
---
3

Honeycrisp apples

3

Granny Smith apples

1 cup

water
---
Instructions
Peel apples and cut into chunks of about 1 – 2 inches in size.
Place apple chunks in Instant Pot with 1 cup water. Secure lid, close vent, pressure cook on high pressure for 8 minutes.
After the pressure cooking cycle is complete, let the pressure naturally release for 10 minutes, then quick release any remaining pressure. When pin drops, carefully remove the lid.
Use a potato masher to mash the apples to desired consistency.
Place applesauce in a bowl and chill in refrigerator for at least 2 hours before serving.
Prep Time:

10 mins

Cook Time:

8 mins

Category:

Side Dish

Method:

Instant Pot

Cuisine:

American