You don't have to go to a bar or restaurant to enjoy Buffalo style chicken wings. Instead, these Instant Pot chicken wings are infused with the taste and flavor you love, all in a simple recipe that cooks quickly and easily in your Instant Pot.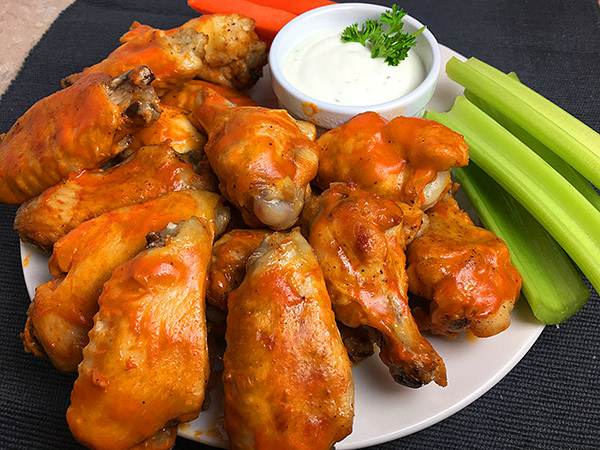 Believe it or not, there was once a time when chicken wings were the least desirable part of the chicken. While there's debate as to the origins of "Buffalo" chicken wings, the popular story is that a bar in Buffalo, New York "invented" them sometime in the 1960's. Regardless of the origins, Buffalo chicken wings gained popularity in the 1980's and soon would be found on menus of bars and restaurants everywhere. Today, chicken wings are considered a premium and people absolutely love their Buffalo wings.
The traditional way to prepare Buffalo style chicken wings to to cut the wing into 3 parts: the drumette, the flat, and then the tip. The tip isn't typically used and is usually discarded. That leaves the drumettes and flats to get deep fried and slathered in a Buffalo sauce consisting primarily of cayenne pepper sauce and butter. But for this recipe, our Buffalo wings won't get fried in oil.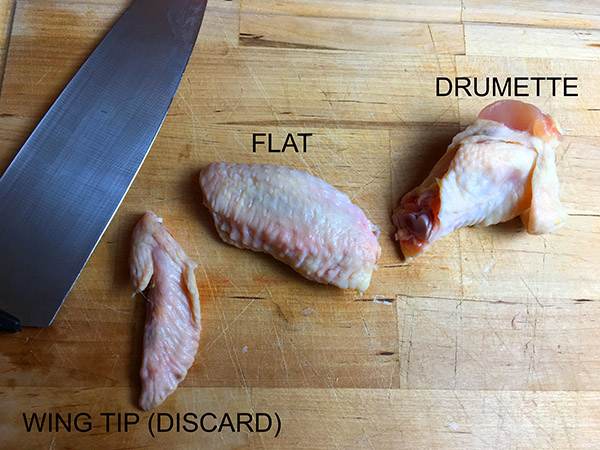 Pressure Cooked Chicken Wings Infuses the Flavors
For this recipe we're using our Instant Pot pressure cooker to to do the main cooking, and then finishing off the wings on a sheet pan under the broiler to caramelize the sauce and crisp things up. The pressure cooking process is so perfect for chicken wings and the flavors of the sauce get infused into the meat.
Fresh Wings make the BEST Instant Pot Chicken Wings
We start with fresh whole chicken wings. I much prefer fresh over frozen. A 3-4lb package will give you about 24-30 pieces, which is perfect for serving 3-4 hungry people. We'll use a sharp knife to cut the wings into the 3 sections. Cut right at the joints. Yes, you'll be cutting through bone. That's fine. A good, sharp knife will cut right through. Toss the tips, we don't cook that part as there's really no meat on them. When cutting the drumette away from the flat, there may be some extra skin and fat which you can simply cut away. We toss our wings into the liner of the Instant Pot and season well with salt and pepper. The we pour in 1 1/2 cups of water and 1/4 cup of Buffalo wing sauce, and use our hands to mix it all up. We'll use store bought Buffalo wing sauce. While you certainly can make your own, wing sauce is everywhere now and it's just easier and cheaper to buy a bottle of your favorite. The wings will then pressure cook on high pressure, right in the liquid for 10 minutes. After the 10 minutes are up, we quick release the pressure.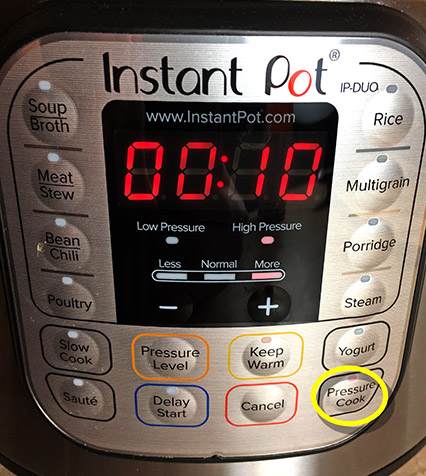 Finish off Under the Broiler
After the pressure has released, we line a baking sheet with aluminum foil and lay our wings out on the sheet. Place them under the broiler for about 3-4 minutes then flip for another 3-4 minutes. Once both sides are crisped up, we add the sauce. At this point you can toss them in a bowl with the sauce and serve. Or, to make them even better, brush on the sauce while still on the pan and go back under the broiler for another 2 minutes, flip and do the same to the other side. The sauce will caramelize right on the wings for an awesome flavor and texture.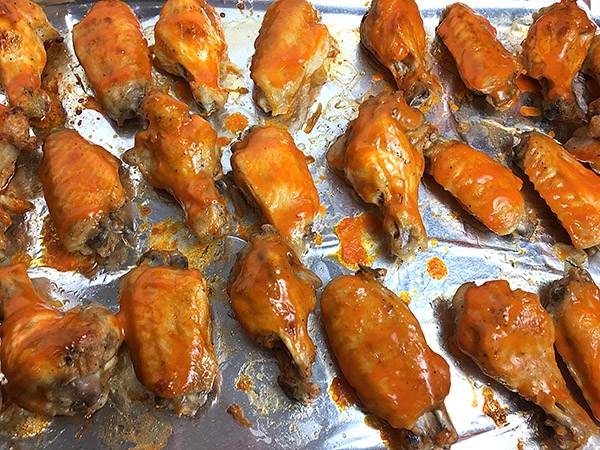 Of course, Buffalo wings are best served with fresh celery and carrot sticks with blue cheese or ranch dressing/dipping sauce.
Print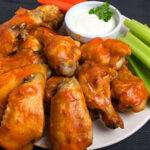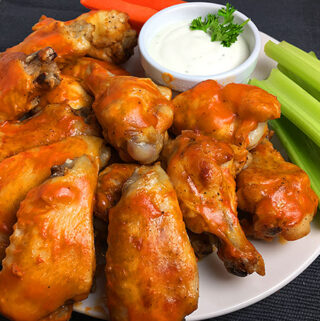 Instant Pot Buffalo Wings
---
Description
Delicious Buffalo style chicken wings in your Instant Pot electric pressure cooker.
---
Ingredients
3

–

4

lbs. fresh whole chicken wings

1 cup

Buffalo chicken wing sauce

1 tablespoon

salt

1 tablespoon

pepper

1 1/2 cups

water
---
Instructions
Using a sharp knife, cut each chicken wing at the joint into 3 pieces – the drumette, the flat and the tip. Discard the tips.
Place wing parts into the Instant Pot liner and add salt and pepper and toss to coat all the meat.
Add 1 1/2 cups of water directly over the wings, then add 1/4 cup of the Buffalo wing sauce. Mix well so all the wing parts are coated. Secure lid, set vent to sealing and pressure cook (manual) on high for 10 minutes. After cooking time is complete, quick release the pressure.
Place wings on a sheet pan lined with aluminum foil and place under broiler in oven for 3-4 minutes, flip wings and broiler another 3-4 minutes. Remove pan and brush the wings liberally with remaining Buffalo wing sauce and place back under broiler for 2 minutes per side.
Serve with carrot sticks, celery sticks and blue cheese or ranch dressing/dipping sauce.
---