Spaghetti squash is such a wonderful alternative to pasta. With out all the carbs and calories, spaghetti squash has delicious flavor all it's own, and is the perfect excuse to make a delicious sauce to go along with it. For this recipe, we'll stay the light and healthy route by using some fresh cherry tomatoes, fresh basil and roast up a little garlic.
Making the spaghetti squash couldn't be more simple. You'll start by using a large strong knife to chop the to off, then slice it right down the middle. The squash is a lot stronger than you'd think so be extra careful when cutting it. After you've got the two halves, use a spoon and scoop out the seeds. Then brush with a little olive oil, season with some salt and pepper, and place face down on parchment paper on a baking sheet and slide it into the oven at 350 degrees F for 35-40 minutes.
While the spaghetti squash is in the oven, mince 3 cloves of garlic, cut up about a ¼ cup of fresh basil, and slice about a cup full of cherry or grape tomatoes in half. This will be the perfect amount for the two halves of the squash. Heat 2 tablespoons of oil over medium heat, roast the garlic for about 1 minute then add the basil and tomatoes and saute for about 2 minutes. Just enough time to bring out the flavors.
Once the spaghetti squash is done, use a fork and and scrape the inside, all the strands will form, looking like real spaghetti. Keep it all in the squash and add some of your roasted garlic, basil and tomatoes. Mix it in and you've got an amazing meal that you can eat right out of the squash itself.
Print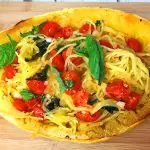 Spaghetti Squash with Tomato, Basil and Garlic
---
Total Time:

45 mins

Yield:

2 servings
1

spaghetti squash

½ pint

cherry or grape tomatoes, halved

½ cup

fresh basil, chopped

3

cloves garlic

2 tablespoons

olive oil
Salt and pepper to taste
Pinch of sugar
---
Instructions
Preheat oven to 350 degrees F.
Cut spaghetti squash in half and scoop out seeds. Brush with olive oil, season with salt and pepper and place down on parchment paper on a baking pan. Put in oven for 35-40 minutes.
Heat olive oil in a pan over medium heat. When oil is hot, add garlic and stir for about 30 seconds to 1 minute. You don't want the garlic to brown too much. After 1 minute add tomatoes and basil and add pinch of sugar. Stir for about 2 minutes.
Carefully remove spaghetti squash from oven and scrape with fork to create the "spaghetti". Add mixture to top and enjoy.
Prep Time:

10 mins

Cook Time:

35 mins