This recipe for Instant Pot mashed potatoes will make you a superstar at your next family feast. They are absolutely loaded with down-home goodness and are almost impossible to put down. The creamy, buttery texture is accentuated with roasted garlic and delicious Parmesan cheese. No need for boiling a huge pot of water or making a big mess, the magic all happens in your Instant Pot.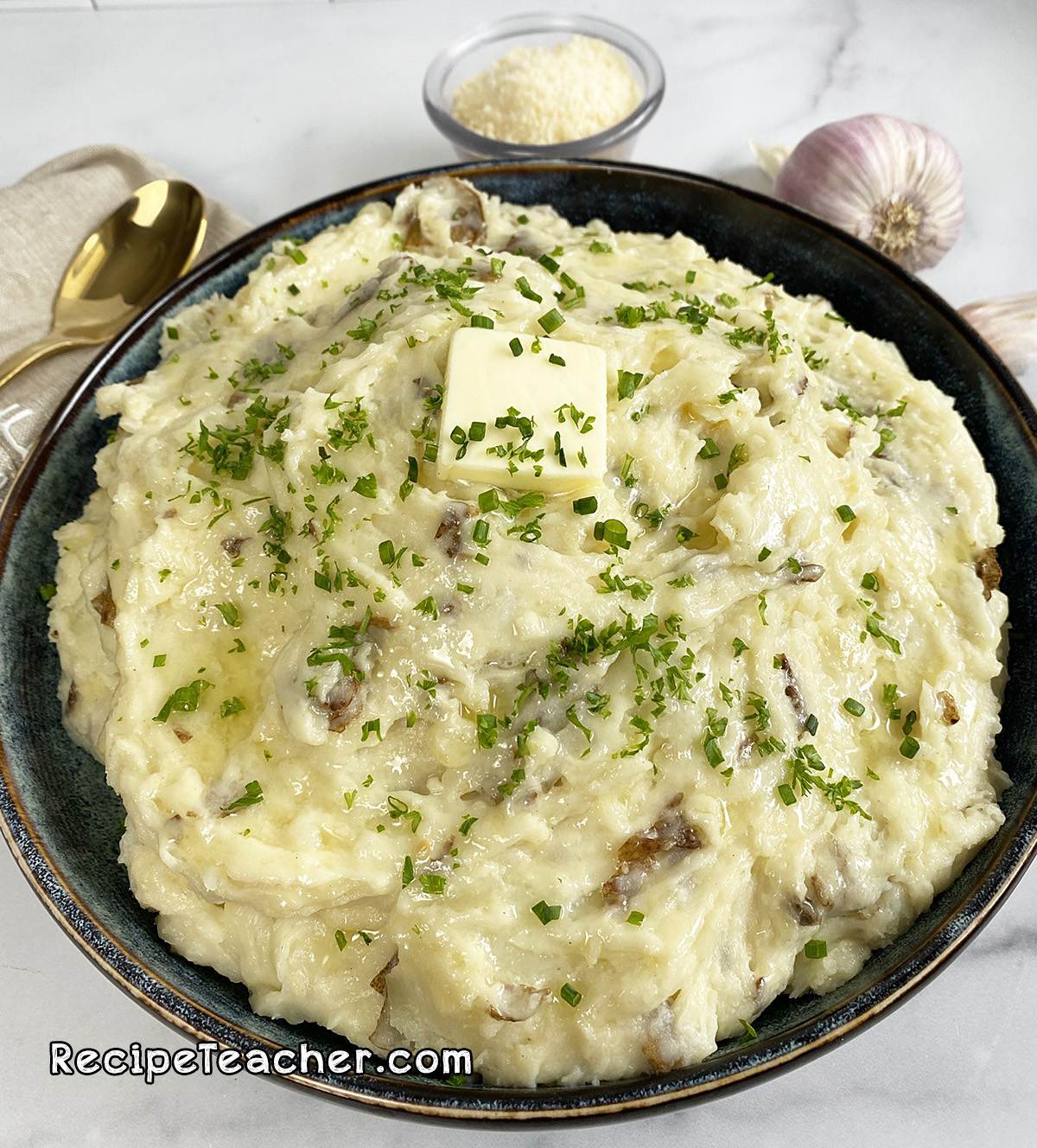 Mashed potatoes are a classic dish that have been enjoyed forever. We love them on holidays, special occasions, with a big Sunday supper, or as a side dish to an incredible meal. We actually don't make them enough really, because, frankly, it can be a hassle. Well let's let the Instant Pot take some of that hassle out of the equation.
Jump to:
Ingredients
We love Instant Pot recipes that use easy, simple ingredients and this recipe certainly meets that criteria. We're going for a very classic, homemade mashed potato recipe that's savory and satisfying. Our ingredient list includes:
Russet potatoes (not peeled)
minced garlic
Parmesan cheese
Heavy cream
Butter
Salt
White pepper
You'll notice we use white pepper instead of black pepper. One reason is that white pepper naturally blends in with the mashed potatoes. The other is that white pepper gives the potatoes are more full, vibrant flavor. White pepper's natural flavor is less, well, intense and "peppery" and can be described as brighter. Bottom line is that white pepper is one of the essential ingredients that makes this recipe so special.
These mashed potatoes get their richness from the heavy cream and butter. You know that creamy flavor you savor with each bite of your favorite mashed potatoes, that's the cream and butter at work. The Parmesan cheese further accentuates that richness, while the garlic just turn thing up to a whole new level of amazing.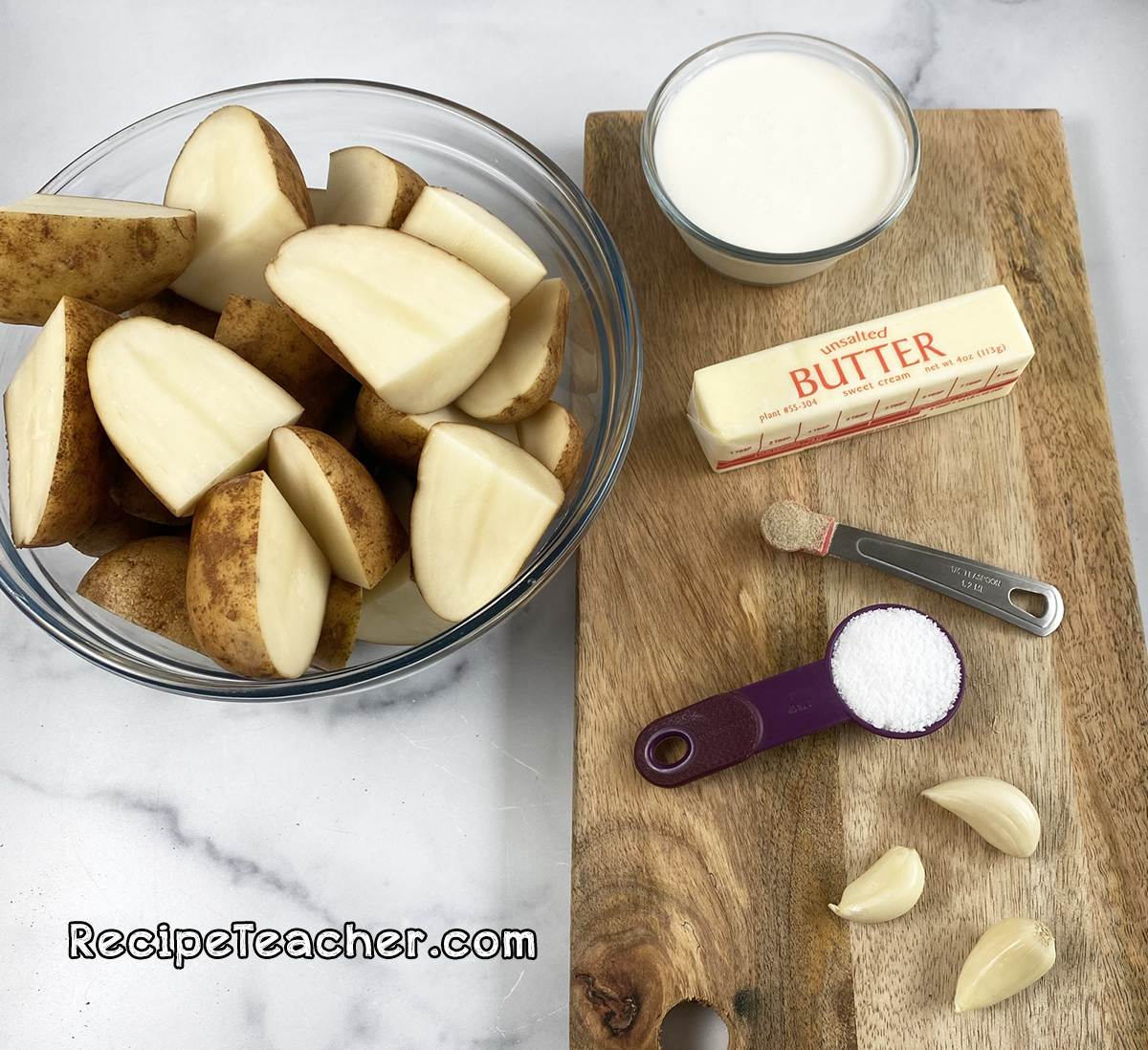 Use Russet Potatoes and Leave the Skins On
While there's several different potatoes you can used for Instant Pot mashed potatoes, nothing beats russet potatoes. They are the perfect texture, cook easily and have that rich flavor we know and love. And to make things even easier and more tasty – leave those skins on! Oh my goodness we get so much amazing flavor from the potato skins, especially the russets. The only prep you need to do is to wash and quarter the potatoes. That's it!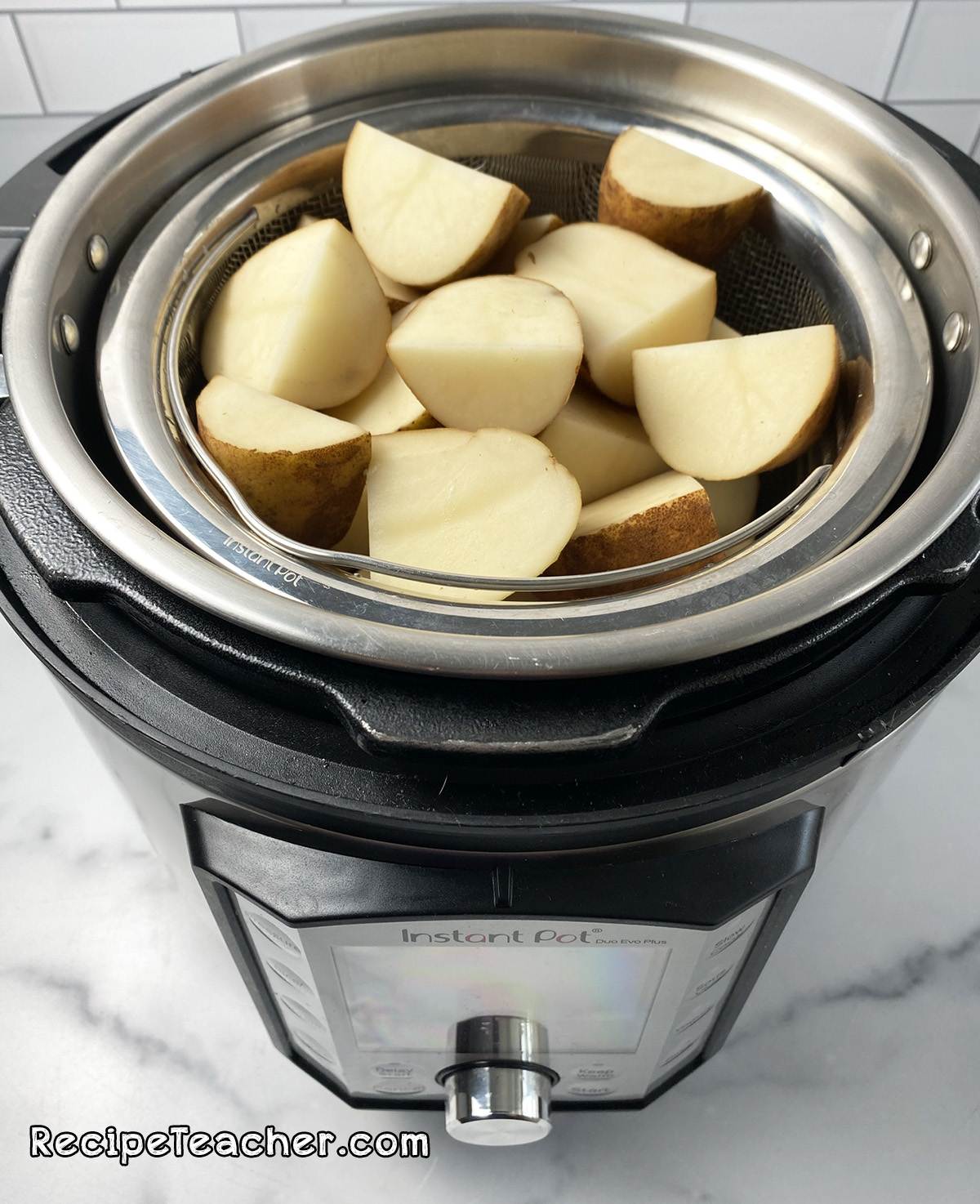 Pressure Cook for 10 Minutes
No need for that giant pot of boiling water. Instead, use a steamer basket inside the Instant Pot and just 1 cup of water. Load the quartered potatoes in, secure the lid and pressure cook for 10 minutes. After the 10 minutes are up, quick release the pressure, set the potatoes aside, and pour out the water in the pot.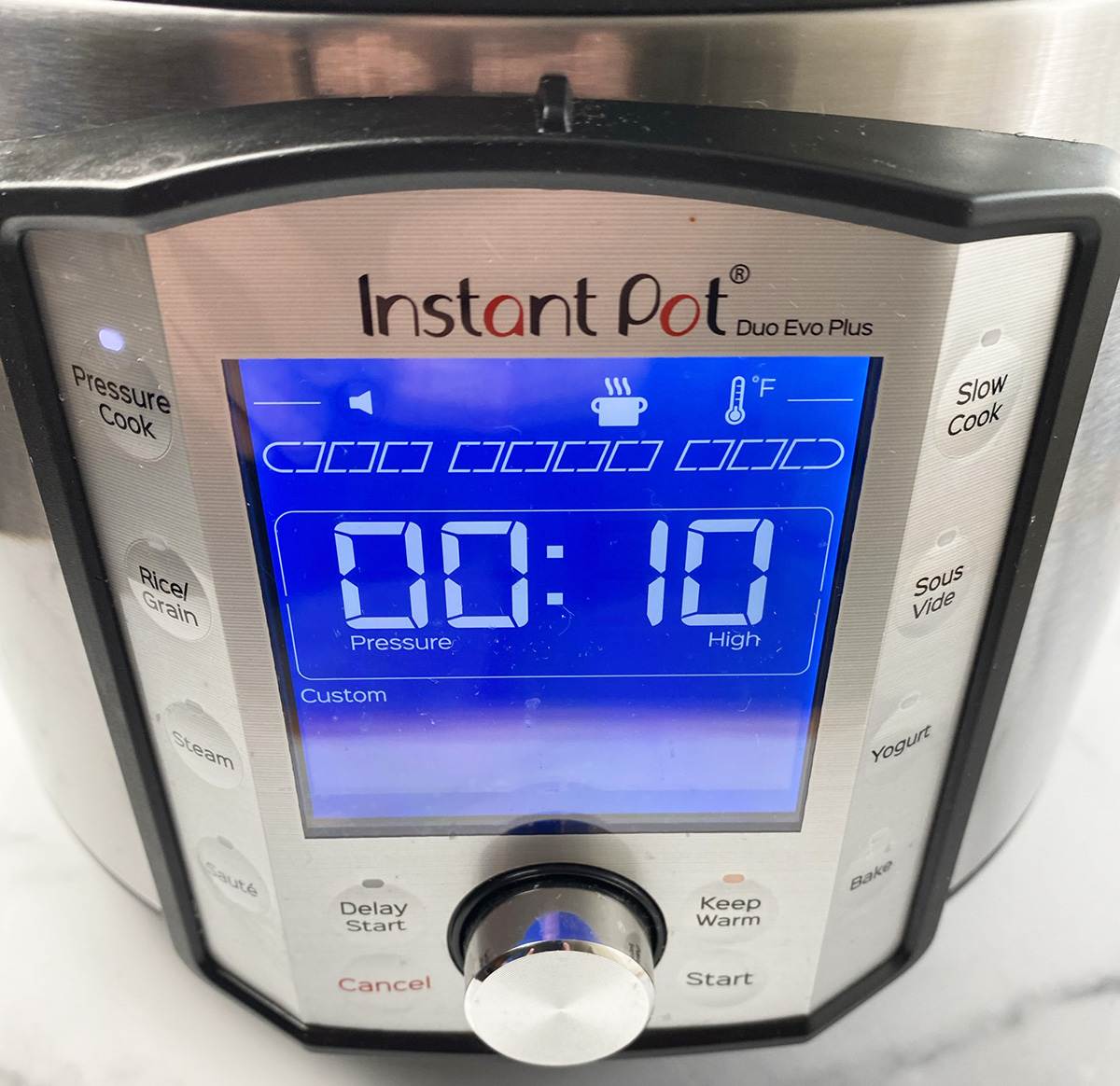 Time to get creamy
With our potatoes set aside and water removed, set the Instant Pot to sauté mode and add a stick of butter. Once the butter gets bubbly, add in 3 cloves of minced garlic, the salt and the white pepper. Sauté for 2 minutes. The smell will be amazing at this point. The white pepper is such an awesome ingredient that will add nice deep, vibrant flavor to the potatoes. Press cancel to stop the sauté process and add in the cream, then the potatoes.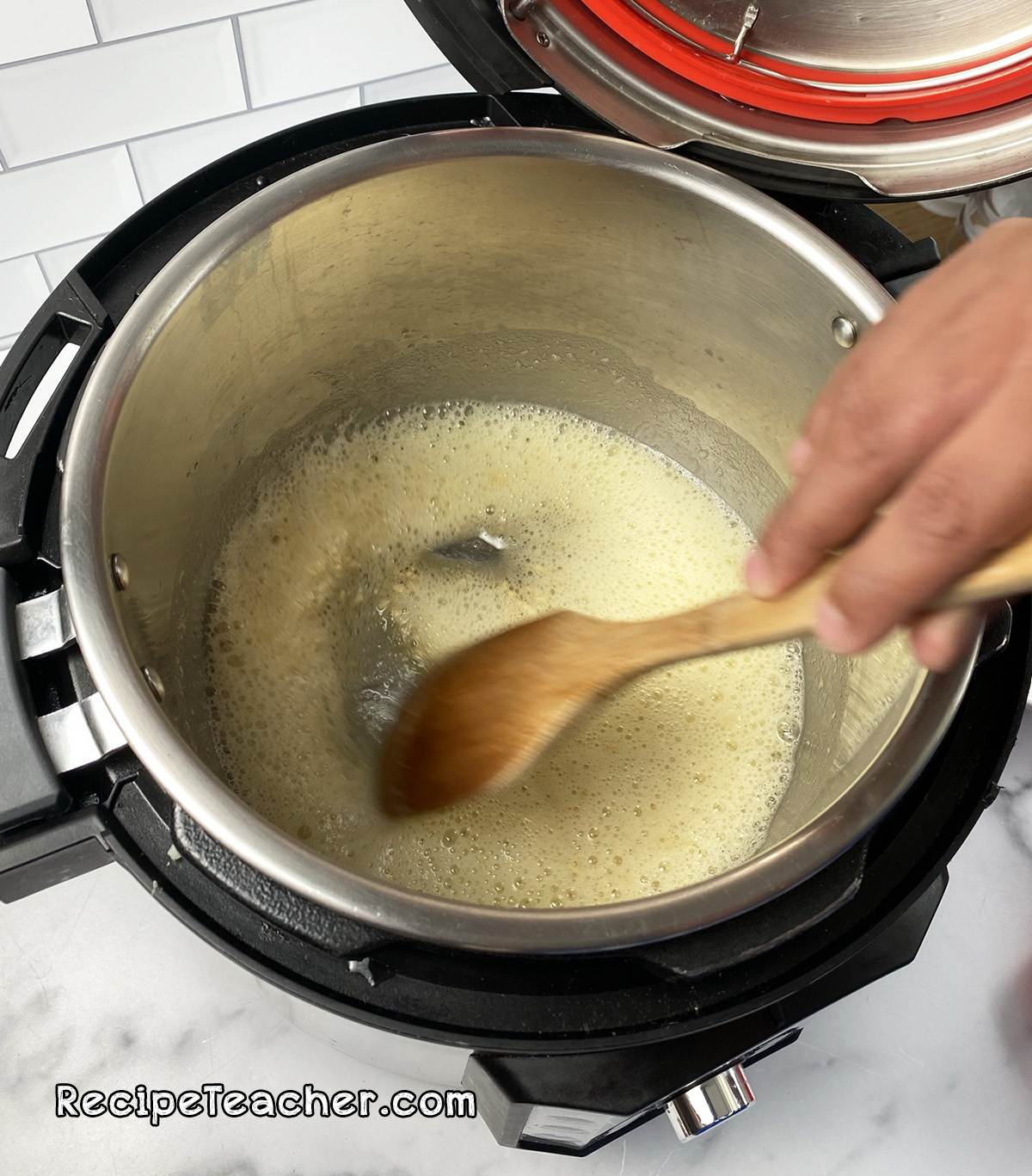 Mix, Mash and Cheese
Now that we have the potatoes back in the pot, use a large wooden spoon or potato masher and get busy mixing and mashing everything together. During this process, add the parmesan cheese. You can continue mixing and mashing until you reach the desired consistency. But, for even better results, use the good old fashioned electric hand mixer. I love using the hand mixer because it helps get our creamy mashed potatoes more fluffy as well. You only need a minute or two with the mixer, and I think you'll absolutely love the results!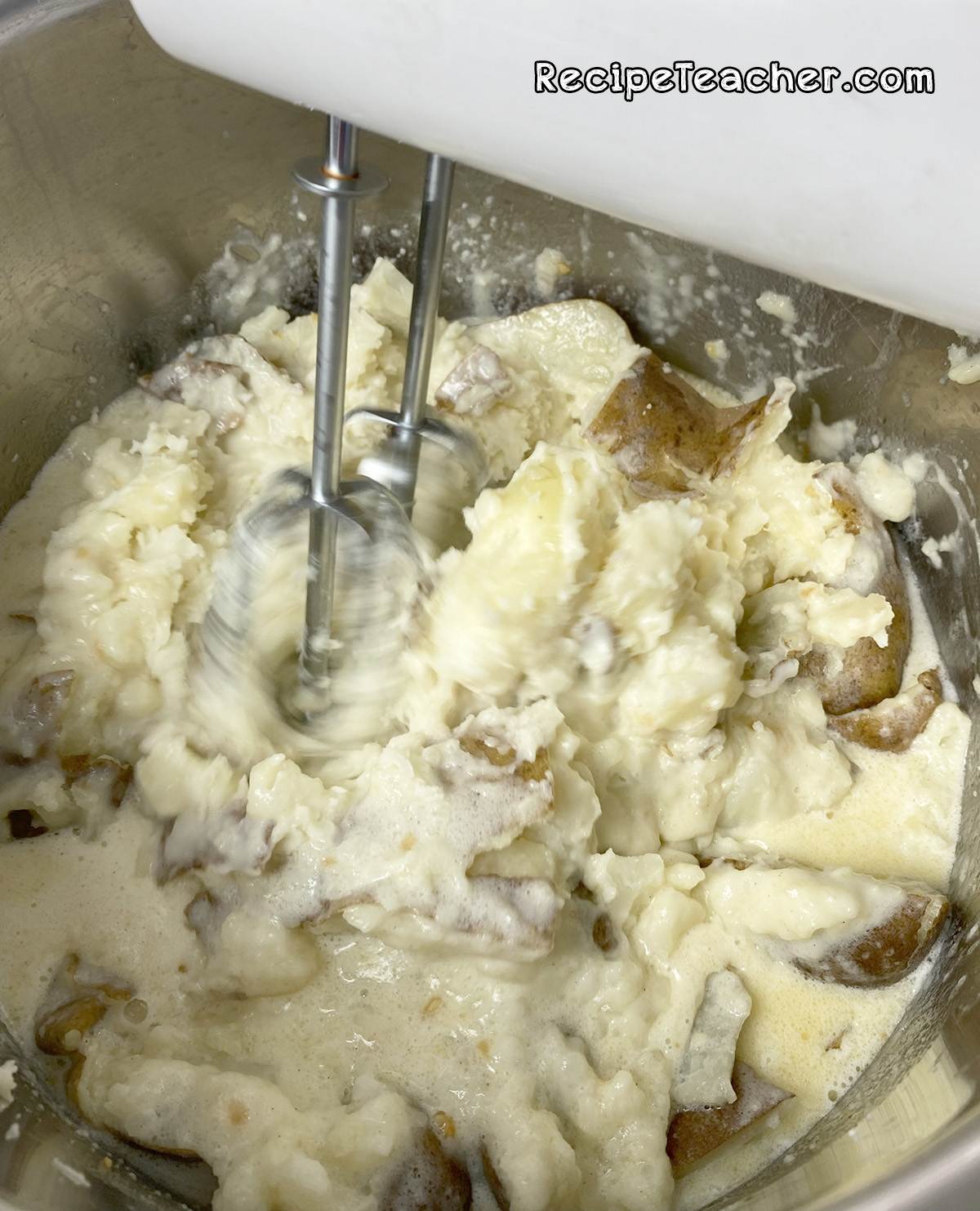 Ready to Serve
Your mashed potatoes are now ready to serve. A wonderful presentation is to put them in a large serving bowl or dish, and add a little butter to the top and garnish with chopped parsley and chives.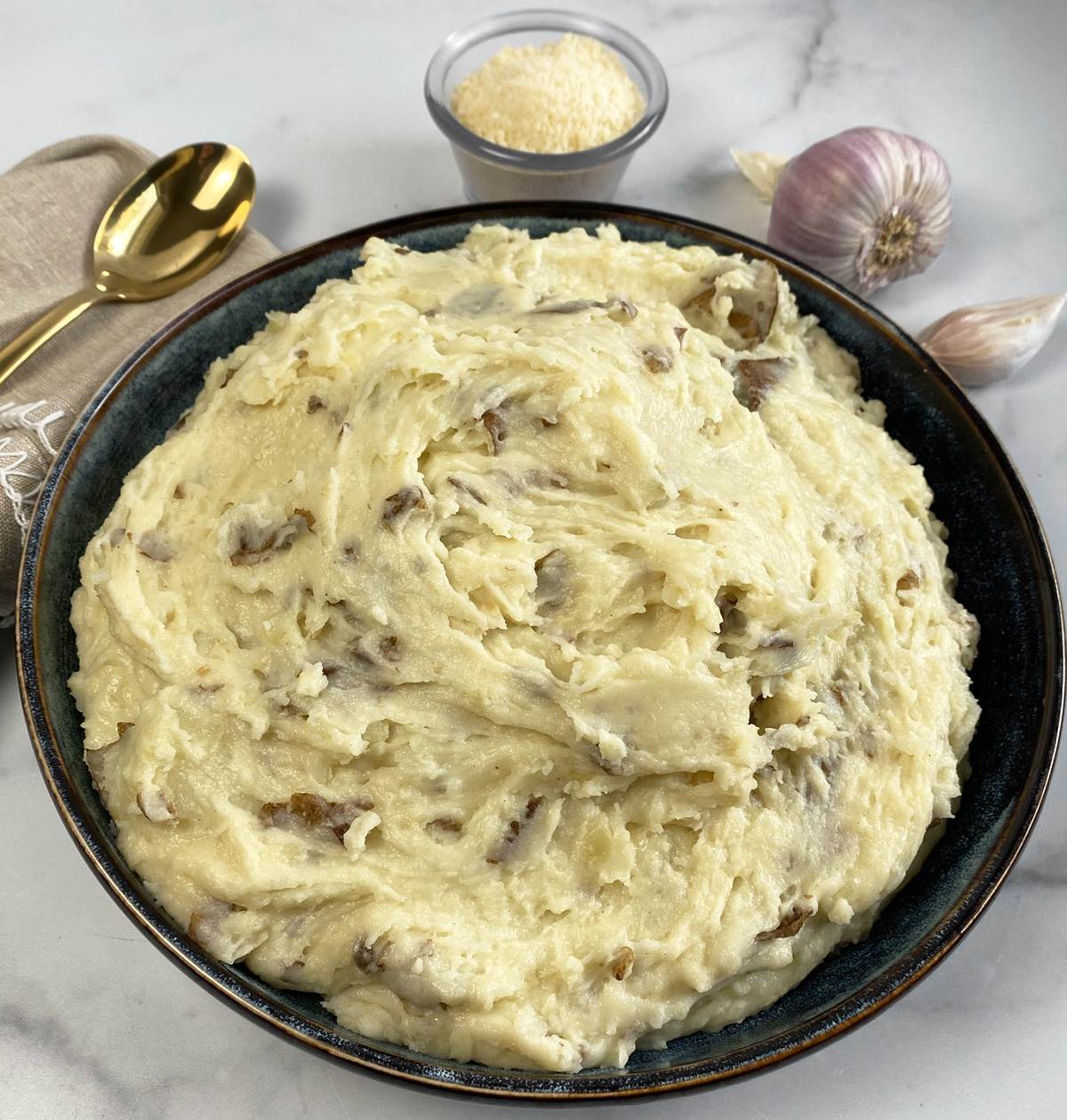 Frequently asked questions
How to store Instant Pot mashed potatoes?
Answer: Let the mashed potatoes completely cool, then place in an air tight container in the refrigerator. Use within 3-4 days.
Can mashed potatoes be frozen?
Answer: Absolutely yes they can! You'll want to make sure the mashed potatoes are completely cooled and store them in freezer-safe container or freezer bag, remove as much air as possible, and freeze for up to one year.
How to reheat mashed potatoes?
Answer: The easiest way to reheat mashed potatoes is in the microwave. Make sure you're using a microwave safe container. It will only take a couple of minutes if refrigerated, as much as 8 minutes if frozen.
Other recipes to try
Since there's a good chance you're coming across this recipe during the holidays, you also might be looking for other dishes for the holiday table. Our Instant Pot Cranberry Sauce is a family favorite recipe and one you'll love for it's simplicity. Another excellent addition to the feast is Air Fryer Brussels Sprouts. They're seasoned with ranch seasoning and are absolute little nuggets of gold. And let's not forget dessert! Our Best Damn Chocolate Fudge Cookies will put smiles on everyone's faces. You have got to try these cookies!
Print
Recipe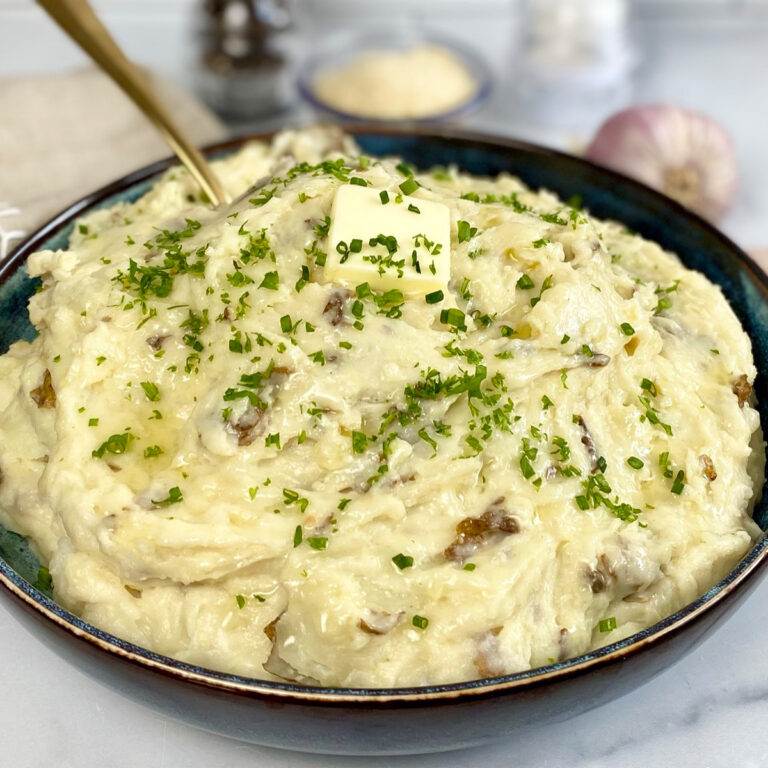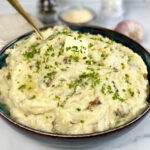 Best Damn Instant Pot Mashed Potatoes
---
Author:

Prep Time:

10 min

Cook Time:

10 min

Total Time:

20 minutes

Yield:

8 servings
Description
An absolutely heavenly recipe for Instant Pot mashed potatoes. Rich, creamy, fluffy potatoes with garlic and parmesan cheese.
---
3

lbs. Russet potatoes, washed and quartered (not peeled)

3

cloves of fresh minced garlic

¼ cup

grated parmesan cheese

1.5 cups

heavy cream

1

stick of unsalted butter

1 tablespoon

kosher salt

¼ teaspoon

white pepper

1 cup

water
---
Instructions
Pour 1 cup of water into Instant Pot liner and add trivet or steamer basket. Add potatoes. Secure lid and pressure cook on high pressure for 10 minutes.
When pressure cook time is complete, press cancel, quick release the pressure, carefully remove lid, remove potatoes and set aside, drain water from pot.
Put pot back in place, add butter and press sauté (medium level if applicable). When butter is melted, add the garlic, salt and white pepper. Sauté for 2 minutes.
After the 2 minutes are up, press cancel and add potatoes back to pot.
Use a wooden spoon or potato masher and start mixing everything together while slowly adding the heavy cream. Then add in the parmesan cheese.
Continue mashing or use a hand mixer for 1-2 minutes to reach desired consistency.
Category:

Side dish

Method:

Instant Pot

Cuisine:

American
Keywords: instant pot, mashed potatoes