Chocolate fudge cookies that are soft and fudgy on the inside, loaded with chocolate chunks and a rich chocolate flavor throughout. Yeah, they're amazing. And also so easy to make!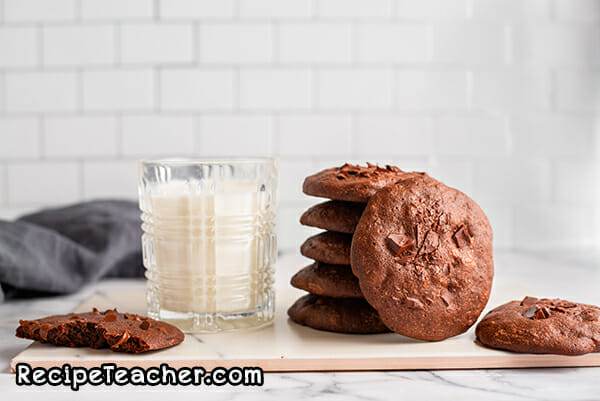 What are Chocolate Fudge Cookies?
Think of chocolate fudge cookies as being something of a brownie/cookie hybrid. They look like a cookie, but have a soft inside that is reminiscent of a fudge brownie with a deep, chocolaty flavor. These certainly aren't your standard chocolate chip cookies. And they're actually easier to make than you'd ever imagine! There's a couple of things that make this recipe special. Let's take a look…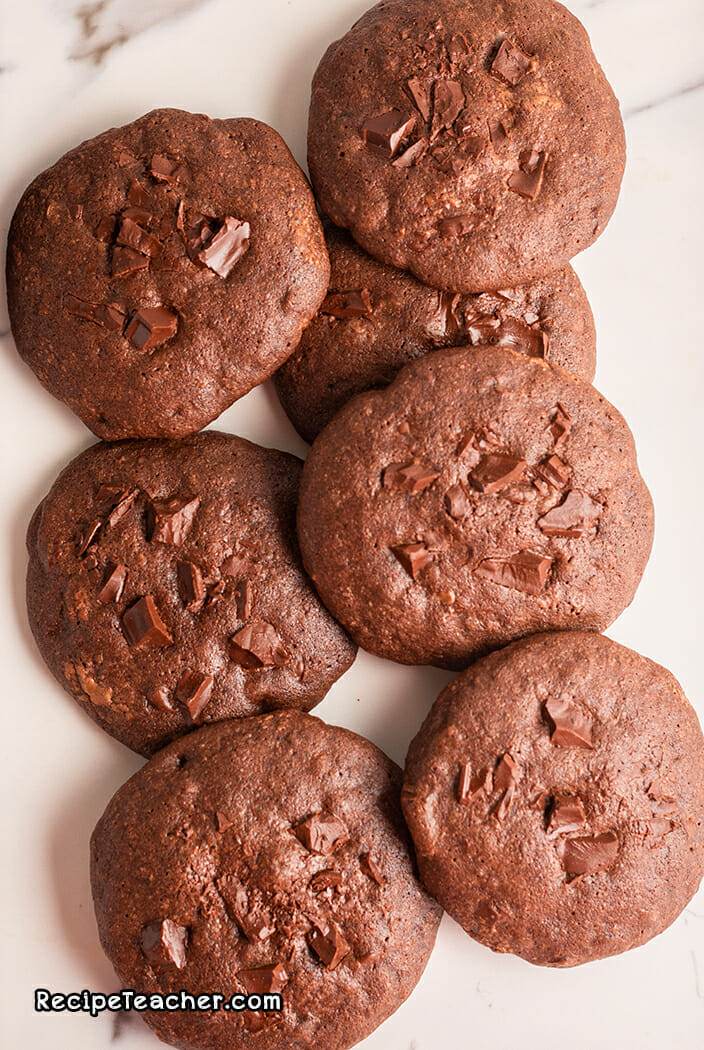 Dutch Processed Cocoa vs. Natural Cocoa
For this recipe I recommend using Dutch processed cocoa. Most supermarkets have just a few brands of unsweetened cocoa on the shelves. The packaging will clearly indicate if it's Dutch processed. There's a whole science behind Dutch processed cocoa, but we can cut right to the chase – it offers a smoother, more rich and full chocolate flavor. So, if you can find Dutch processed cocoa, I definitely recommend it for this recipe. If not, go ahead and use whatever unsweetened cocoa you can find, you're still gonna get an awesome cookie.
Easy Recipe with Simple Ingredients
Everyone loves an easy recipe, right? Can these chocolate fudge cookies really be easy? You bet! After the cocoa, there's just a few simple ingredients, many of which you probably have in the pantry and fridge: butter, flour, white sugar, brown sugar, vanilla extract, chocolate chips (or chunks), eggs and just a pinch of salt.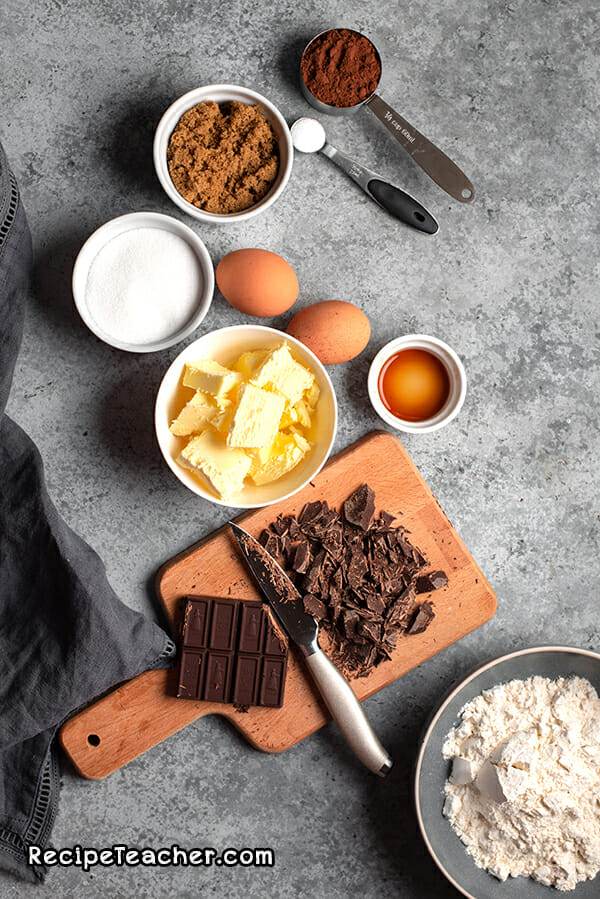 Chocolate chips or chocolate chunks?
To use chocolate chips or chocolate chunks? That is the question. This can definitely come down to personal preference. The best results will come from using semi-sweet chips or chunks. There's many chocolate bars that are meant for baking. Smashing them up into pieces can be fun and add a uniqueness to each cookie. You'll be using a total of 1 cup of chips or chunks. Half of it will be melted into the cookie batter. The other half will be used tossed into the batter as chips or chunks usually are.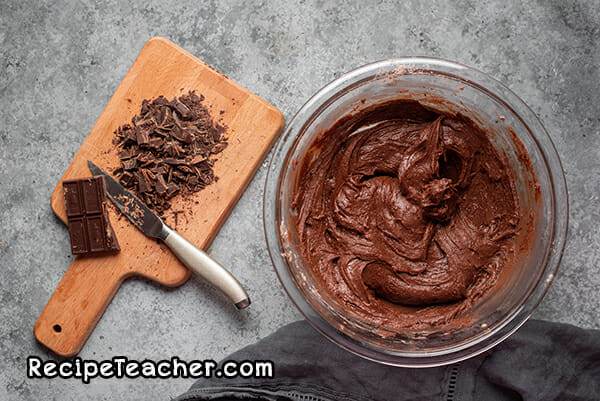 Add chips or chunks to the top of the cookies before baking
This last part of the recipe is one of the most important steps. After we scoop our batter into balls and place them on the parchment lined cookie sheet, we'll use wet hands to push the cookies down. Wet hands are important as it will keep the batter from sticking to your hands. Push the batter balls down to about ¼″ thick. Then, add some more chocolate chunks or chips to the tops of each cookie. Its this last part that will give the cookies that professional look and feel. And that extra solid chocolate in each bite will be amazing.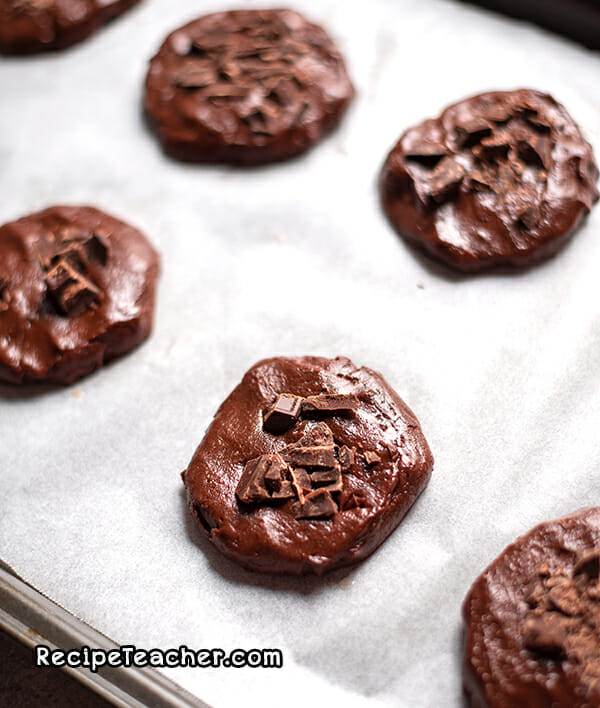 When the cookies are done baking, let them cool right in the pan for at least 10 minutes. And guess what? They'll be even better the next day. I can't wait for you to try these! Leave a review and let me know what you think!
Print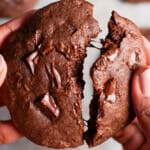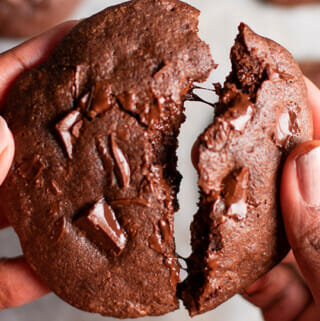 Best Damn Chocolate Fudge Cookies
---
Author:

Total Time:

27 minutes

Yield:

12 cookies
Description
These cookies are extremely chocolaty, fudgy, ooey gooey on the inside and crispy on the outside!
---
1 cup

all purpose flour

1 cup

semi-sweet chocolate chips or chunks

¼ cup

unsweetened cocoa powder (Dutch Processed if available)

½ cup

sugar

½ cup

brown sugar (dark brown preferred)

½ cup

(

1

stick) butter, unsalted

2

eggs

1 ½ teaspoon

vanilla extract

½ teaspoon

salt
---
Instructions
In a medium sized bowl, mix flour, cocoa powder and salt. Whisk it all together and set aside.
In a microwave safe bowl, add butter and ½ of the chocolate chips or chunks. Microwave in 30 second intervals until everything is melted.
In a large bowl, add eggs, white sugar, brown sugar and vanilla extract. Mix with a hand mixer or stand mixer until fully incorporated. Then add chocolate mixture and continue to mix together.
Add flour mixture and continue to mix for 3 minutes until everything is well combined. Gently fold in remaining chunks/chips. Place bowl with batter in refrigerator for at least 30 minutes to chill and thicken (important).
Preheat oven to 350° and line a cookie sheet with parchment paper.
Scoop out batter and roll into balls (wet hands first!) about 1.5″ in diameter. Place on parchment at least 3 inches apart. With hands still wet, press batter down to about ¼″ thick. Add additional chips or chunks to tops of cookies.
Bake in preheated oven for 12 minutes. Remove from oven and let cool completely before removing from pan.
Notes
Gluten free option: substitute a 1:1 all-purpose gluten free flour mix which contains xantham gum, for the regular flour. Everything else will remain the same.
Prep Time:

15 min

Cook Time:

12 min

Cuisine:

Dessert