These oven roasted chicken thighs are seasoned to simple perfection with a crispy golden skin on the outside, and juicy, tender meat on the inside. We use just a few simple ingredients for the most savory flavor possible. This all-time favorite recipe is sure to please everyone.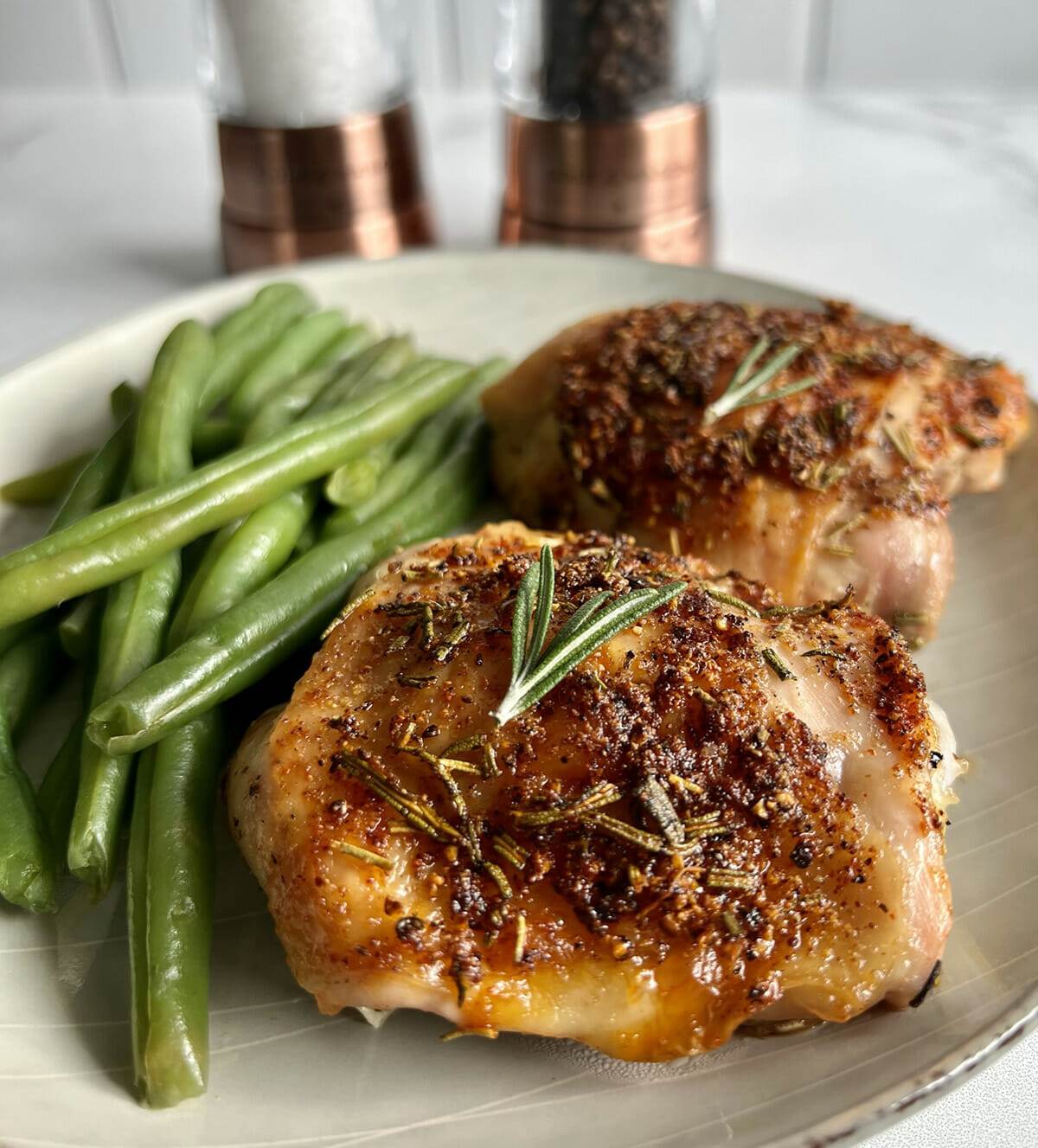 We take bone-in, skin-on chicken thighs and season with fresh rosemary, garlic powder, salt, pepper and smoked paprika for a flavor that is simply awesome. The skin is crispy and the meat is so unbelievable juicy and flavorful. With just a few minutes of prep and about a half hour in the oven, this recipe is excellent for a quick meal any day of the week.
Why I Love This Recipe
This recipe is very high in our rotation for several reasons:
Fresh rosemary is amazing on chicken. There's just nothing like it and it's so delicious with the other ingredients.
Garlic powder. No chopping garlic, just a heap of garlic powder and you're good to go.
Super simple to make! Chicken thighs are super easy to make and very forgiving in terms of cooking time. This is an excellent novice recipe.
Affordable. Chicken thighs are one of the most affordable meats in the supermarket.
Chicken Thighs are Easy to Make
Chicken thighs are the best part of the chicken. There, I said it. Chicken thighs are a dark meat with just the right amount of fat to stay juicy and tender. Cooking them can be very forgiving. In fact, unlike chicken breasts, chicken thighs can be cooked over the recommended internal temperature of 165°(F), and still come out juicy and tender. And that skin… oh my goodness! We can get the skin nice and golden brown crispy by cooking at a high temperature and a couple of other simple details.
Another great thing about chicken thighs is that they're very affordable! In many supermarkets you can find large packages for just a few dollars. Definitely one of the best bargains when it comes to fresh meat.
Simple Ingredients
The main flavors for our chicken thighs are fresh rosemary and garlic powder. Fresh rosemary is such a wonderful, vibrant herb that lends it's flavor perfectly to chicken. Chopping fresh rosemary releases oils and flavors that bring this dish to life! Garlic powder gives us that flavor we know and love while being easy to spread all over the chicken. The smoked paprika helps provide a wonderful color while providing a nice deep flavor. The salt and pepper do their job by bringing all the flavors to life!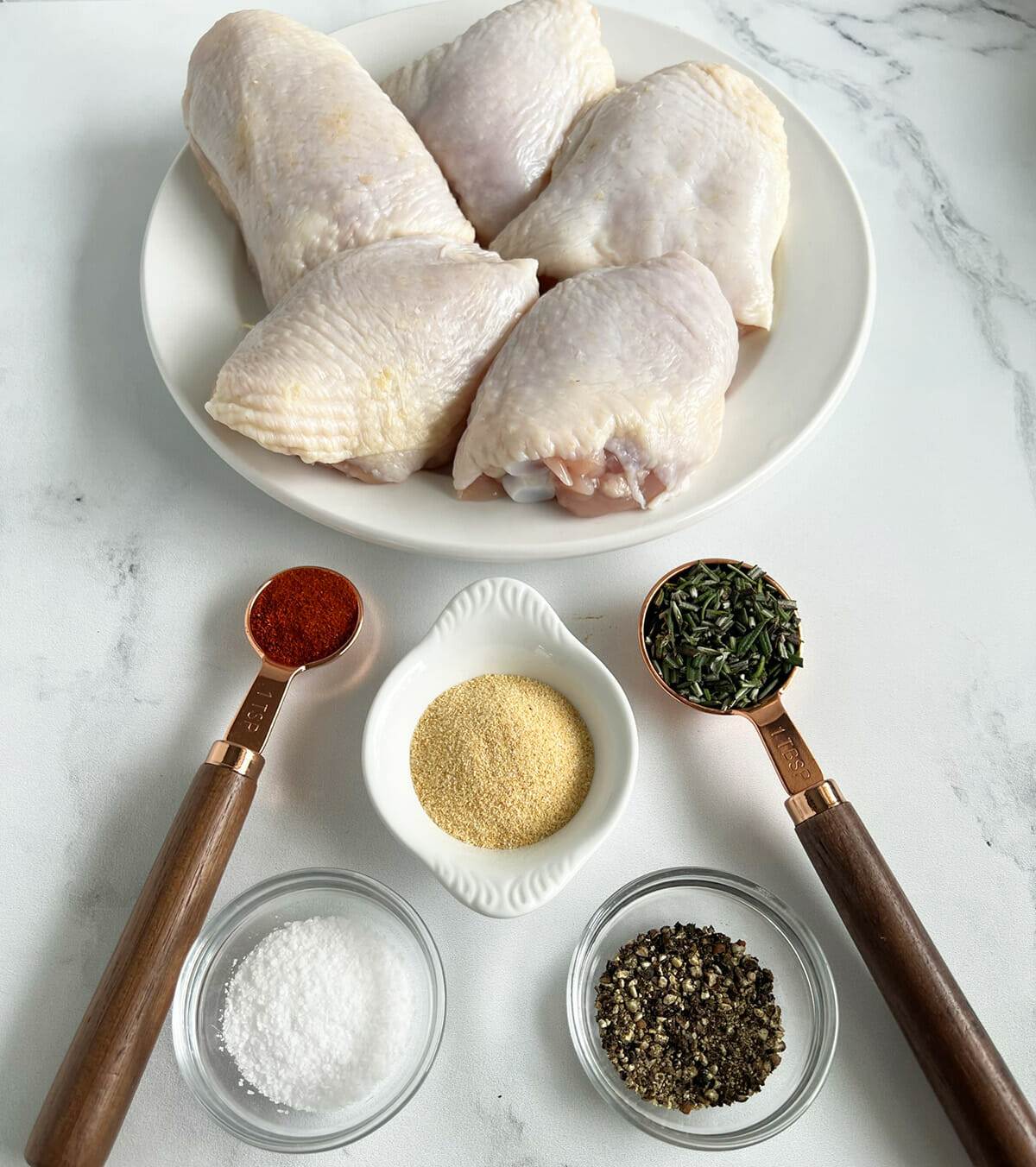 Simple Preparation
I love recipes that are simple and this one is one of the easiest. Besides mixing a few seasonings, the only prep we need to do is to trim the excess skin and fat from the thighs, and chop the fresh rosemary.
Chicken thighs usually come with the skin wrapped around the bottom of the thigh. You can cut this right off. You may also see additional fat that can be trimmed as well. The whole job takes about 1 minute.
Next, we need to chop the fresh rosemary. For 1 tablespoon of fresh chopped rosemary, we'll chop the leaves of approximately 3 regular-sized sprigs. Take a minute and strip the leaves from the stems, then simply chop them up with a knife. This is all done in under 5 minutes.
Now, we want to pat the chicken thighs dry with paper towels before applying the seasonings. This is important because we want the combination of the vegetable oil and seasonings to brown and crisp the skin. If the skin is wet, it will steam and not achieve the desired results.
Lastly, it's time to season the chicken. Go ahead and place the chicken thighs in a glass baking dish and brush the top of each chicken thigh with some vegetable oil. Apply the seasoning mix to each thigh. Go ahead and turn them over and get some of the seasoning on the bottoms of the thighs too. You can also lift the skin and get some seasoning directly on the meat as well for extra flavor. I love doing this! Finally I like to dab the tops again with some oil to make sure all the seasonings are well applied and damp from the oil. You can also use a quick spray from cooking oil as well.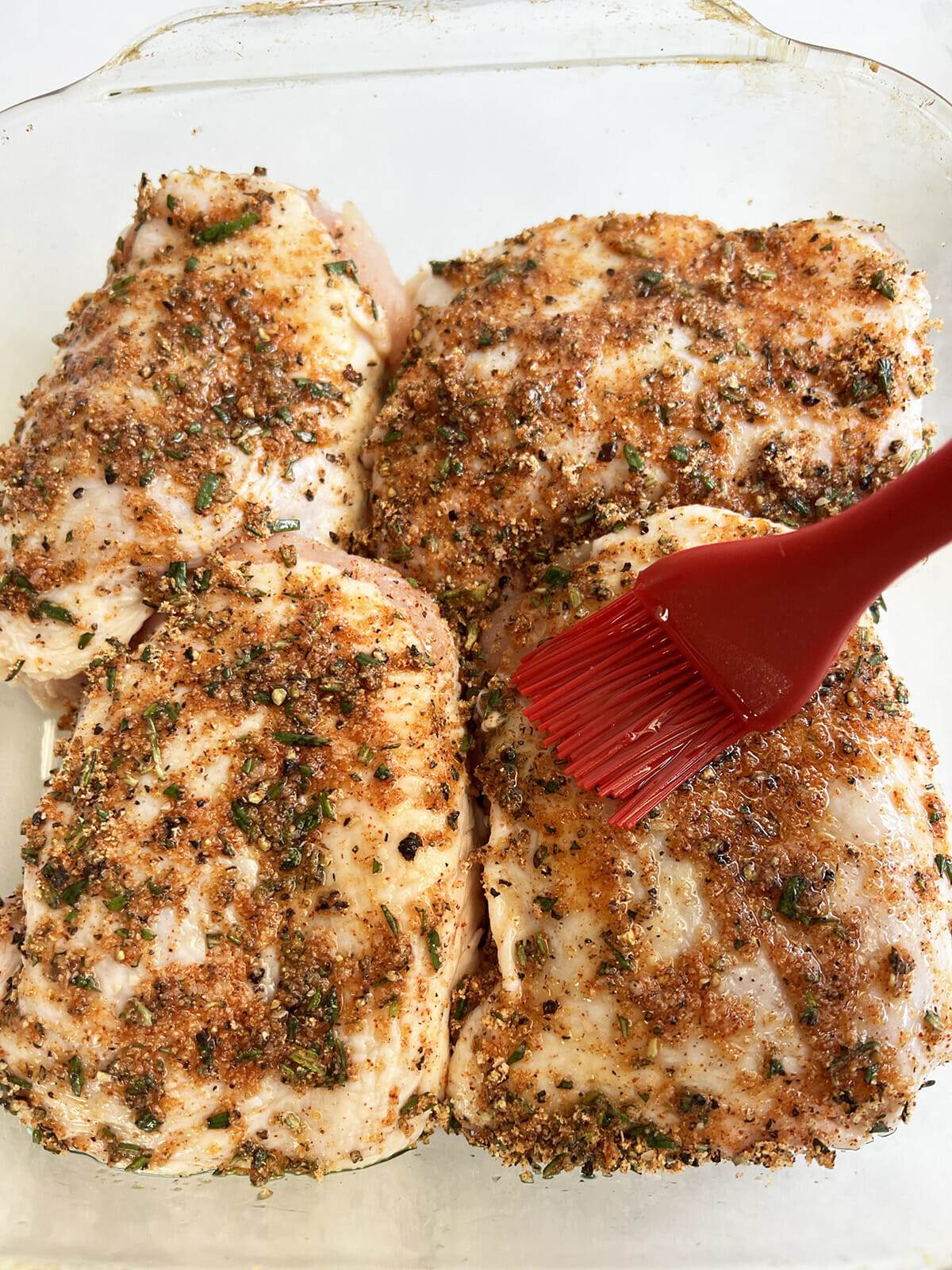 Bake at 450°(F) for 30-35 Minutes
Place the seasoned chicken thighs, skin up, in a glass pan and place in a preheated 450°(F) oven on the middle rack. We use the high temperature to get that skin crisped up and seal in the flavors. The chicken will be done when the internal temperature is 165°(F). But it's totally fine if the temp exceeds that, even up to 185°(F). That skin will really start to crisp and turn golden in the final minutes of cooking.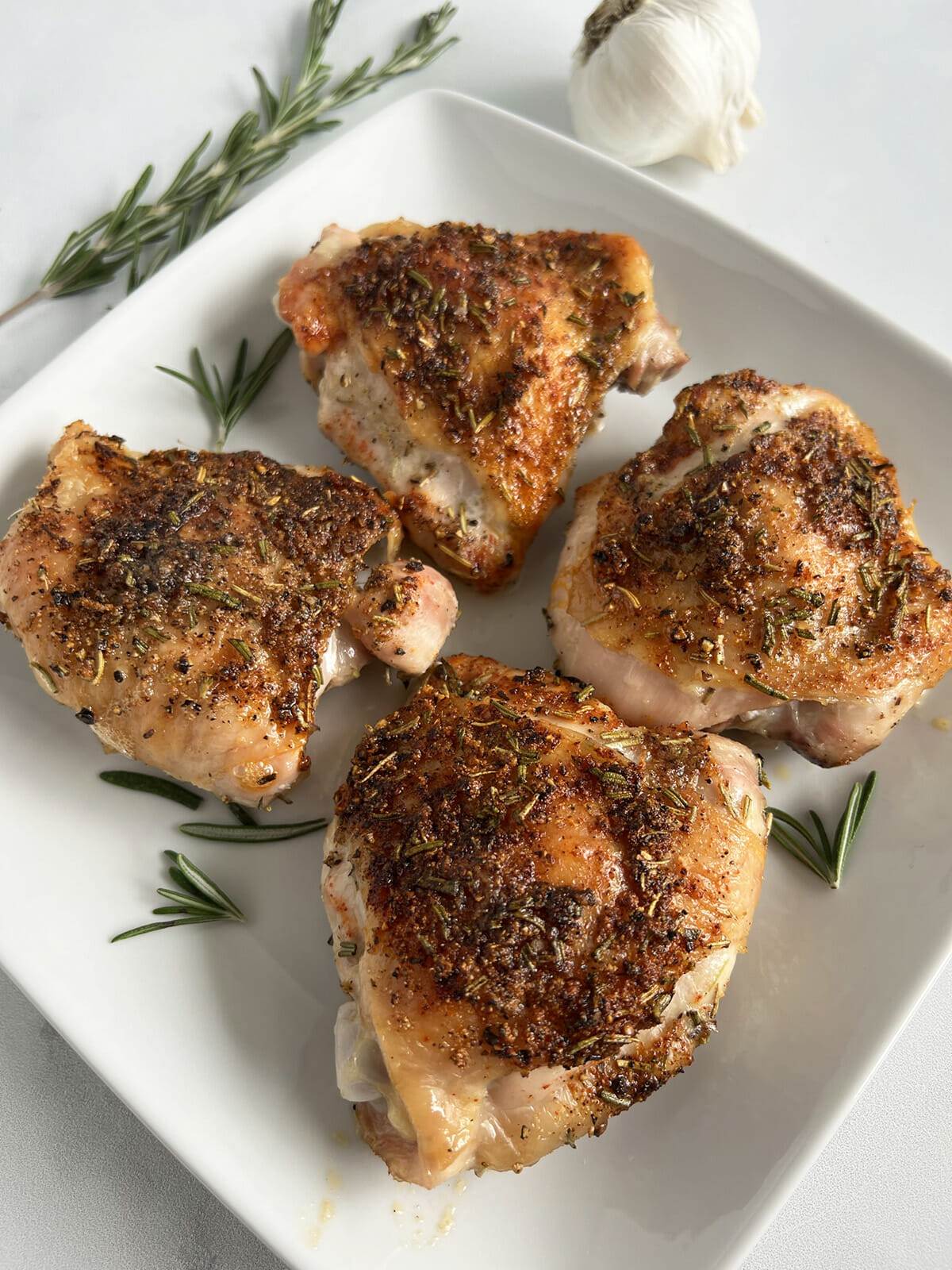 Let Rest and Serve
Let the chicken thighs rest in the dish for about 5 minutes before serving. This is important. It gives the natural juices a chance to redistribute throughout the meat.
Roasted chicken thighs can be served with just about anything. For the images in this recipe, I threw some fresh green beans in the steamer basket of my Instant Pot with 1 cup of water for 2 minutes on high pressure, followed by a quick release. Of course, you can cook green beans with whatever method you choose.
Rice is an excellent side-dish to serve with chicken thighs. Our Instant Pot Rice Pilaf is simple to make and a perfect pairing for our oven roasted chicken thighs.
Storage and Reheating
Store cooked chicken thighs in an air tight container in the refrigerator for up to 3 days.
For the best reheating, place on a baking sheet in the oven at 375°(F) for 10-15 minutes. An air fryer works well too! Use the air fry setting at 350°(F) for 5-8 minutes.
Print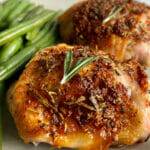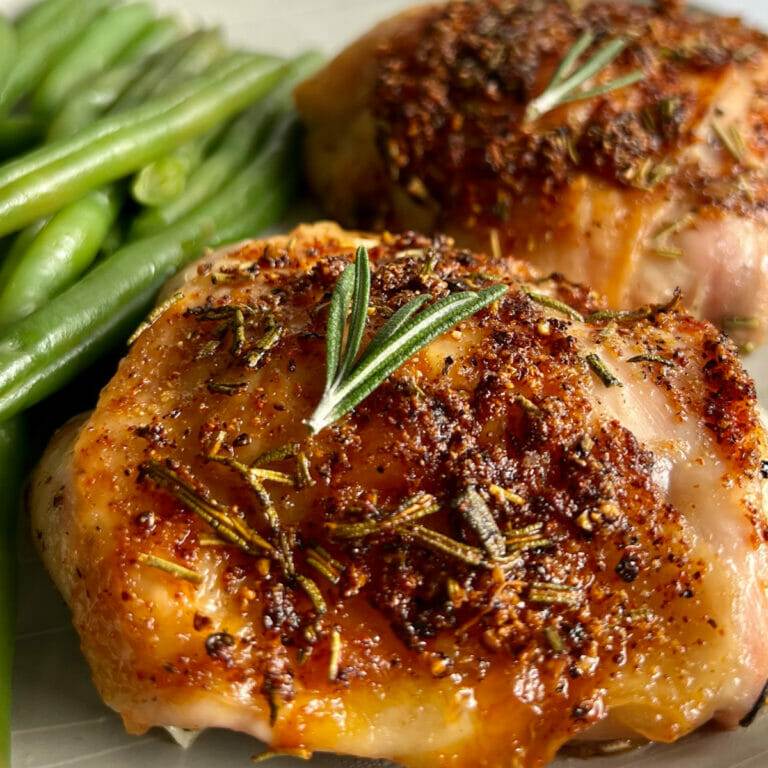 Best Damn Oven Roasted Chicken Thighs
---
Author:

Total Time:

40 minutes

Yield:

2-4 servings
Description
These oven roasted chicken thighs are seasoned with garlic and fresh rosemary for a flavor explosion you'll love. The outside gets golden and crispy while the inside is very juicy, tender and so delicious!
---
4

–

6

chicken thighs, bone-on skin-on

1

tbs fresh rosemary, chopped

1

tbs garlic powder

2 tsp

kosher salt

1.5 tsp

fresh ground black pepper

1 tsp

smoked paprika

1

tbs vegetable oil
---
Instructions
Trim chicken thighs of any excess skin and fat and pat dry with paper towels.
In a small bowl, mix fresh rosemary, salt, pepper, garlic powder and smoked paprika.
Brush tops of chicken thighs with canola oil. Add seasoning and press it in well. Get some of the seasoning under the skin if so desired. Season undersides of thighs as well.
Place chicken in a glass baking dish, skin side up and dab some more oil on the top so the seasonings and skin are well coated.
Place into a preheated oven at 450°(F) for 30-35 minutes. Internal temperature should be at least 165°(F), but higher is ok too. Should be golden brown.
Remove chicken from oven and let rest in dish for 5 minutes before serving.
Notes
Fresh rosemary is recommended for the very best results. But, you can substitute 1 teaspoon of dried rosemary.
Prep Time:

5 min

Cook Time:

35

Category:

Dinner

Method:

Oven

Cuisine:

American