Enjoy easy-to-make, homemade Sloppy Joes that will have everyone asking for more. This recipe features pantry-friendly ingredients and simple steps for a meal the whole family will devour!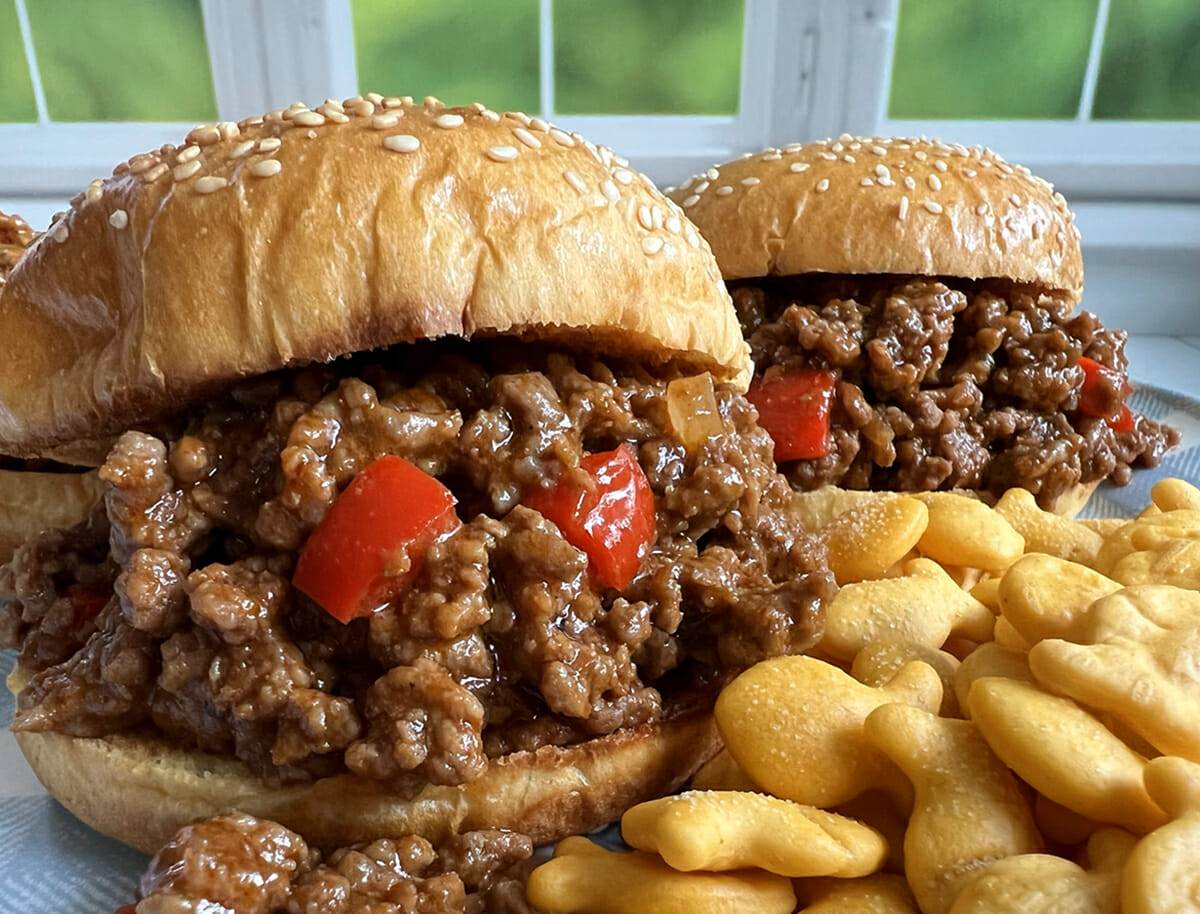 Forget the canned stuff, these Sloppy Joes feature sweet, savory and robust flavors to create a good old fashioned sandwich know and love.
Why I Love This Recipe
I love making this recipe because I almost always have all the ingredients on hand. This sauce is both simple and complex in that it combines several pantry-friendly ingredients to create a sloppy joe sauce that compares to no other. It's savory, it's sweet, and most of all… it's delicious!
What is a Sloppy Joe?
Quite simply, a Sloppy Joe is ground beef that is simmered in a sauce consisting of a tomato base (ketchup for the most part), some sweet ingredients such as brown sugar and honey, and a bbq or steak sauce all mixed together. This forms the basis for the sauce, which is then augmented with various herbs, spices and even fresh veggies such as peppers and onions. The meat and sauce are simmered until just thick enough to stack on toasted hamburger buns. Of course, Sloppy Joes can get a little messy – hence the name. But that flavor is unforgettable and they're the perfect treat for kids or a crowd.
Ingredients
What make our Sloppy Joe recipe so good, is that we mix together some simple ingredients to create a very deep and flavor profile. Ketchup will provide the main tomato base for this recipe. I really like to use ketchup instead of regular tomato sauce because all the flavors we want are already in the ketchup. Steak sauce such as A1 are then added. This brings the flavors more to the savory side of things and give the sauce that nice deep, beefy flavor. We'll sweeten things up with some brown sugar and honey. The honey is SO perfect for Sloppy Joes as it adds to the thickness of the sauce and has that unique sweet flavor that fills out the other flavors so well. Apple cider vinegar and yellow mustard will punch up the vibrance and give us that nice acidic bite which brings the flavor to life. A little Worcestershire sauce will also deepen the savory flavors. Some salt, pepper, onion powder and garlic powder will be our main seasonings, which of course are good on just about anything.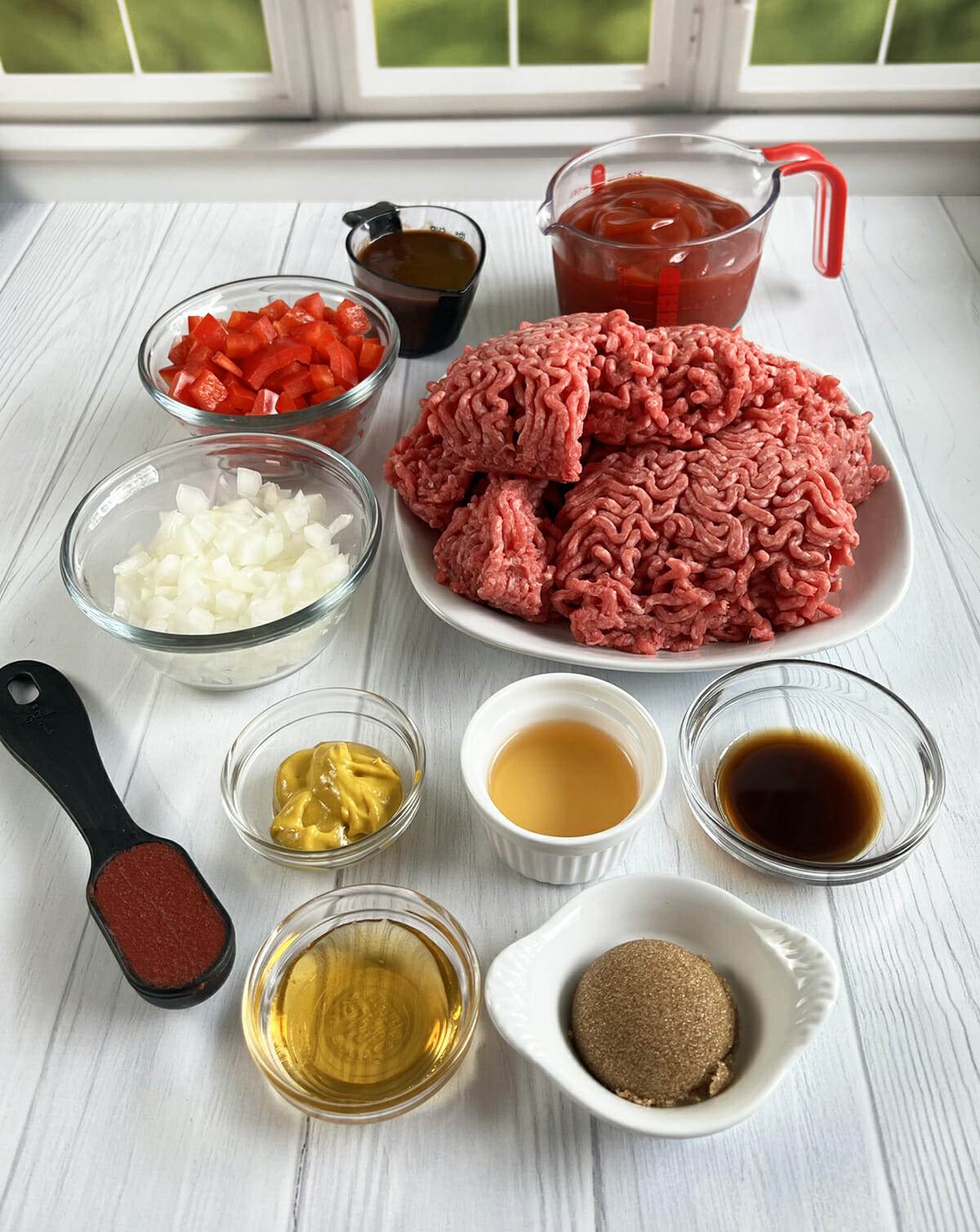 We give the Sloppy Joes some excellent texture and flavor with diced onion and bell pepper. Red or green bell pepper – it doesn't really matter.
Finally, I like to let the meat simmer in the sauce for a good 15-20 minutes so we'll add a little tomato paste and some water to the mix. This simply allows us to start with a thinner sauce which will thicken as it simmers, which brings all those delicious flavors together and into the meat.
Preparation
Start by dicing the pepper and onion and set aside.
Next, add all the liquid ingredients to a medium bowl and whisk them all together. It will begin to take on that Sloppy Joe sauce color you know and love.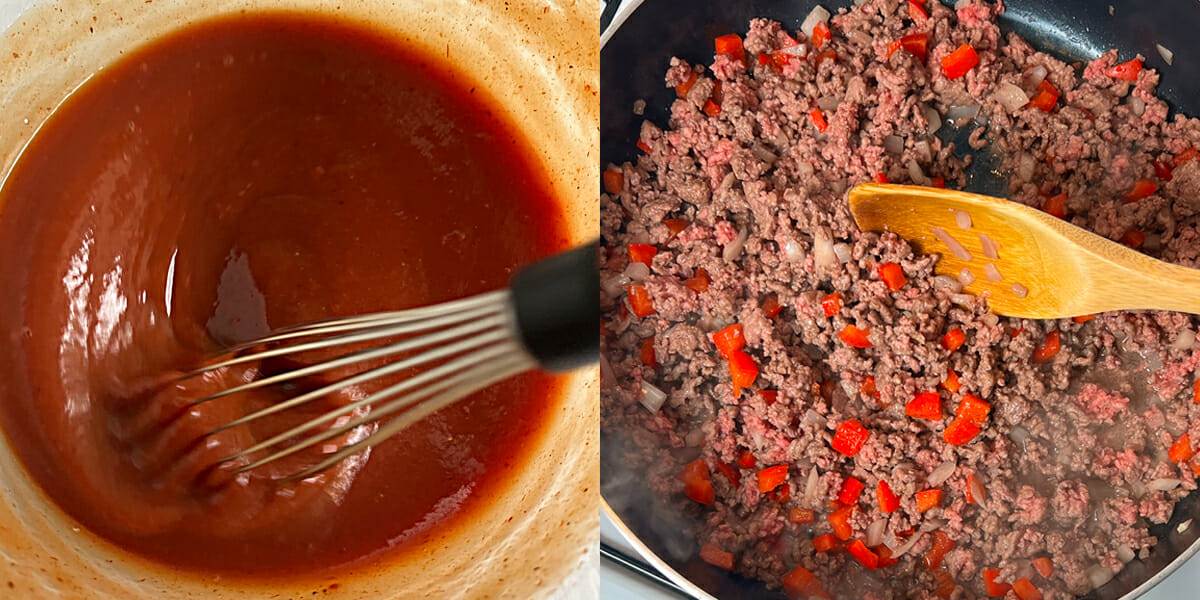 Add the ground beef and the diced pepper and onions to a skillet or pot over medium heat and cook until the meat is browned. This step will also be cook the onions and peppers to soften them up a bit. You can hit the ground beef mixture with some salt and pepper to taste as you're browning the meat. Once everything is browned, add the sauce and stir it in well.
Reduce the heat to a simmer and cover for about 15 minutes. After the 15 minutes, remove the cover and continue to simmer for maybe 5 minutes or until desired consistency.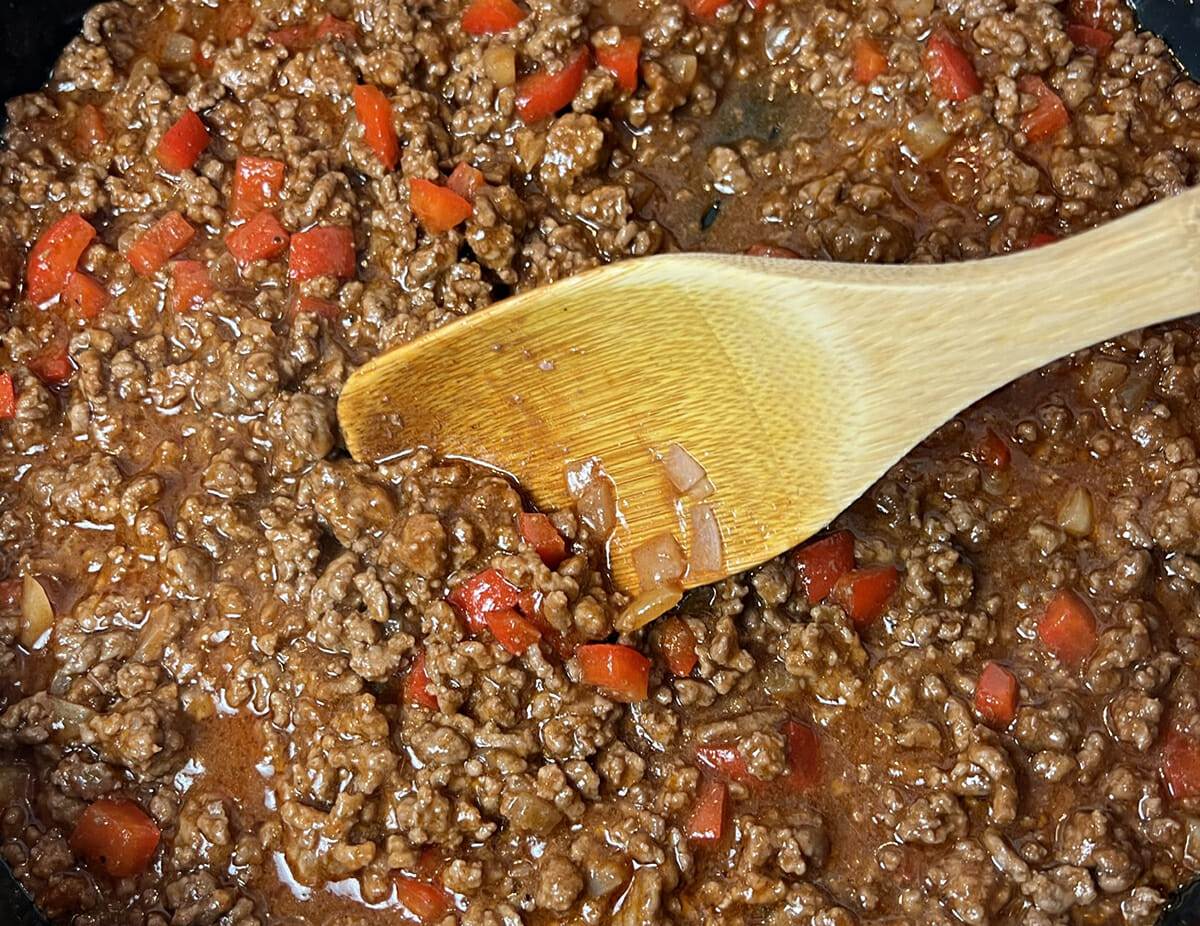 Ready to Serve
Your Sloppy Joe meat is now ready and you just need to heap it onto some hamburger buns. Take note… toasted buns are awesome! Yep, toasting the buns not only helps the sloppy sandwiches hold up a little better, but toasted buns are just plain more awesome.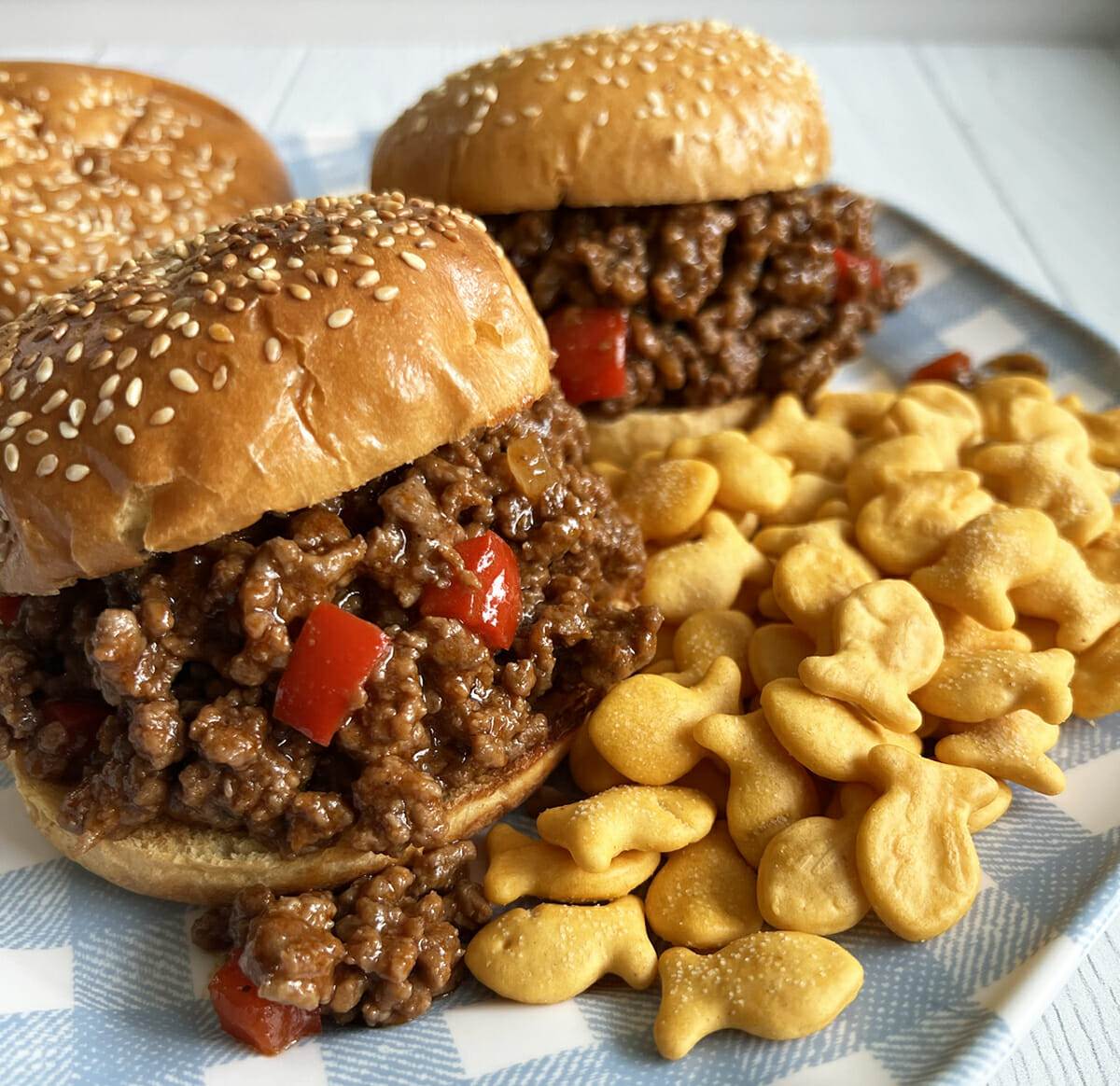 Print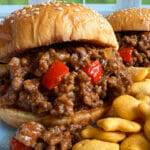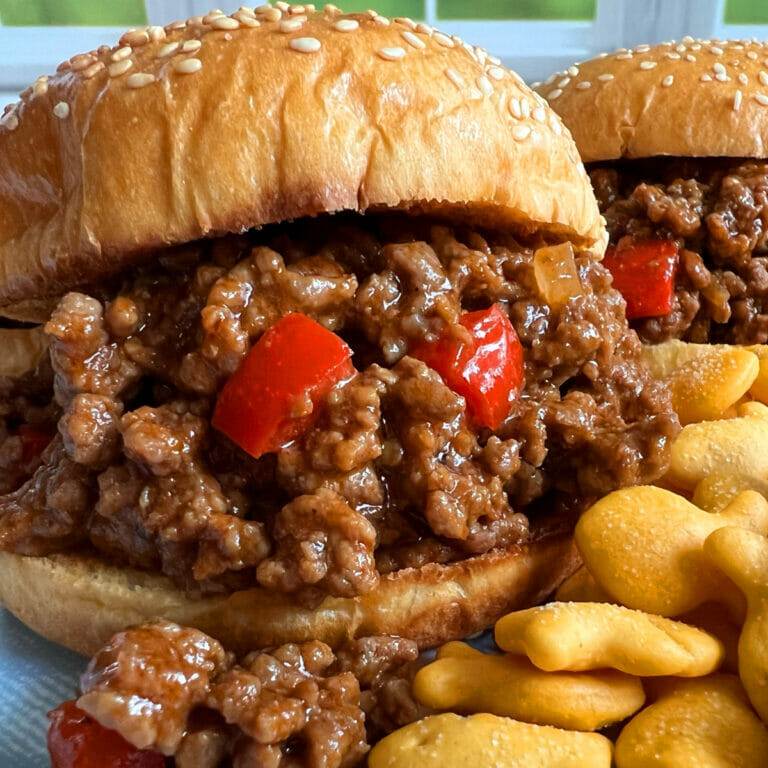 Best Damn Sloppy Joes
---
Author:

Total Time:

45 min

Yield:

6-8 servings
Description
Easy recipe for homemade Sloppy Joes is loaded with awesome flavors and uses simple ingredients to make this family favorite!
---
1.5

lbs. Ground Beef (85% lean)

1 cup

Ketchup

¼ cup

Steak Sauce (A1)

½

Medium Onion, diced

½

Sweet Bell pepper, diced (red or green)

1

tbs Tomato Paste

¼ cup

Water

1

tbs Apple Cider Vinegar

1

tbs Worcestershire Sauce

1

tbs Honey

1

tbs Brown Sugar

1

tbs Yellow Mustard

1 tsp

Onion Powder

1 tsp

Garlic Powder
Salt and pepper to taste
---
Instructions
In a bowl, add the ketchup, steak sauce, honey, Worcestershire, vinegar, brown sugar, mustard, tomato paste and water. Mix well with a whisk and set aside.
In a large skillet, add the beef, onions and peppers. Add onion and garlic powder, and any salt and pepper to taste (about ½ tsp each). Sauté over a medium flame until beef is browned. Drain fat.
Add sauce and bring to a simmer over low-medium heat. Once it starts to simmer, reduce heat to low and cover for 15-20 minutes, stirring every couple of minutes.
After the 15-20 minutes minutes, remove lid and continue to heat, uncovered, for another 5 minutes or until sauce reaches desired thickness.
Prep Time:

15 min

Cook Time:

about 30 min

Category:

Dinner

Method:

Stovetop

Cuisine:

American