These mouthwatering chicken drumsticks cook to absolute perfection in your Ninja Foodi Grill. With a simple seasoning mix, they come out crispy on the outside and oh so juicy on the inside. Perfect for a quick meal or a game time feast!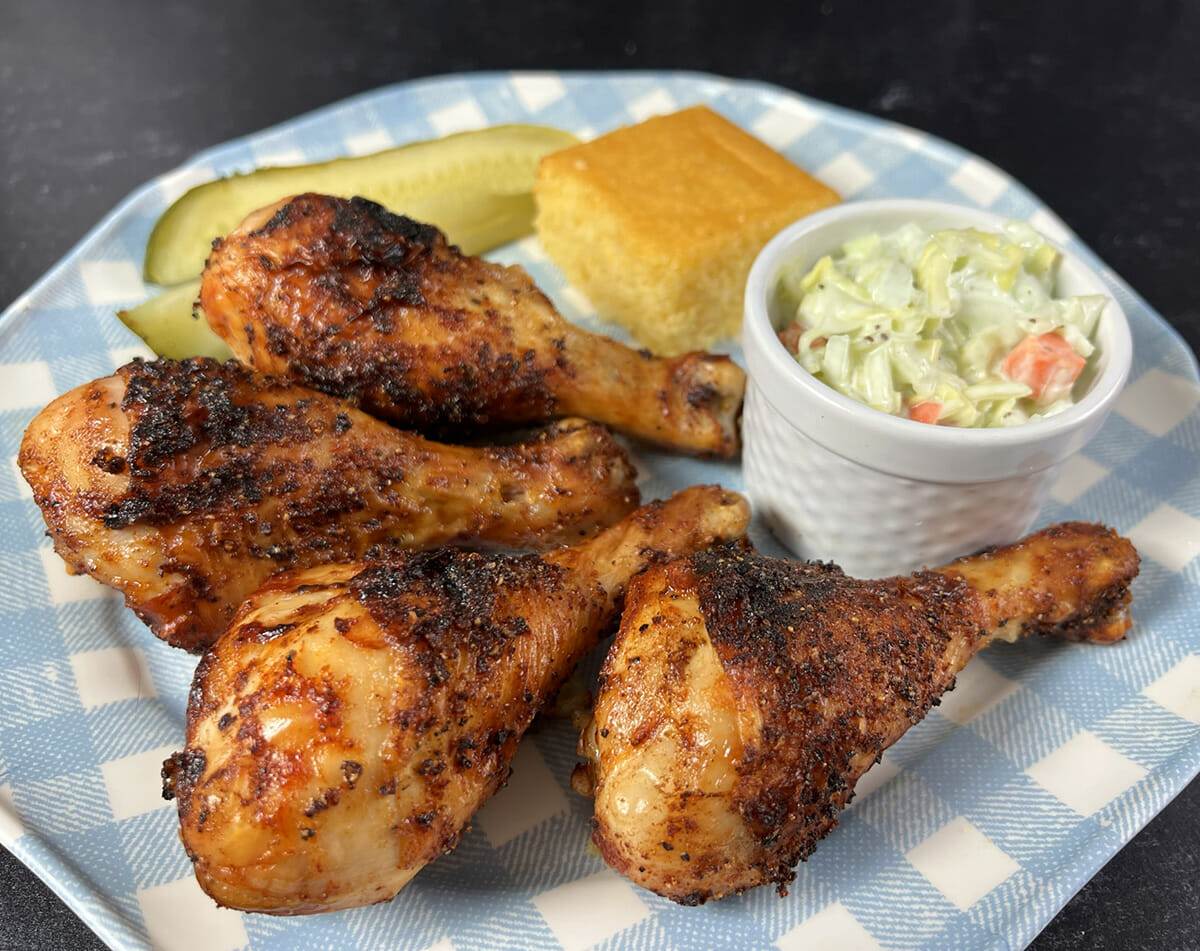 Your Ninja Foodi Grill is such a versatile appliance. I rave about it so much. And with this easy chicken drumsticks recipe, you'll rave about it too! We take 8 chicken legs, skin-on of course, and make a simple seasoning rub which then takes the chicken drumsticks to all new levels of awesome in our indoor grill! Can you tell I'm a little excited about this recipe? The "wow factor" while developing this recipe was off the charts. They're that good!
What is the Ninja Foodi Grill?
For those not familiar, the Ninja Foodi Grill is an electric kitchen appliance which is an indoor grill/air fryer. While it has all the functions of a regular air fryer, the indoor grill part is what I'm most impressed with. Much like a regular air fryer, is uses circulating air to quickly heat the food, but, it also has a heat conducive grill plate on the bottom which allows us to get that the direct-contact heat for an excellent sear and of course – grill marks! And also… no smoke! There's a nifty little contraption built in which takes care of any smoke. Love it! There's a couple of different models of the appliance, but they all work perfect for this recipe.
Ingredients
We start with 8 fresh, bone-in chicken drumsticks. I love that chicken drumsticks are so affordable. I actually got a package of 15 for under $5.00 at a store near me in the Chicago area. Unbelievable! Next, we make our special BBQ seasoning rub. You probably have all of these ingredients already in your spice-rack or pantry: brown sugar, smoked paprika, chili powder, onion powder, garlic powder, ground mustard, salt, pepper, and a little vegetable oil. Mix all those dry ingredients together, and you've got a spectacular rub that's ready to go on the chicken legs!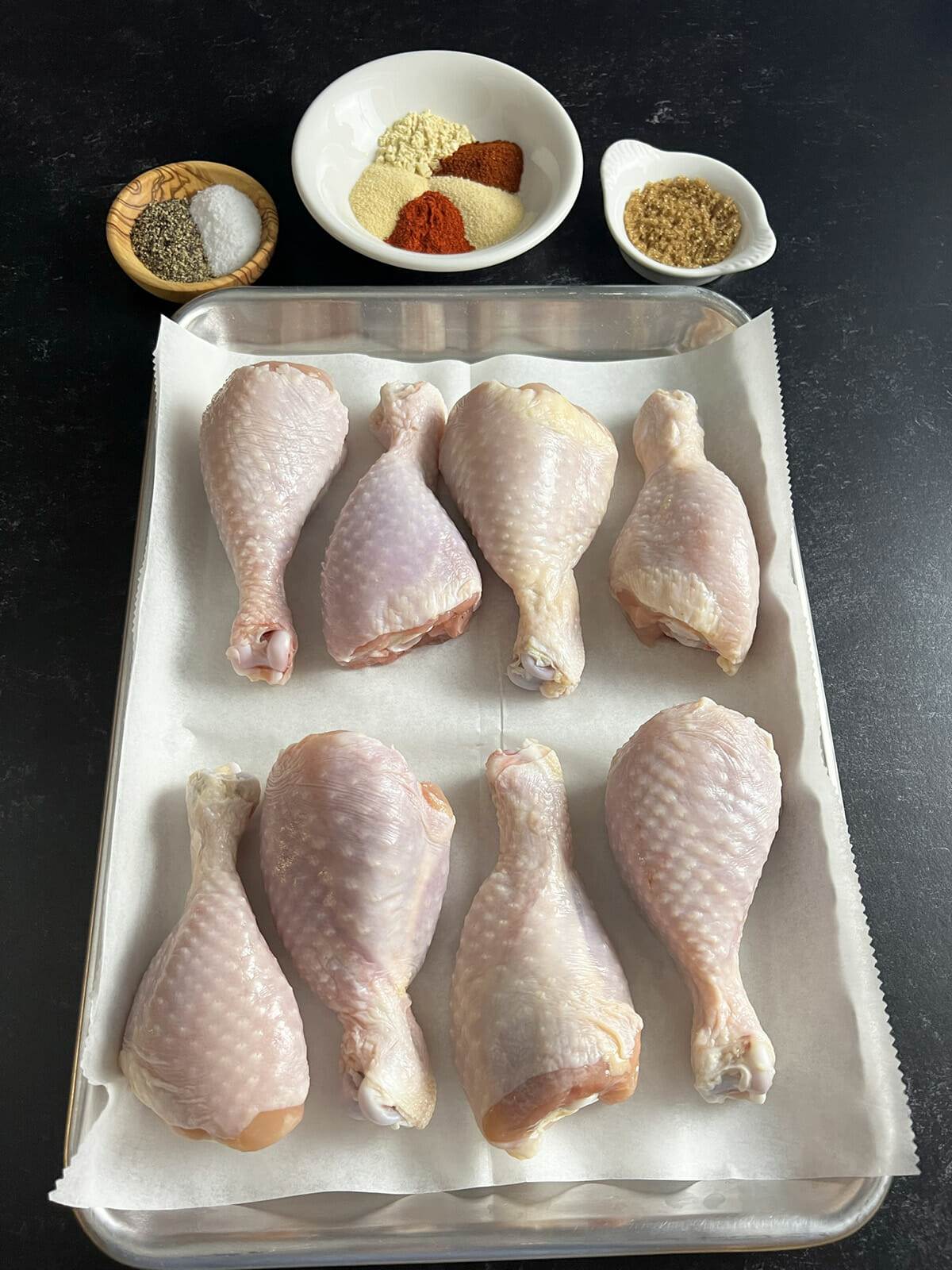 Preparation
I think it's safe to say we all love recipe which are easy prep, right? So let's keep this one easy too.
Our prep will take place while the grill is preheating. With the grill plate in place simply turn the appliance on and press the medium grill setting. Set the time to 22 minutes and push start. With the lid closed, the unit will begin preheating. This should take about 10 minutes.
Start by patting those chicken drumsticks dry with a paper towel. You don't have to go too crazy here, we just get want to get that skin as dry as possible so that it crisps up better. Now add the chicken to a large, gallon-sized zip-top bag. Add 1 tablespoon of vegetable oil, close the top, and shake and press the oil into all the chicken. Get those drumsticks good and coated. Now, open the bag, add the seasoning rub, close the bag and shake, shake, shake! Yes, you can shake your booty while doing this too. Get that seasoning mix coated on all the pieces of chicken. Press it around a little, shake some more. You get the idea. You want to chicken to look like this…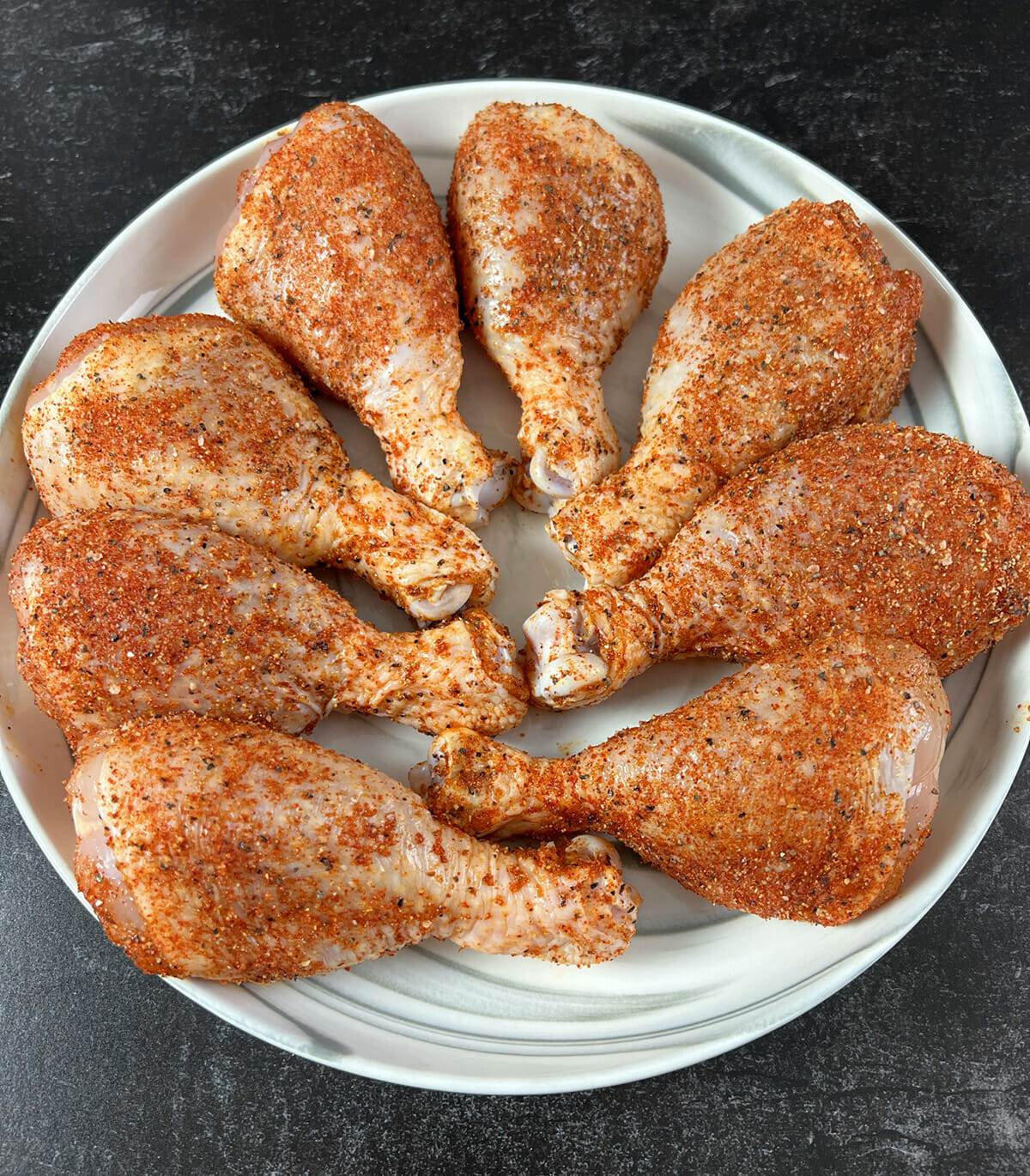 Time to Grill!
Now that our chicken is all seasoned, as soon as the ninja is preheated and says "add food", it's time for the magic to begin. Lift the lid and place all the chicken drumsticks on the grill. You don't want them all pressed together so if you're able, give them just a little room between each piece. Now close the lid and the countdown timer will begin. Remember, we're using the medium grill setting (which is 450°F) for 22 minutes.
At the halfway point (11 minutes), open the lid and give each drumstick a flip. This will help keep the cooking nice and even throughout.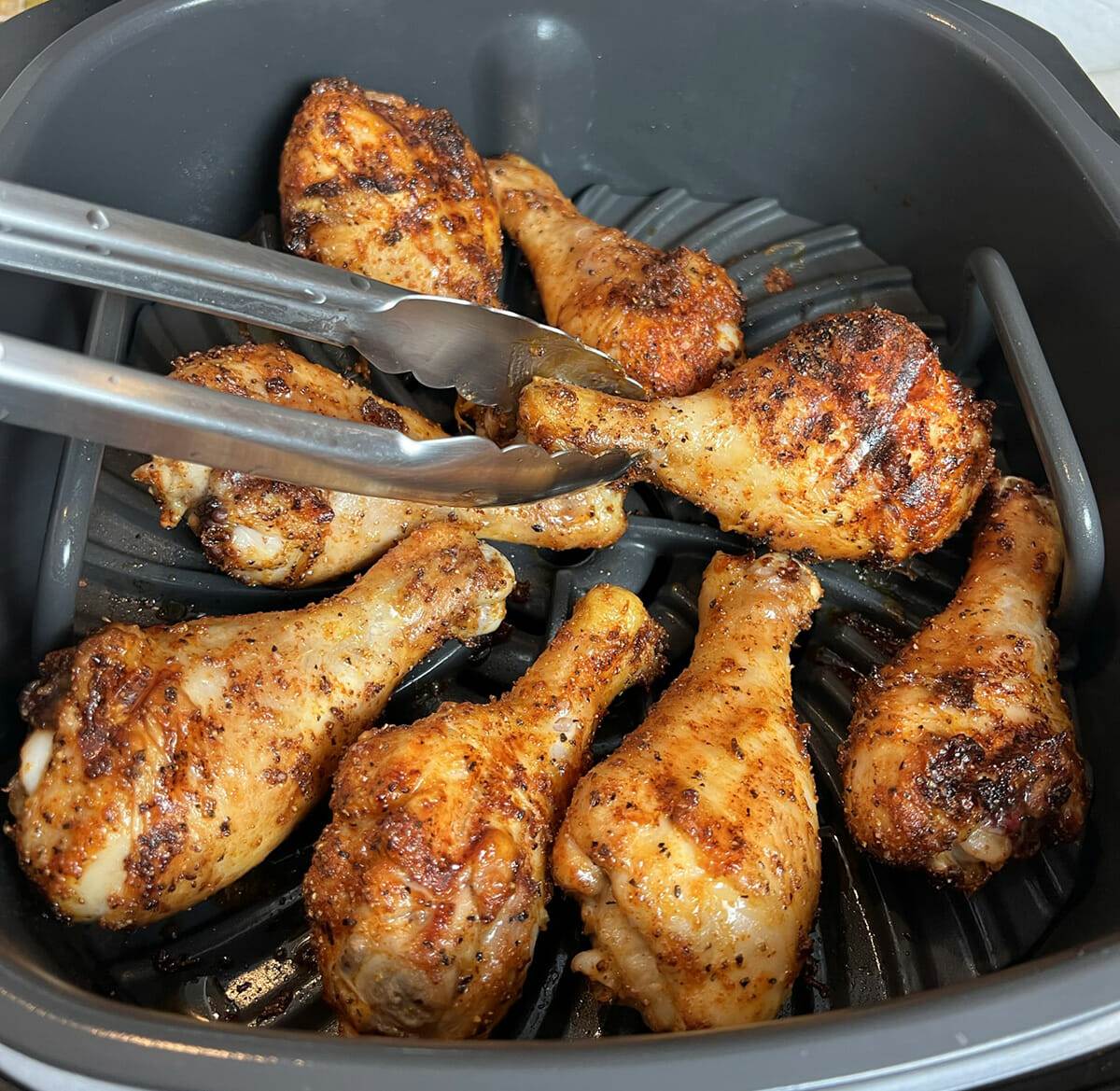 When the 22 minutes are up, lift the lid and take a look at these beauties! Use an instant read food thermometer and check the temperature at the thickest part of one of the chicken legs. The very minimum we want for any chicken recipe is 165°F. For chicken legs, we're safe to go a little higher, 180°F – 200°F for the internal temperature is actually ideal. Chicken legs are a dark meat and the extended time and temp can make them even more tender and juicy.
Rest, then Feast
No not you. Well ok, you actually do get to rest for few minutes if you want. But what we really want is for the chicken to rest for at least 5 minutes before serving. Remove the chicken to a plate or platter and just leave them be. This lets all the juices redistribute and gives everything a chance to settle down. Plus, they'll be really hot! A nice 5-10 minute rest before serving will make the chicken all that much better.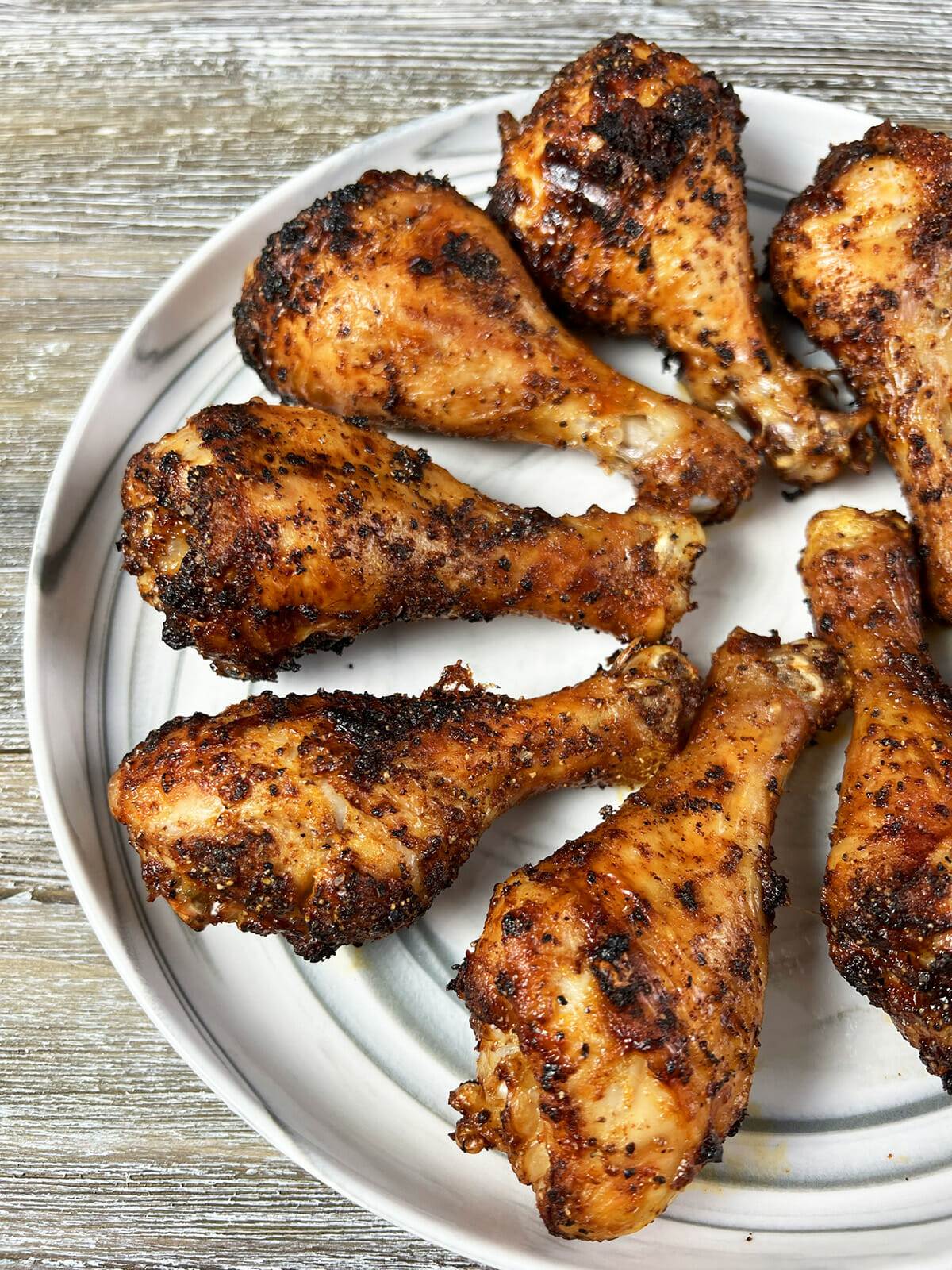 Serves Well With…
So, chicken drumsticks really serve well with just about anything. But since we've got a BBQ thing going on with the seasonings and method of this recipe, I highly recommend our Best Damn Instant Pot Mac and Cheese. There's something about mac and cheese that just goes so well with anything BBQ. Or how about some Instant Pot potato salad? It's real easy to make and again, pairs perfectly with a batch of chicken drumsticks. And of course, close slaw and cornbread are naturals with any BBQ fare!
Frequently Asked Questions
What substitutions can be made to the ingredients?
While all the ingredients in the seasoning rub are important to the overall flavor profile, if you're missing something, you can really just leave it out. Smoked paprika has a very distinctive flavor, but if all you have is regular paprika, feel free to just use that. If you're missing the ground mustard, don't bother using regular mustard. Just leave it out entirely. But again, it's definitely worth having in the spice rack because it adds a great deal to the flavor profile of many recipes.
Can this recipe be doubled?
For the regular Ninja Foodi Grill, 8 drumsticks are pretty close to filling up the grill, depending on size. For best results, do not stack more drumsticks on top or squeeze them in. Your best bet is to do a second batch. For the larger sized models, fit as many will fit without overcrowding. And adjust the ingredients accordingly.
Can this recipe be halved?
Want to do just 4 chicken legs? By all means, go for it! Just cut the ingredients in half. The cooking time will remain the same.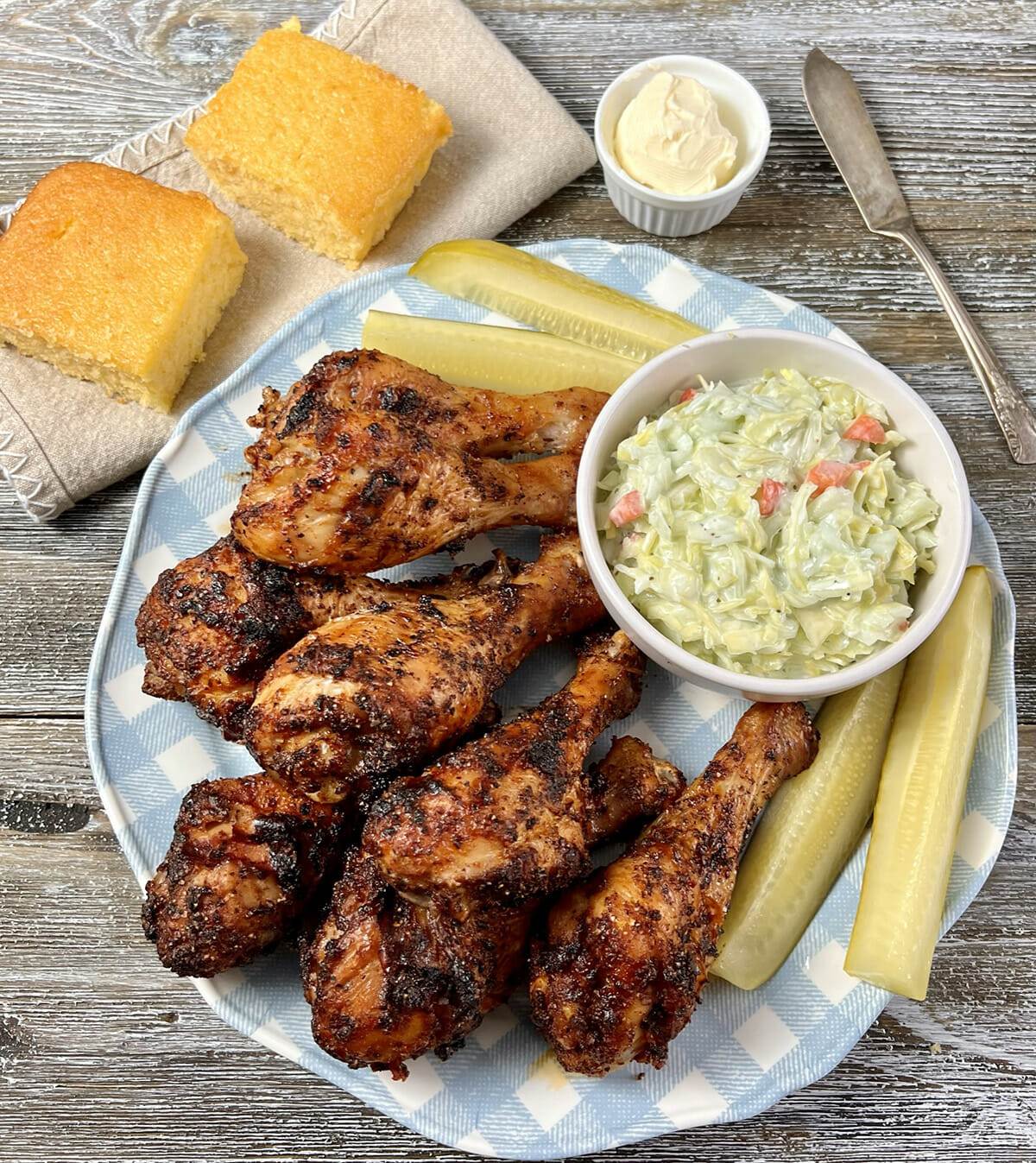 Print
Best Ninja Foodi Grill Chicken Drumsticks
---
Author:

Total Time:

27 minutes

Yield:

8 drumsticks
Description
These mouthwatering chicken legs cook to absolute perfection on your Ninja Foodi Grill. Loaded with delicious BBQ seasoning rub, they're crispy on the outside and unbelievably juicy on the inside.
---
8

chicken drumsticks (fresh, skin-on)

1

tbs vegetable oil

2 tsp

brown sugar

1.5 tsp

coarse salt

1.5 tsp

black pepper

1 tsp

smoked paprika

1 tsp

chili powder

1 tsp

ground mustard

1 tsp

onion powder

1 tsp

garlic powder
---
Instructions
Set Ninja Foodi Grill on medium grill setting and time for 22 minutes. Press start and the preheating stage will begin which will take about 10 minutes.
While grill is preheating mix all dry ingredients in a small bowl.
Add chicken drumsticks to a gallon-sized zip-top bag and add vegetable oil. Coat the chicken well.
Add the seasoning mix to the bag, close top, and shake to get all the chicken well coated.
When grill indicates to add food, add the drumsticks in a single layer, spaced slightly apart if possible. Close lid and timer will begin counting down.
At the halfway mark (11 minutes), open lid and turn the chicken drumsticks over. Close lid and let resume cooking until time is complete.
When grilling time is complete, use a food thermometer to check internal temp of chicken. Chicken drumsticks should be a minimum internal temp of 165°F, but will likely be 180°F – 200°F, which is ideal.
Remove chicken to a plate and let rest for 5-10 minutes before serving.
Prep Time:

5 min

Cook Time:

22 min

Category:

Dinner

Method:

Ninja Foodi Grill

Cuisine:

American
Keywords: Ninja Foodi Grill Chicken Drumsticks