Two simple ingredients combine with fresh salmon filets to create a meal that's healthy, absolutely delicious and super easy to make. These honey mustard salmon filets cook to perfection in your air fryer in under 15 minutes.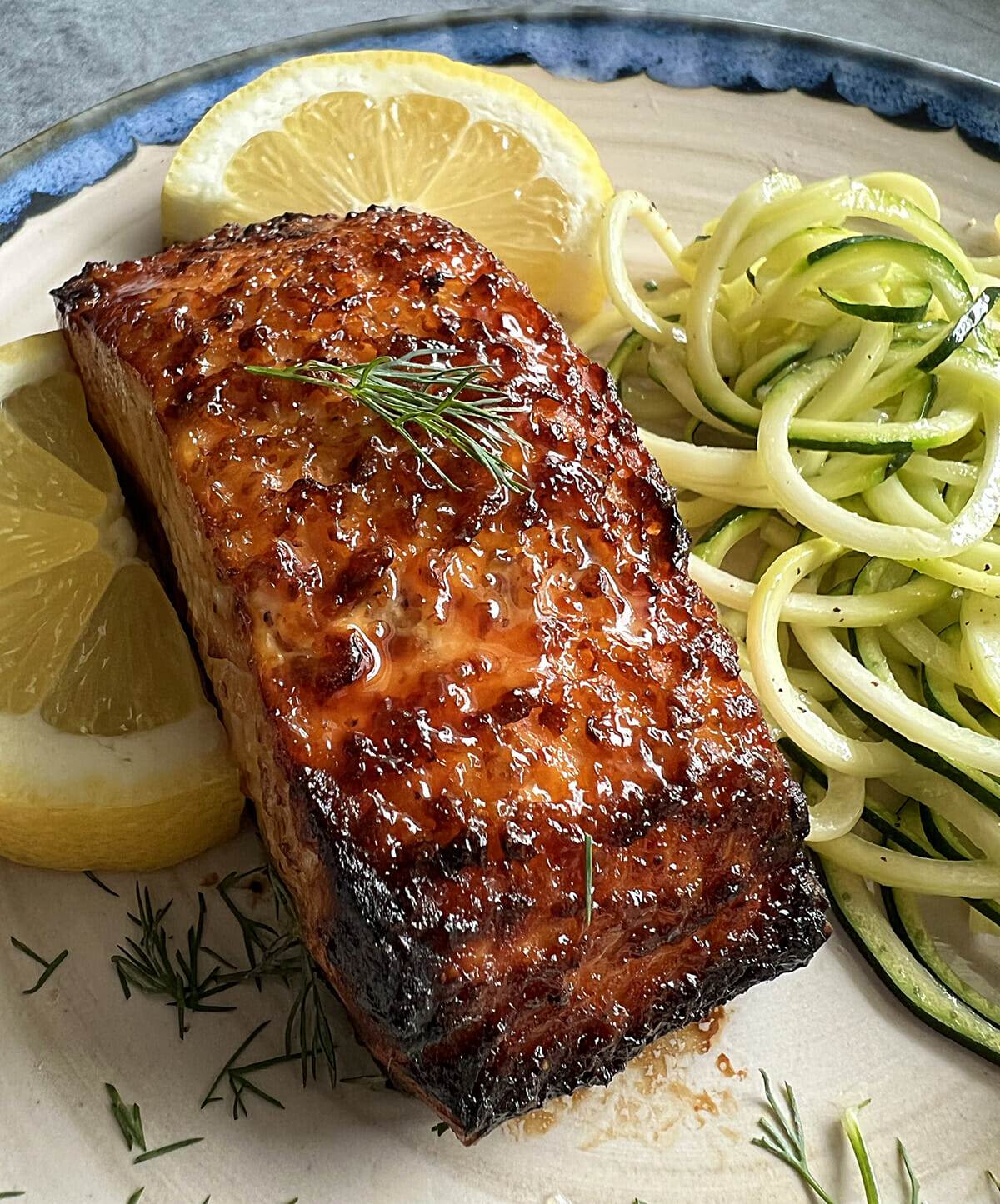 We all love easy recipes and it truly doesn't get much easier than this. We use our favorite dijon or stone ground mustard and combine it with honey for the perfect glaze for fresh salmon filets. No marinating, no special preparation, just combine the 2 ingredients, brush it on the salmon, and into the air fryer it goes. A short time later, you won't believe how beautiful and delicious this salmon will be!
Salmon in the Air Fryer
Salmon might be one of the most perfect foods to cook in an air fryer. We're not actually frying it. Rather, we're utilizing the air fryer environment to quickly cook our salmon filets, while giving us the perfect sear right on top. We don't need to move the salmon to the broiler or anything like that. The air fryer bakes the salmon and caramelizes the glaze all at once. Yeah, I'm a BIG fan of making salmon in the air fryer.
Ingredients
As mentioned, this recipe uses fresh salmon filets and just two other ingredients. I like to use filets of 6-8oz. It's the perfect serving size and cooks quickly. Our two ingredients are then a good stone ground or dijon mustard and honey.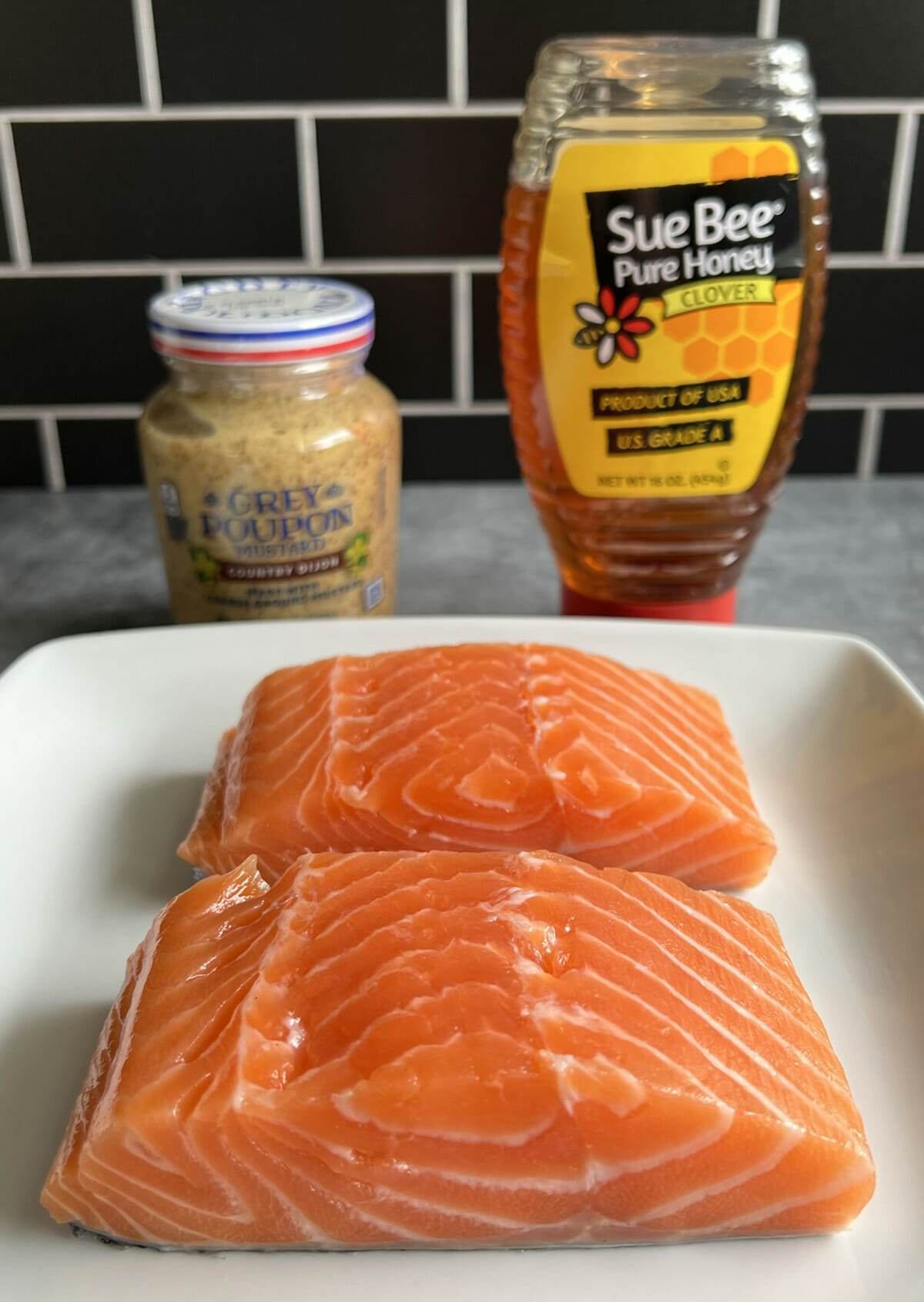 Mustard: Stone Ground, Dijon or Both?
Let's talk about the mustard. Stone ground mustard and dijon mustard are actually two different mustards. Dijon is usually a creamier mustard with a bit more "bite" to the flavor, whereas stone ground uses a very coarse grind for the mustard seeds and tends to have a milder flavor. Here's the thing… the combination of stone ground and dijon is very popular on store shelves where it's called, you guessed it – stone ground dijon mustard! Sometimes it's called "country" dijon or "coarse ground" dijon, but either way, it gives us an excellent combination of texture and flavor for our salmon. You can use the "country dijon", regular dijon or stone ground for this recipe.
Now of course, it's not all about the mustard. The sweet smoothness of honey compliments the mustard perfectly to balance out the flavors and provide a nice caramelization as the salmon cooks in the air fryer.
Preparation
Let's make this short and sweet. Use a small bowl and mix 1 tablespoon of your mustard and 1 tablespoon of honey. Then brush it on your salmon filets. Wait… is that it? Yes it is!
I always say brush it on liberally to get a nice thick crust/glaze. Get the sides of the salmon too. Sure, some will likely run off, but that's fine. The bulk of it will rest perfectly on our salmon filets.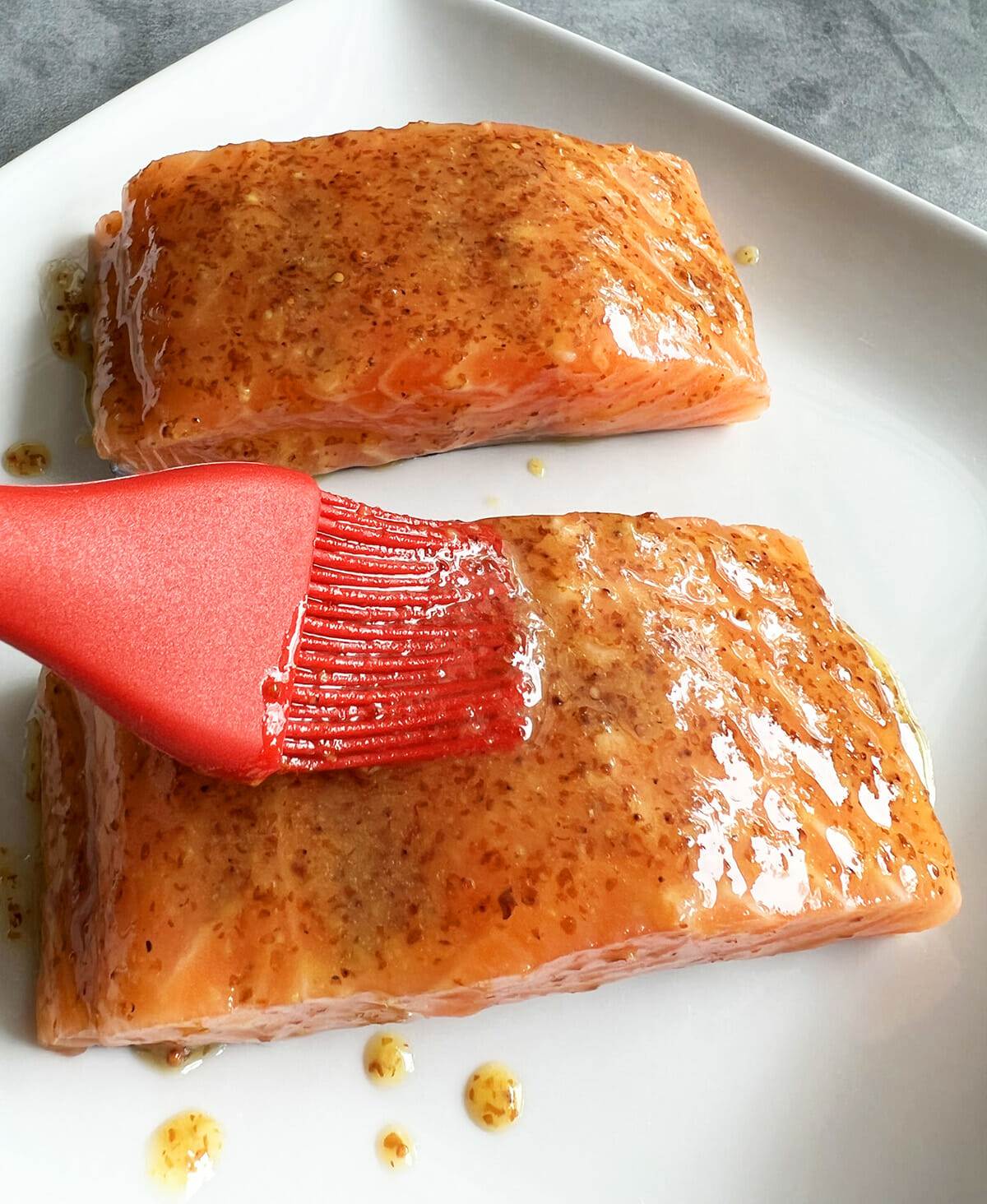 Air Fry at 380°(F) for 10-12 Minutes
Start with a preheated air fryer. It usually takes 5 minutes to preheat. Once it's preheated, add the glazed salmon filets to the air fryer basket or middle tray (depending on the type of air fryer you have), and use the "air fry" setting for 10 minutes. After 10 minutes, check for doneness with an instant read thermometer. The internal temperature should be 145°(F), and the glaze should have a nice bubbly caramelization. The salmon will easily flake with a fork when done.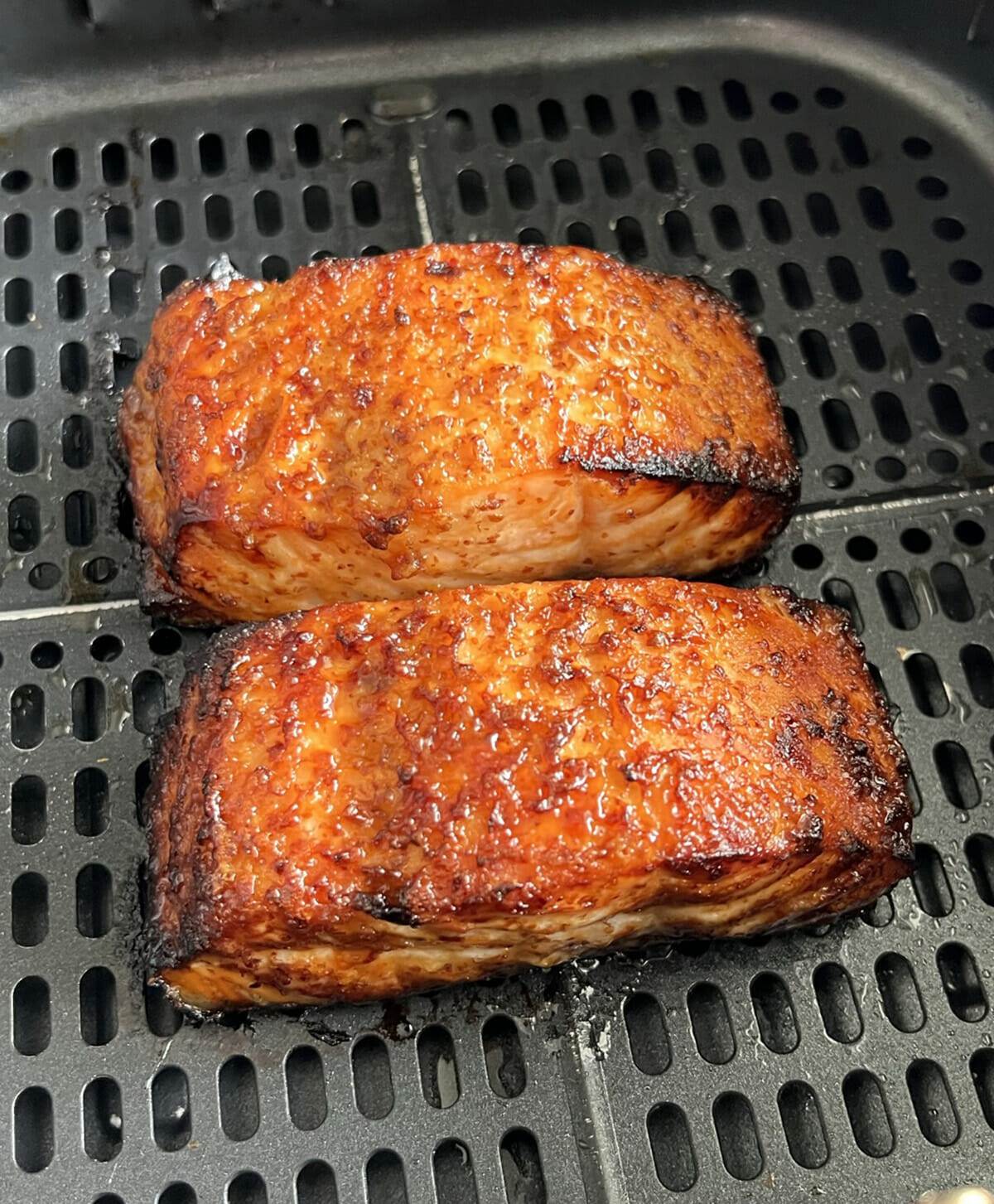 Ready to serve
Your air fryer honey mustard salmon filets are now ready to enjoy. As with most fish dishes, I like to serve with fresh lemon slices and fresh dill. You can also pair this recipe with any number or other side dish recipes.
Salmon is very popular with asparagus and nothing beats our Best Damn Air Fryer Asparagus. That particular recipe has you cooking the asparagus at 400°(F) for 10 minutes but go ahead and place it in with the salmon at 380°(F) for the suggested 10 minutes. The 2 dishes should be just about perfect and done at the same time.
I also love to serve rice with salmon. Our Instant Pot Rice Pilaf is an all-time favorite side-dish and pairs excellently with our salmon.
Zoodles are really awesome to have with our salmon as well. Zoodles are made by using a spiralizer with fresh zucchini. The spiralized zucchini can be sauteed in a pan with a little olive oil and garlic powder for about 5 minutes to make healthy accompaniment for our salmon.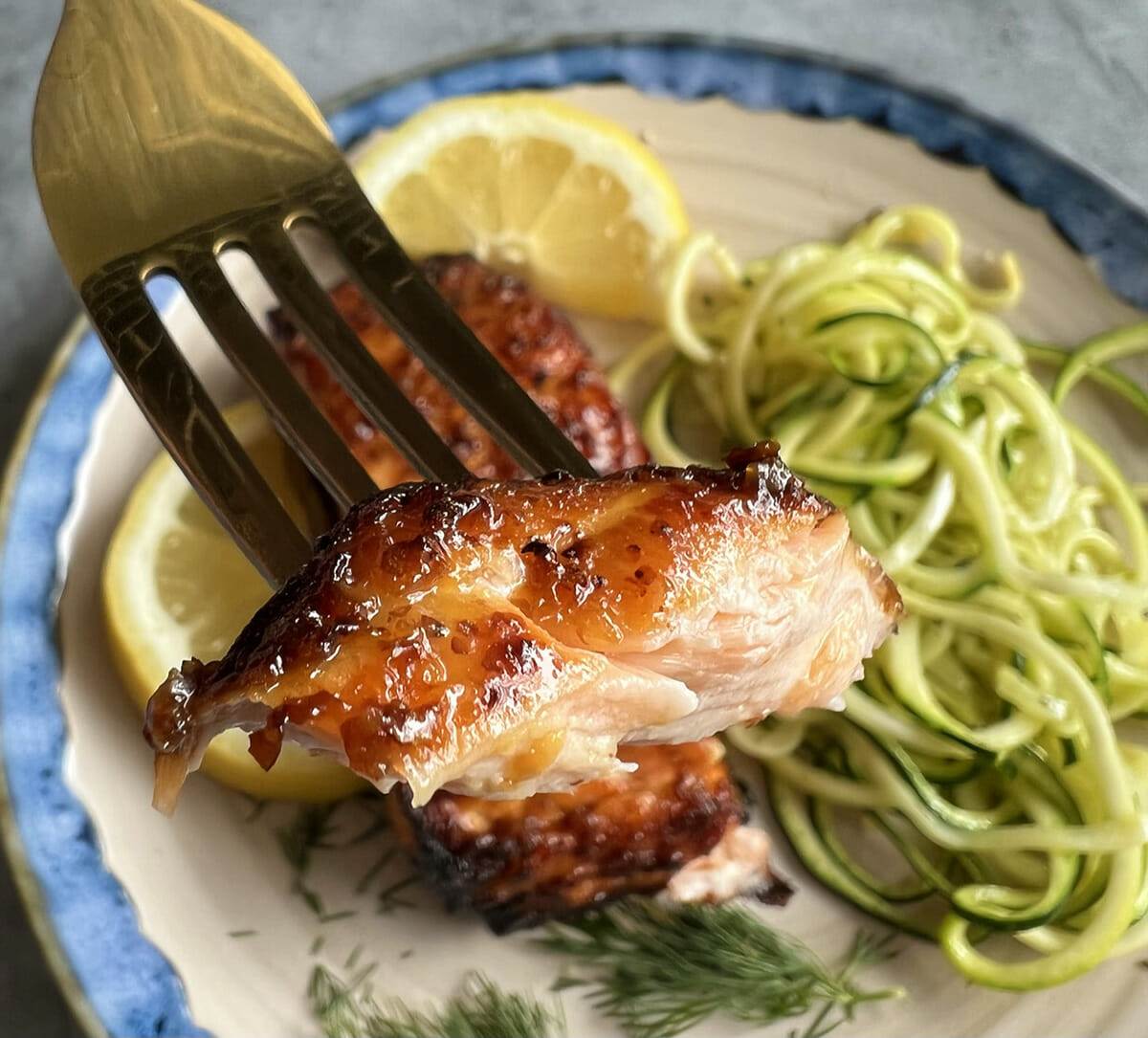 Print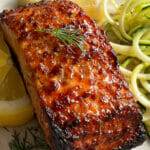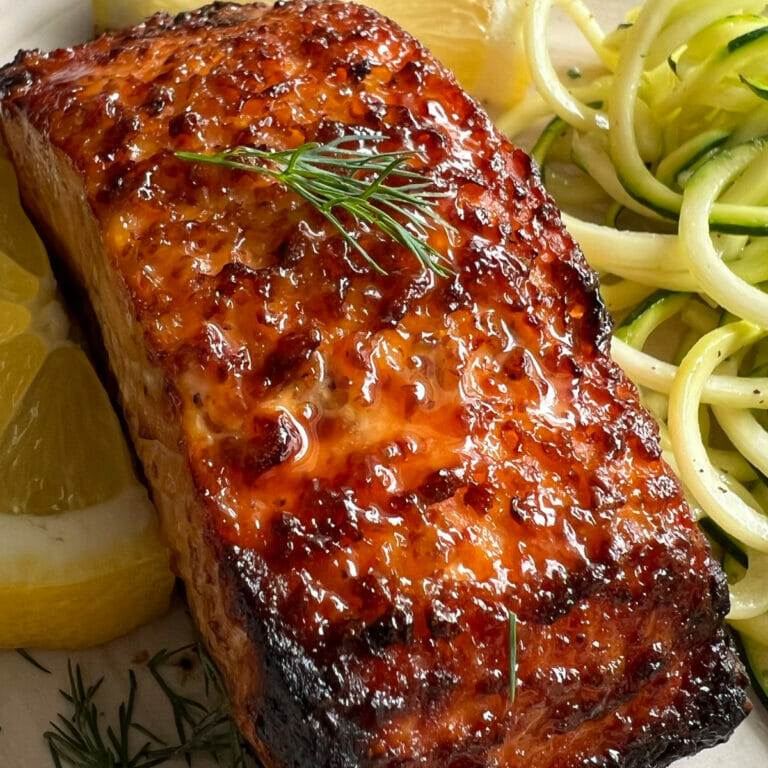 Easy Air Fryer Honey Mustard Salmon
---
Description
Just 3 ingredients make this awesome air fryer honey mustard salmon the perfect meal for any night of the week.
---
2

salmon filets (fresh, skin-on or off), 6-8oz each

1

tbs mustard, dijon or stone ground

1

tbs honey
---
Instructions
In a small bowl or dish, mix the honey and mustard well.
Preheat air fryer at 380°(F) for 5 minutes
Brush top of salmon filets with the honey mustard mixture.
Place salmon filets in air fryer basket or middle tray (depending on type of air fryer)
Use Air Fryer setting at 380°(F) for 10-12 minutes or until internal temperature of salmon reaches 145°(F) when read with an instant read food thermometer in the center.
Serve immediately.