Use your Instant pot and silicone egg bite molds to make the most awesome banana bread bites! These delectable little treats are loaded with bananas and oats, a hint cinnamon, and are the perfect grab-and-go breakfast treat.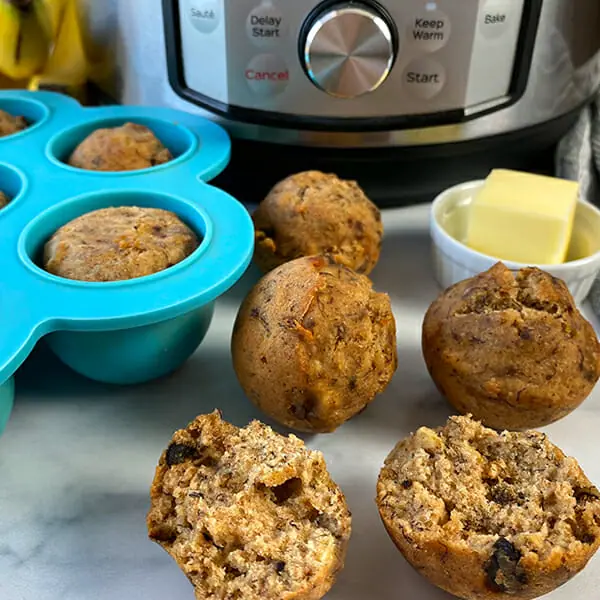 When I first started playing around with this recipe, i was doing it so I could make a quick breakfast bite that I could grab when heading out in the morning. There's those times when you simply don't have the time to have a whole meal in the morning, and there's times when you don't want an entire big muffin and deal with the mess. One of my favorite things to make in my Instant Pot are egg bites, which use a silicone mold to make 7 bite sized treats. It got me thinking that there has to be other recipes that can be made using the silicone mold, and I figured i'd adapt my favorite banana bread recipe for the Instant Pot. After several tries i've come up with the absolute perfect combination of ingredients, times and steps to make these little nuggets of breakfast gold!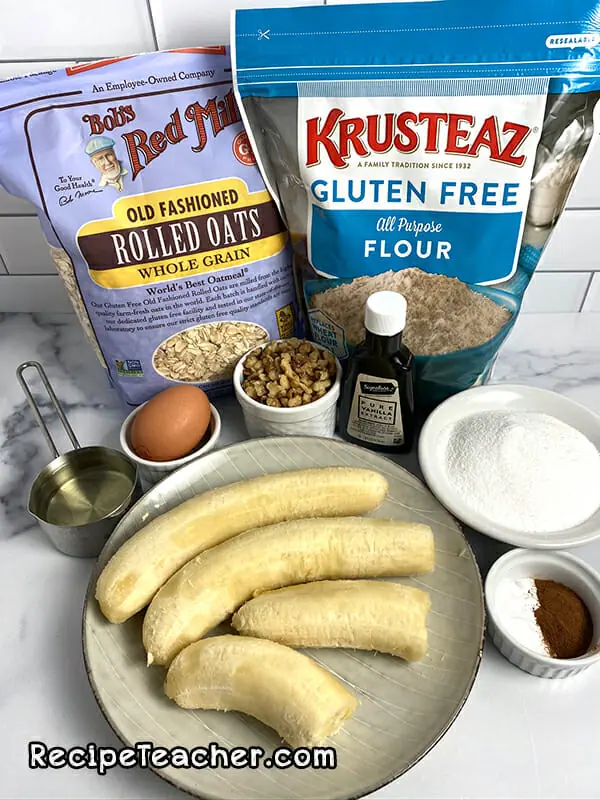 Naturally, a good banana bread or muffin will contain, of course, bananas. And when those bananas have been sitting on the counter for several days and start to get all dark on the outside, there's actually magic happening on the inside – sweetness! Yep, as bananas get ripe, and overripe, they are getting sweeter and sweeter on the inside. While the peels may be filled with dark spots and don't look attractive anymore, the bananas are preparing themselves to be the perfect ingredient in bread or muffins. For this recipe we'll use about 3 medium-sized, overripe bananas.
Gluten-Free or Regular Flour, Everything is the Same
Since our family enjoys lots of gluten-free treats, I went with GF for this recipe. We use a gluten-free all purpose flour mix which measures the same as regular all purpose flour. So if you want to make these with regular flour, everything will be the exact same. We also use gluten free old fashioned rolled oats. Again, you can substitute regular old fashioned rolled oats and measurements and cooking times will all still remain the same.
What are Silicone Egg Bite Molds?
As the Instant Pot craze has exploded the last couple of years, one of the most popular recipes is Instant Pot egg bites. The egg bites are made in silicone molds with small cups that can be filled with ingredients for cooking. You can see our recipe for The Best Damn Instant Pot Egg Bites for more information. The silicone molds are available now at many stores which sell Instant Pot and pressure cooker accessories, as well as online retailers. Here's the silicone egg bite molds that I use. Their use is certainly not limited to making Instant Pot egg bites. The size is perfect for other goodies too!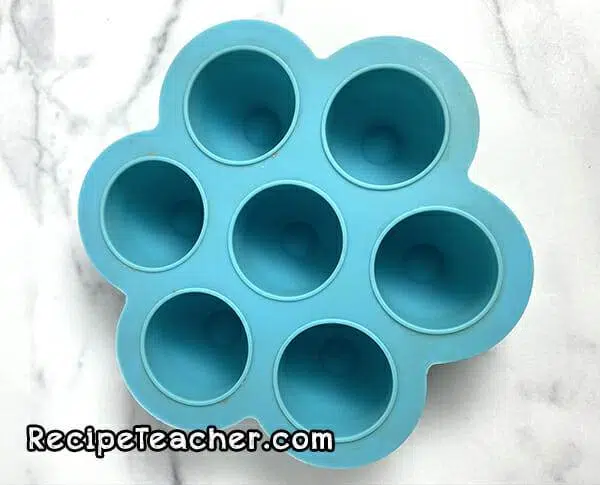 To make our Instant Pot Banana Bread Bites we will start with 2 medium sized bowls. In one, we mash up our overripe bananas and mix it with an egg, ⅓ cup of vegetable and some vanilla extract. In another bowl, we whisk together all the dry ingredients – (gluten-free) flour, oats, sugar, chopped walnuts, baking soda, cinnamon and a pinch of salt. Then we pour our banana mash into the dry ingredients and mix it so everything is well incorporated. You don't need a hand or stand mixer. In fact, you really don't want to over mix, just enough so you have a nice consistent batter. Next you'll want to spray just a bit of non-stick cooking spray into the silicone mold cups. I know, I know… it's silicone and supposed to be non-stick already! Trust me, you'll want that little bit of spray, it makes getting the finished product out so much easier.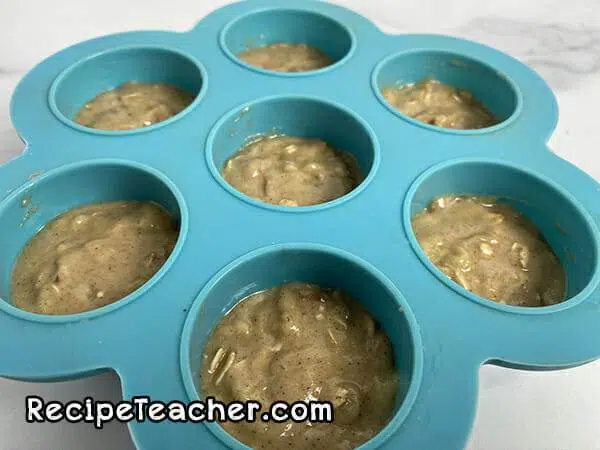 Now it's time to fill the cups with the batter. I use a teaspoon to carefully fill each cup about halfway. You definitely do not want to fill the batter all the way to the top, there needs to be some room for it to rise. Then we place the cover on top of the silicone mold. Some will come with a lid which snaps in place and is safe to use in a pressure cooker. If you're not sure, or have a lid that should not be pressure cooked, no problem! Just cover the mold with a piece of aluminum foil and wrap it around the edges. The pour a cup of water into the Instant Pot, place the covered silicone mold on the trivet and lower it into the pot. Pressure cook (manual on some models) on high pressure for 10 minutes, followed by a 5 minute release. Carefully remove the Instant Pot lid, remove the silicone mold, uncover and let sit for about 10 minutes to cool. Then, the banana bread bites will pop right out.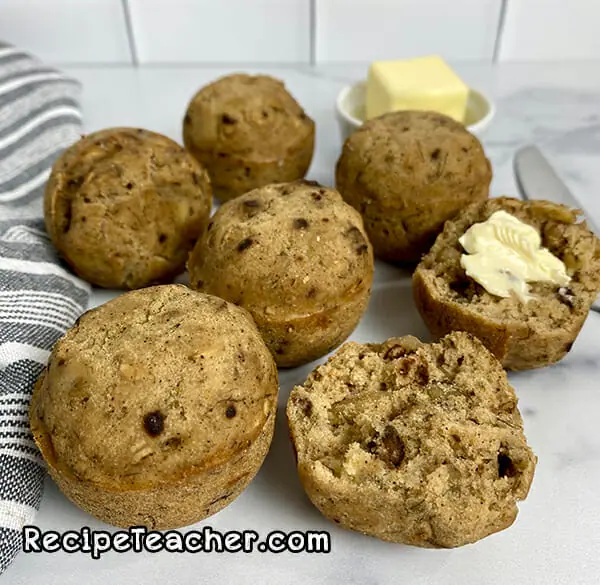 Print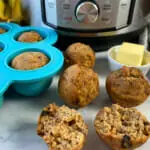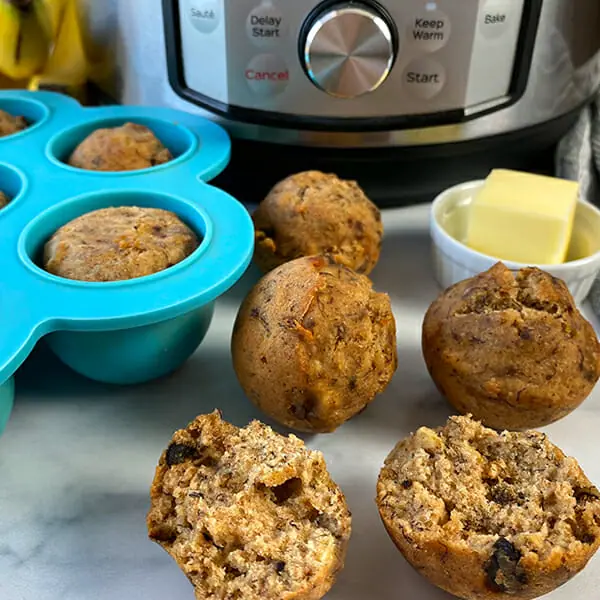 Instant Pot Banana Bread Bites (gluten free)
---
Author:

Total Time:

35 min (this includes time for Instant Pot to come to pressure)

Yield:

14 bites
Description
Moist, tender and delicious banana bread bites made in your Instant Pot pressure cooker. You can also make them gluten-free!
---
3

bananas – medium sized, over ripe

1 ½ cups

all-purpose gluten-free flour

1 cup

sugar

⅓ cup

vegetable oil

1

large egg

⅓ cup

old fashioned oats, gluten-free

¼ cup

chopped walnuts

1 teaspoon

baking soda

1 teaspoon

vanilla extract

½ teaspoon

cinnamon

¼ teaspoon

salt
---
Instructions
In a large bowl, mix all the dry ingredients – flour, sugar, oats, walnuts, baking soda, cinnamon and salt. Mix together well.
In a separate bowl mash the bananas and add the remaining ingredients – vegetable oil, egg, vanilla extract. Mix well and then add to the bowl with the dry ingredients. Mix everything together by hand until its all well incorporated. No need to over mix.
Spray each silicone cup with just a little cooking spray. Use a spoon and fill each cup with the batter halfway. Don't overfill! The batter will rise when cooking. Cover the silicone mold with pressure cooker safe lid or with aluminum foil.
Add 1 cup of water to the bottom of the Instant Pot liner. Place silicone mold onto trivet and lower down into Instant Pot. Pressure cook ("manual" on some Instant Pots) for 10 minutes. When cooking time is up, let pressure release for 5 minutes. You can then release the remaining pressure.
Carefully remove the trivet with and silicone mold and let it sit for about 10 minutes to cool. Banana bites should then pop right out and are ready to enjoy!
Prep Time:

10 min

Cook Time:

10 min, 5 min release

Category:

Breakfast

Method:

Instant Pot

Cuisine:

American
Keywords: banana bread, mini muffins, banana bites