This recipe for easy, sugar crusted raspberry muffins is one of my all time favorites. These muffins are so moist and the raspberry flavor is a burst of deliciousness that you just can't beat. Warmed up with a little butter spread on 'em and wow! Talk about amazing!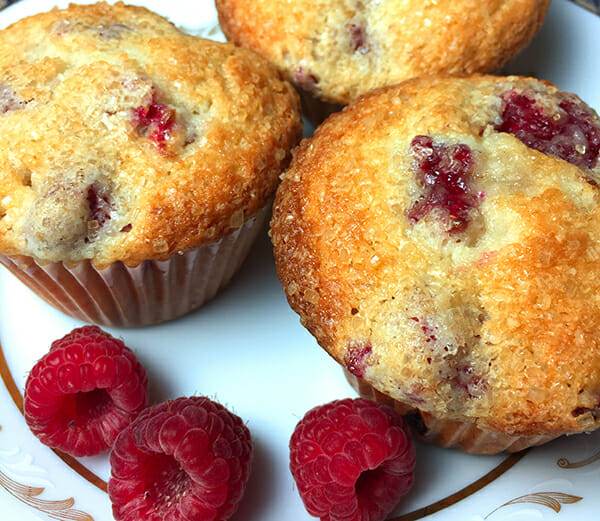 What Make These raspberry Muffins So Moist?
Ok, so what makes these muffins so delicious and so moist and sweet? Well there's a couple of really basic steps that make these muffins special. Instead of regular milk and butter in this recipe, we'll be using buttermilk and vegetable oil. While regular butter is great for things like cookies and brownies, muffins really benefit from the vegetable oil. It also works much better with the buttermilk to provide the batter with acidity, which helps break down the strands of gluten so you get that nice soft bite that just melts in your mouth. The buttermilk also works with the baking soda to give the muffins that light, fluffy and creamy texture. So really, the buttermilk and vegetable oil are two ingredients that you absolutely want when making these muffins.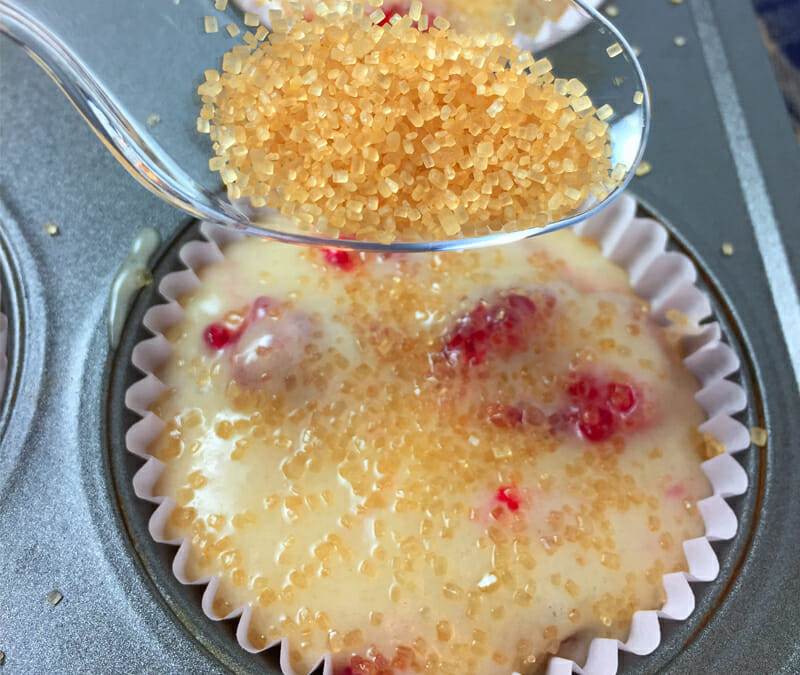 Can I Use Fresh or Frozen Raspberries?
I always like to use a container (6oz) of fresh raspberries for this muffin recipe. You can use frozen raspberries too, but you'll want to leave them out for about 20 minutes to defrost just a bit. Now if you're using fresh raspberries, you'll actually want to put them in the freezer for about 10 minutes prior to mixing into the batter. This will help firm them up a bit and prevent some of the squishing they go through in the process. The raspberries will of course break up a bit when folded into the batter, but that's exactly what we want.
We start by whisking together all the dry ingredients in one bowl, and the oil, buttermilk, egg and vanilla extract in another bowl. Then we mix them together until everything is well incorporated. Next you will gently fold in the raspberries. By "folding", simply use a spatula and gently fold the batter over the raspberries until it's all mixed in. Then we put cupcake/muffin liners in a standard sized muffin tin and and gently spoon the batter into each on. Fill each liner about ¾ full.
Turbinado Sugar Makes The Perfect Sweet and Crunchy Topping
Finally, we'll add some turbinado sugar to the top of the muffins. Turbinado sugar is a course sugar commonly used in pastry and baked goods as a sweet topping. It adds an amazing sweet crunch to each bite that is just delectable! Everything then goes into the oven for 22-26 minutes, or until a toothpick is inserted and comes out clean. Once removed from oven, give them about 15 minutes to cool before enjoying.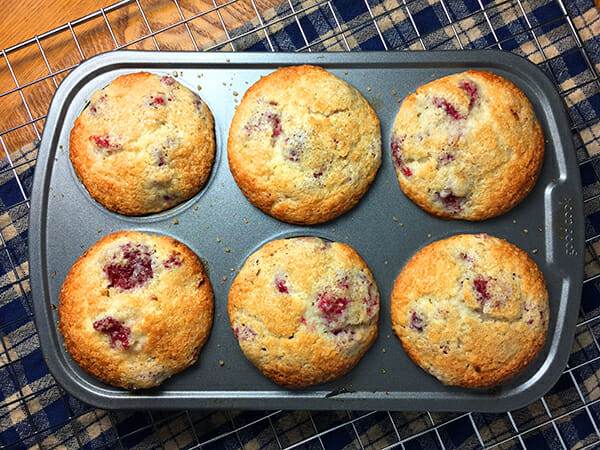 Print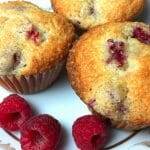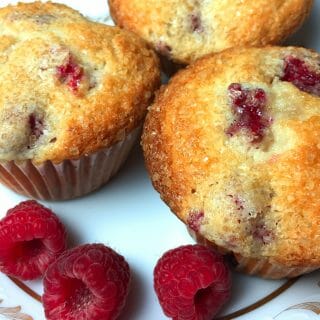 How to Make Raspberry Muffins
---
Total Time:

40 mins

Yield:

8-10 muffins
Description
Moist, tender, and heavenly raspberry muffins topped with crusted sugar and baked to absolute perfection. This easy recipe will become an instant family favorite.
---
6oz

package of fresh raspberries

1 ½ cups

all-purpose flour

1 cup

sugar

½ cup

buttermilk

⅓ cup

vegetable oil

1

egg, room temperature

1 ½ teaspoons

vanilla extract

1 teaspoon

baking powder

½ teaspoon

salt

1 tablespoon

turbinado sugar
---
Instructions
Preheat oven to 400F.
In large bowl, whisk together dry ingredients. In another bowl, mix oil, buttermilk, egg and vanilla extract. Then add dry ingredients to wet ingredients and mix by hand into a batter.
Gently mix in raspberries. Spoon raspberry batter into muffin tin lined with paper cupcake liners. Fill about ¾ full. You'll get about 8-10 muffins.
Use a spoon and sprinkle a layer of turbinado sugar on top.
Bake for 22-26 minutes or until toothpick inserted into center of muffin comes out clean.
Prep Time:

15 mins

Cook Time:

25 mins