This delicious recipe for air fryer coffee crusted pork chops uses a simple seasoning rub with coffee grounds, to create a bold and savory pork chop that cooks to perfection in about 10 minutes.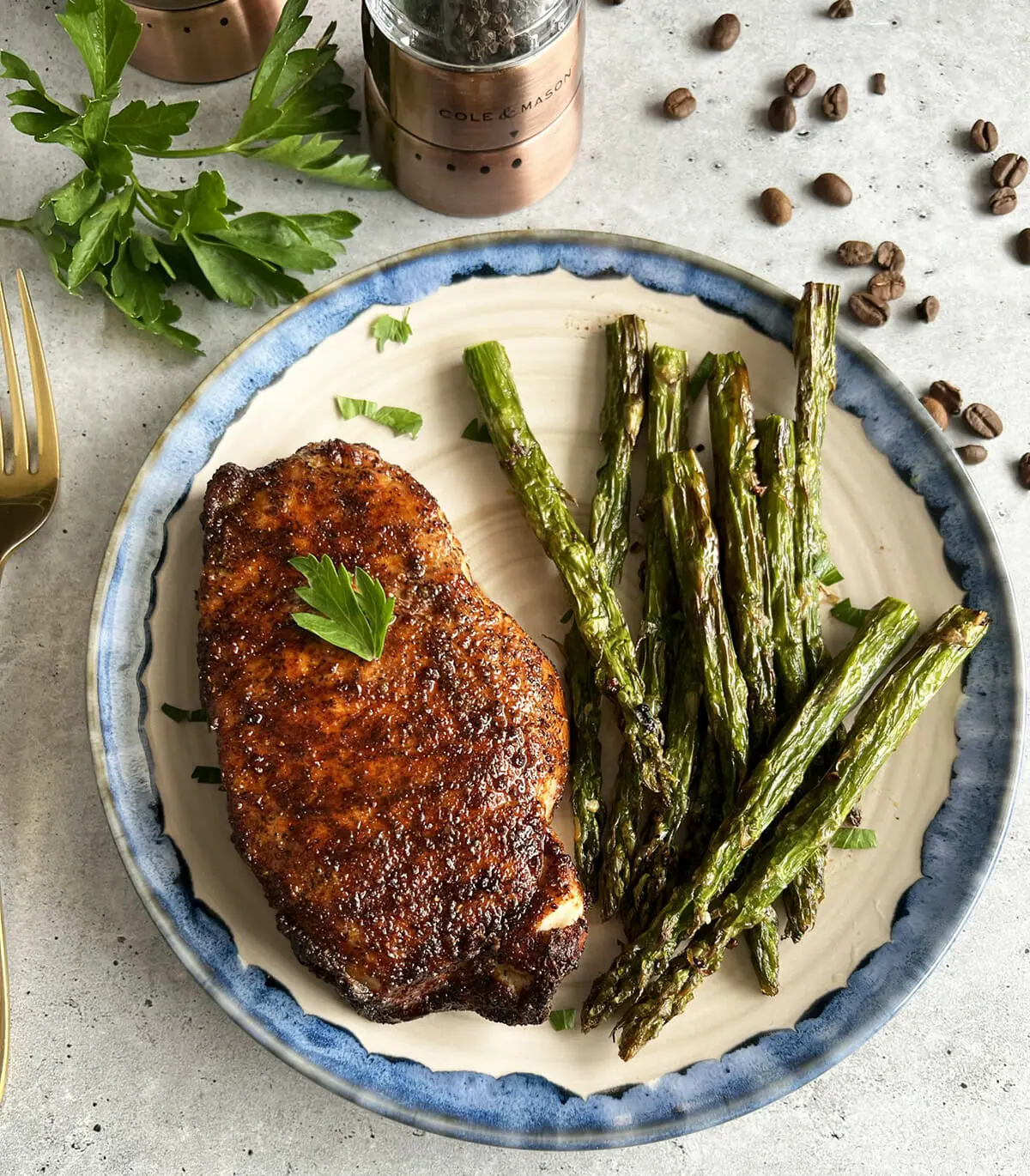 Pork chop recipes are so perfect for the air fryer. We especially like using dry seasoning rubs to create the best overall flavor profiles. This superb seasoning rub features coffee grounds, along with a few other ingredients to really bring out the natural flavors of the pork, while providing the deep and delicious flavor of the coffee.
What is a Coffee Rub?
Coffee has a rich history that dates back centuries. Growing conditions, soil, climate, etc., can all affect this amazing crop to create a cornucopia of flavor profiles, from rich and complex to light and simple. One thing is for sure, mankind has had a love affair with coffee in all it's varietal forms.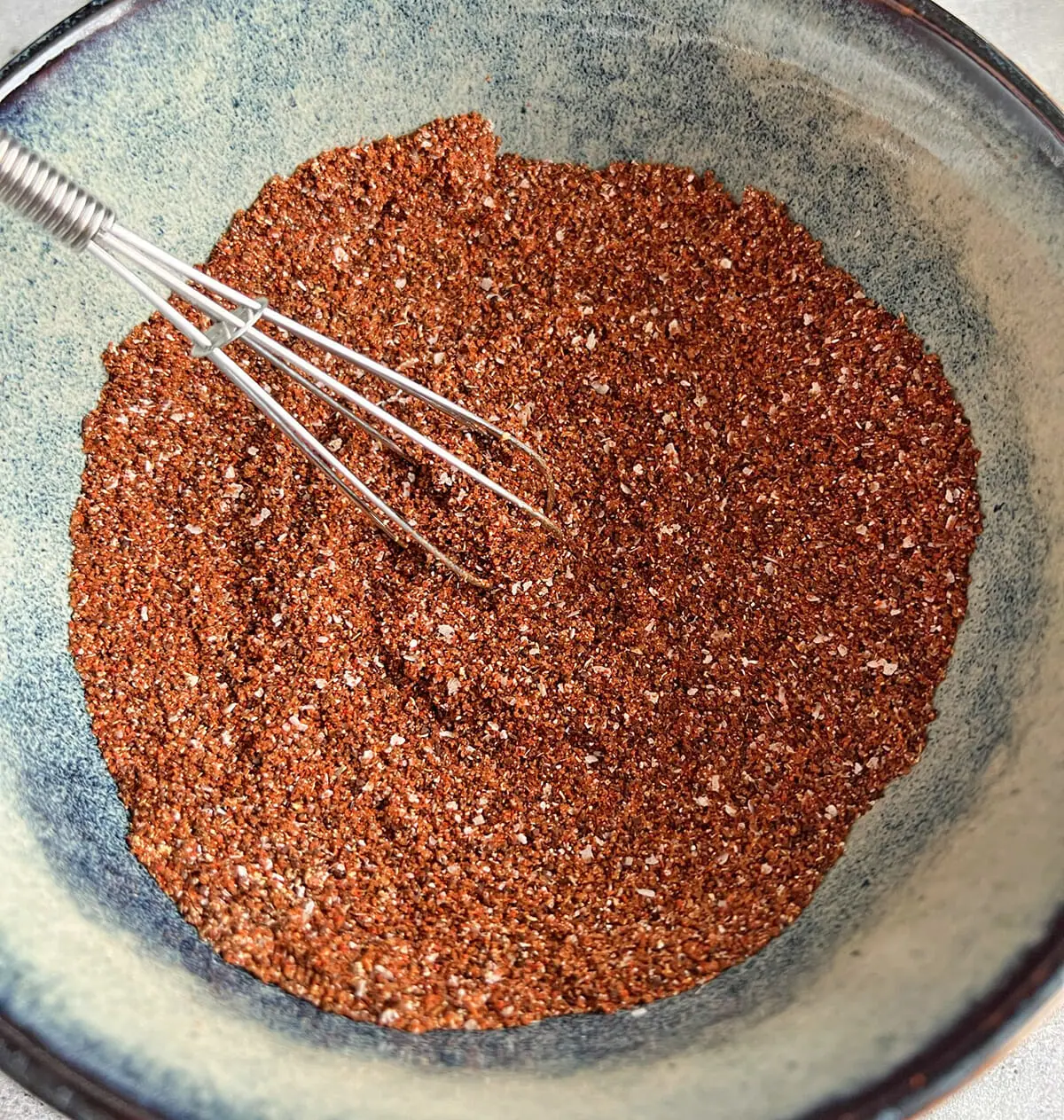 Using coffee as an ingredient in seasoning rub is an exciting way to enjoy several different meats and recipes. Coffee rub for pork is definitely one of my favorites! Coffee grounds can be bitter on it's own. But, once we balance it out with other ingredients, it all comes together to great bold, deep, flavors which accentuate each other for a rich, vibrant and savory flavor profile. The overall taste will not be overwhelmed with coffee flavor. Rather, we get the essence of the coffee flavor, along with brighter, deeper flavors from the other ingredients to go with a juicy, tender pork chop. Oh it's SO good!
Ingredients
Naturally, the main ingredient will be your favorite ground coffee. A standard, medium grind will be just fine. We balance out the coffee with an equal amount of brown sugar. We then get bold and deep with some chili powder and smoked paprika. Onion powder and garlic powder will further deepen the savory aspects. Ground coriander is then the perfect ingredient to brighten things up and add a vibrance to the flavor. How about a little cinnamon? Yep, just a touch of cinnamon works to further bring out all the flavors, without overwhelming at all. Of course, a little salt to taste will round out our coffee rub.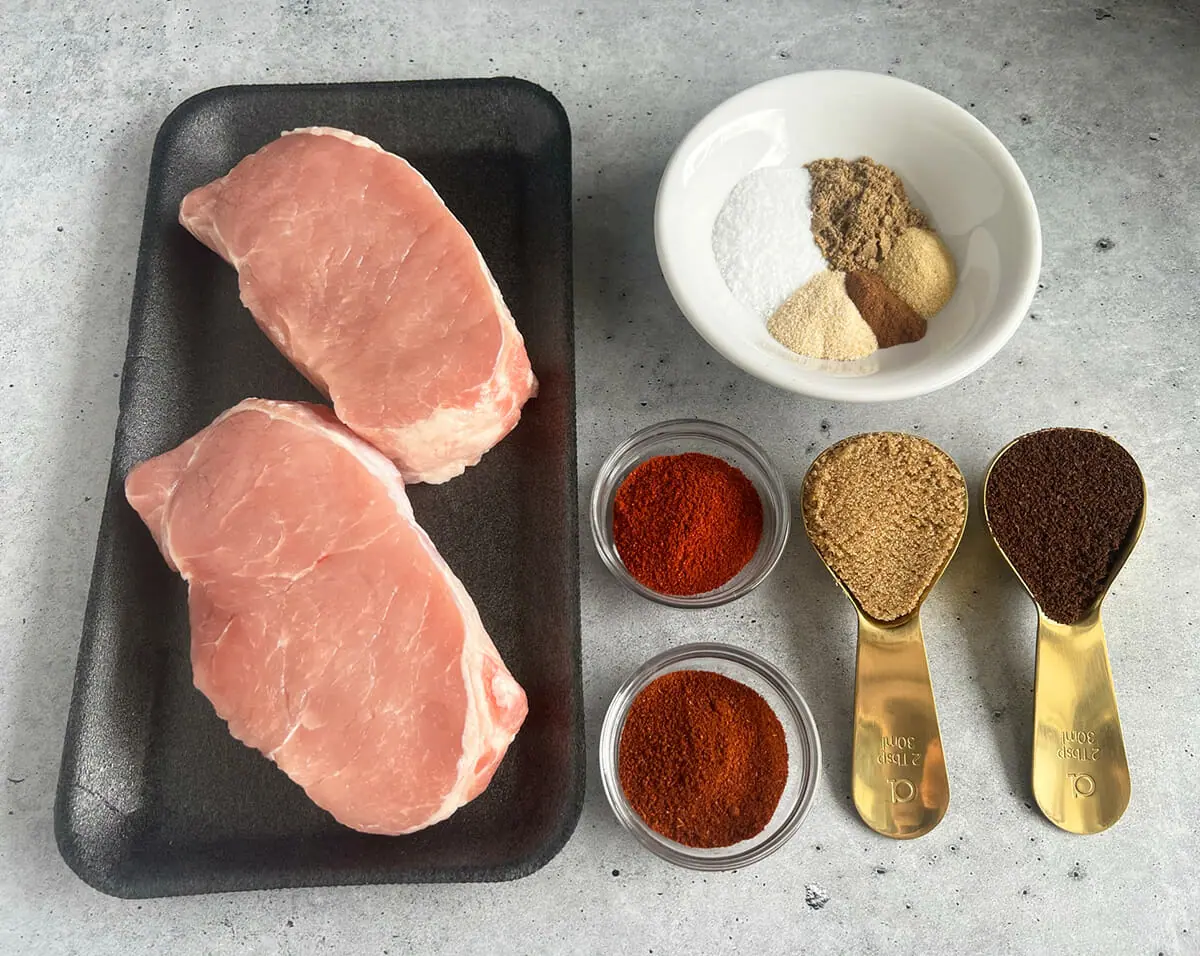 Preparation
Preparation of our coffee crusted air fryer pork chops is super easy. Mix all the dry ingredients, brush a little olive oil on the pork chops and add the seasoning rub. We'll make plenty of rub so you can get as liberal as you'd like with applying the seasoning. Naturally, I like to really go heavy so that it creates a nice crust of flavor on the pork chops. Any remaining seasoning can be saved for use another day.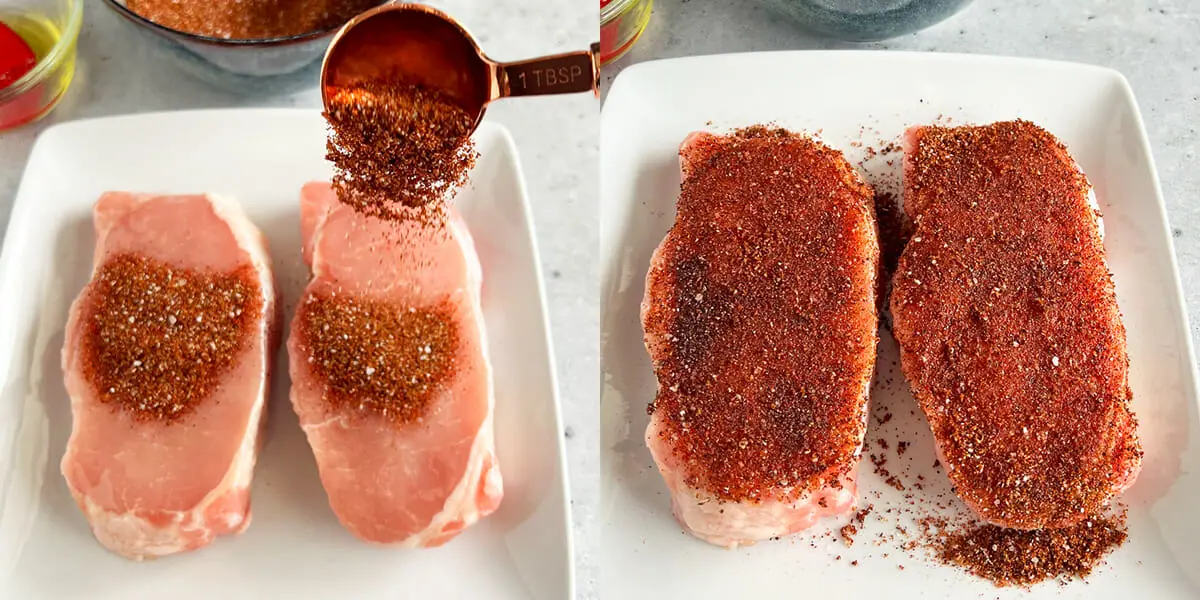 Air Fry at 400°(F) for 8-12 Minutes
Start be preheating the air fryer for 5 minutes at 400°(F). The preheating is important. We'll get a nice sizzle when we place the pork chops in the basket or on the tray. Once it's preheated, set it to the air fry setting for 8-12 minutes, depending on the thickness of the pork chops. Choose 8 minutes for pork chops that are around ½″ thick. Go for 12 minutes for chops that get over 1.25″ inches thick. The key is get in internal temperature of 145°(F) in the middle of the pork chops. An instant read food thermometer is your best friend for getting the pork chops done just right. Flip the pork chops halfway through the cooking time.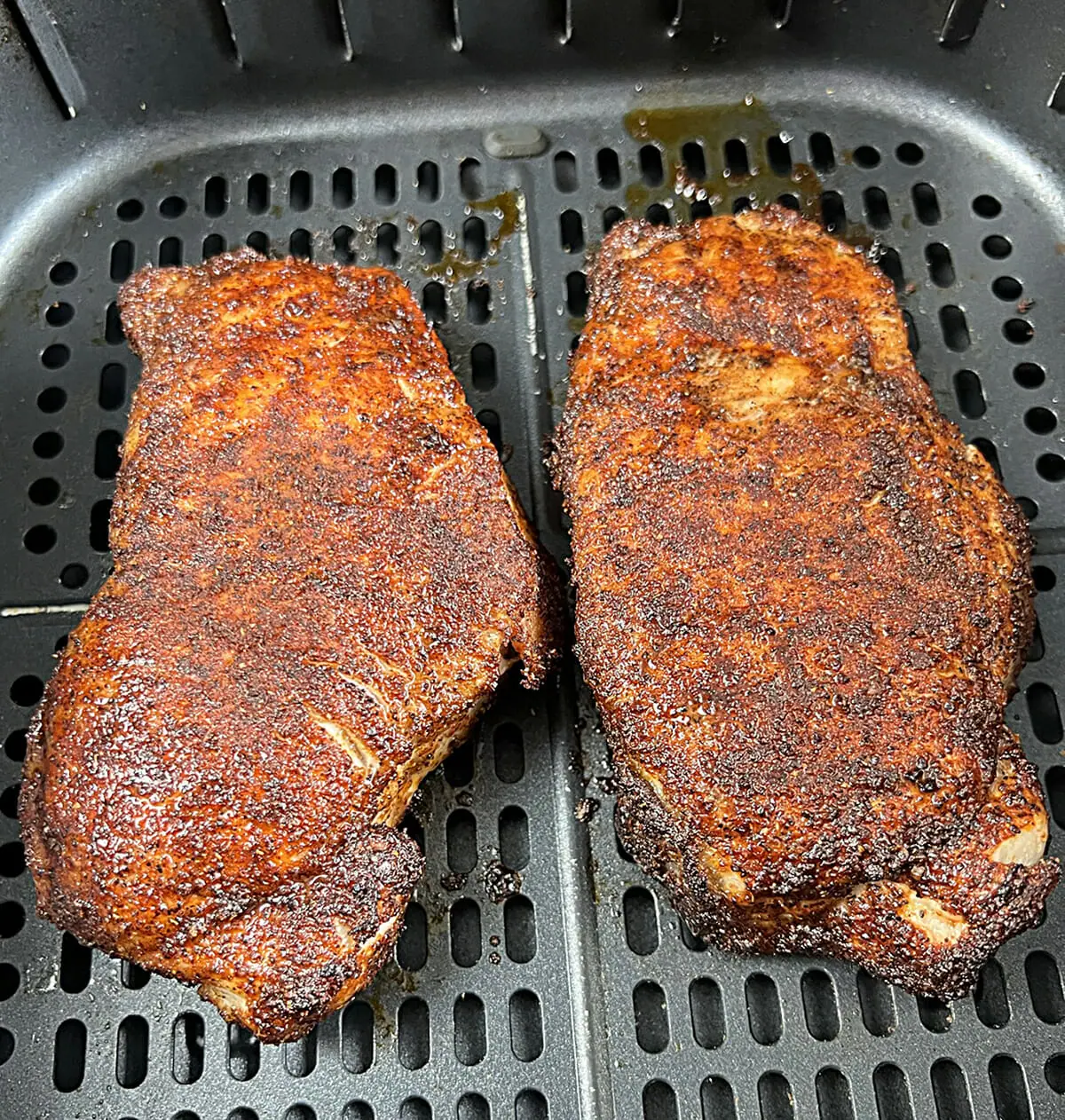 Let Rest After Air Frying
Once the pork chops are cooked to our liking, carefully remove from the air fryer and let them rest on a plate for about 5 minutes before serving. The resting time is important. This allows all the juices to redistribute throughout the meat. Then they'll be nice and tender and juicy when we slice into them.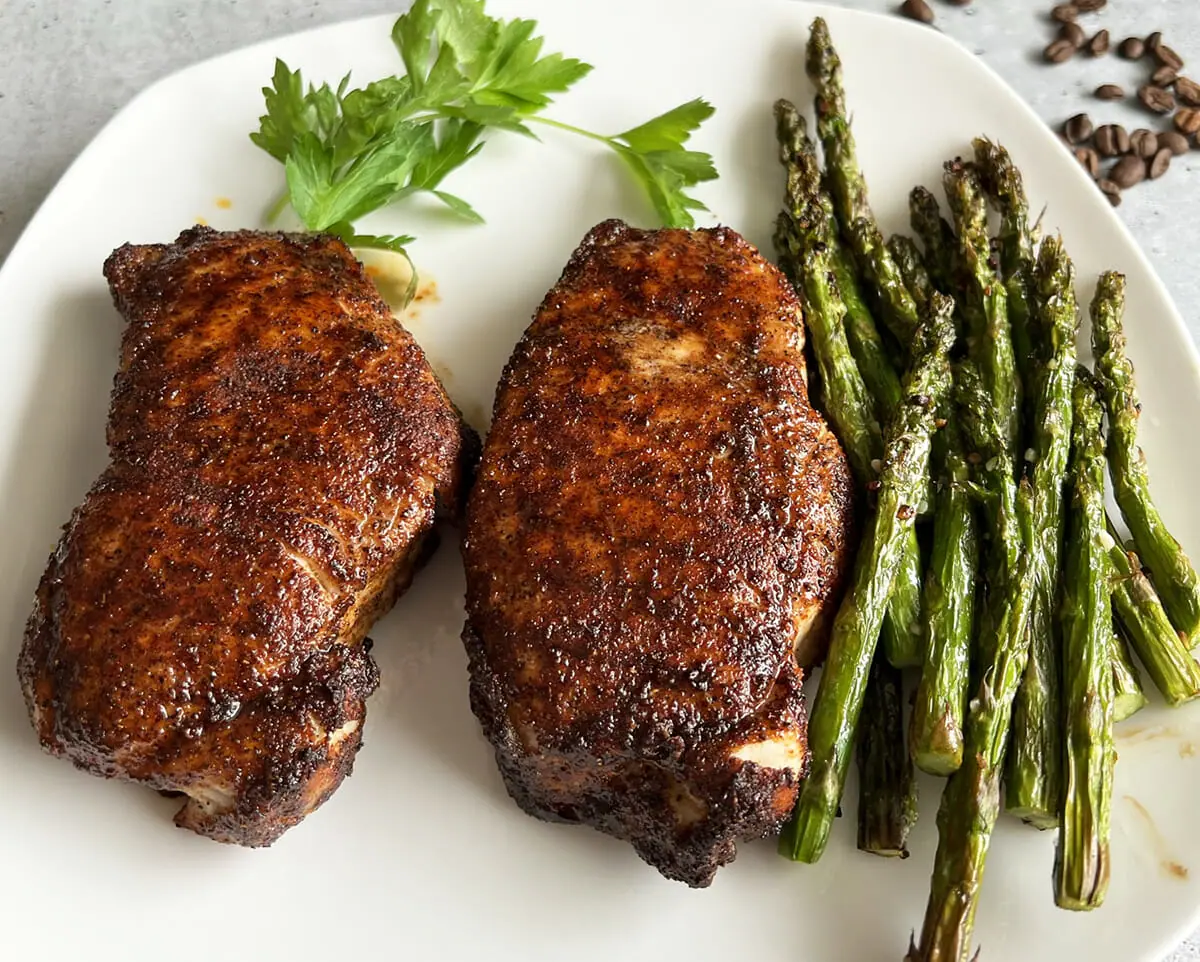 Serving Suggestions
Our coffee crusted pork chops pair well with many side dishes. My personal favorite is asparagus. Our Best Damn Air Fryer Asparagus is perfect to accompany our pork chops. Our Air Fryer Sweet Potatoes are also an excellent choice. You can also enjoy classic scalloped potatoes with Jean's Scalloped Potatoes or with our Best Damn Instant Pot Mashed Potatoes.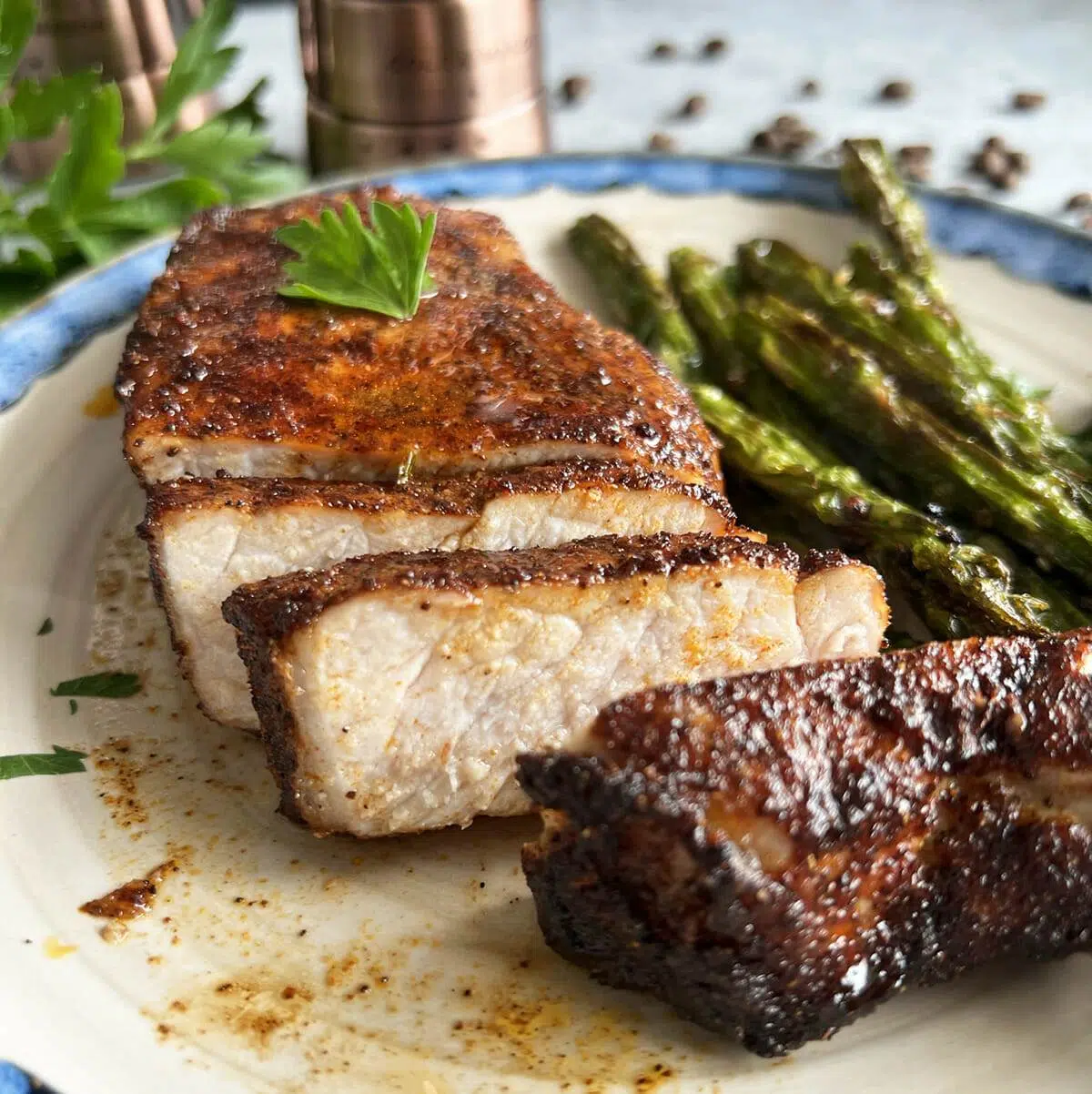 Variations
One of the nice things about this recipe is that you can customize and make it your own. Give it a little south of the border flavor by adding some ground cumin. Want a little bit of heat? Some ground cayenne can really bring things to life. In fact, I recommend a small amount of cayenne anyways. As little as ⅛ tsp will help further bring out all the flavors. You can also experiment with different coffee roasts. Naturally, dark roasts will deepen the coffee flavor. Roasts such as French Roast can really take things to the next level. Lighter roasts like a breakfast blend or a Hawaiian roast will keep things more delicate and let the other flavors shine.
Print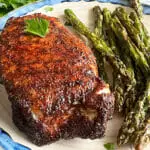 Air Fryer Coffee Crusted Pork Chops
---
Author:

Total Time:

15-18 min

Yield:

2 pork chops
Description
Pork chops are seasoned with a simple coffee rub and cooked to perfection in your air fryer. This dish features rich, complex flavors that turn ordinary pork chops into extraordinary.
---
2

pork chops (boneless or bone-in)

1

tbs ground coffee

2

tbs brown sugar

1

tbs smoked paprika

1

tbs chili powder

2 tsp

kosher salt

1 tsp

ground coriander

1 tsp

onion powder

¼ tsp

garlic powder

¼ tsp

ground cinnamon

⅛ tsp

cayenne (optional)

2 teaspoons

olive oil
---
Instructions
Preheat air fryer at 400°(F) for 5 minutes
Mix all dry ingredients in a bowl or jar.
Add olive oil to pork chops. Use just enough to lightly coat each side.
Liberally add seasoning rub to pork chops. Get the sides too!
Place seasoned pork chops into preheated air fryer basket or tray (middle position), and use air fry setting for 8-12 minutes. 8 minutes for thin chops (½″), 12 minutes for chops that are 1.25″ or thicker. Flip halfway through cooking time. Internal temperature should be 145°(F) when done.
Carefully remove pork chops from air fryer and let rest on a plate for 5 minutes before serving.
Notes
The ingredients for the dry rub will make about ½ cup of the seasoning. Save remining for additional pork cops or for use another day. Store in an airtight container.
Prep Time:

5 min

Cook Time:

10 min

Category:

Dinner

Method:

Air Fryer

Cuisine:

American