Chicken legs seasoned with a simple, sweet and savory BBQ rub, then grilled to juicy tender perfection. Once you sink your teeth into these, you'll see why they're called the Best Damn Grilled Chicken Legs!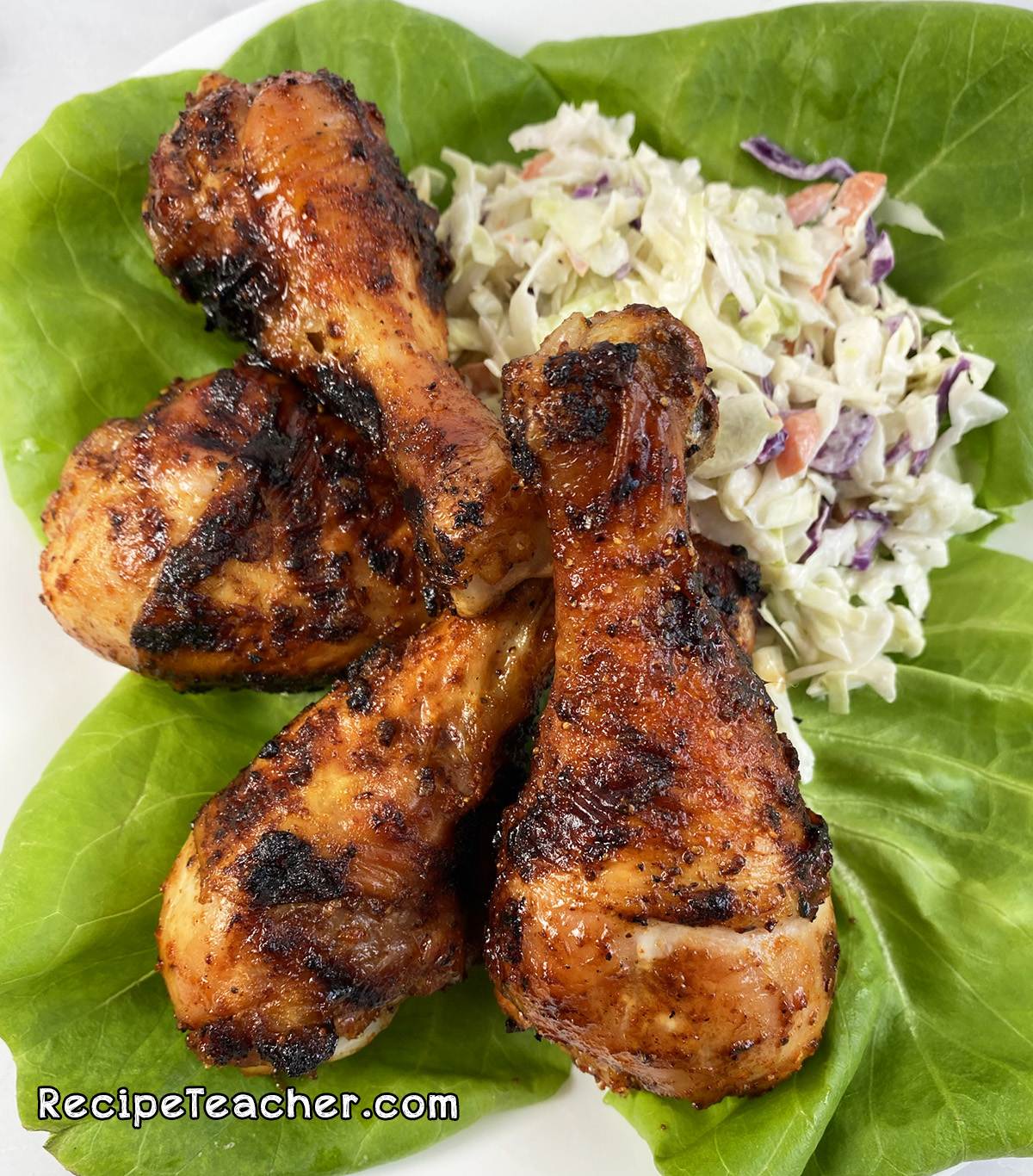 Chicken legs are quite possibly one of my favorite foods to make on the grill. They're so perfect for the flame kissed, smokey goodness that grilling offers. And there's something so satisfying about watching them get those awesome grill marks and char, the skin getting nice and crispy, and then devouring them right down to the bone. No that's some good stuff!
Chicken Legs are Easy and Affordable
Chicken legs are one of the most affordable pieces of chicken you can buy. Sometimes a big package of fresh chicken drumsticks are only a few dollars and are more than enough to feed a small crowd. They're easy to find, require little prep, and as you'll see with this recipe – super easy to cook just right.
A simple BBQ dry rub
We'll season our chicken legs with a nice and simple spice rub made from very common pantry ingredients. These ingredients work together to give the chicken legs a great sweet and savory BBQ flavor, while working so well with the natural flavor of the chicken. No one part of the flavor profile is overwhelming, rather, it's the combination of all the flavors that provide that awesome deliciousness. The ingredients you'll need for the spice rub are:
Brown sugar
Onion powder
Garlic powder
Ground mustard
Smoked paprika
Salt and pepper
Ground cayenne (optional, but highly suggested)
The brown sugar works to give provide a sweetness and help caramelize and crisp the skin. The onion and garlic powder provide the savory flavors, the ground mustard, black pepper and smoked paprika help bring everything to life and give the rub a nice vibrance. The cayenne turns things up a notch just a bit. It's not overwhelming at all, but rather, provides more full flavor.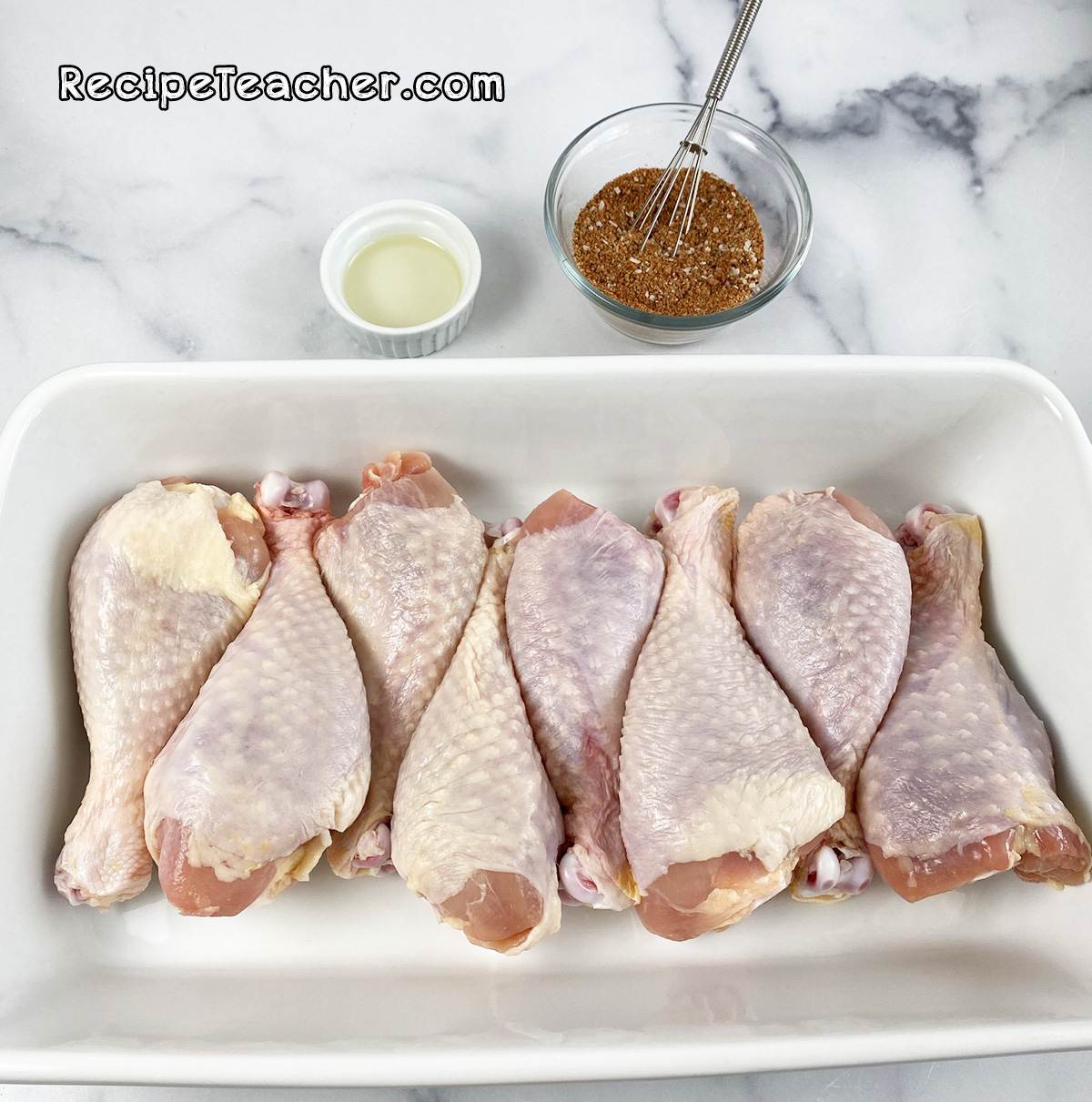 Easy Preparation
For this recipe we'll use 8 chicken legs. Simply mix all the dry ingredients in a bowl or zip-top bag, coat the chicken with vegetable oil, and apply the seasoning rub. You can add the chicken directly to the zip-top bag and shake them around, or just do it all on large plate or platter. Now they're ready for the grill.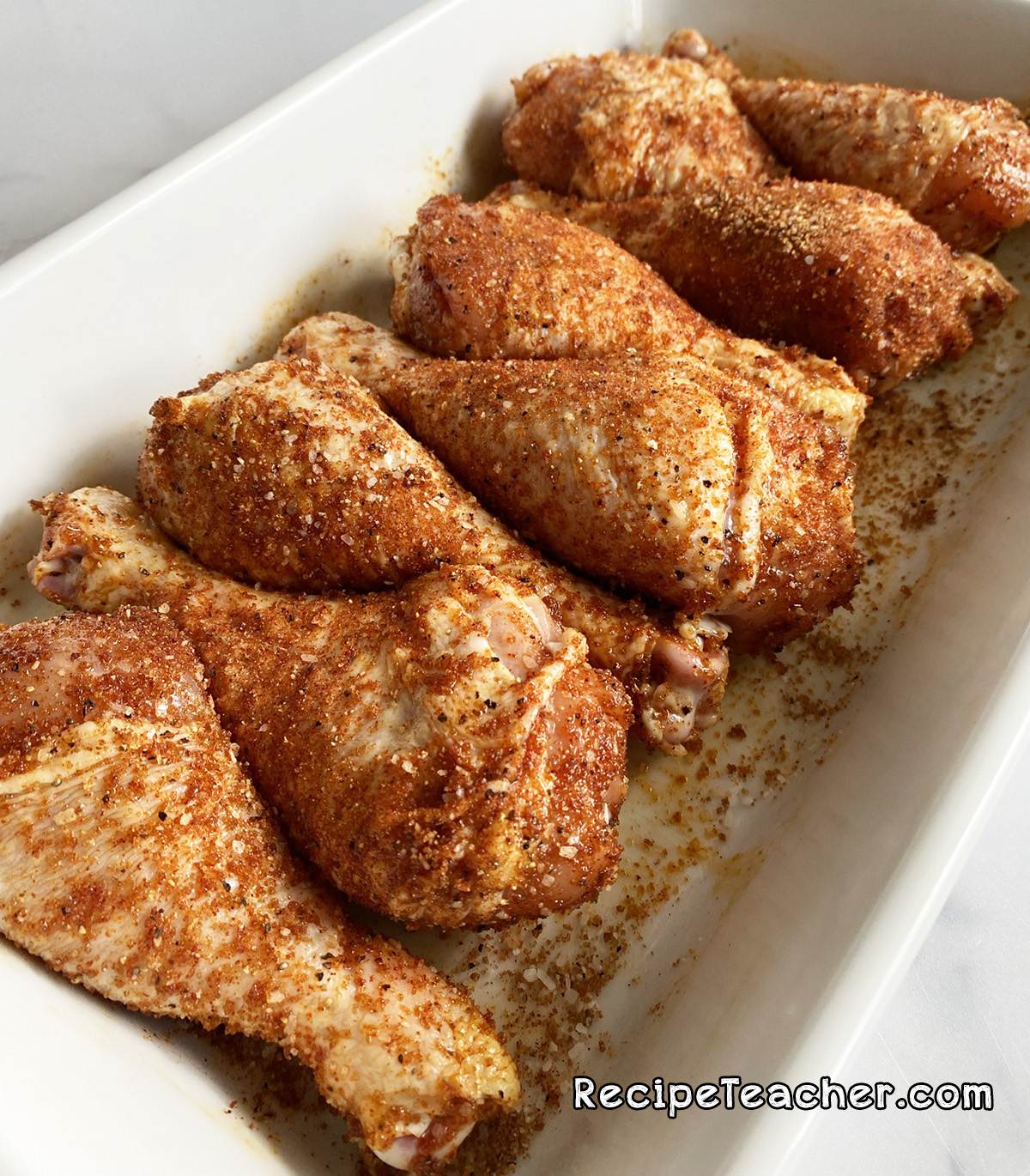 Start with a hot, clean grill
One of the keys to successful grilling is to have a good clean grill that's rubbed down with oil. This is called seasoning the grill. Preheat your grill with the lid closed for at least 5 minutes. You want those grates to be good and hot!
Grill chicken legs on medium, turning frequently
Start by putting the thickest side of the chicken legs down on the grill first. Then leave them alone for about 5-7 minutes. The chicken will start to release from the grill and will easily be turned with tongs. After the 5-7 minutes, give the chicken a ¼ turn for another 5 minutes. You will continue turning every 5 minutes for a total of about 30-35 minutes, or until the internal temperature registers at 165° – 185°(F) on an instant read food thermometer.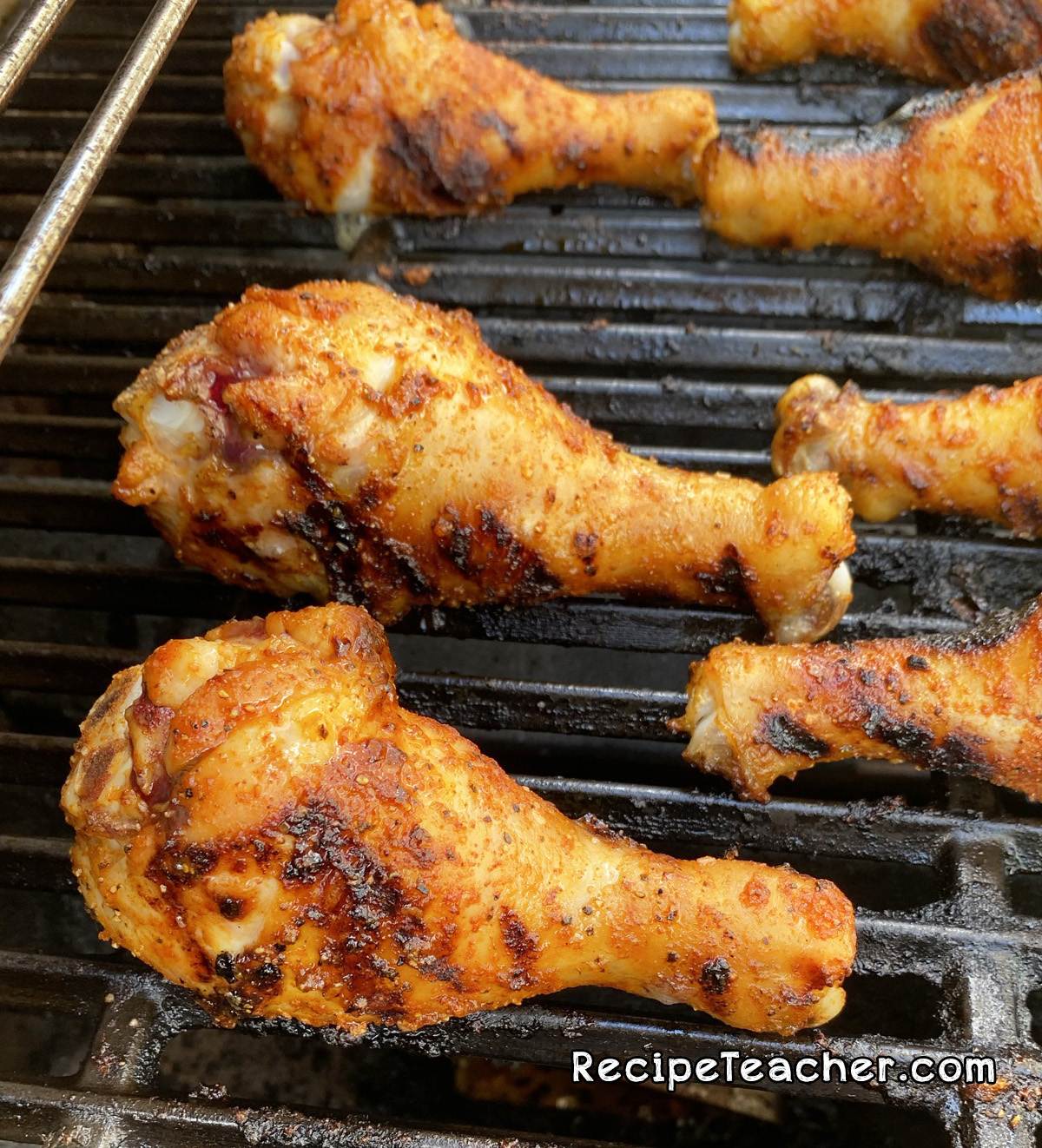 Let rest before serving
When your chicken legs are done, remove from the grill and let rest before serving. This allows for all the natural juices to redistribute and will be so mouthwatering and juicy when you're ready to dig in.
Can the recipe be doubled?
The answer is simple – yes! You can even triple with no issues.
Does it need the cayenne?
The cayenne will indeed provide some zip to the flavor profile, but is hardly considered hot in such a small amount. It really helps to bring the other flavors to life. You can absolutely cut it back to ⅛ teaspoon if extra sensitive.
Can I use regular paprika in place of smoked paprika
Smoked paprika has a very unique flavor that is so wonderful in this BBQ dry rub. If you don't already have some in your pantry, definitely pick some up. But if you only have regular paprika, use it and bump up the onion and garlic by ½ teaspoon each for additional flavor boost.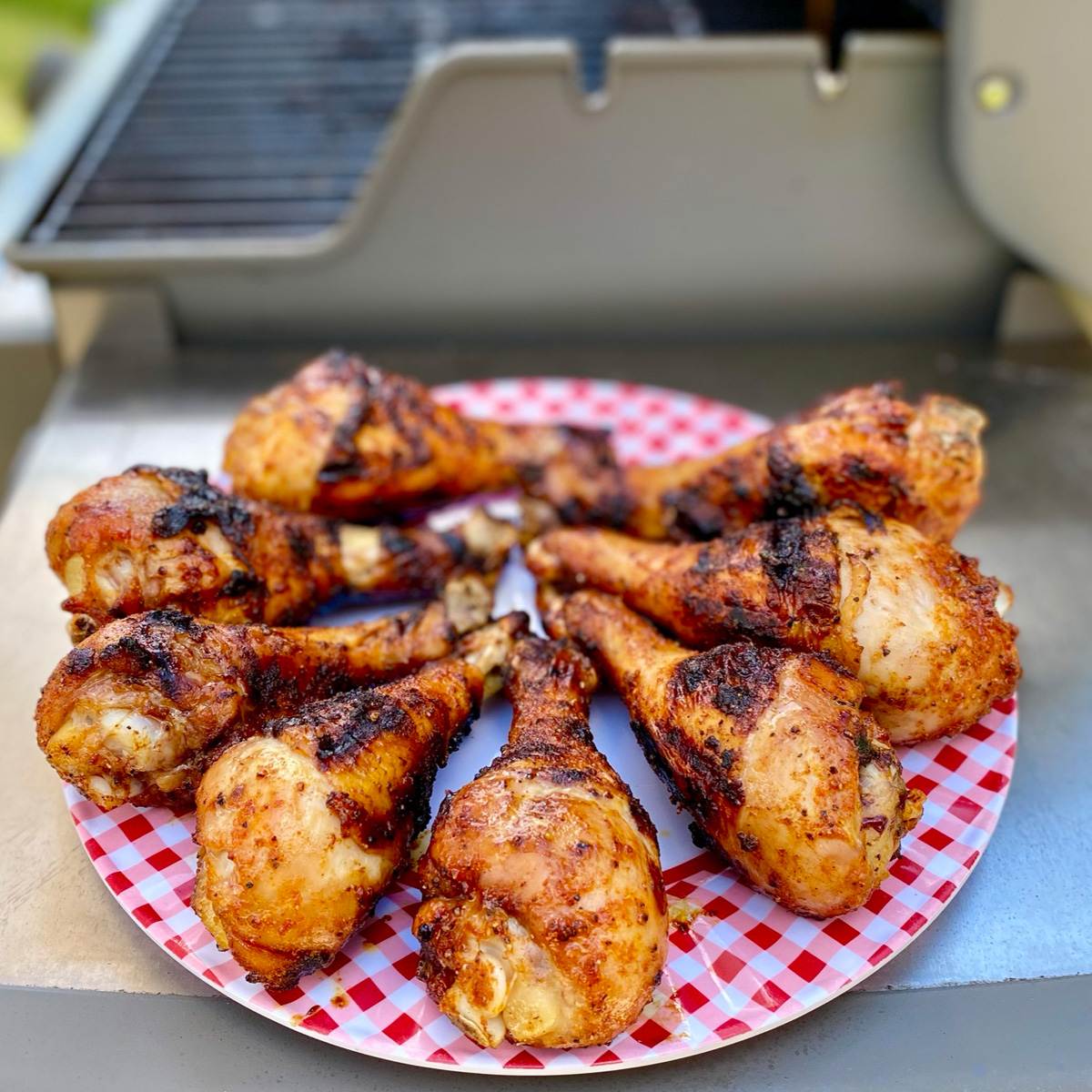 Print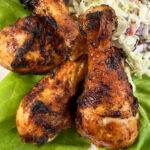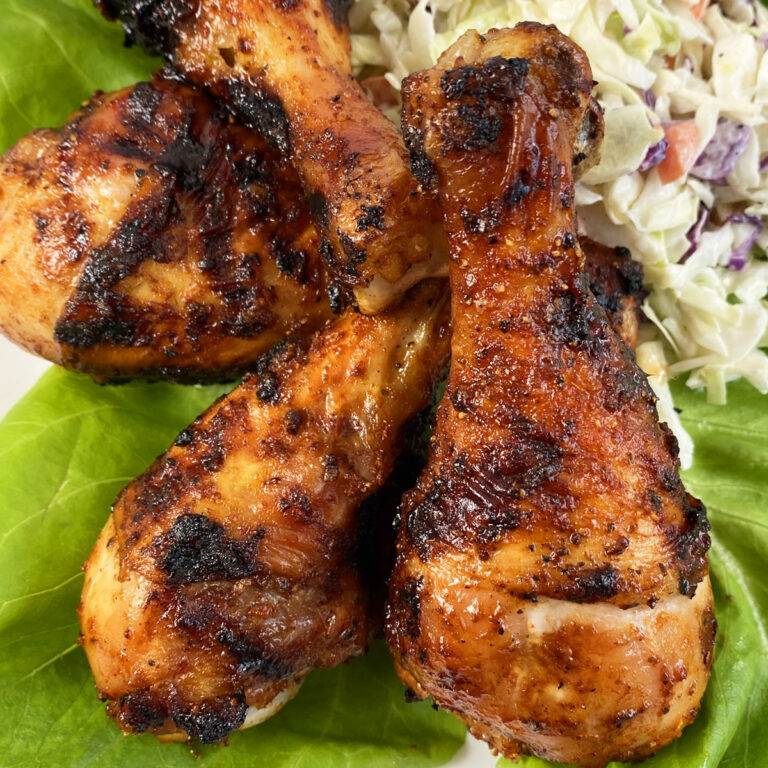 Best Damn Grilled Chicken Legs
---
Description
Sweet and savory BBQ grilled chicken legs. Seasoned to perfection with a simple mix of ingredients and slow grilled to juicy and tender goodness.
---
8

chicken legs (drumsticks)

¼ cup

brown sugar

2 tsp

kosher salt

1 tsp

black pepper

1 tsp

onion powder

1 tsp

garlic powder

1 tsp

ground mustard

1 tsp

smoked paprika

½ tsp

cayenne pepper

1

tbs vegetable oil
---
Instructions
In a small bowl, mix all dry ingredients. Coat chicken legs with oil and rub seasoning mixture all over chicken legs.
Make sure grill grate is clean and well oiled and set to medium heat with lid closed for 5 minutes.
When grill is hot, add chicken legs. Turn legs every 5 minutes for a total of 30-35 minutes or until internal temp 165°(F) – 185°(F).