With a rich, savory sauce, these Instant Pot short ribs are so tender and delicious, you can't believe they're this easy to make. This recipe has instantly become a favorite and we think it will make you swoon too.
Seriously. The meat is fall apart tender, the sauce is luxurious and full bodied, and it comes together like a breeze.
See? We told you that you'd swoon!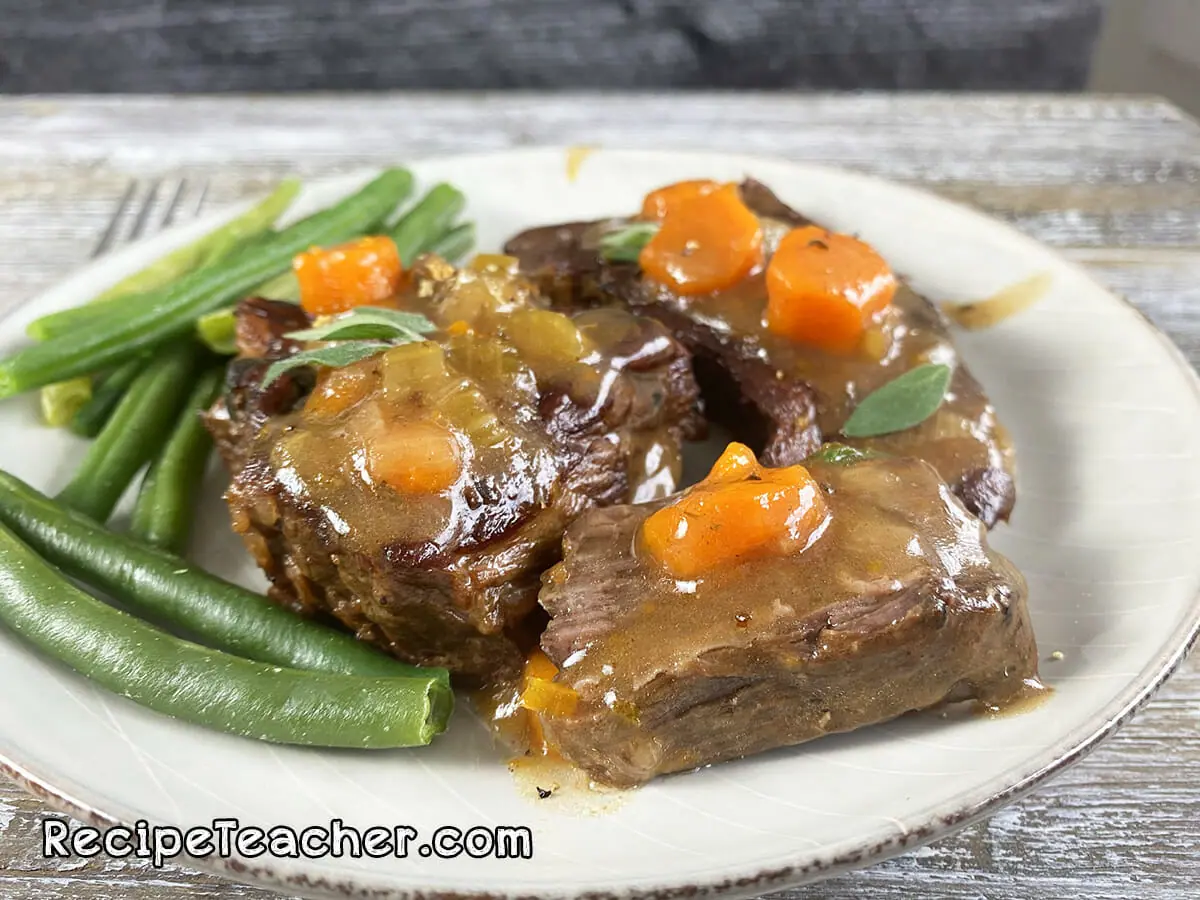 Jump to:
What Are Short Ribs?
If you're not familiar with short ribs, they're cuts of beef taken from the chuck area of the cattle. They're very popular in slow cooker recipes and now we can make the most amazing short ribs in our Instant Pot pressure cooker in a fraction of the time of a slow cooker.
For this recipe we'll use boneless beef short ribs. You'll want to make sure the package clearly says beef short ribs and not country ribs, which can look very similar. You will also want to look for short ribs that are well marbled. Short ribs that are too lean can often come out dry. The marbled fat will provide a tenderness and juiciness that's simply awesome with this recipe.
Fat=Good.
Lean=Not great.
Sometimes the world of cooking is a little topsy turvy isn't it?
But, let's stay away from the metaphysical realm, and instead concentrate on flavors, flavors, flavors!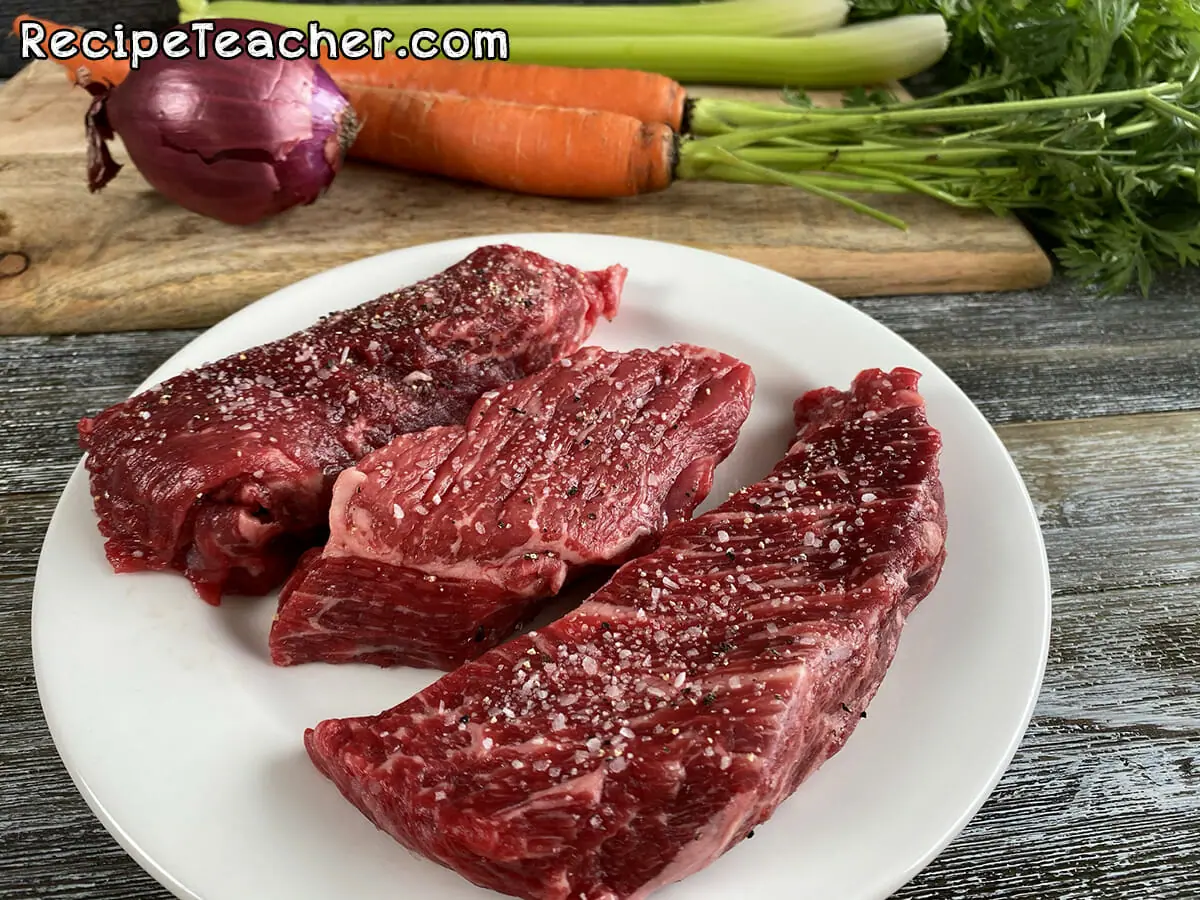 Ingredients
Our ingredient list is actually quite simple for sure a wonderful dish.
Boneless Short Ribs (well marbled)
olive oil
kosher salt
fresh ground black pepper
celery
carrot
red onion
garlic powder
chicken broth
red wine vinegar
dried oregano
butter
Preparation
We'll start by seasoning our short ribs with some salt and pepper and give them a good sear. Set the Instant Pot to sauté mode and add a tablespoon of olive oil. Once it indicates it's hot, add the seasoned short ribs and brown on all sides for about 1-2 minutes each. This is the first step in building our flavor base. Next, we'll remove the short ribs to a plate, then add onion, celery, carrots and garlic powder to the pot and sauté for 5 minutes. By now, there should be some stuck on brown bits on the bottom of the pot which is loaded with flavor! And that friends, is where the flavor lives. In the fond on the bottom of the pot. Oh, yes.
Always respect the fond
Pouring the broth into the pot and scraping the bottom with a wooden spoon is called "deglazing," and it's a big part of the flavor profile for the recipe.
Deglazing the pan serves a twofold purpose, though.
First: Scraping up the fond creates layers of flavor.
Second: Because we're pressure cooking the meat, we need the pot to be as clean as possible otherwise, we can get the dreaded "burn" notice. We do not want that! So scrape up all those tiny bits.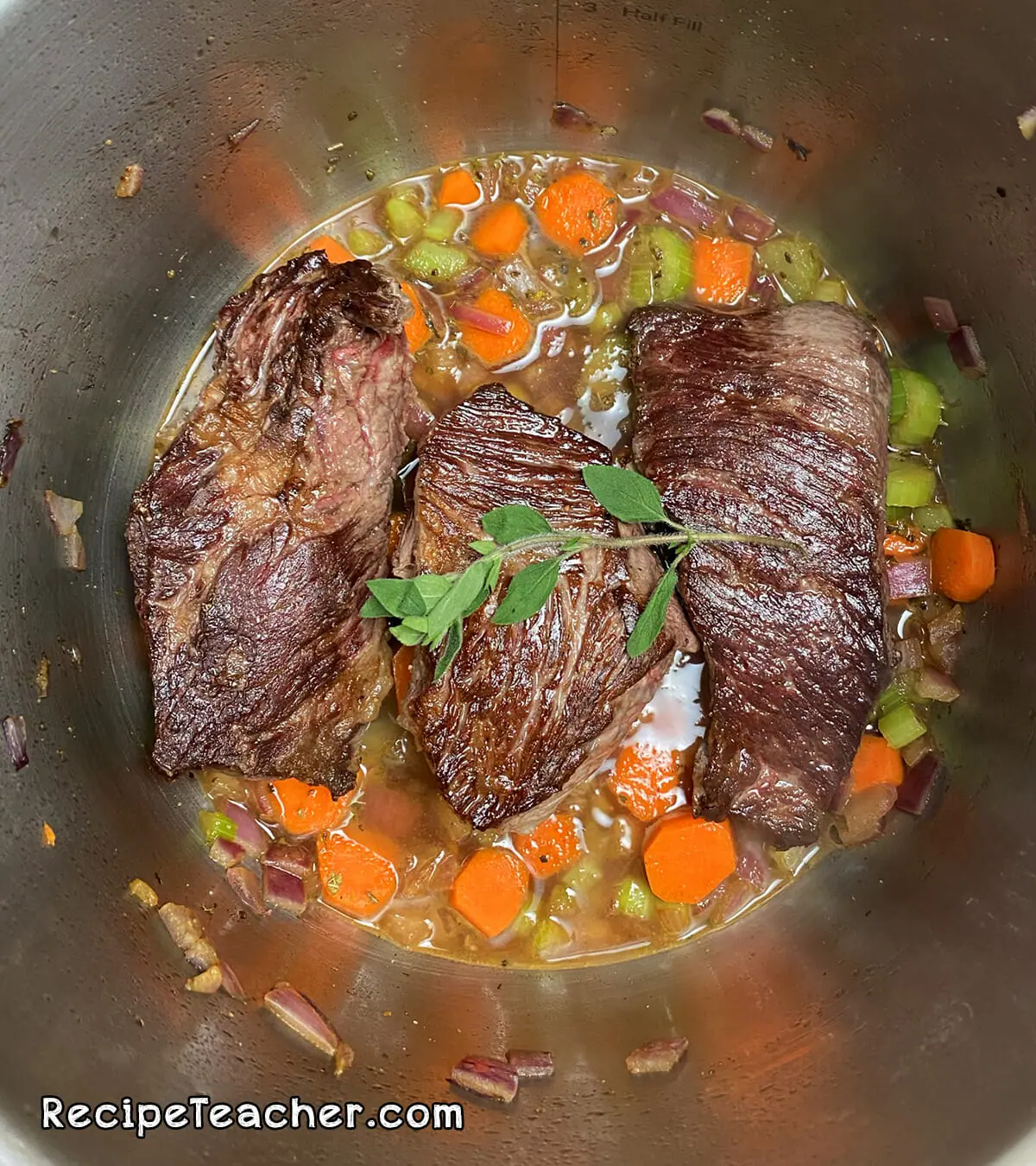 Awesome Sauce
Our sauce is made with chicken broth and red wine vinegar as the base. Yes, we use chicken broth and not beef broth. The chicken broth provides the perfect flavor for our sauce. But, you certainly can indeed use beef broth. Also, feel free to use a real red wine such as merlot, pinot noir, or a cabernet sauvignon, as a substitute for the red wine vinegar. Keep in mind though, that since we're working in a pressure cooking environment, we can't expect the alcohol to necessarily "burn away". You can also use cranberry juice as a substitute if you're feeling zippy. Place the short ribs back into the pot and add the red wine vinegar (or it's substitute) and the oregano. You can also toss in a sprig of fresh oregano. Secure the lid and pressure cook on high pressure for 45 minutes. When the cooking time is up, let the pressure naturally release for at least 15 minutes before quick releasing any remaining pressure.
Time to Rest and Thicken the Sauce
Carefully remove the lid after the pressure is released and the pin drops. Place the short ribs on a plate and tent with foil. Set the Instant pot to sauté mode and stir in the butter. While the sauce is simmering, make a cornstarch slurry in a separate small bowl or cup by using 1 tablespoon of cornstarch and 2 tablespoons of cold water. Mix it well and then slowly pour it into the simmering sauce. Continue simmering for a couple of minutes and sauce will thicken like magic.
Like magic, we say! Suddenly it will go from being thin, to being thick and glossy.
Glossy sauce is good.
Once the sauce has thickened, press cancel to stop the sauté process.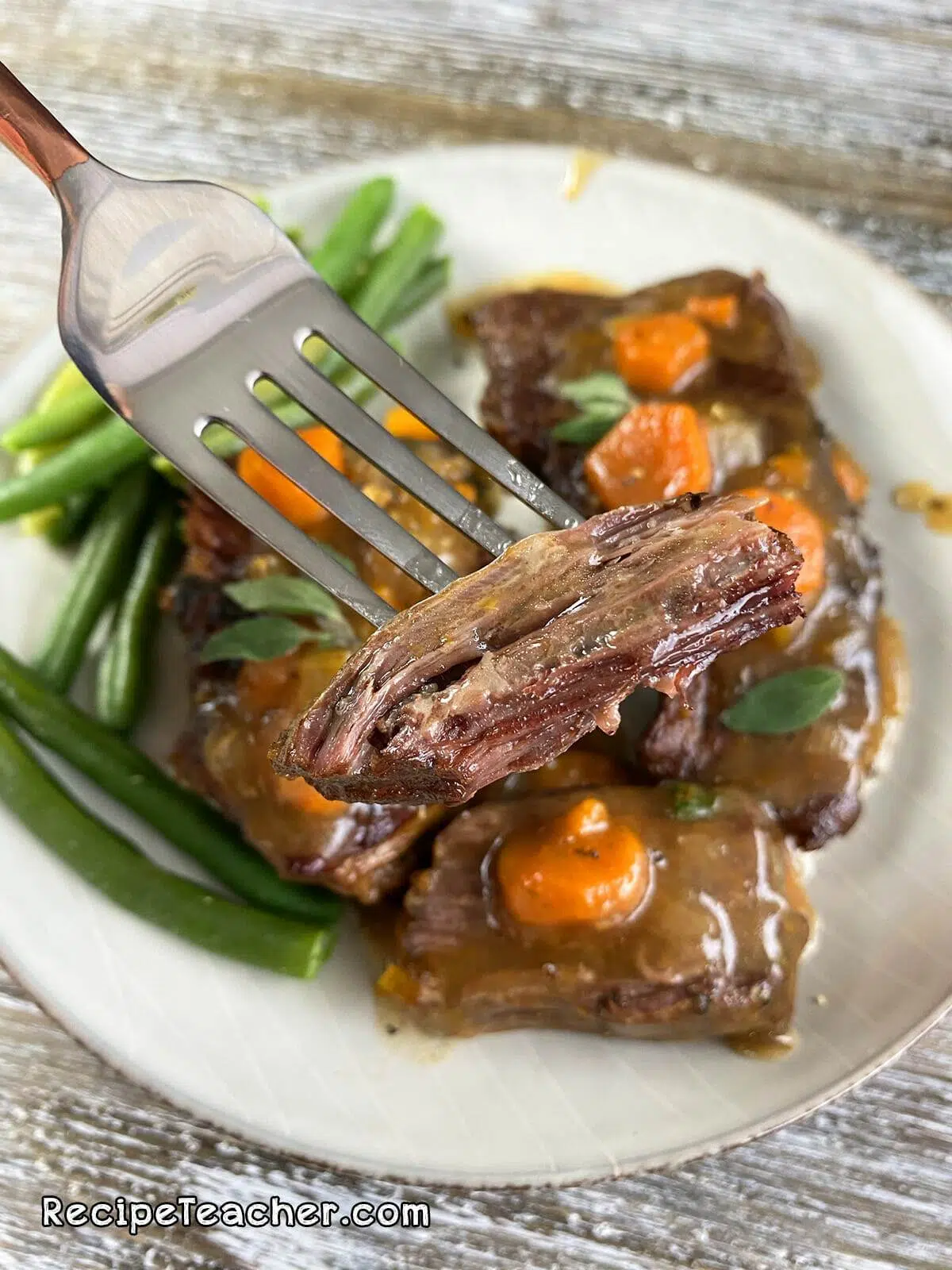 Add Some Vegetables
We love the root veggies cooked with our instant pot short ribs. In fact, if you have some baby potatoes, you could chop them so that they're the same size as the carrots for some triple-the-root-vegetable fun! Also, don't forget veggies don't always have to go in at the beginning of the recipe! If you look in your freezer, I guarantee you have some frozen peas. Throw those into the sauce after you've added the cornstarch. Do you have any frozen asparagus spears? Roughly chop those, and get them into the pot! Ditto, with green beans.
Those little frozen veggies are perfect to add in once the meal is done, and the sauce just simmering at the end. It usually won't take longer than 3-5 minutes to get them toasty warm and cooked through.
How to freeze and meal plan
Freezing these best damn instant pot short ribs, will be the gift that keeps on giving – to yourself. Just place individual servings in resealable plastic bags, and flatten them out on a large sheet pan in the freezer. Date and label those bad boys, and you'll have the perfect meal in minutes when you're in a bind and want the comfort of an amazingly cozy meal after a long day at work.
Also, because you've placed them in resealable plastic bags, and frozen them flat, that means that they're not taking up a lot of room in the freezer, because you can stack them vertically!
More flavor, less freezer clutter.
That's something we all can get behind!
Serve it up but good
When we think of the best damn instant pot short ribs, we think of serving them with plenty of side dishes to keep the party on the plate going.
For instance, who wouldn't love to serve these on a big, rich, generous smear of our best damn instant pot mashed potatoes? Or, how about next to a mound of our Instant Vortex Plus Asparagus from the air fryer? And of course a big ole heaping bunch of our Instant Pot Garlic Parmesan Potatoes and Green Beans.
So many scrumptious side dish options for our splendiferous Best Damn Instant Pot Short Ribs!
Have the patience of a saint
These short ribs are amazing straight out of the instant pot the same day you make them. But, do you know what? They taste even better the next day.
We know that's hard to believe, but once the cell walls of the short ribs are broken down by the pressure-cooking process, that just means that reheating them makes them even more tender. It makes them even more delicious. And with all of that comes even more flavor.
So, if you can hold off eating it until the next day, well, you only have yourself to thank.
Print
Recipe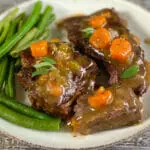 Best Damn Instant Pot Short Ribs
---
Author:

Total Time:

About 90 min

Yield:

2-4 servings
Description
Delectable Instant Pot boneless beef short ribs that are fork tender with a luxurious texture. Served in delicious creamy oregano sauce.
---
1

lb. Boneless Short Ribs (well marbled)

1

tbs olive oil

½ tsp

kosher salt

½ tsp

fresh ground black pepper

2

medium celery stalks, diced

1

medium carrot, diced

¼ cup

red onion, diced

¼ tsp

garlic powder

½ cup

chicken broth

¼ cup

red wine vinegar

2 tsp

dried oregano

1

tbs butter

2

tbs cold water

1

tbs cornstarch
---
Instructions
Add olive oil to Instant Pot and press sauté.
Pat short ribs dry with a paper towel and season with salt and pepper.
Add the ribs to the pot and leave them alone for 5 minutes. After 5 minutes, flip and brown an additional 3 minutes. Then remove short ribs to a plate and reserve.
Add the celery, carrots, onions and garlic powder to the pot and sauté for 5 minutes. Then press cancel.
Add red wine vinegar and broth to the Instant Pot and scrape the bottom with a wooden spoon to remove any browned on bits. Stir in the oregano and add the short ribs directly into the liquid in the pot and secure the lid.
Set the Instant Pot to pressure cook on high pressure ("manual" on some Instant Pots) for 45 minutes. When time is up, let the pressure naturally release for 15 minutes, then go ahead and release any remaining pressure.
Press cancel, remove lid and carefully remove the short ribs to a plate and cover with foil.
Press sauté on Instant Pot and add the butter. In a separate cup or small bowl, whisk together the cornstarch and water. Slowly add the cornstarch slurry to the simmering sauce and continue sautéing until sauce thickens.
Serve the short ribs with sauce and enjoy!
Prep Time:

10min

Cook Time:

45min (plus time to build pressure and release)

Category:

Dinner

Method:

Instant Pot

Cuisine:

American
Keywords: Instant Pot, Short Ribs, Beef Ribs