This savory, easy recipe for Instant Pot pot roast is perfect for a big Sunday dinner for the whole family. With just a few simple ingredients and steps, your Instant Pot will make the perfect, inexpensive family meal that everyone will love!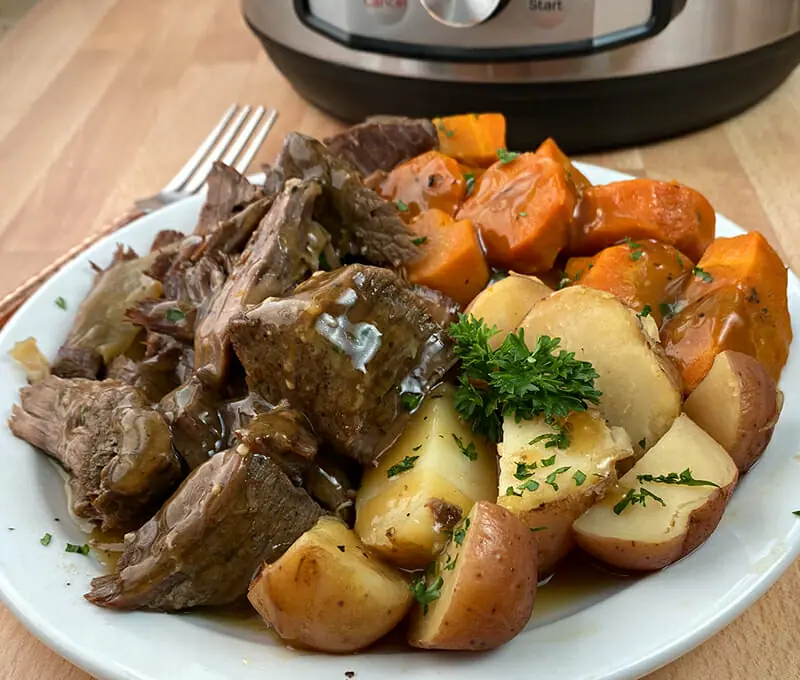 Classic Pot Roast in a Fraction of the Time
Pot roast is one of the perfect recipes for an Instant Pot pressure cooker. Loaded with hearty chuck roast beef, fresh carrots, red potatoes, and gravy that is absolutely perfect, this is one of my favorite meals to make. One of the advantages of instant pot recipes is the ease of preparing a delicious meal and this is no exception. The whole thing is done in just over an hour. No need to do a ton of prep in the morning and then wait all day for the slow cooker, the Instant Pot will make fall-apart beef that is loaded with flavor in a fraction of the time!
Use Steak Seasoning
The seasoning blend I love for pot roast is Montreal steak seasoning. You can use any steak seasoning blend but the Montreal blend is my favorite by far. It's available in almost any supermarket in the seasonings and spices section. Montreal steak seasoning is actually a simple blend of course salt, pepper, coriander, garlic powder, dill seed, and a little cayenne. If you don't have already made Montreal steak seasoning, see the recipe notes below to make your own.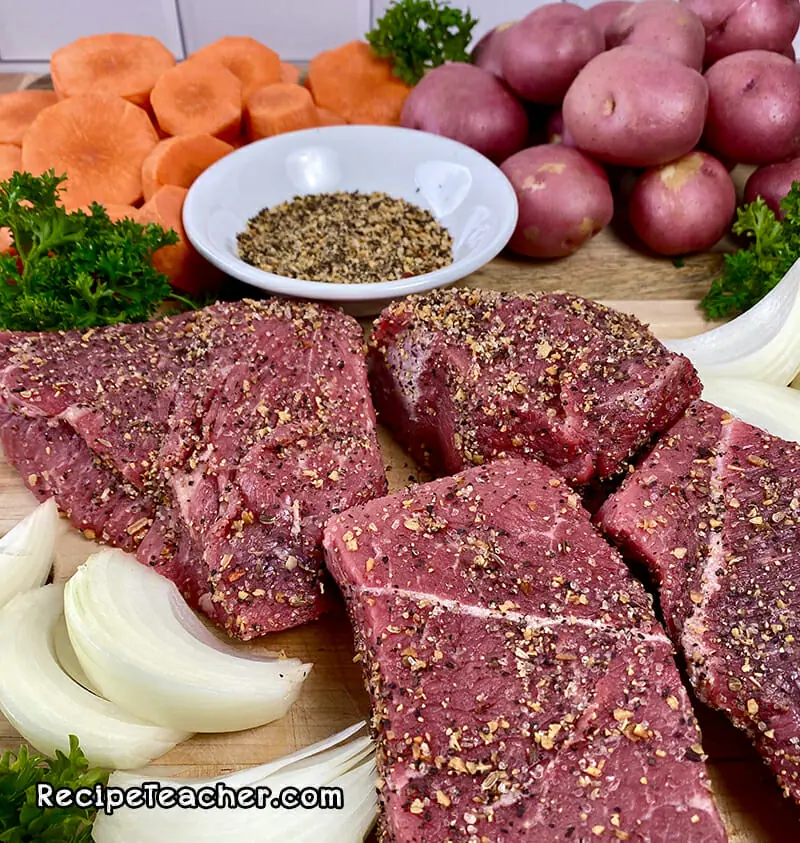 Simple Ingredients and Simple Steps
The ingredient list for this pot roast recipe is as simple as it gets. Aside from the seasoning mix, all we need is the boneless beef chuck roast, beef broth, Worcestershire sauce, red potatoes, onion, and carrots. For the potatoes, I use small-medium whole red potatoes. Everything will cook together so leaving the potatoes whole will cook them perfectly. Carrots are another standard ingredient for pot roast and I always like to find the largest carrots possible and cut them into big chunks. Standard-sized carrots will work fine too. You will want to cut standard-sized carrots into chunks of about 3 inches each since they will cook with everything else and we don't want them to get too mushy. The onion can be sliced in half first and then a few slices for each half.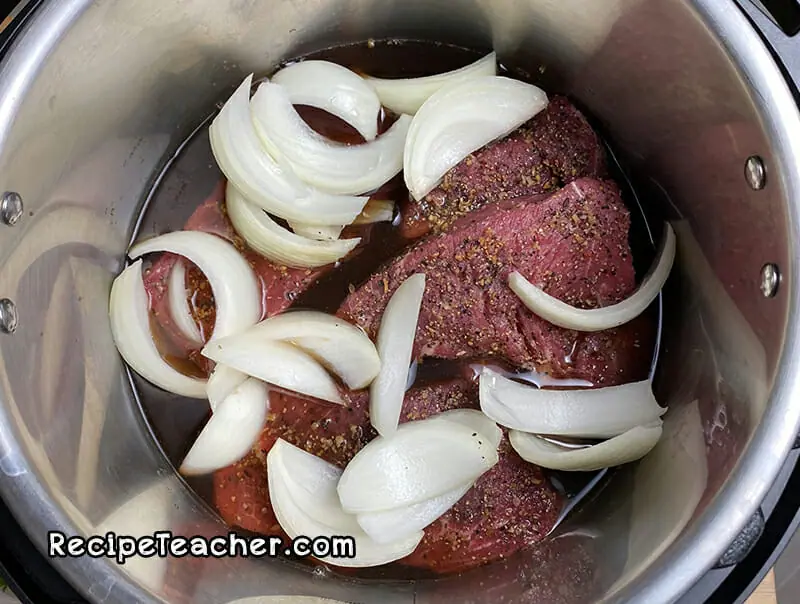 No Browning Necessary
Let's skip the browning. Here's the thing, we will get a ton of flavor from the seasoning mix, the broth, and the Worcestershire sauce. I've made this recipe with browning the meat first and without browning first. And honestly, it's a messy step we don't need at all. The meat is going to be fall apart tender, moist, and full of flavor. You won't miss the sear at all. You can use a frozen roast if that's what you have on hand. No need to thaw the roast, it can go directly from the freezer to the Instant Pot. Just be sure to add 20-30 minutes to the cooking time for a frozen roast.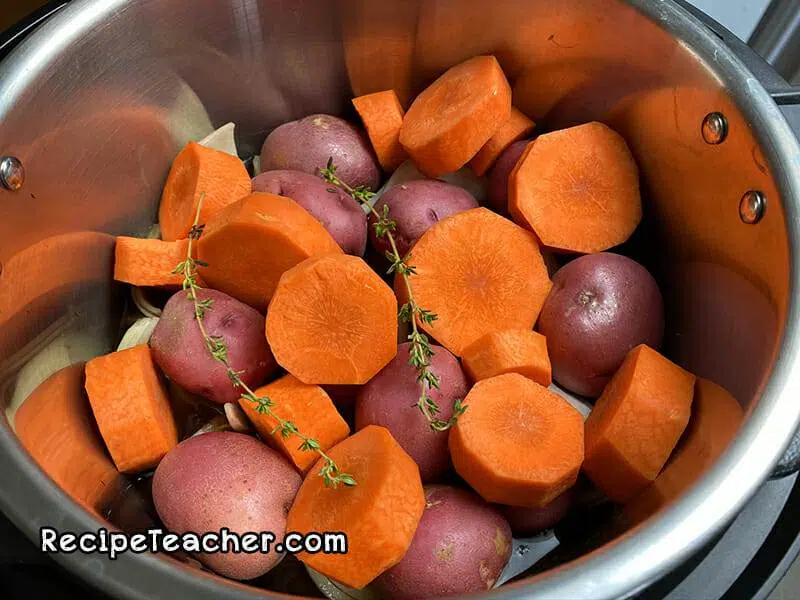 Cut the Meat into Chunks First
We'll be cooking everything together so we don't want a very extended cooking time. To achieve this, we'll cut our chuck roast into fist-sized chunks. A chuck roast of about 2.5 lbs. – 3 lbs. is a common size and is perfect for this recipe. You can start by trimming away any excess fat, then cutting it into 4-6 chunks. After you've cut the meat, rub the seasoning mix into all sides of the chunks. Do this step first and then set aside while you prepare the carrots and onions. Then we place 2 cups of beef broth into the Instant pot and mix in 2 tablespoons of Worcestershire sauce. Set the chunks of meat right into the liquid. Then add the onions, potatoes and carrots all right on top. Secure the lid and pressure cook for 40 minutes. After the 40 minutes are up, let the pressure release for 15 minutes, then quick release the rest.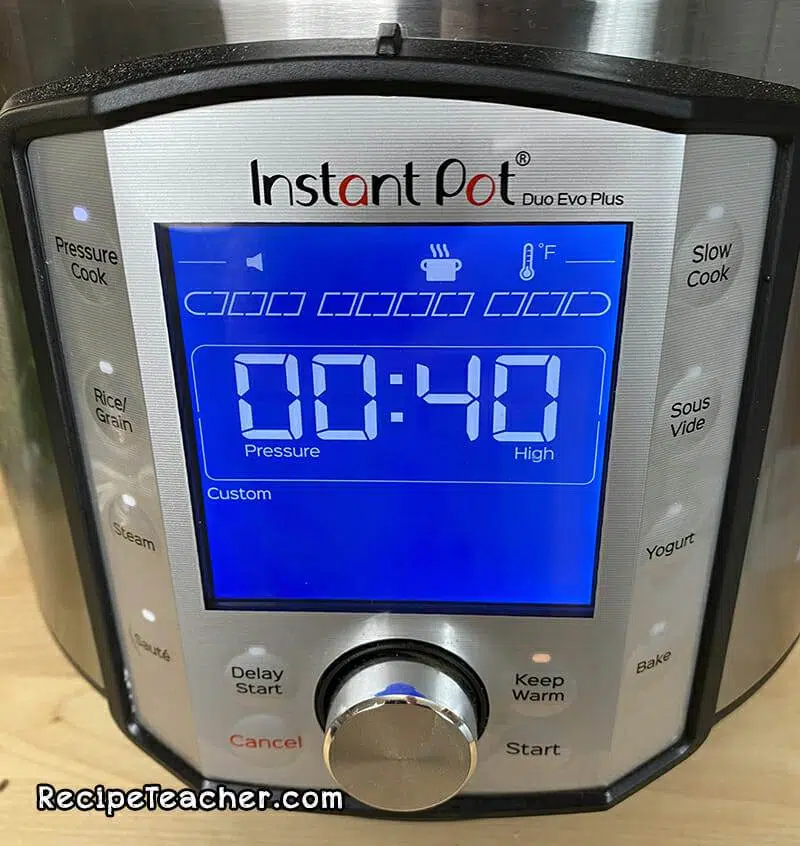 Make an Awesome Gravy!
At this point, everything is done and ready to be transferred to a serving platter. Use the juices in the pot to pour over everything as desired. It will be delicious as-is. But, if we want to make it into a thick gravy, make a cornstarch slurry by mixing about ¼ cup of cold water with 3 tablespoons of cornstarch. With everything except the liquid removed from the pot, press the sauté button and slowly pour in the cornstarch slurry. Mix it in well and saute for just a few minutes to thicken. Press cancel when done and you've now got the most awesome gravy to pour over everything. And believe me, it's truly awesome sauce!
You will be lucky if you have any leftover pot roast, but if you do it can make a great quick meal. It can be kept in the refrigerator for 2-3 days or will also freeze well after it is completely cooled.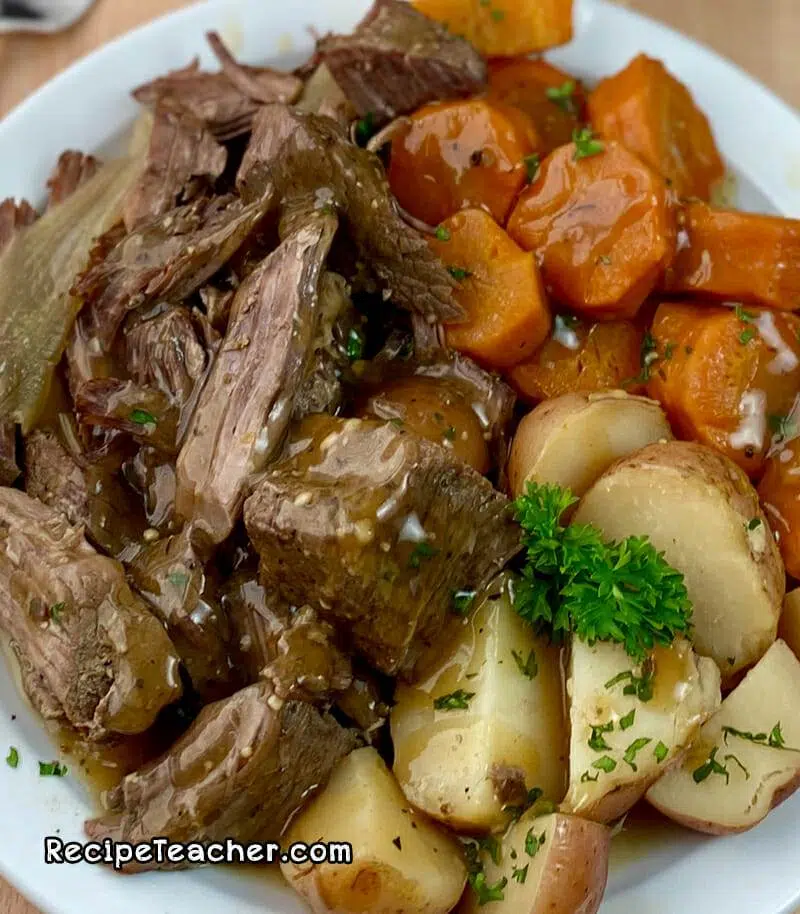 Goes Well With?
Our pot roast is a pretty complete meal as is. But, we have a few excellent suggestions for recipes to accompany this awesome dish!
Cast Iron Skillet Cornbread
This the perfect companion for our pot roast. It's easy to make and can be done right on the stovetop while the pot roast is cooking in the Instant Pot.
Best Damn Chocolate Fudge Cookies
No doubt you'll want a little something for dessert after enjoying this hearty meal. How about some homemade cookies? These are awesome! I mean, really awesome. It's an easy recipe and makes a truly delectable cookie.
Print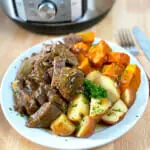 Best Easy Instant Pot Pot Roast
---
Author:

Total Time:

About 1 hour 15 min

Yield:

4-6 servings
Description
A savory, hearty Instant Pot pot roast recipe that's as easy as it gets. Loaded with seasoned beef and fresh vegetables, this is the pot roast recipe you'll make again and again.
---
2.5

lb. – 3 lb. Chuck Roast

1.5

lb Red Potatoes, small (about 10-12)

1.5

lb carrots (about

6

carrots)

1

Medium Onion

2

tbs Montreal Steak Seasoning

2

tbs Worcestershire Sauce

2 cups

Beef Broth
---
Instructions
Trim chuck roast of excess fat and cut into fist-sized chunks, about 4-6. Season on all sides with the seasoning rub.
Scrub potatoes clean, leave whole. Cut carrots into large chunks (about 3″ each), peel and slice onion into large chunks.
Pour beef broth into Instant Pot and add the Worcestershire Sauce. Place meat into liquid, followed by onions, potatoes and carrots. Secure lid.
Pressure cook on high pressure for 40 minutes followed by a 15 minutes natural release (quick release any remaining pressure after 15 minutes).
Remove all ingredients and serve. Use liquid in pot to pour over dish, thickening with cornstarch if desired (see notes below).
Notes
To make an awesome gravy from the liquid, create a slurry by adding 3 tablespoons of cornstarch to ¼ cup of cold water. With meat, potatoes and carrots removed from the pot, slowly pour slurry into the liquid and whisk together. Press saute on Instant Pot and heat liquid for just a few minutes until desired consistency.
If you don't have Montreal steak seasoning you can use another dry steak seasoning blend. For a very simple Montreal seasoning, use this: ½ tbs kosher salt, ½ tbs course ground black pepper, ½ tsp onion powder, ½ tsp garlic powder, ½ tsp paprika, ¼ tsp ground coriander, ¼ tsp dill weed, ⅛ tsp cayenne
Prep Time:

10 min

Cook Time:

40 min (+15min NPR)

Category:

Dinner

Method:

Instant Pot

Cuisine:

American
Keywords: Pot Roast, Instant Pot, Easy Recipe