This homemade buttermilk cornbread recipe is a true classic recipe made easy. With a few simple ingredients you can serve up this piping hot, moist, fluffy cornbread with a perfect crust.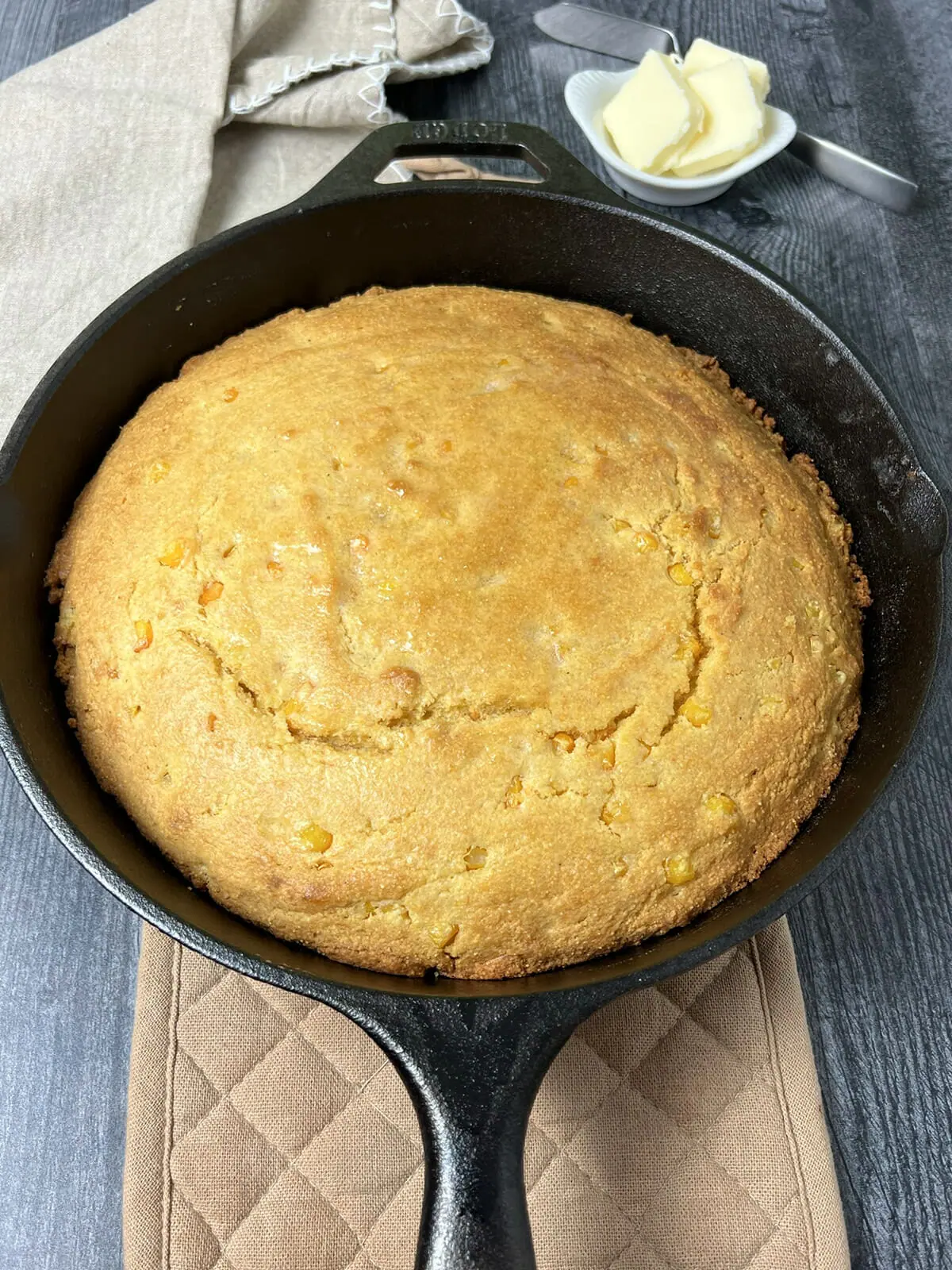 Serve this cornbread with some butter on top, melting down the sides, and maybe even a little bit of honey drizzled on top and… oh my, we've reached cornbread heaven!
What is Cornbread?
Cornbread is a "quick bread" which uses ground cornmeal as a main ingredient. Unlike regular bread, there's no yeast used as a leavening agent. Instead, cornbread uses a little baking soda or baking powder to help give it some rise, while still having the density, texture and crumb of a thicker bread.
Iron skillet cornbread is very popular in southern cuisine in the united states. The heavy cast iron skillet is heated first, followed by some butter, then the cornbread batter. This creates an ideal crust on the bottom and outer edges.
Ingredients
All-purpose flour and cornmeal will make up the foundation of our recipe. We'll use a ration of 1.25 cups of flour and .75 cups of yellow corn meal. This ratio provides the perfect texture and flavor mixture. Using slightly more flour than cornmeal will help keep the cornbread from becoming too dry and crumbly.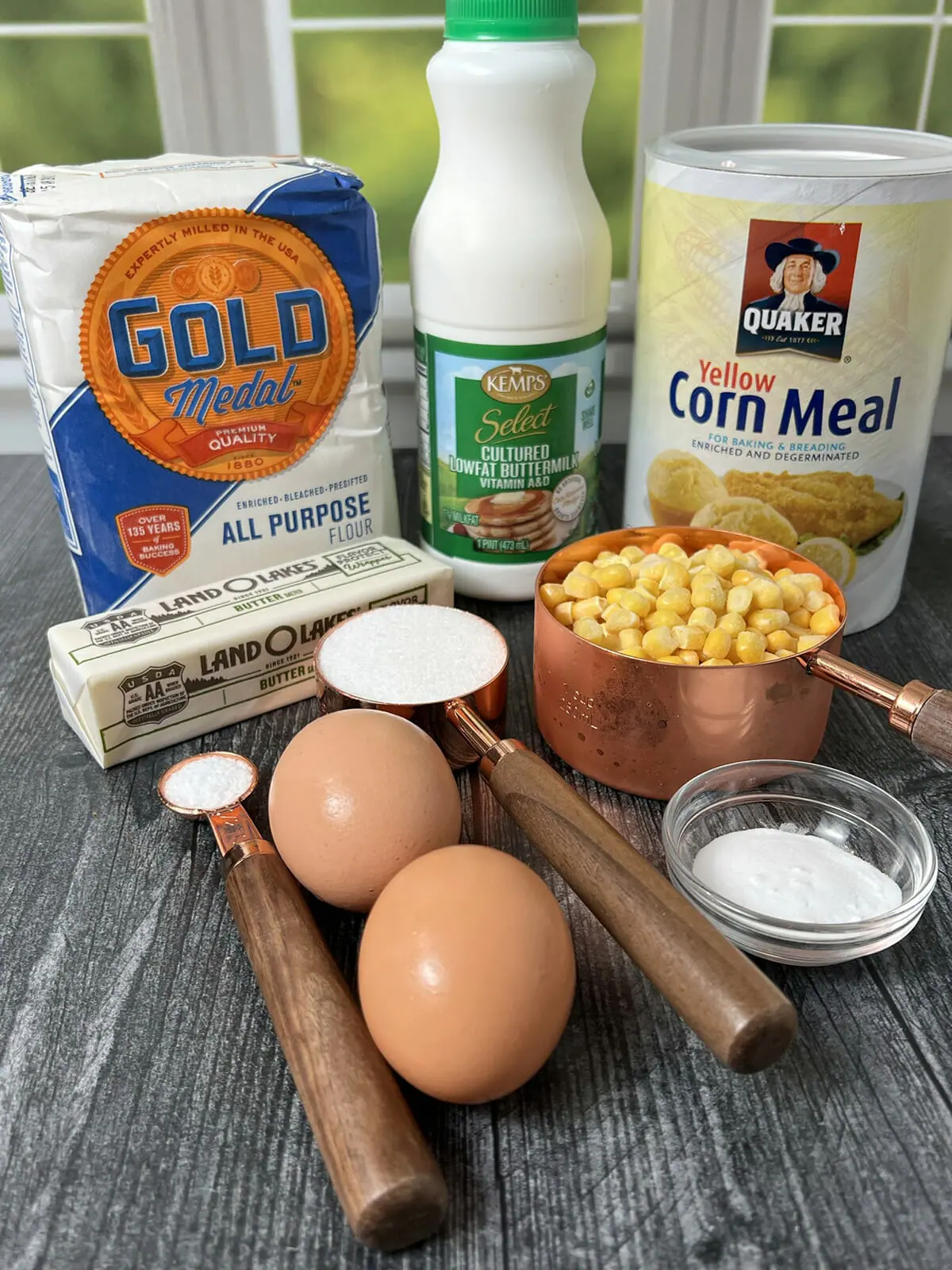 To cornmeal and flour we'll ad ¼ cup of white sugar for some added sweetness, a touch of salt to help bring out the flavor, and some baking soda as the leavening agent.
Our batter will come together with wet ingredients starting with a cup of buttermilk, which provides a very rich delicious flavor. We'll use almost a whole sick of butter, melted, reserving 1 tbs to grease the skillet. You can place the butter in the microwave for about a minute to melt it perfectly. To the buttermilk and butter we'll add 2 eggs.
Equipment Needed
A cast iron skillet really is that star of the show for this recipe. A 10″ skittle is the most common size and works perfectly. If using a 12″ skillet, the bread will be thinner and you'll want to check for doneness sooner. If using an 8″ skillet, the cornbread will be done a few minutes sooner.
If you do not have a cast iron skillet, you can still enjoy a delicious cornbread. Use a well greased baking dish or even muffin tin. You won't get that same crust that makes the iron skillet cornbread so good, but it will still be great cornbread.
Preparation
Start by placing the oven rack on the 2nd to top position in the oven with the cast iron skillet on the rack. Then preheat the oven to 400°(F). Starting with a hot skillet will help us get a perfect crust on our cornbread.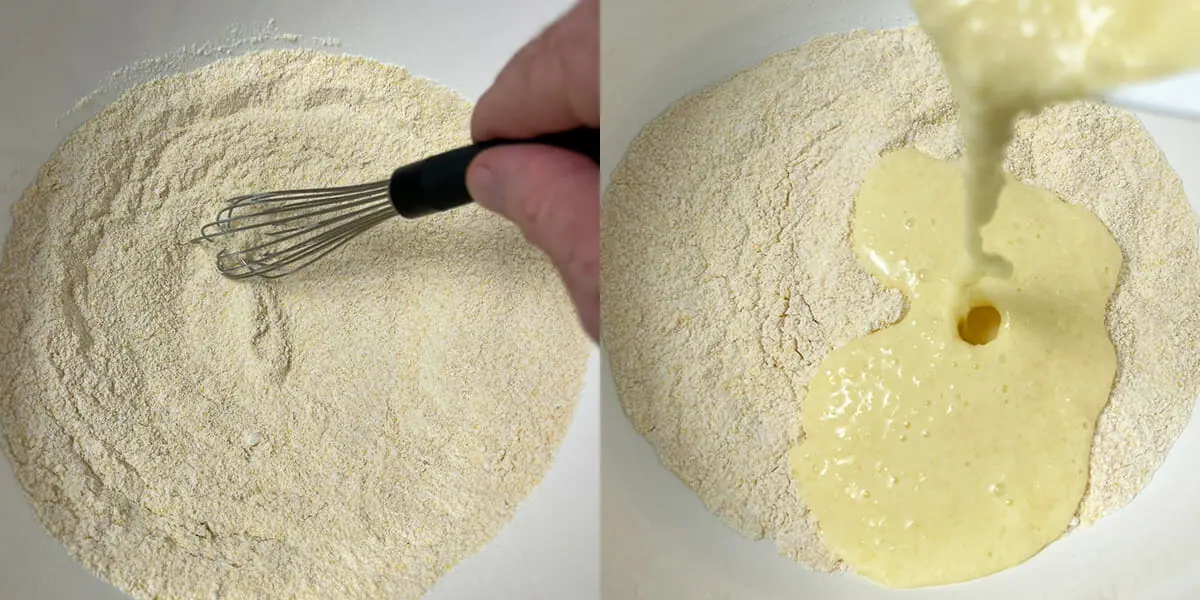 Use a large bowl mix the dry ingredients: corn meal, flour, baking soda and salt. Mix it all together well.
In a 2nd bowl, beat the eggs and add the buttermilk and 7tbs of melted butter. Use a whisk and whist it until everything is well incorporated. Then pour the wet ingredients into the dry ingredients. Use a large spoon to mix the batter just enough until all the dry ingredients are mixed in. The add the corn niblets. You don't need to over mix the batter. In fact, we want it to be a little lumpy. This will help keep the final result light and fluffy.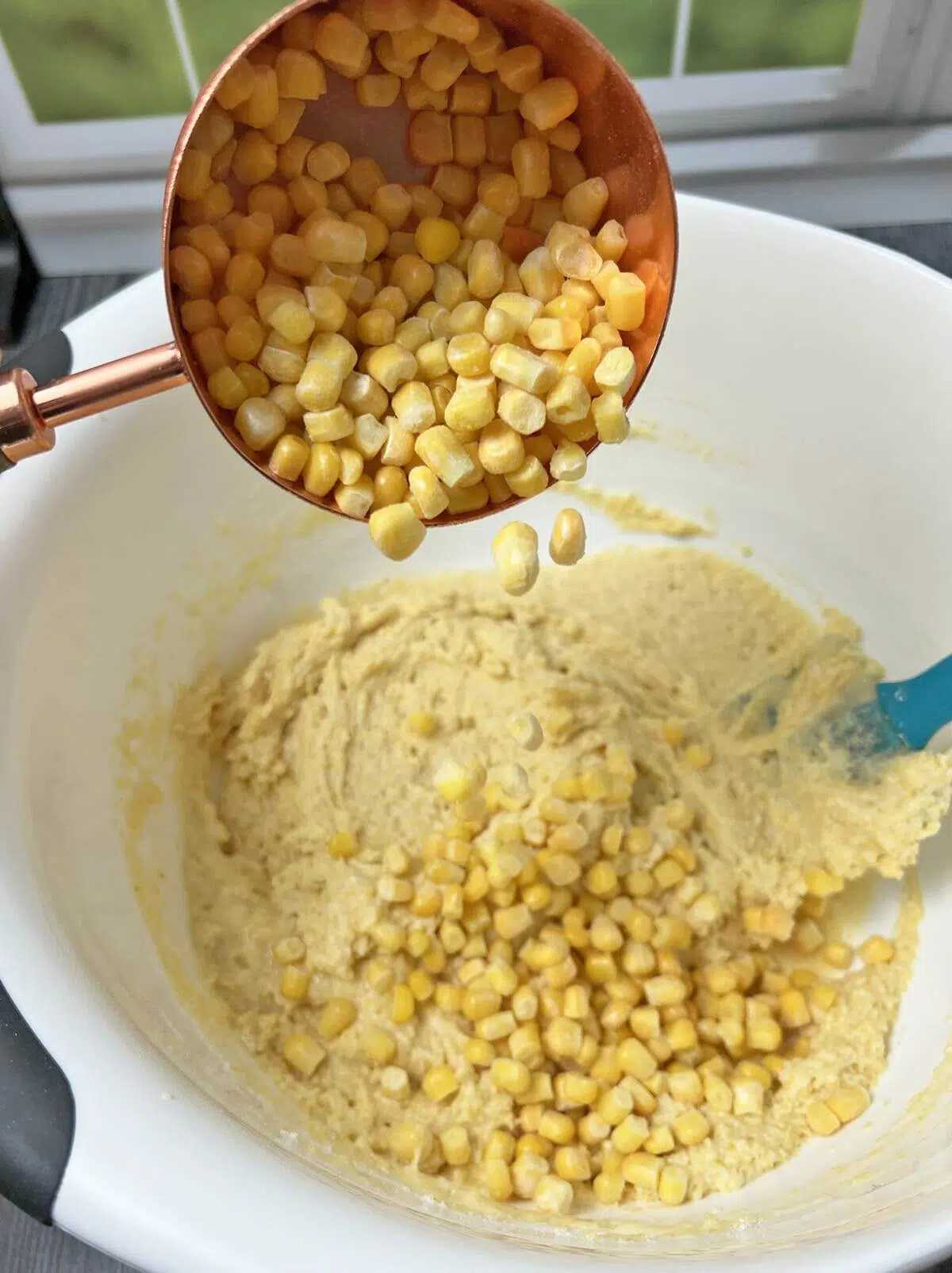 Butter up the Skillet and Bake
When the batter is done and the oven has reached 400°(F), get ready with that remaining 1tbs of butter. Carefully remove the skillet from the oven and add the butter, swirling it around until it melts and coats the whole skillet.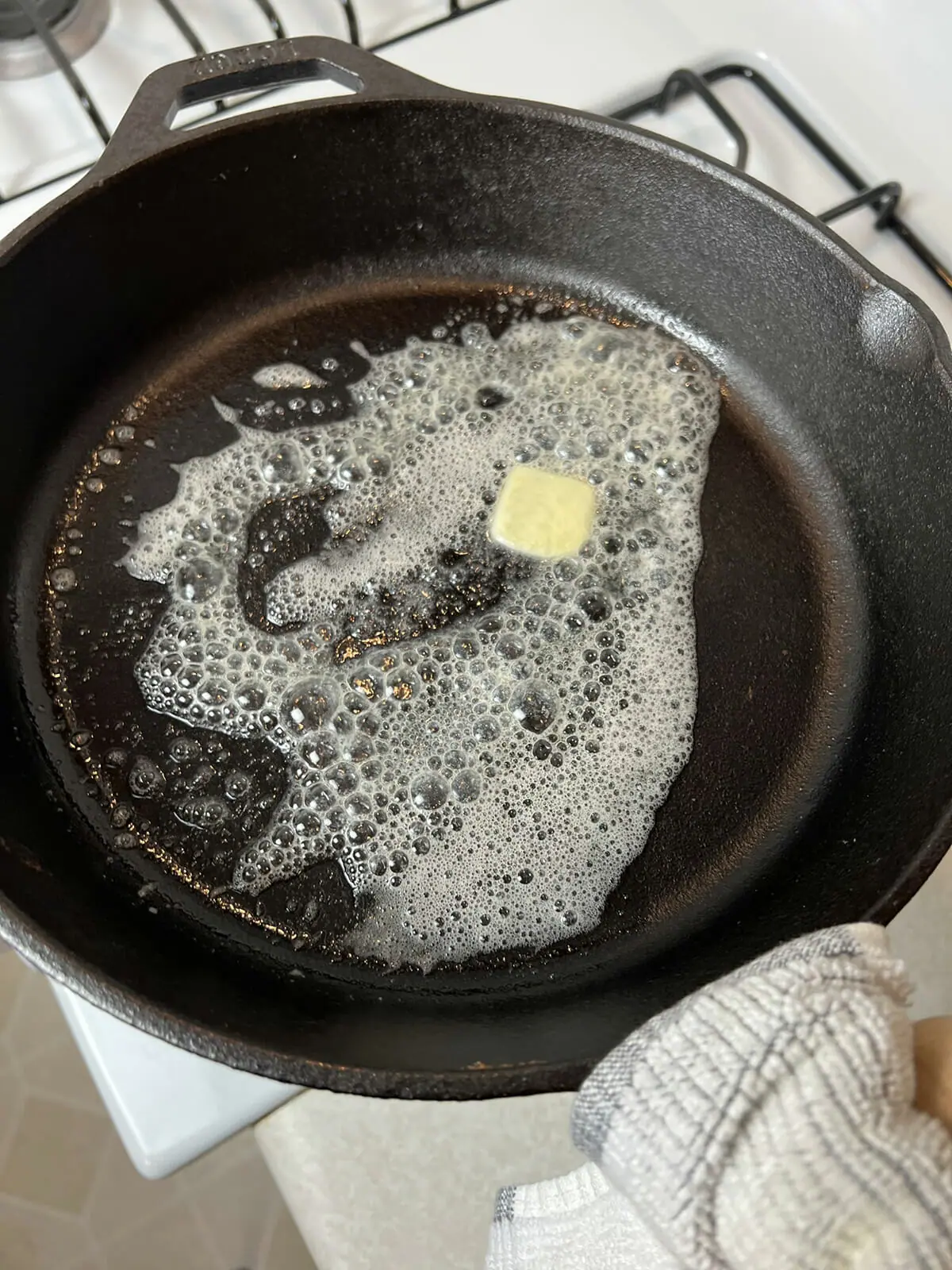 Pour the batter into the skillet and spread it around evenly with a rubber or silicone spatula. Place in preheated oven at 400°(F) on the 2nd to top rack for 22-25 minutes or until top is golden brown. Use a toothpick to test for doneness. Place the toothpick through the center. If it comes out clean, your cornbread is done.
How to Serve
When the cornbread is done, carefully remove from oven. Let it cool for a minute then carefully remove the cornbread from the skillet and place on a cooling rack for a few minutes. This will help keep that crust nice and crispy. You can then cut the slices to serve in either pie-shaped slices or squares. Then, I like to place a couple of pats of butter on top and let it melt into the cornbread while brushing it over the whole top surface. This gives it a nice gloss and a little extra layer of goodness.
Everyone LOVES a warm piece of cornbread. I like to serve it with some softened butter that can be placed right on top of each slice. And for a little extra sweetness, drizzle some honey on top. Oh my goodness, it's heavenly!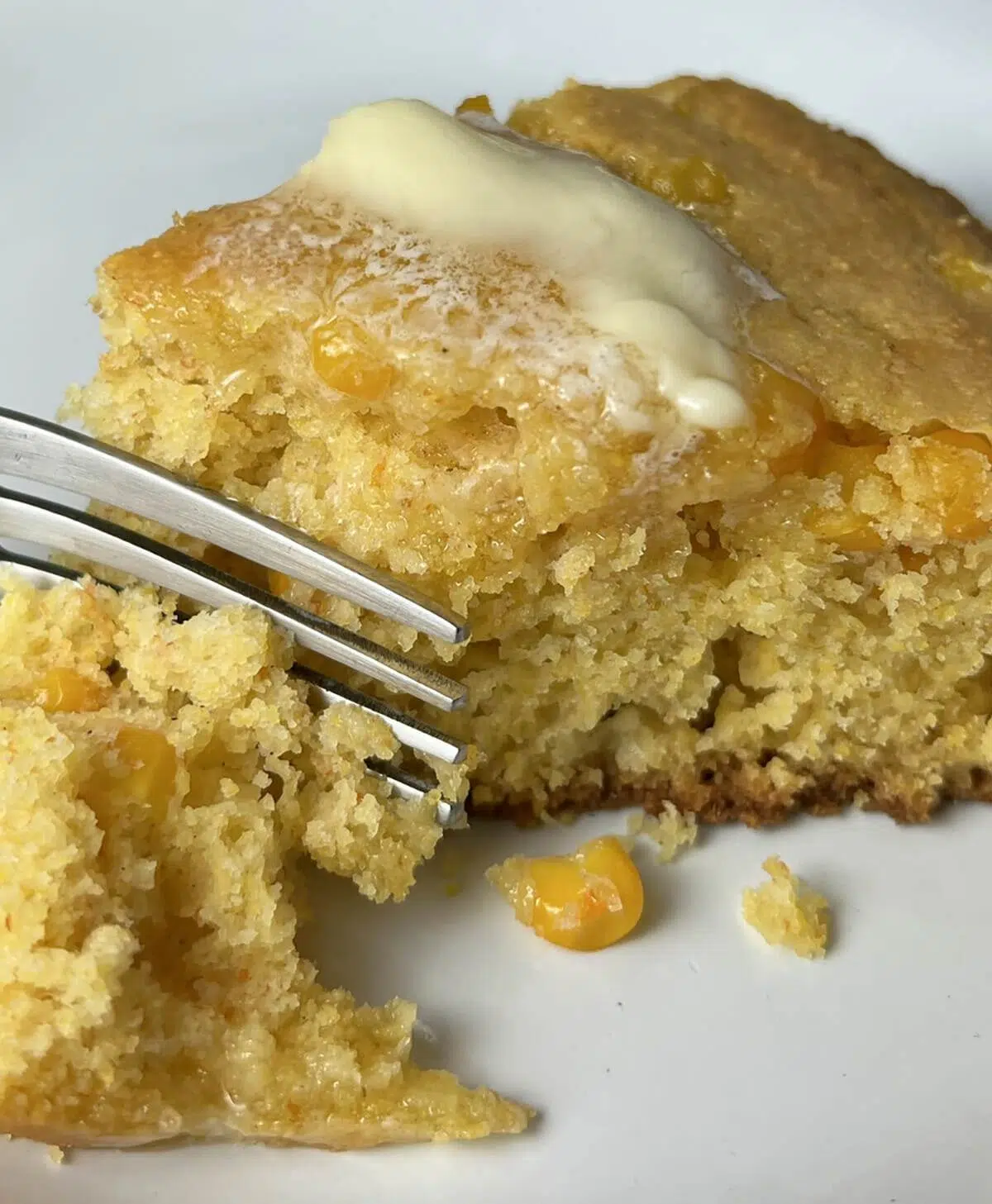 Storage and Reheating
You'll want to store your homemade cornbread in airtight packaging. Make sure to let it completely cool first. This is important! Then wrap the cornbread in plastic wrap, followed by an airtight container such as a ziptop bag or plastic container. You can store it in the fridge for up to a week. You can also freeze it for up to 3 months.
Cornbread is easily heated up in the microwave. Place the cornbread on a microwave safe plate or paper plate and cover it with a damp paper towel. This will help retain some moisture. It will heat up quickly so you'll likely need less than 1 minute.
Goes Well With?
Look, I like cornbread with just about any meal, or even as a snack all by itself. But, this cornbread pairs excellent with our Buttermilk Chicken Tenders. Staying with the chicken theme, try your homemade cornbread with Air Fryer Wings or Oven Baked Chicken Legs. Oh… and chili! My goodness cornbread is perfect to enjoy with chili. Our Instant Pot Vegetarian Chili or Thick and Hearty Beef Chuck Chili will be the perfect partner for our homemade cornbread.
Print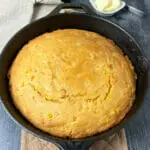 Best Damn Iron Skillet Corn Bread
---
Author:

Total Time:

40 mins

Yield:

6-8 servings
Description
This homemade cornbread is the perfect combination of sweet and moist, with all the classic corn flavor you know and love. Topped with butter and served warm, it's perfect for any occasion.
---
1.25 cup

all-purpose flour

¾ cup

yellow corn meal

¼ cup

sugar

1 cup

buttermilk

1 cup

corn niblets (frozen, thawed)

2 tsp

baking powder

½ teaspoon

salt

2

large eggs, minus one yolk

8

tbs butter (

1

stick), divided
---
Instructions
Preheat oven to 400°(F) with rack in 2nd to top position. Place cast iron on rack to heat up while oven preheats.
In one large bowl, add cornmeal, flour, sugar, salt and baking powder. Whisk together well.
In a medium bowl, mix egg, buttermilk 7tbs melted butter. Mix well. Add wet batter to dry ingredients and mix just until everything is incorporated. Finally, mix in the corn.
Carefully remove cast iron skillet and add remaining 1tbs of butter. Swirl pan around to get butter to coat well.
Pour batter into skillet and smooth out with a spatula.
Bake cornbread on 2nd to top rack at 400°(F) for 22-25 minutes or until top is golden brown.
Carefully remove from oven and let sit for several minutes to cool a bit before slicing and serving.
Prep Time:

10 mins

Cook Time:

25 mins

Category:

Side dish

Method:

Oven

Cuisine:

American