Use your Instant Pot to make the most delicious brown rice. This simple "how-to" recipe shows you the very basic method for using your favorite pressure cooker to get perfectly cooked brown rice every time.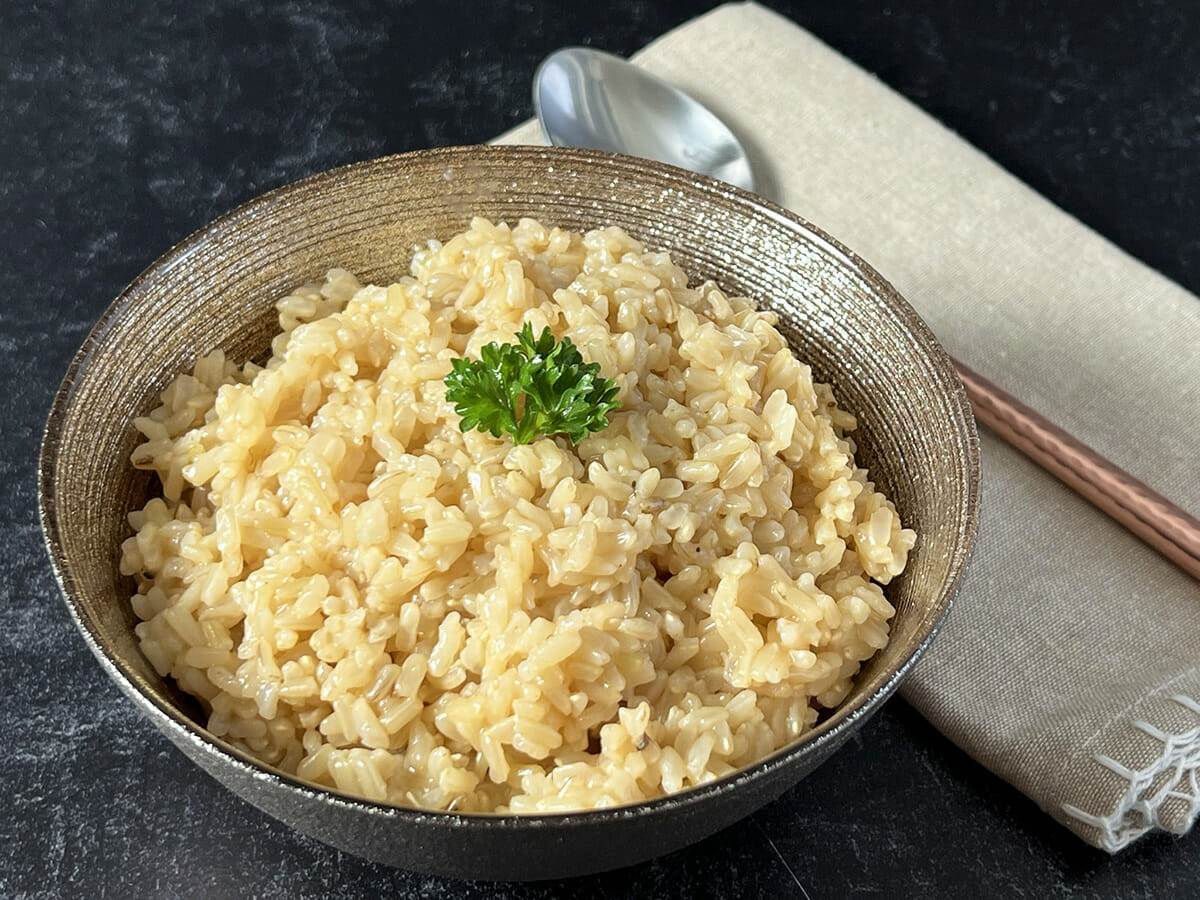 Brown rice is my favorite. Ok, I love all kinds of rice but brown rice has that extra flavor I love. It's also very versatile and goes so well with many different recipes. If you're meal planning for the week, brown rice can be a big part of that plan! That's why this recipe shows you how to make perfectly cooked, simple and basic brown rice. You can certainly do all sorts of stuff to it to jazz it up, but let me show you the basics first.
What is brown rice?
Brown rice has actually been enjoying a lot of good press the past several years for it's goodness and healthy benefits. You see, brown rice has two outer layers – bran and germ. This is where most of the nutrients and healthy benefits reside. It's also what makes brown rice a whole grain. The simple health benefits of this are quite remarkable. It's good for the heart and can help reduce the chance of type-2 diabetes. How about that?! You GO brown rice! Learn more about the health benefits of brown rice on WebMD.
Ingredients
Of course, we start with long grain brown rice. Then we use water or broth, and to help with the consistency – a teaspoon of olive oil. That little bit of olive oil helps the rice to be less sticky and gives it a wonderful consistency with just a tiny little flavor boost.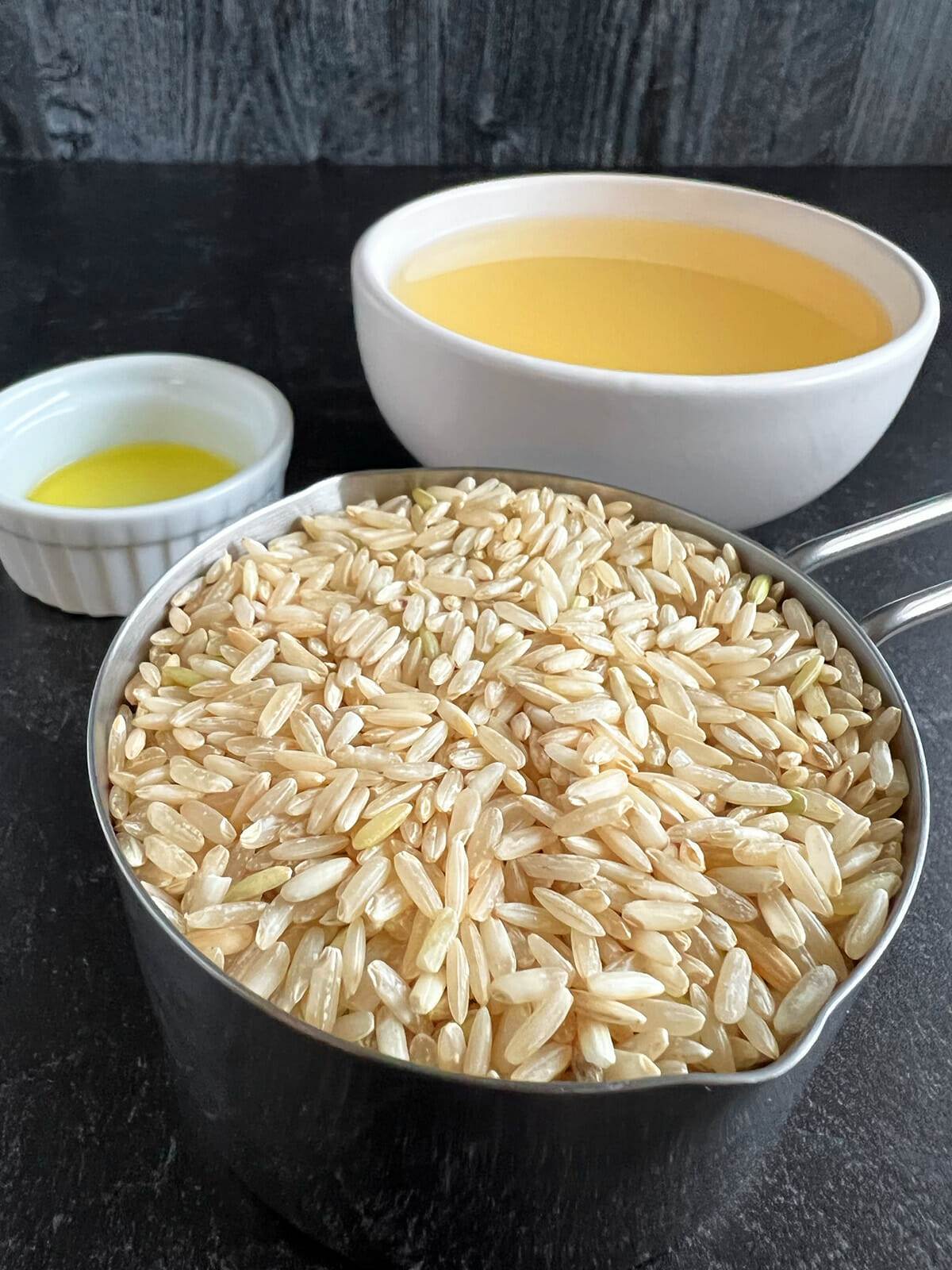 Water or Broth?
To make the absolute most basic brown rice, you can use regular water as the liquid. That's totally fine. That's the clean slate way. Rice, however, really benefits from a little extra oomph. And we can achieve that little extra oomph by using broth or stock as the liquid. Use any kind you normally like. I like to use regular chicken broth. It brings the natural flavors of the rice to life in just the right way. Feel free to use low-sodium, or any other varieties to suit your needs.
Ratio of liquid
This one is easy. When cooking brown rice in an Instant Pot pressure cooker, use 1.25 cups of liquid per 1 cup of dry rice.
Preparation
Rinse the rice. This is important. Rinsing rice gets rid of any debris and surface starch which can make rice clumpy and unappealing. A quick rinse with cold water in a colander is all it takes. After rinsing, put the rice in the Instant Pot (in the metal liner of course), add your liquid and olive oil. Give it a little stir to get everything nice and even.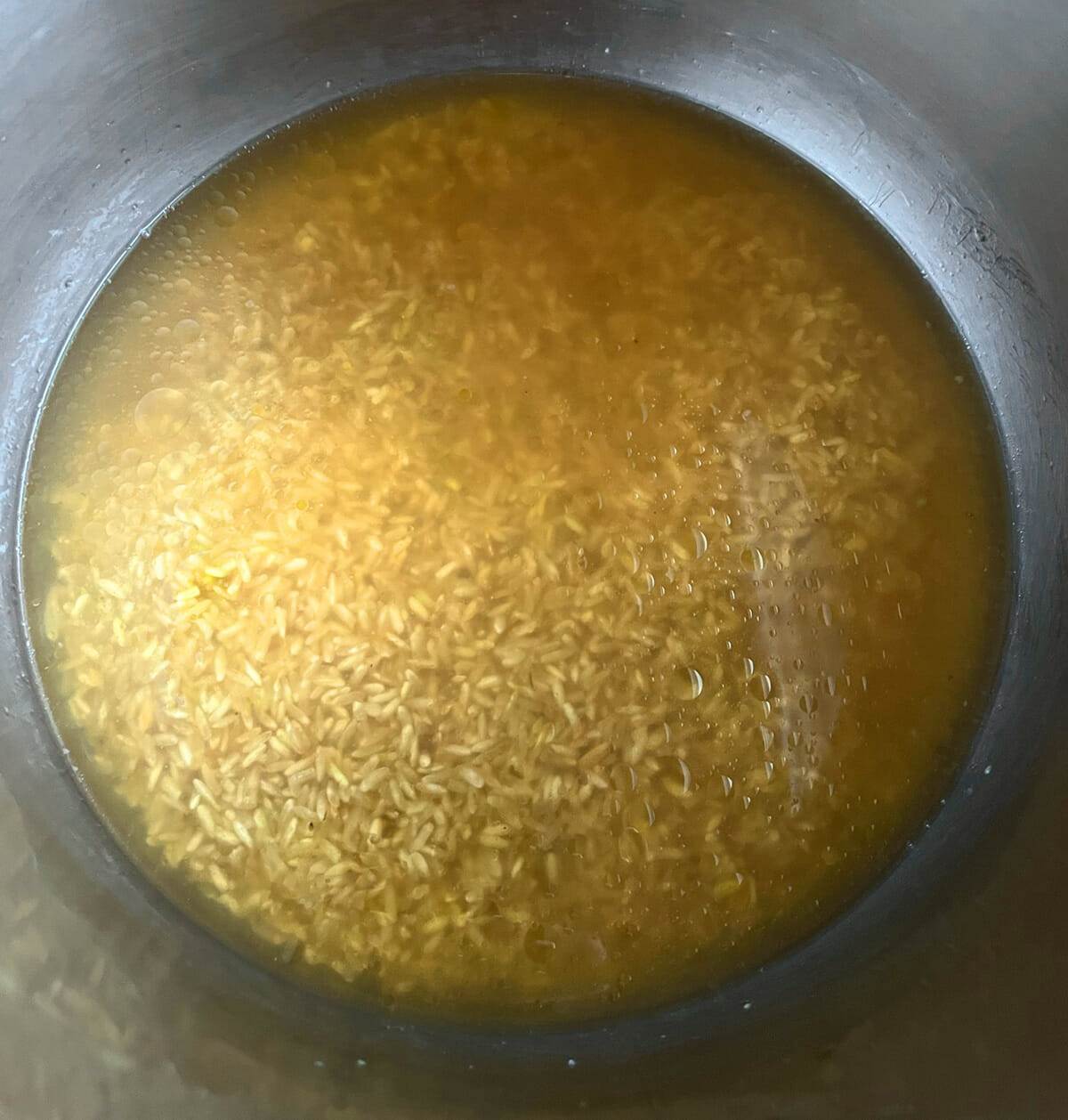 Pressure cook for 20 minutes
Now that we have our rice and liquids in the Instant pot, secure the lid, make sure the vent is in the closed (sealing) position, and pressure cook on high pressure for 20 minutes. When the 20 minutes are up, allow the pressure to naturally release (NPR – Natural Pressure Release). The natural release time should be about 20 minutes. When the pin drops (indicating all the pressure is released), carefully remove the lid. Press "cancel" on the Instant Pot. We don't want it going into the "keep warm" cycle. Now use a fork or large spoon (or the scoop which comes with the appliance), and fluff up that rice by gently scooping and moving it around.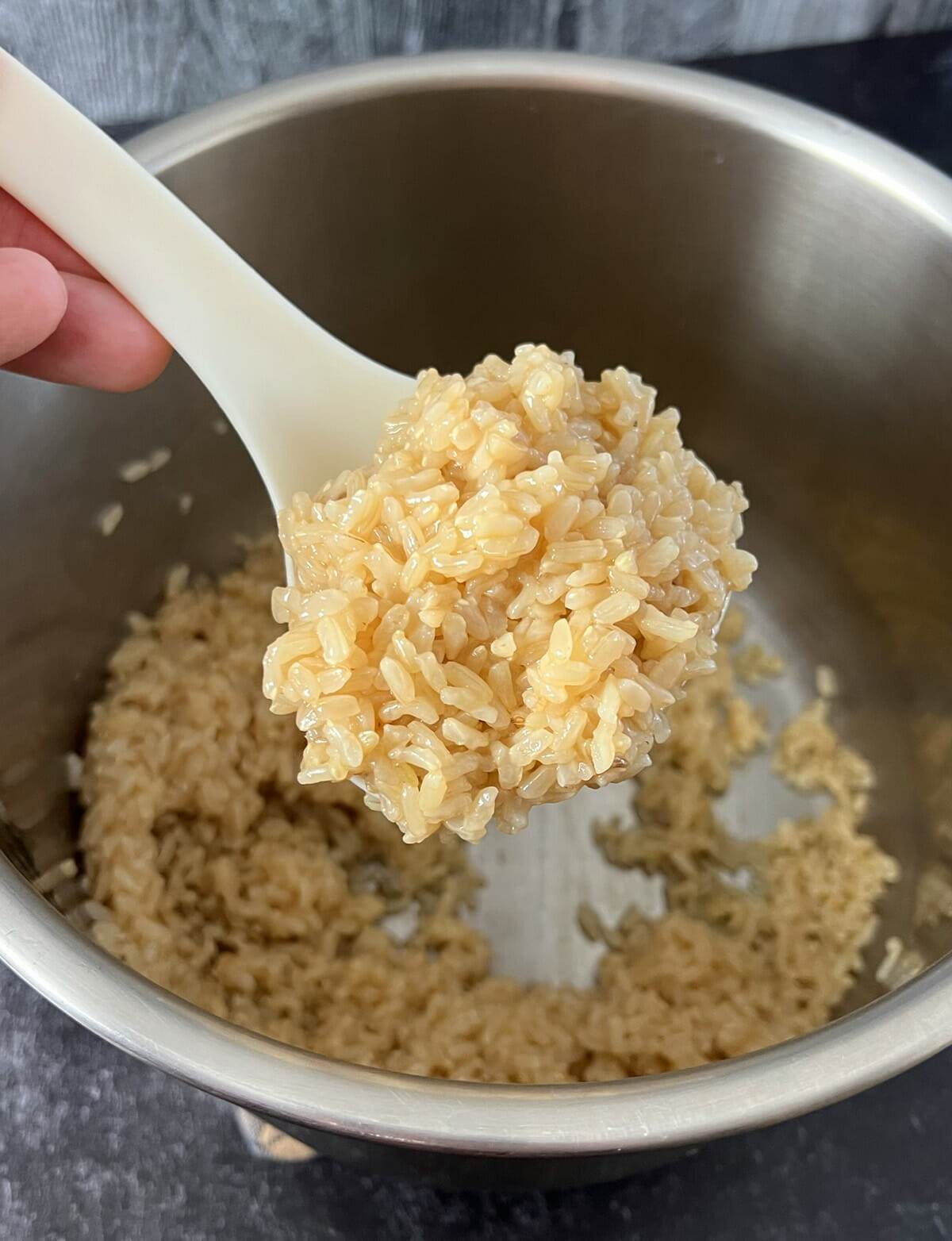 Frequently Asked Questions
How much rice does this make?
Brown rice basically doubles in size and weight. A single serving size for brown rice is about ½ cup. This recipe will make 4 half-cup servings.
Can this recipe be doubled?
Absolutely this recipe can be doubled. Just be sure to stick with the ratio of 1.25 cups liquid per cup of dry brown rice.
Can Brown Rice be Frozen?
Brown rice can easily be frozen. Make sure to let the rice cool, then portion into freezer bags. Squeeze out as much air as possible. Freeze for up to 4 months.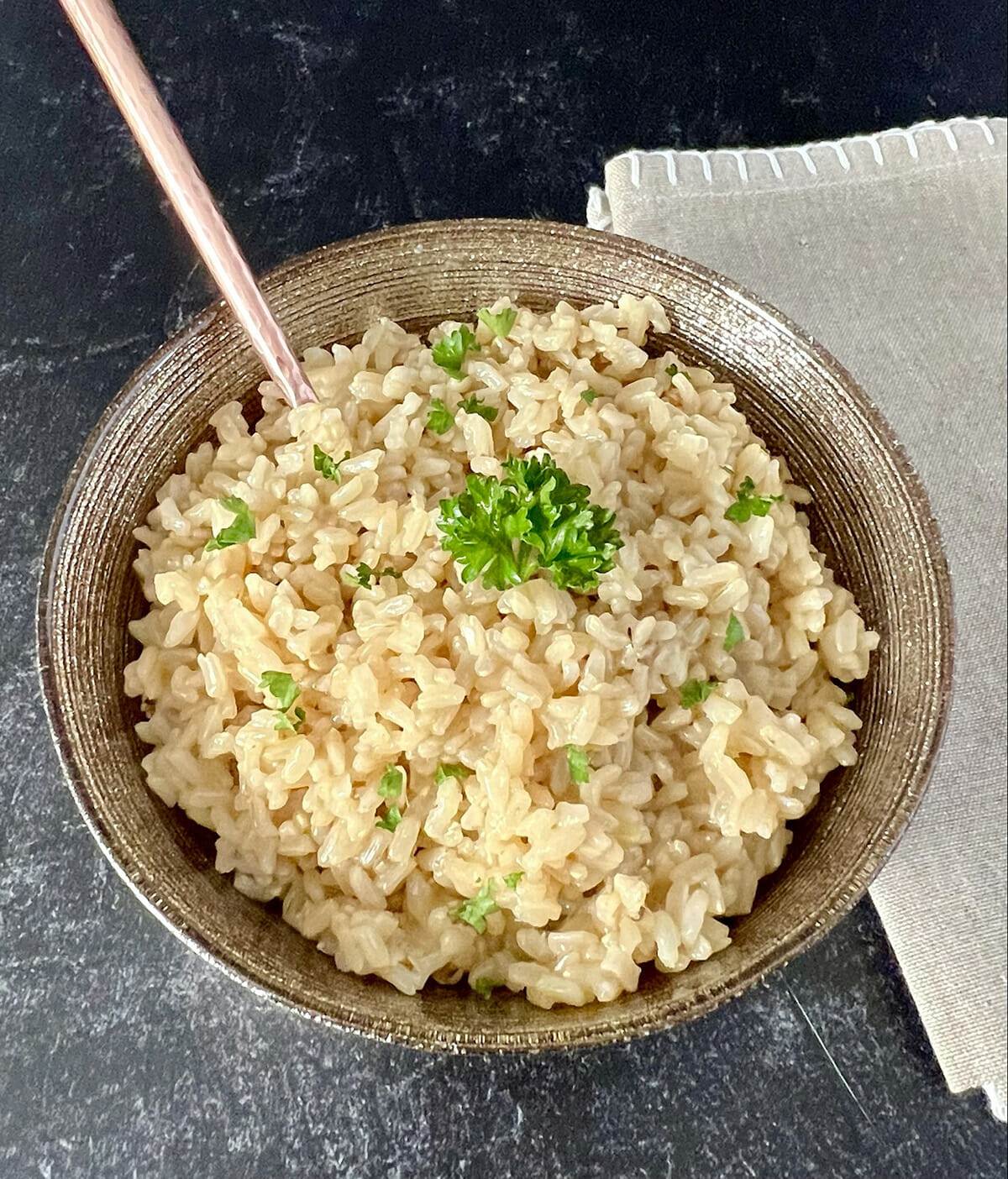 Print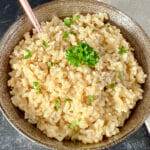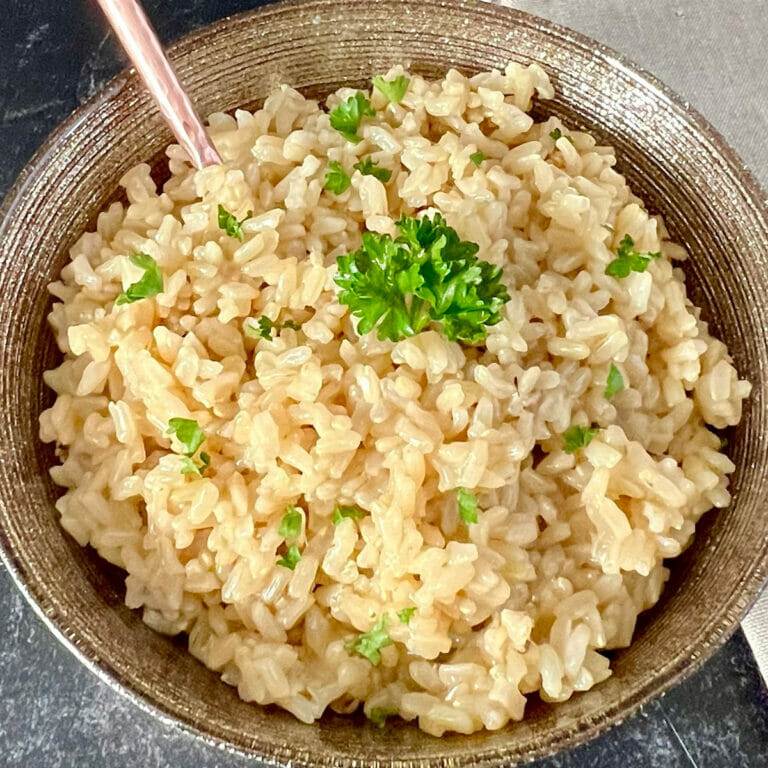 Instant Pot Brown Rice (basic and easy)
---
Description
Perfectly cooked brown rice made in an Instant Pot pressure cooker.
---
1 cup

dry brown rice (long grain)

1.25 cups

water

1 tsp

olive oil
---
Instructions
Rinse brown rice under cool water in a colander.
Add rinsed brown rice to Instant Pot and add 1.25 cups water (or broth). Add 1 tsp olive oil and stir to get everything well mixed.
Secure lid with vent closed and pressure cook on high pressure for 20 minutes.
When the cooking time is complete, let the pressure naturally release for 20 minutes. (It may take less time. If the pin still hasn't dropped after 20 minutes, go ahead and quick release any remaining pressure)
When the pin drops, press cancel and carefully remove lid. Stir and fluff rice. Let sit for 5 minutes and serve.