Fresh cod fillets topped with an amazing Mediterranean dressing of fresh tomatoes, olives, garlic and more. The perfect way to make an easy, delicious dish any night of the week.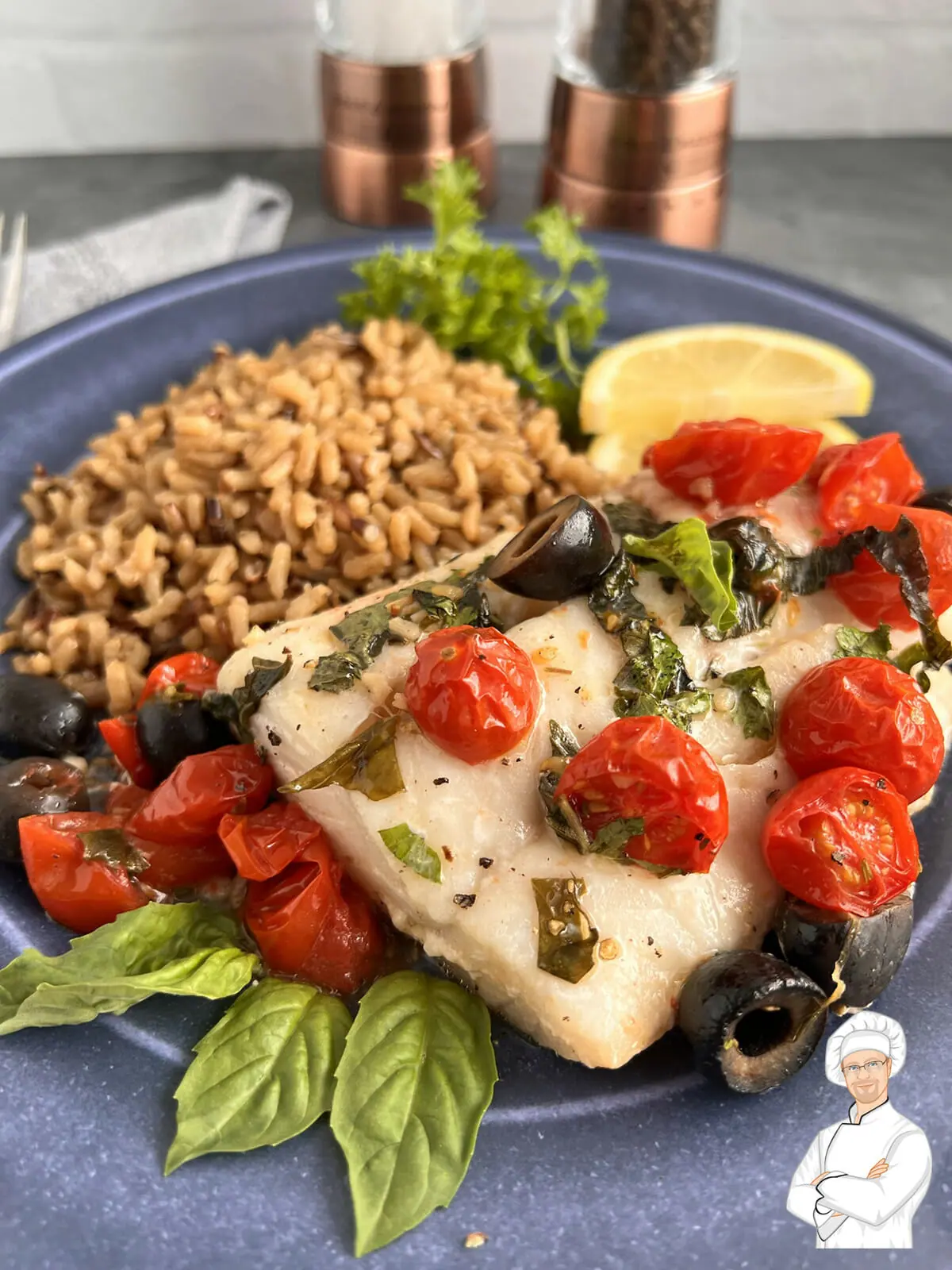 Cod is mild tasting fish which takes very well to a variety of different flavorings and ingredients. For this dish we use a simple combination of fresh ingredients, all of which are common in Mediterranean cuisine, to create a fabulous meal that's ready in about a half hour.
What is Mediterranean Cod?
Mediterranean cuisine is a culinary style that encompasses the diverse food traditions of the countries surrounding the Mediterranean Sea. It is well known for its use of fresh ingredients such as vegetables, fruits, whole grains, legumes, and olive oil. Common ingredients in Mediterranean dishes include tomatoes, garlic, onions, bell peppers, and herbs such as basil, oregano, parsley and more. For our baked cod recipe, we'll be utilizing that fresh tradition to create a delicious and vibrant dish that's easy to make and loaded with goodness.
Ingredients
As mentioned, we'll use very simple ingredients. I like to use 2 fresh cod fillets of about 8-10oz each. Our sauce, or "dressing" consists of sliced cherry tomatoes, sliced olives (black or kalamata are best), extra virgin olive oil, juice of half a lemon, white wine, chicken broth, fresh garlic, fresh basil, fresh thyme and fresh parsley. While you absolutely can use dried herbs, fresh herbs have a vibrance that is ideal for a Mediterranean dish such as this.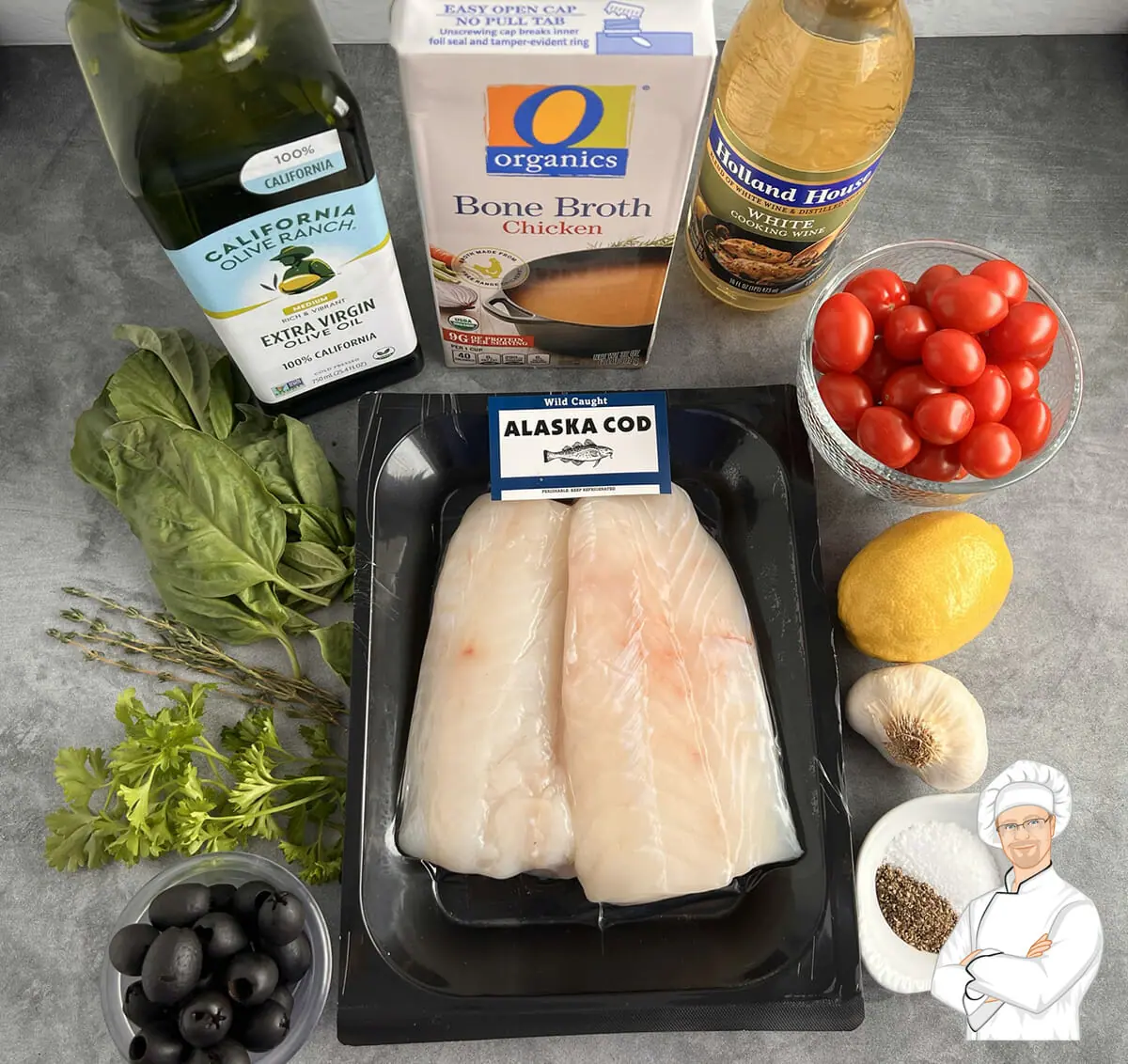 Equipment Needed
The only special thing you'll need for this recipe is a baking dish. A 13″ x 9″ baking dish is ideal. I like the dish to be large enough so that the liquid isn't covering the fish too much once it's all in the dish. It will then cook in a standard oven.
Preparation
I love that this dish uses fresh ingredients, but is still very easy to prepare. Start by mincing the thyme and parsley. You'll want to avoid much of the stems of the thyme so firmly grasp the base of a sprig, then slide your pinched fingers to remove the tiny leaves. For the basil, you can cut them "chiffonade" style by rolling up a few leaves together, then cutting into strips with kitchen scissors. It makes for nice presentation.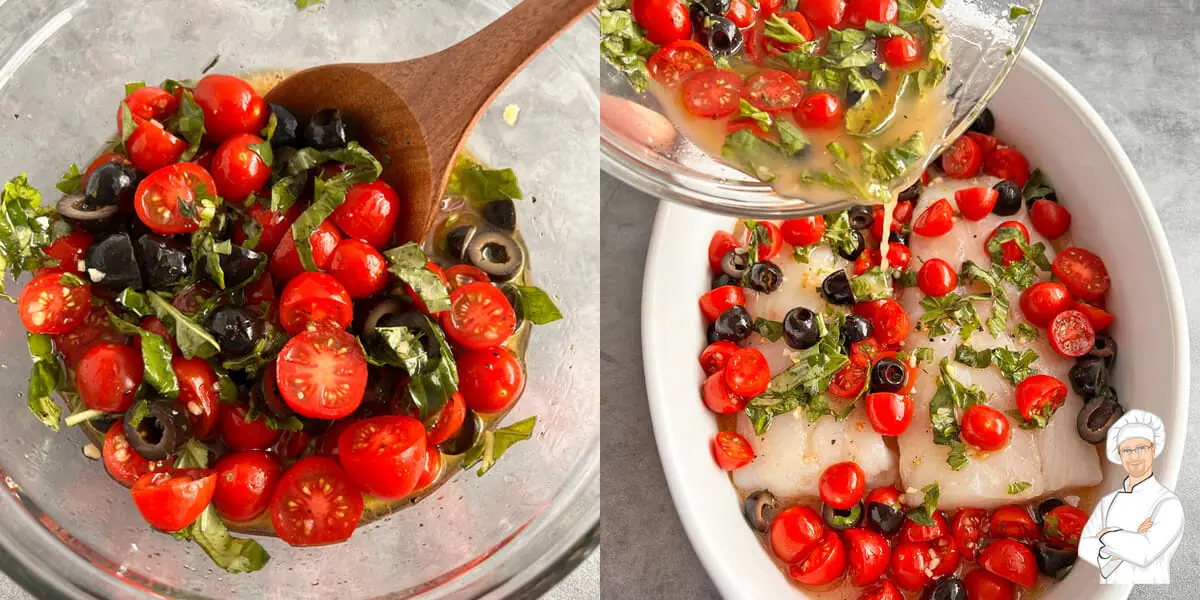 Cut the cherry tomatoes in half – enough to fill about 1 cup. No worries if it's a little more or less. Same with the olives. Use 12-15 pitted olives, or about enough to fill ½ cup. Again, over or under is fine.
Give the baking dish a quick spray with some non-stick cooking spray to help for easy cleanup. Lay the cod filets in the dish. Place the remaining ingredients in a bowl and gently mix well. Pour the tomato mixture over the cod and into the baking dish.
Bake at 425°(F) for 15-25 minutes
Preheat the oven at 425°(f). Place the cod in the oven on the middle rack and bake for approximately 15-25 minutes. If using larger, thicker filets, the time will be closer to 25 minutes. Thinner filets will take less time. The key is to cook to an internal temperature of 145°(F). Be sure to keep a close eye on the internal temperature with an instant read thermometer inserted in the thickest part of the filets. Cod can overcook quickly so we want to make this a priority. Start checking after 10 minutes then every few minutes thereafter.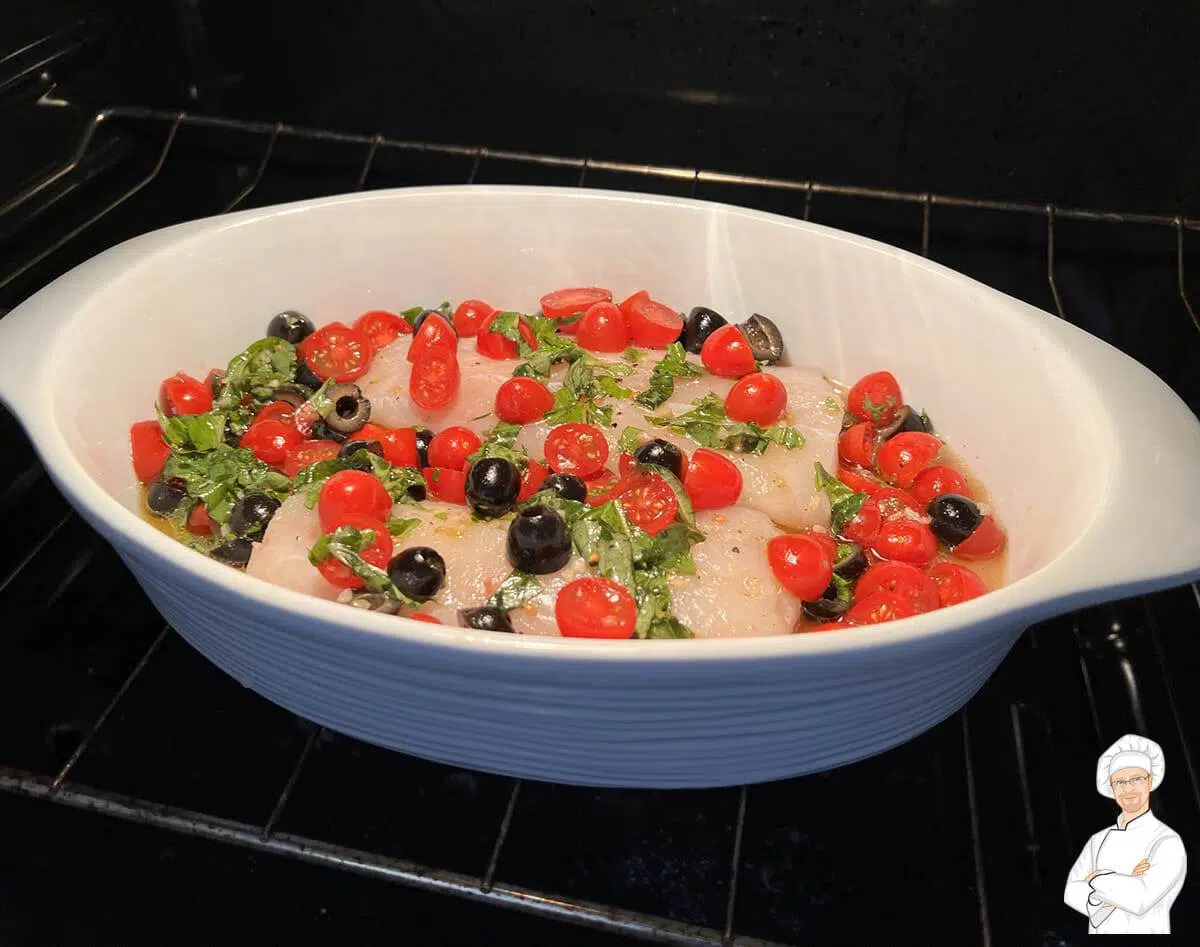 Ready to Serve!
You Mediterranean cod is now ready to serve. You can serve it right away. Be sure to pour some additional juices and tomato mixture over the top. All those wonderful flavors will now have cooked together and will be absolutely delicious.
Some favorite side dishes include rice pilaf or roasted vegetables. We have an excellent Instant Pot Rice Pilaf recipe that's great, as well an air fryer roasted asparagus recipe or an air fryer roasted zucchini and peppers recipes which pairs excellent with our Mediterranean cod!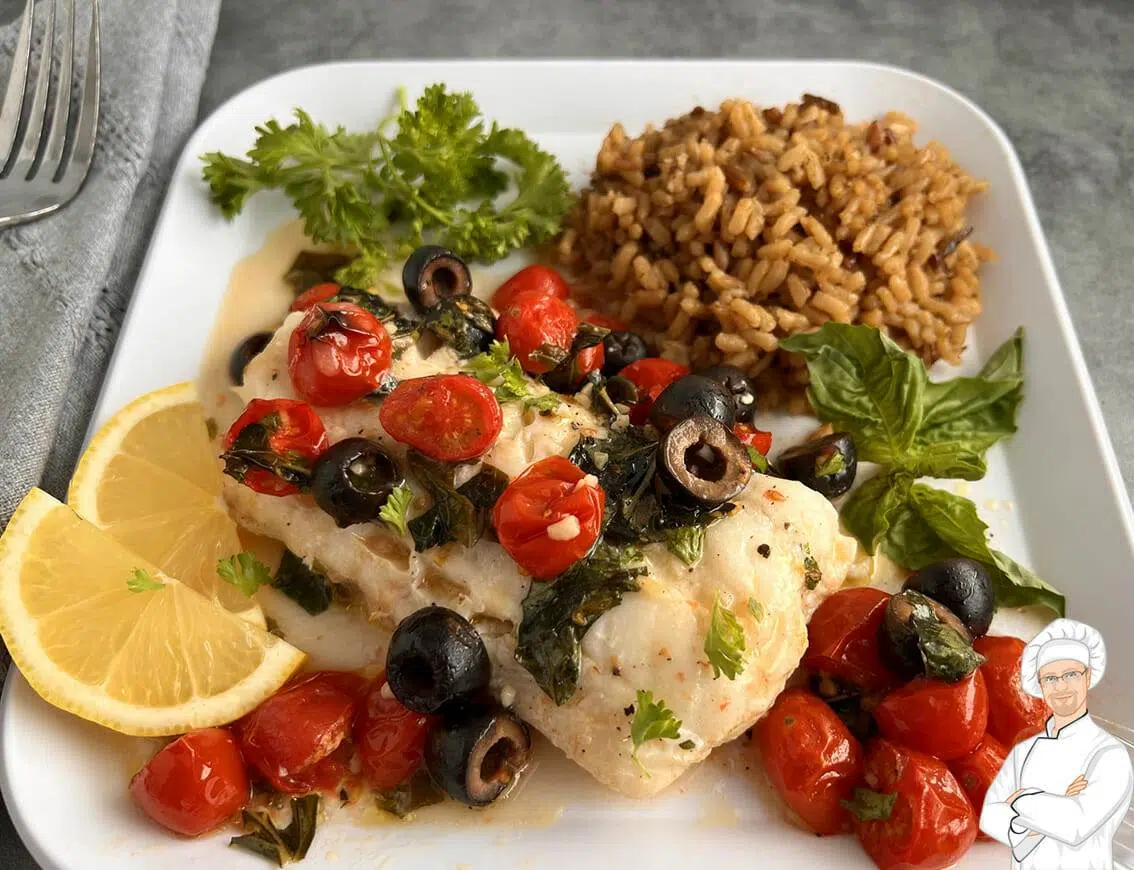 Storage and Reheating
Cod recipes such as this one can taste even better the next day. The cod will have more of an opportunity to further absorb the flavors and it's excellent to enjoy for lunch or dinner after being reheated.
Be sure to store the cod an air tight plastic (or glass) containers with a good amount of the juices and tomato mix. You can keep it stored, refrigerated for up to 4 days.
To reheat, simply microwave at 1 minute intervals until heated through.
Can this be made with frozen cod?
You can use frozen cod filets to make this recipe too! Most frozen cod comes in smaller size pieces or filets, usually 4-6oz each. Use 1lb – 1.5lbs. of filets and keep a close eye on the internal temperature. You'll find the the dish will be ready in around 25 minutes for smaller frozen filets. Frozen cod will also contain more liquid you might want to cut back on both the chicken broth and white wine just a bit. Instead of ¼ cup each, use 3 tablespoons each.
Make it your Own
Want to make some adjustments to the recipe? No problem! While black or kalamata olives are my favorites for this recipe, you can use green olives also. Simply swap them out, or, just add some to the existing recipe. Start with a small amount, maybe 6 green olives, and adjust to taste from there. Onions are another popular addition. Sliced red onions are excellent and ad another dimension of that fresh, Mediterranean flavor.
You can also adjust the white wine and chicken broth to you liking. I've found that using a little of both gives the best flavor, but you can definitely use 1 or the other. White wine adds acidity and a slight fruity or floral flavor to the recipe. It can also contribute to the overall taste and texture of the dish, helping to balance out other ingredients and enhance the overall taste experience. Chicken broth adds a rich, savory flavor to the recipe. Feel free to adjust both to your taste.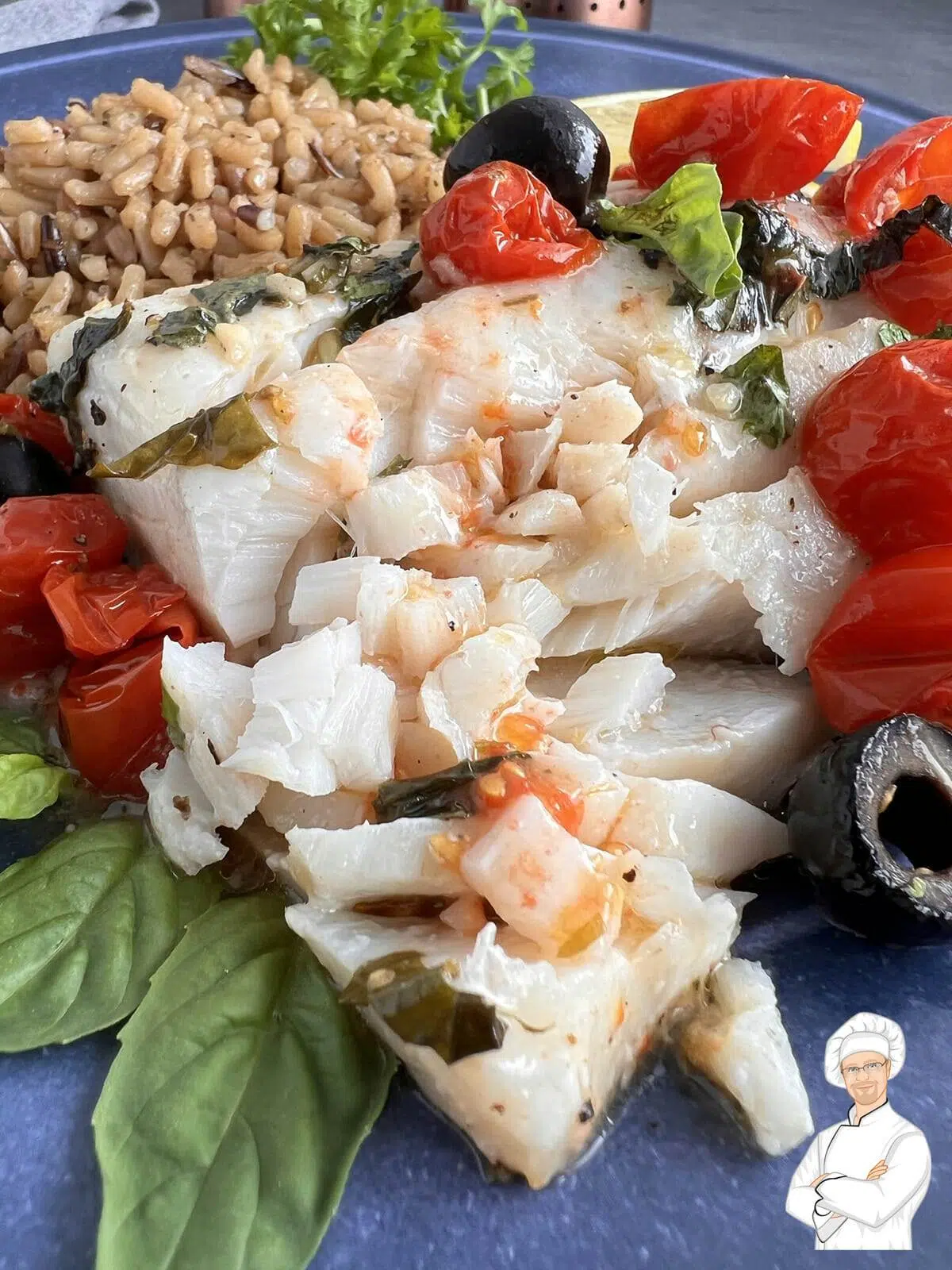 Cad is a very mild tasting fish which easily takes on the flavors of the ingredients around it. Salt and pepper can be essential to the overall flavor. We recommend 1.5 tsp kosher salt (or other coarse salt) along with 1 tsp of fresh ground black pepper. Feel free to adjust both of these to your particular taste. Adding a pinch of salt and pepper directly to the cod fillets, prior to adding the sauce, can give an additional flavor boost.
Print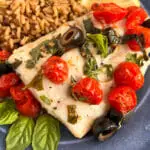 Oven Baked Mediterranean Cod
---
Author:

Total Time:

30 minutes

Yield:

2-4 servings
Description
In the tradition of Mediterranean cuisine, this easy cod recipe is perfect for a delicious meal any night of the week. Loaded with fresh ingredients and vibrant flavors.
---
2

fresh cod filets, 8-10oz each

1 cup

cherry or grape tomatoes, sliced in half

½ cup

black or kalamata olives, sliced in half

3

tbs extra virgin olive oil

¼ cup

white wine

¼ cup

chicken broth

1

tbs lemon juice

12

large basil leaves, chopped

2

cloves garlic, minced

1

tbs fresh parsley, chopped

1 tsp

fresh thyme, minced

1.5 tsp

kosher salt

1 tsp

ground black pepper
---
Instructions
Preheat oven to 425°(F)
In a large bowl, combine sliced tomatoes, sliced olives, basil, thyme, parsley, garlic, salt, pepper, olive oil, lemon juice, white wine and chicken broth. Gently mix well with a spoon.
Spray baking dish with non-stick cooking spray and lay fish filets in dish. Por tomato mixture over the cod.
Place dish on middle rack of oven and bake, uncovered, 15-25 minutes or until internal temperature of 145°(F).
Serve and enjoy!
Prep Time:

10 min

Cook Time:

20 min

Category:

Dinner

Method:

Oven

Cuisine:

Mediterranean