Grilling corn on the cob, husk and all, is quite simply the best way to cook corn. You don't need aluminum foil, you don't need to boil water and you don't need to do any heavy preparations. In fact, the only preparation you'll need to do is to soak the corn in water for about 15 minutes. That's easy enough right?
Summertime and even the fall is the height of the fresh corn on the cob season. Your local supermarket will often have fresh corn, still in the husk for very inexpensive prices. Even better are local farmers markets. Not only is it usually the freshest produce available, but it helps support to local merchants and farmers.
The key to grilling the best corn is to soak the the ears of corn in water before grilling. You do not need to shuck the corn first. Soak them in the sink, soak them in a large bowl or whatever you have, but be sure to soak them first. Not only does this keep the husk from burning, but it's a major component of the cooking process. Place the soaked corn directly on the hot grill. Total grilling time will be about 15-20 minutes. Be sure to turn often. The husk getting charred is just fine, all the magic is happening on the inside.
Print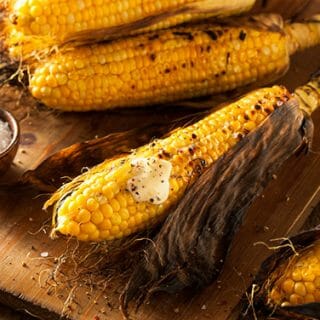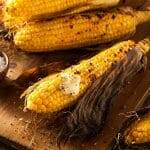 How To Grill Corn In The Husk
---
Total Time:

35 mins

Yield:

6 ears
6

ears of corn, still in husks
large container of water
---
Instructions
Fill a large container with water and soak corn, husks and all, for 15 minutes
Places corn on hot grill for 15-20 minutes, turning often.
Remove from grill carefully and peel back husks. Season as desired.
Prep Time:

15 mins

Cook Time:

20 mins
After 15-20 minutes of grilling, remove the corn from the grill and let cool for a minutes before peeling back the husk and silk. The silk will be pretty minimal at this point anyways and will come right off. You're no ready to add some fresh butter, a little salt and pepper and enjoy!